LOVE YOUR LOOK
Available in a variety of colours, this hybrid smartwatch combines the traditional look of an analog watch with the essential smart features you need to keep up with your busy life.
Traditional analog watch design with a smart twist.
It's your little secret. Tap or swipe to reveal the hidden touchscreen display.
Smart notifications are now in style. Get your texts1 right on your wrist.
It's not just for looks. Stay informed about your health and fitness, too.
Ready for a workout? Track outdoor walks and runs with connected GPS1.
Up to 5 days of battery life — outrun that if you can.
TRADITIONAL WATCH DESIGN
The hidden display only appears when you need it. Interact with the touchscreen, and the hands dynamically move away.
FASHION-FORWARD MATERIALS
Available in a number of colors, vívomove 3S features a silicone band and stainless steel bezel, making it perfect for work, the weekend — everywhere. And it's compatible with industry-standard 20 quick release bands.
WRIST-BASED HEART RATE
The watch constantly samples your heart rate2 and will alert you if it stays too high or too low while you're at rest. It also helps gauge how hard you work during activities.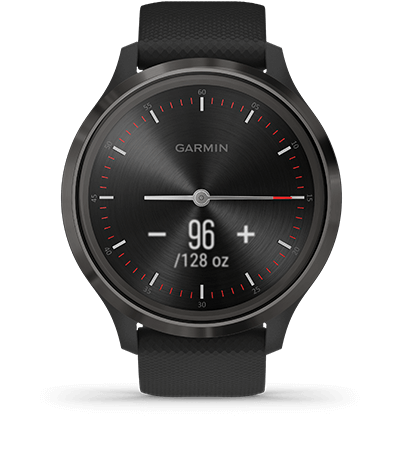 HYDRATION TRACKING
Log your daily fluid intake as a reminder to stay hydrated.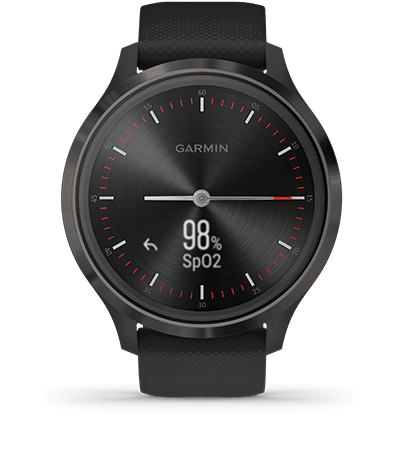 ADVANCED SLEEP MONITORING
Get a full picture of how you're sleeping, with a breakdown of your light, deep and REM sleep stages as well as Pulse Ox4.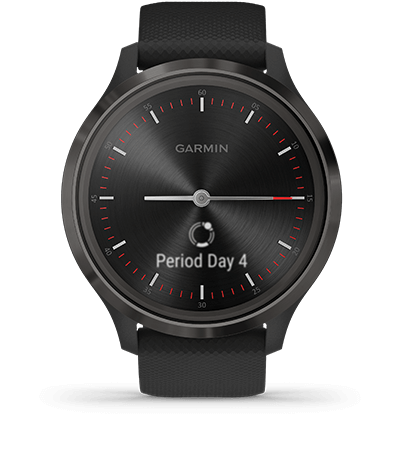 MENSTRUAL CYCLE TRACKING
Use Garmin Connect to track your cycle, log physical and emotional symptoms and learn about training and nutrition during each phase of your cycle. Even get cycle tracking information on your wrist.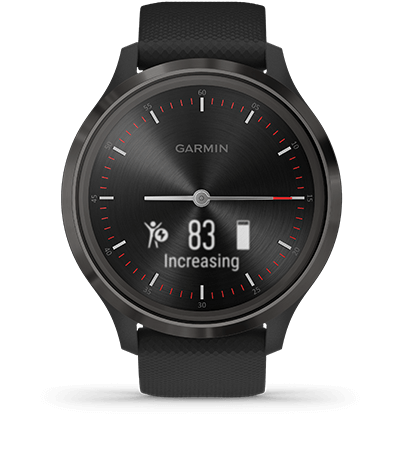 BODY BATTERY™ ENERGY MONITORING
See your body's energy levels throughout the day so you can find the best times for activity and rest.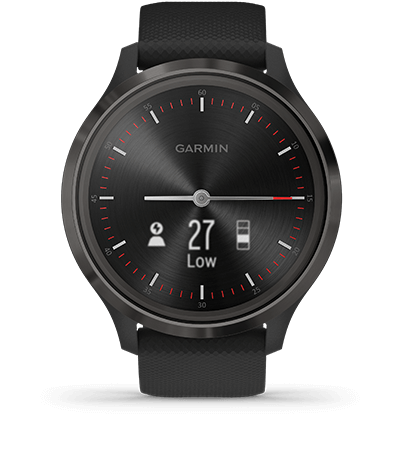 STRESS TRACKING
Find out if you're having a calm, balanced or stressful day. Relax reminders will even prompt you to do a short breathing activity when you're feeling stressed.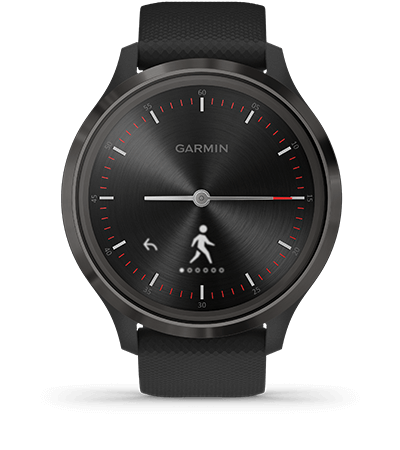 PRELOADED SPORTS APPS
Switch up your workout routine with activity profiles for yoga, strength, cardio, pool swimming and more.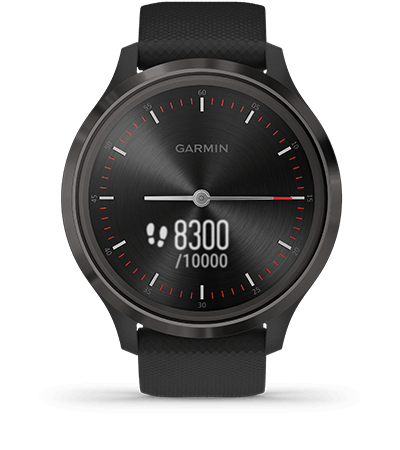 FITNESS TRACKING
While you get out and about, vívomove 3 tracks steps, floors climbed, intensity minutes and more. Even sync data across multiple Garmin smartwatches.
Convenience and connectivity.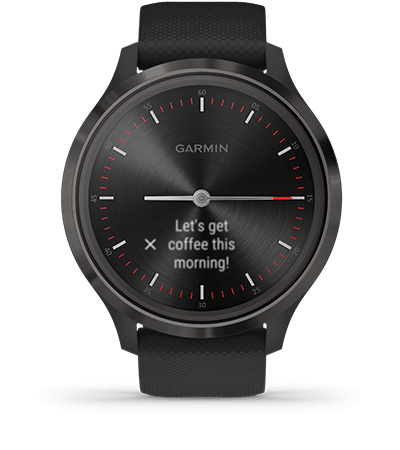 SMART NOTIFICATIONS
Receive emails, texts and alerts right on your watch when paired with a compatible smartphone.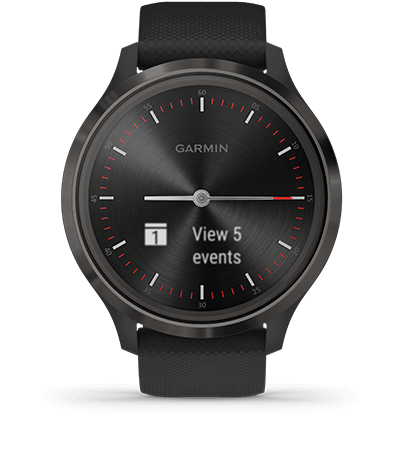 CALENDAR VIEW
Easily see your plans for the day with a dedicated calendar screen.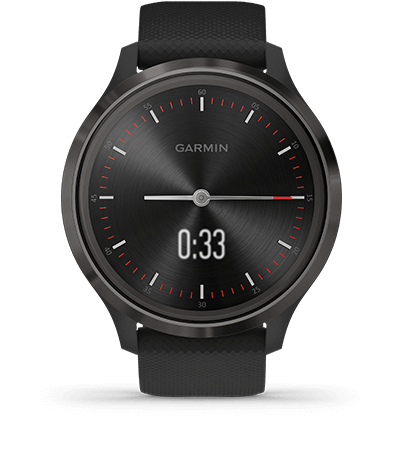 TIMER AND STOPWATCH
Conveniently access handy timekeeping features right from your wrist.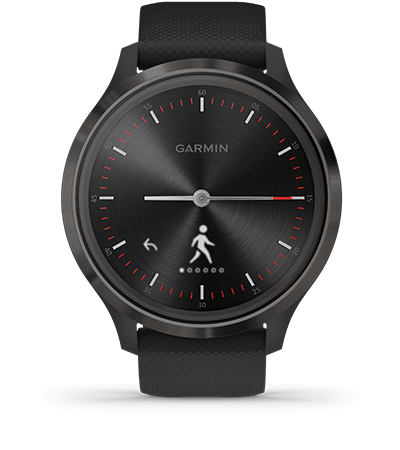 SYNC WITH GARMIN CONNECT
app is a thriving online community where people on the go can connect, compete and share.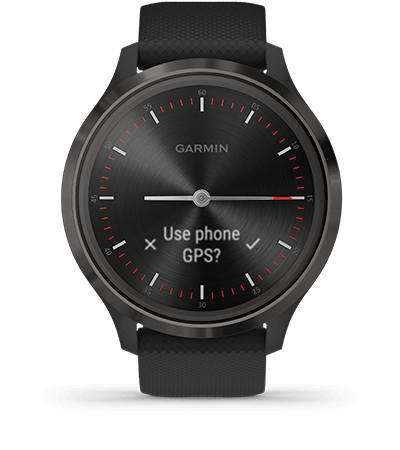 CONNECTED GPS
Connect to your compatible smartphone's GPS so you can get accurate tracking during outdoor walks, rides and runs.