TRUCK NAVIGATION WITH SMART FUNCTIONS
The dēzl ™ LGV1000 offers a special truck routing 1 adapted to the size and weight of the truck and is equipped with an easy-to-read, 10-inch display. 3D navigation maps are already preinstalled.
HUGE DISPLAY: Use the navigation system with its 10-inch HD touchscreen in portrait or landscape format.
SPECIAL TRUCK ROUTING 1 : Simply enter your truck, semitrailer or bus profile (height, weight, length, width and dangerous goods) and receive routes that are best suited for your vehicle and its load.
PERFECT PARKING SPACES: Truck Parking Europe displays parking spaces along your route.
FUEL STATIONS & SHOWERS: Are you looking for a shower or a gas station? You can find them easily with our POIs.
LOADING AND UNLOADING ZONES: Thanks to the latest technology, it is even easier to find loading and unloading zones.
VOICE CONTROL: Thanks to the voice assistant and hands-free function 2 , your hands stay on the wheel.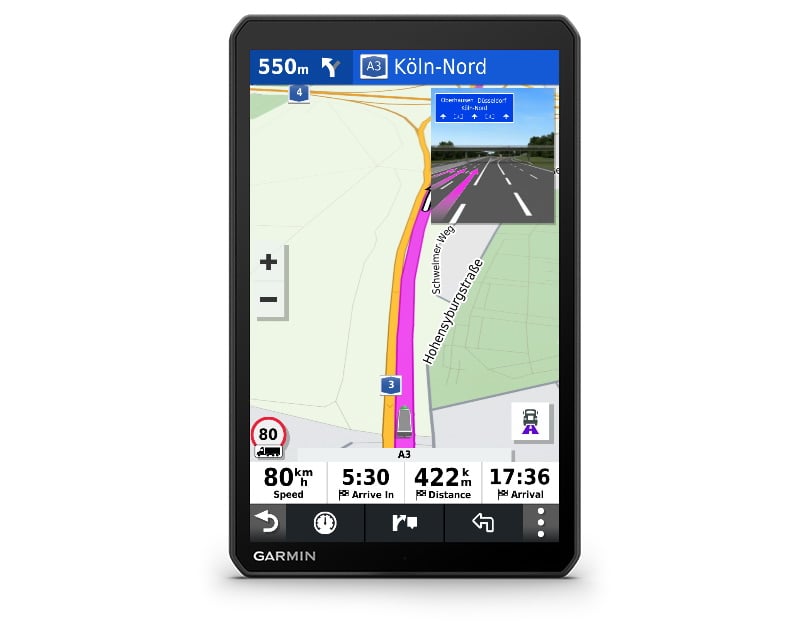 EXTRA LARGE DISPLAY
The dēzl truck sat nav has a bright, clear, 10 "touchscreen that is easy to read in the cab and allows intuitive use. The navigation page can even be displayed in portrait or landscape format.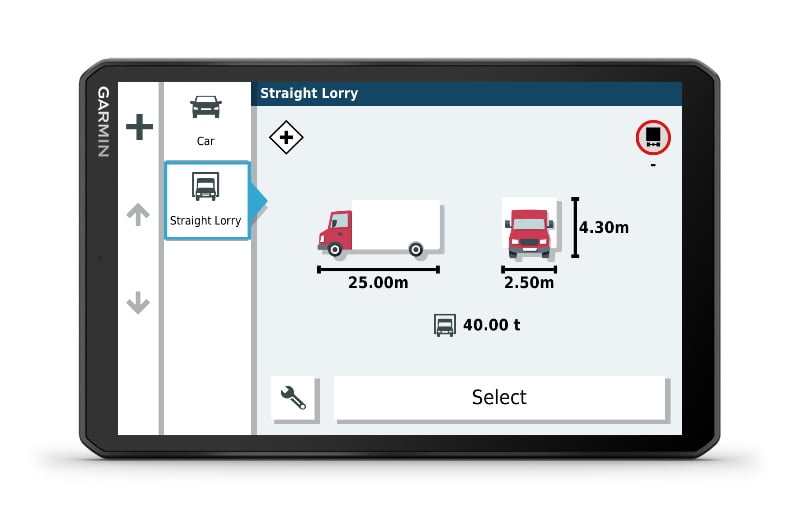 VEHICLE-SPECIFIC ROUTE GUIDANCE
Simply enter the truck profile (height, weight, length, width and dangerous goods) and get routes that are most suitable for your truck and its load 1 .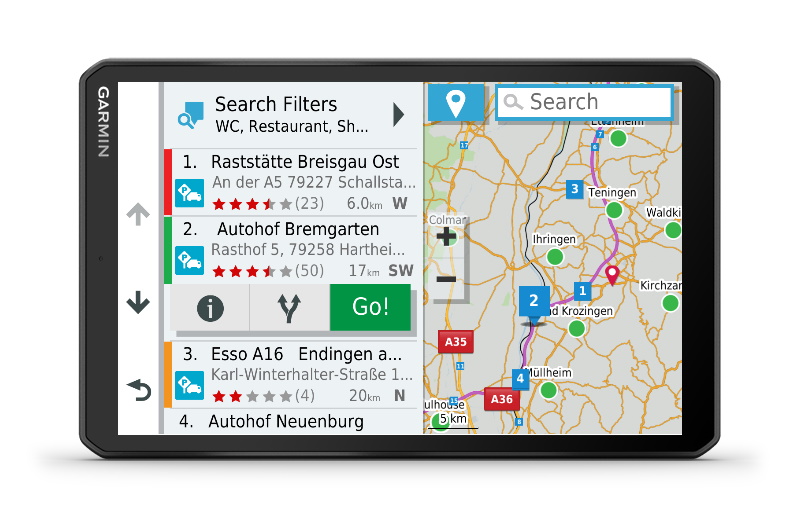 TRUCK PARKING EUROPE
Use the data from Truck Parking Europe to find truck parking spaces along the route with filter options, such as WiFi, showers, security level and much more. Use the Garmin Drive ™ app to view the parking space availability.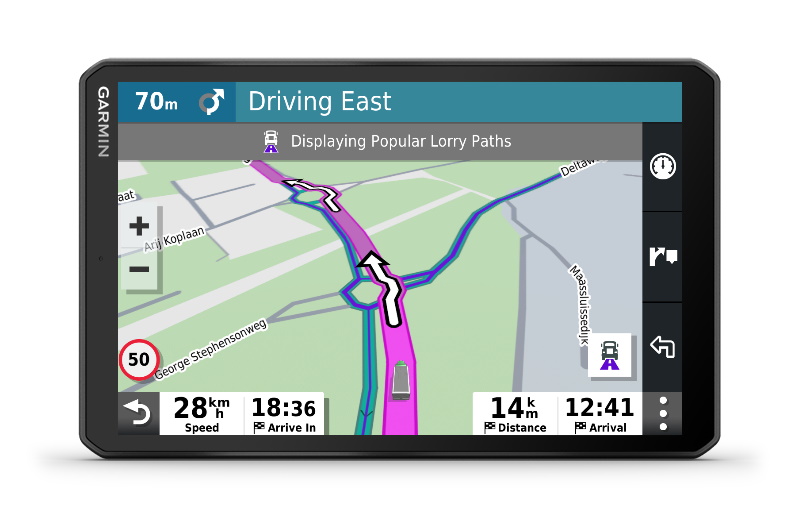 POPULAR TRUCK ROUTES
Are you traveling in unknown areas? Check out popular truck routes that have been traveled by many long-distance drivers before you and benefit from their experiences. So you always drive on the best roads.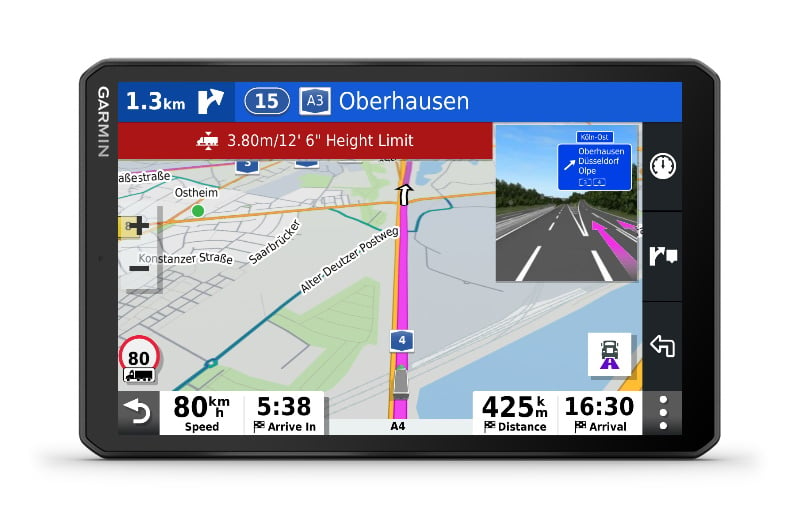 WARNINGS AND NOTES
While driving, receive information about the curves ahead, school zones, level crossings, game passes, narrow streets, inclines / slopes, cross winds, risk of contact with the ground, borders and much more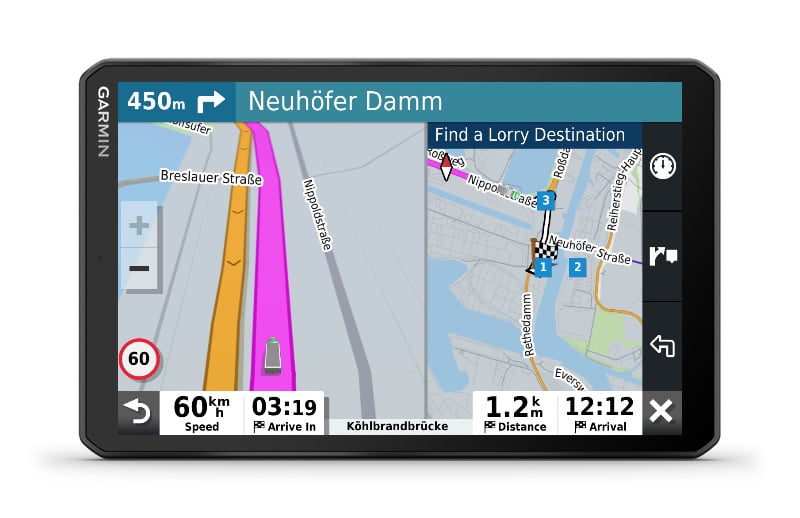 FIND LOADING AND UNLOADING ZONES
The latest technology enables you to display potential loading and unloading areas near your destination address. Use this helpful feature when you get closer to your destination.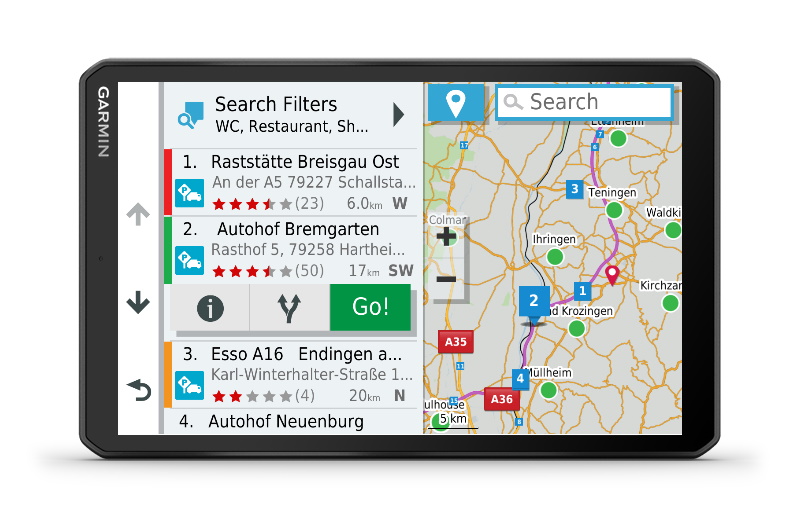 THE RIGHT TRUCK STOP
Use the pre-installed directory of Truck & Trailer Services to search for preferred truck stops with truck services. The entries can be filtered by brand or service.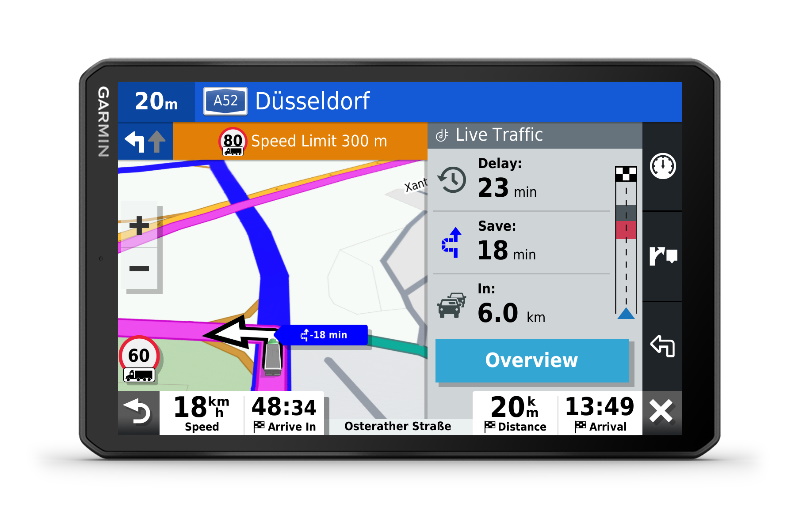 AVOID JAMS WITH LIVE TRAFFIC
The supplied DAB traffic cable is ready for immediate use and provides timely and accurate updates on the traffic situation. So avoid accidents, construction sites and other problem areas.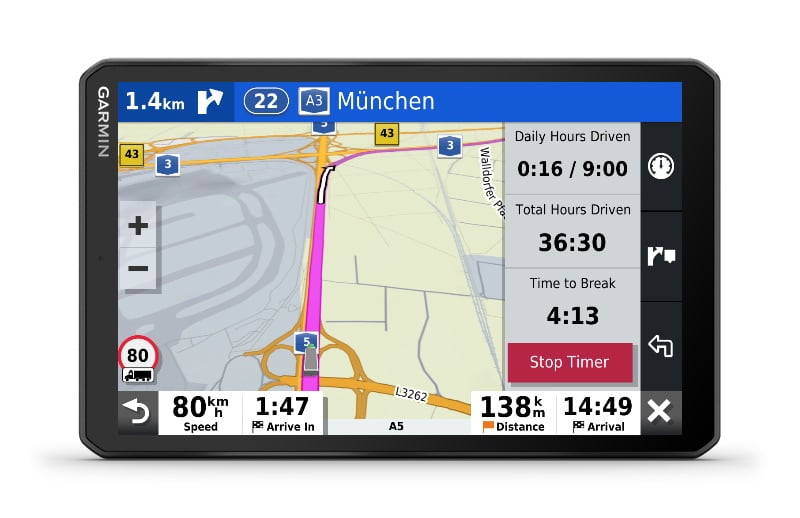 BREAK PLANNING MADE EASY
The driving time timer shows the daily driving hours, total driving hours and the time until the break. Before the end of the driving time, a proposal is made for the next suitable exit and POIs for rest.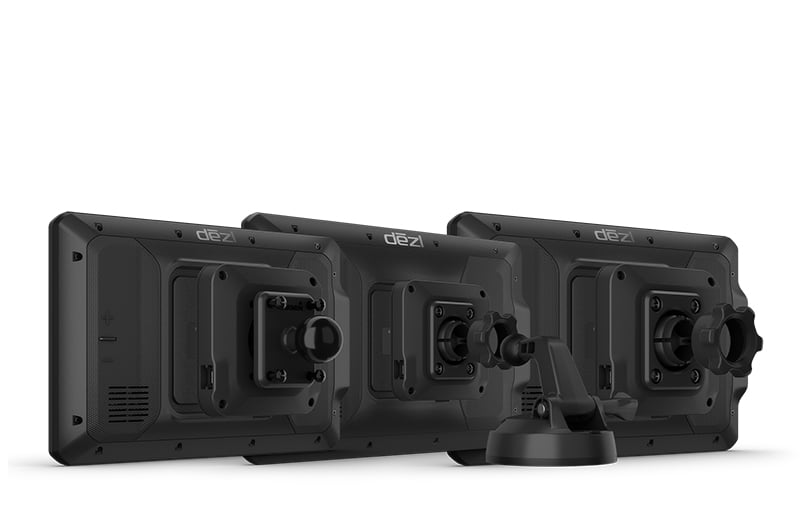 VERSATILE ASSEMBLY
The dēzl LGV1000 device offers various mounting options. The scope of delivery includes a magnetic mount with power supply and a heavy-duty suction cup, a screw mount and a 1-inch ball adapter with AMPS plate that is compatible with RAM mounting systems.
SMART AND RELAXED ON THE GO.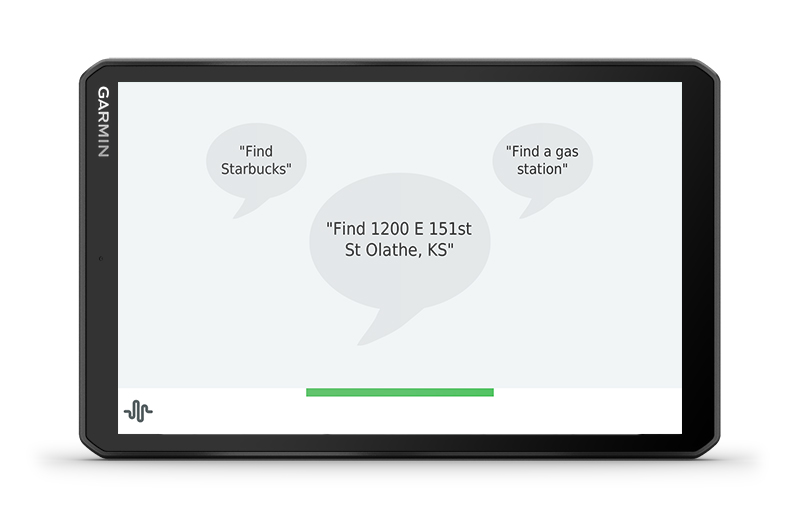 SMART VOICE ASSISTANT
Do you need navigation instructions? Just say where to go. The dēzl voice assistant responds to your voice commands so you can keep your hands on the wheel and don't have to take your eyes off the road.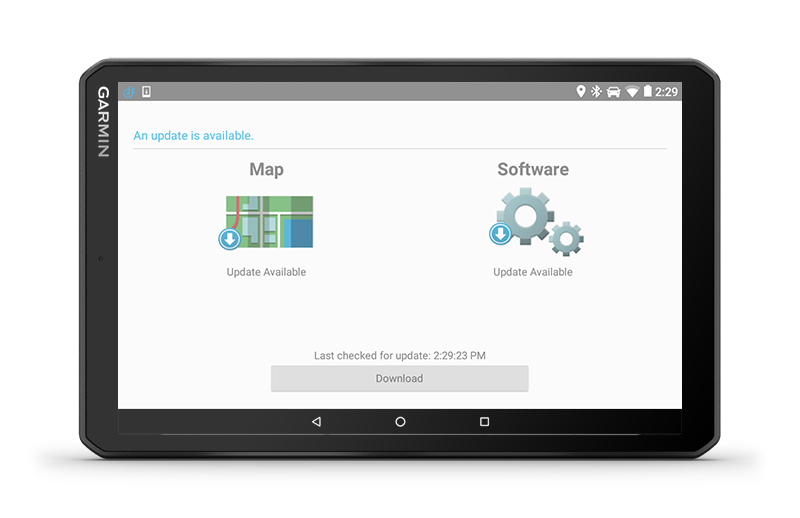 WIRELESS UPDATES
Thanks to the built-in WiFi connectivity, it is easy to keep the maps and software up to date without a computer. On-screen instructions will let you know when new updates are available.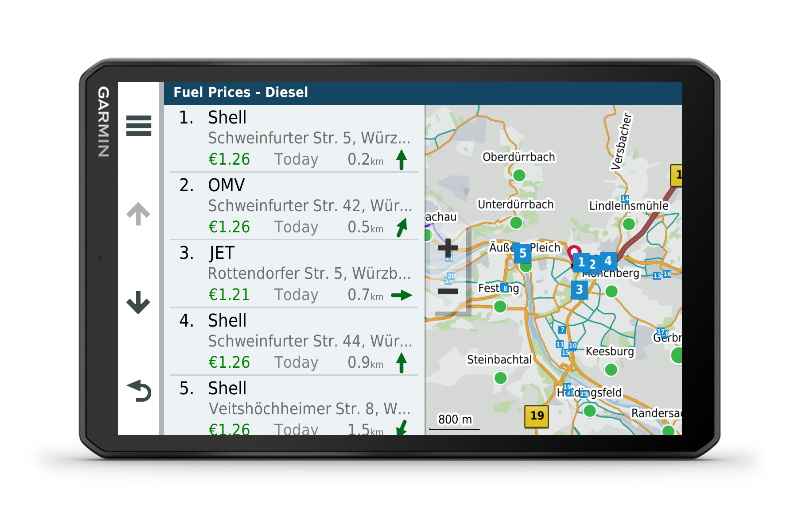 TRAFFIC, WEATHER & TANK PRICES
Pair the dēzl LGV1000 with your phone and download the Garmin Drive app. Now access live data 3 on traffic and weather as well as real-time fuel prices. Access to photoLive traffic cameras is also possible (where available).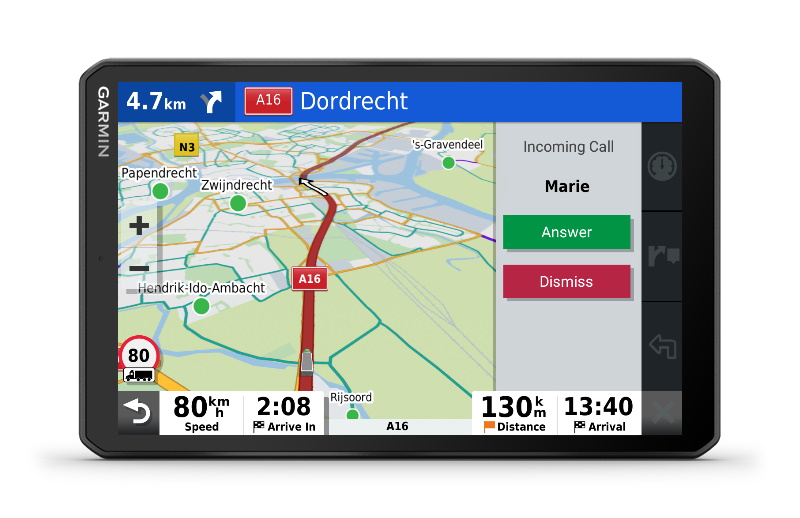 SMART HANDS-FREE FUNCTION
Use the built-in Bluetooth ® wireless technology to synchronize your compatible smartphone with the dēzl sat nav so you can make calls without taking your hands off the steering wheel 2 .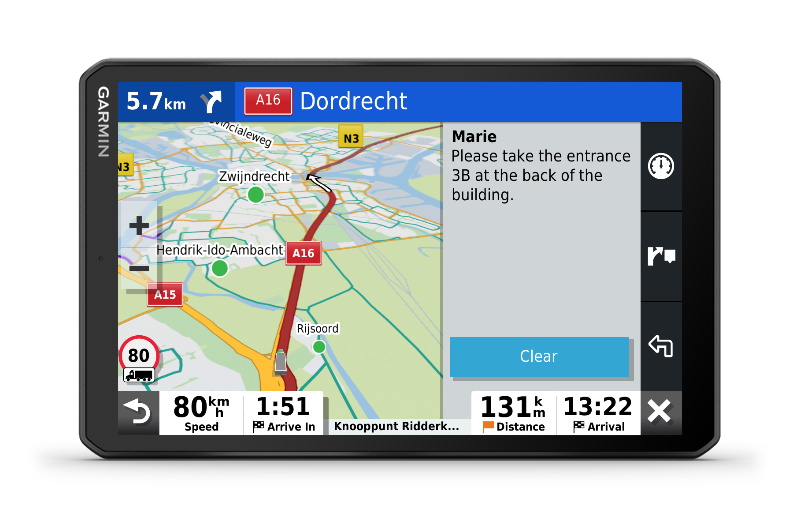 PHONE NOTIFICATIONS
When the device is paired with the Garmin Drive app, you can see text messages and other notifications 3 from your smartphone on the GPS screen.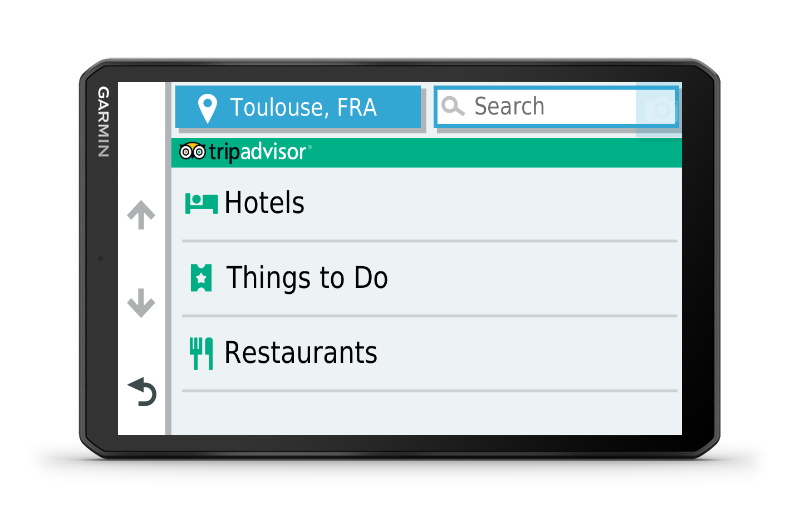 TRIPADVISOR INTEGRATION
View TripAdvisor ® travel reviews for hotels, restaurants, and attractions along your route or near your destination.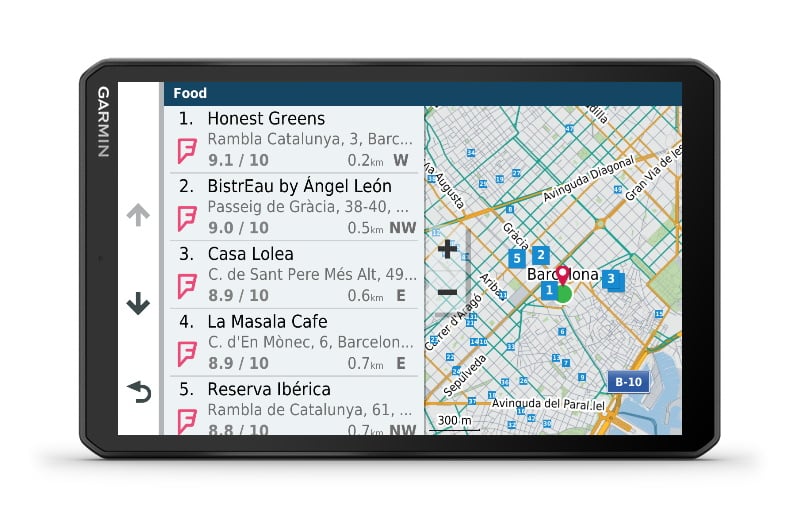 SEARCH POI BY NAME
Pre-installed Foursquare ® content makes it easy to find millions of new and popular POIs. So you'll always find what you're looking for.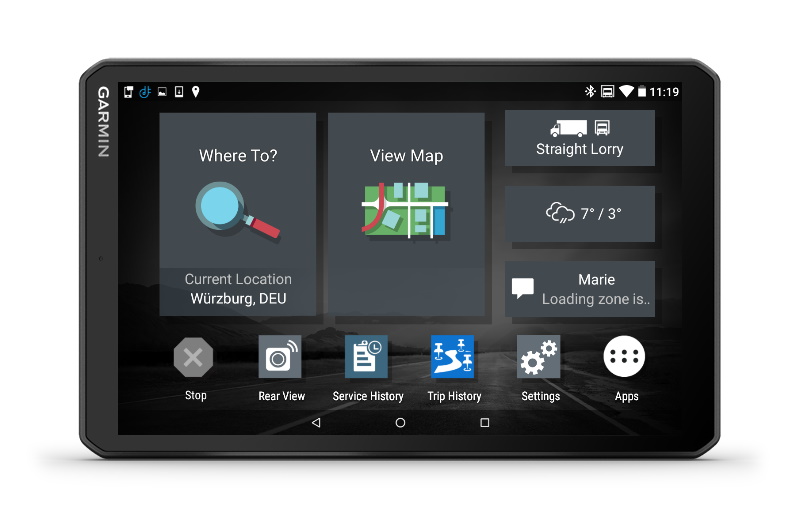 EUROPE MAP COVER
All dēzl models have pre-installed 3D maps for 46 European countries. Start your next tour right away. Free updates are included.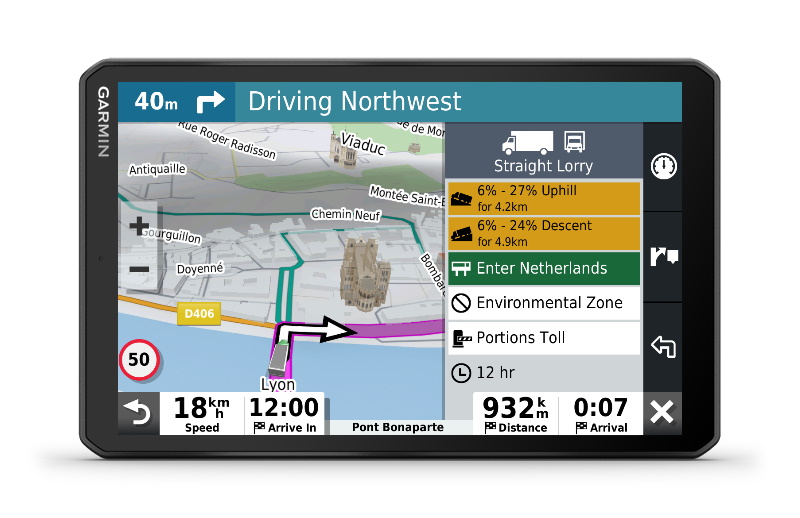 FAST ROUTE CALCULATION
Find the best route even faster and start your journey earlier if you pair the dēzl LGV1000 with your smartphone via the Garmin Drive ™ app 2 .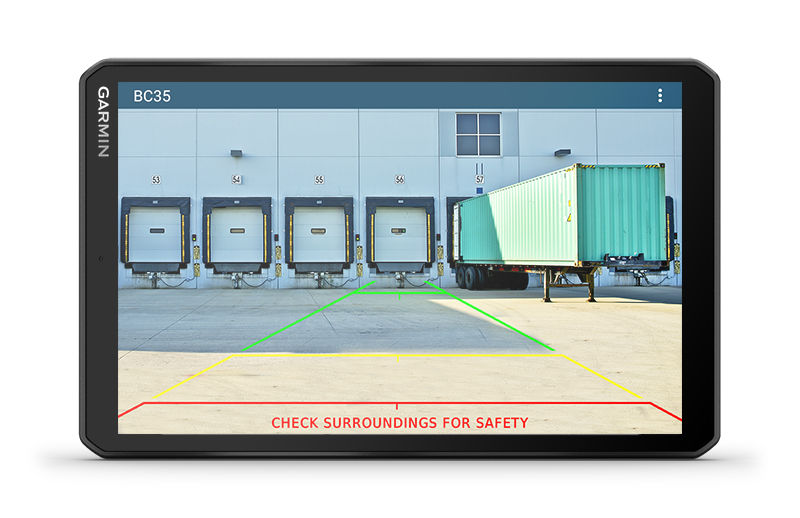 REVERSING CAMERA COMPATIBLE
Pair the dēzl sat-nav with a BC ™ 35 wireless reversing camera (sold separately) or a third-party reversing camera 4 to see what is behind the truck in reverse.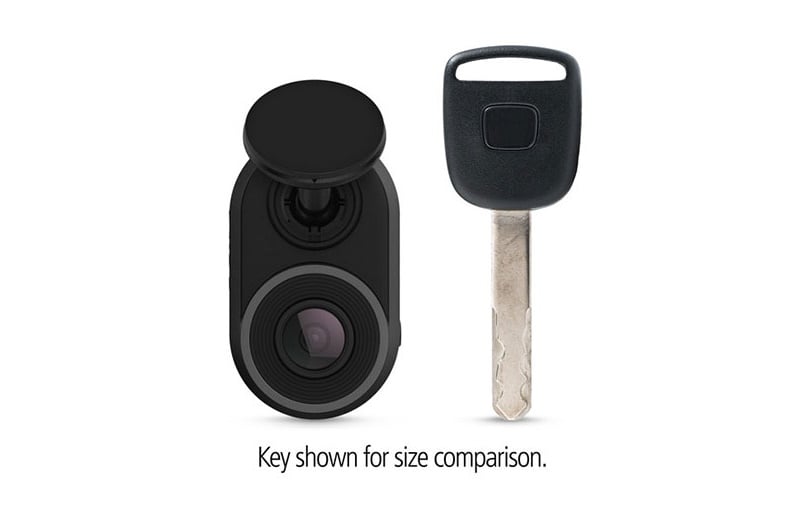 YOUR PERSONAL EYE
A Garmin Dash Cam ™ serves as a reliable eyewitness. The device automatically records video while driving and saves the recordings. Available seperately.
1 Not available in all areas. Entering the profile data of the truck does not guarantee that this profile data will be taken into account in all route suggestions. The instructions on road signs must be followed at all times. In addition, the respective road conditions and permissible speeds must be observed.
2 Requires a Bluetooth-enabled smartphone (sold separately).
3 To use this feature, you must download the Garmin Drive app on a compatible Bluetooth and GPS enabled smartphone.
4 Only available on dēzl LGV800 and LGV1000; Requires a magnetic bracket with video input available as an accessory (sold separately).
© HERE. All rights reserved. © 2020 TripAdvisor LLC. All rights reserved. Foursquare® is a registered trademark of Foursquare Labs, Inc. TruckDown® is a registered trademark of TruckDown Info International Inc. The Bluetooth word mark and logos are registered trademarks owned by Bluetooth SIG, Inc. and any use of these by Garmin is under license. Wi-Fi® is a registered trademark of the Wi-Fi Alliance.