Дополнителна енергија од сонцето за подолги авантури. Најновата солар технологија го зголемува траењето на батеријата.
Биди здрави и фит. Следи го твојот пулс и пулсна оксиметрија директно од рака со Pulse Ox sensor 2 .
PacePro ™ функцијата ви дава информации за твоето темпо поврзани со рутата и теренот.
Со TopoActive Europe мапите кои се инсталирани, навигацијата за вашите авантури е обезбедена.
Траењето на батеријата нема да ве ограничи во уживањето. Со соларното дополнување ќе имате батерија до 14 дена и повеќе.
ROBUST AND HIGH QUALITY
A 1.3-inch display is part of the robust and high-quality design. It has been tested to US military standards for thermal performance, shock resistance, and water resistance .
EXCLUSIVE MATERIAL
Choose a bezel made of titanium, a steel bezel or a bezel with DLC coating and match the look to your individual lifestyle.
INCREASE YOUR PERFORMANCE.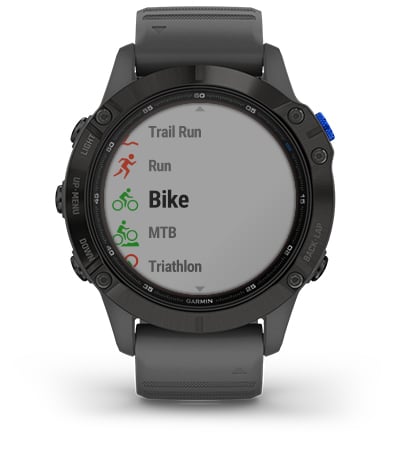 PRE-INSTALLED SPORTS APPS
Use pre-installed activity profiles for trail running, swimming, running, cycling, hiking, rowing, skiing, golfing, surfing, indoor climbing and more.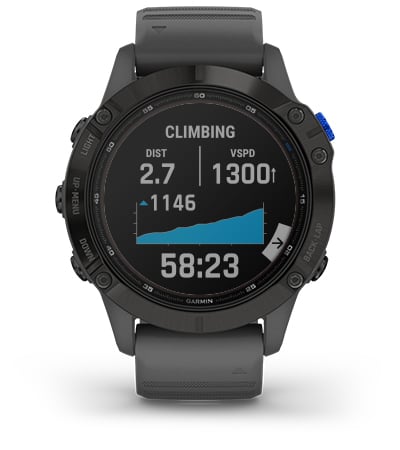 SKI TOURING APP
This profile was developed for ski tourers and records the ascent and descent information separately with detailed altitude information.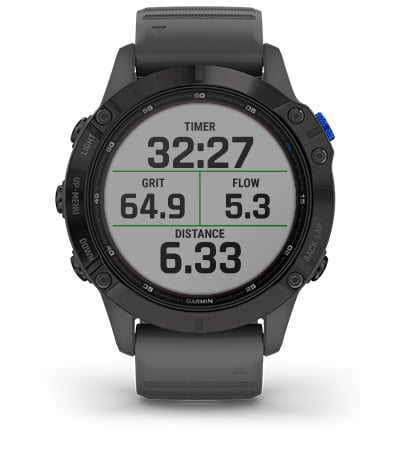 MTB DYNAMICS
Save the details of every tour with mountain bike readings and special data on grit and flow. This data is used to evaluate how difficult the trail is and how fluid the driving style is when going downhill so that you have values ​​that you can exceed next time.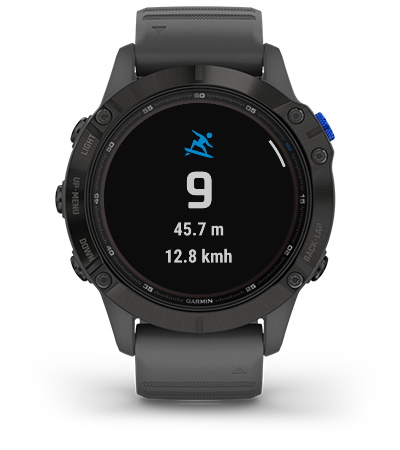 SURF FUNCTIONS
Surf riders, watch out! The fēnix 6 – Pro Solar Edition is compatible with Surigible Sessions ™ . A video is made of every wave that you ride in front of a Surigible ® camera. Watch these videos later and find out how you surfed.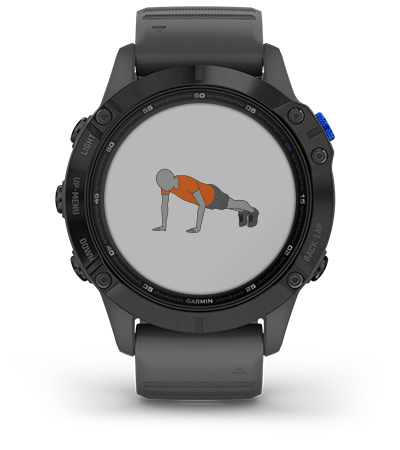 ANIMATED TRAININGS
This watch offers animated cardio, strength, yoga and pilates workouts with simple instructions that you can view on the watch's display. Choose from the pre-installed animated workouts or download additional workouts from our Garmin Connect ™ online community .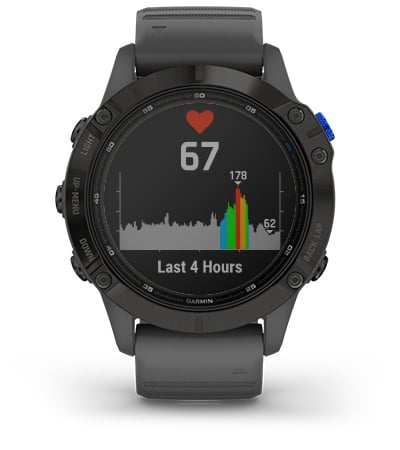 HEART RATE MEASUREMENT ON THE WRIST
The optimized technology for heart rate measurement 1 determines the intensity of your fitness activities as well as your heart rate variability, even under water.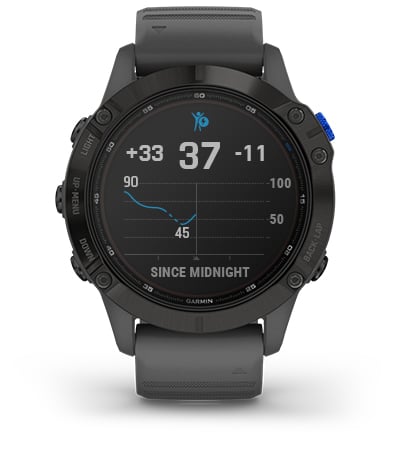 BODY BATTERY ™ – YOUR ENERGY LEVEL
Your Garmin continuously measures your heart rate and uses the Body Battery to inform you when you are ready for your next workout. Oxygen saturation in the blood and the status of your energy level provide the necessary information.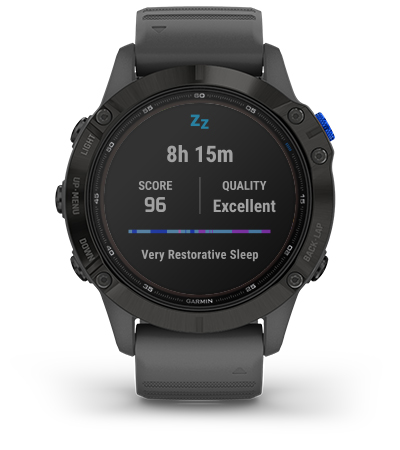 ADVANCED SLEEP ANALYSIS
Get complete information on your light, deep, and REM sleep, as well as pulse oximetry 2 and breathing data . View all data in a special widget that includes your stress score and other insights.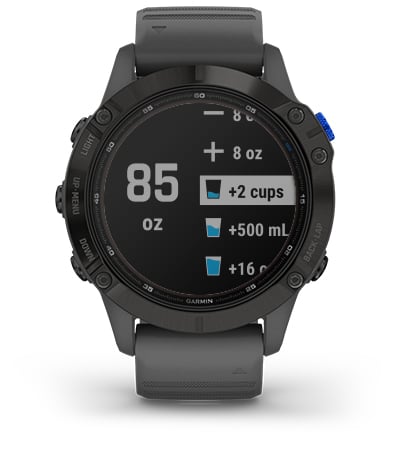 WATER CONSUMPTION
Adequate fluid intake is important for your health. Record how much water you drink each day and see if you drink a similar amount every day.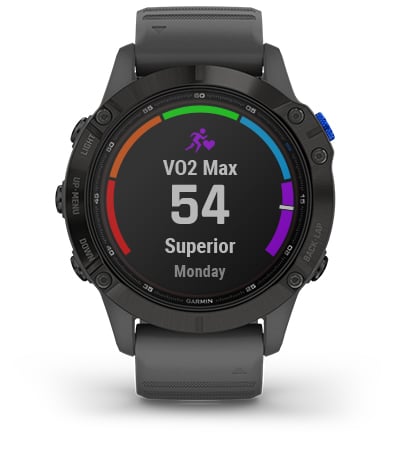 OPTIMIZE YOUR PERFORMANCE
Benefit from extended training values , running efficiency values 1 , a VO2max adjusted to the heat and altitude, and the recovery advisor to take you to a new level.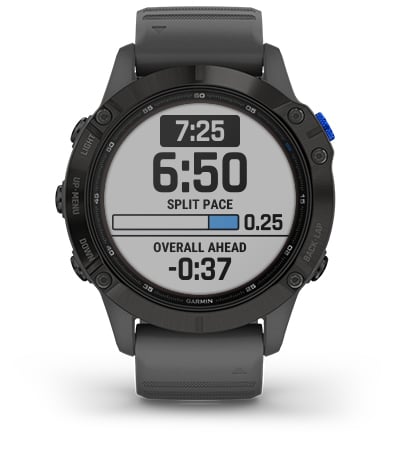 PACEPRO ™ TECHNOLOGY
The so far unique PacePro function provides a dynamic pace specification, taking into account the route profile and your specification, whether you want to tackle the climbs moderately or ambitiously. So you know exactly whether you are too fast or too slow in the current section of the route.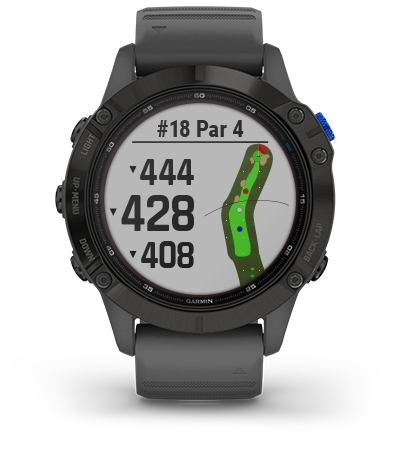 GOLF COURSES
Attack on Course View cards in color for more than 41,000 golf courses worldwide to. You can also use the button target selection and the PlaysLike distance function.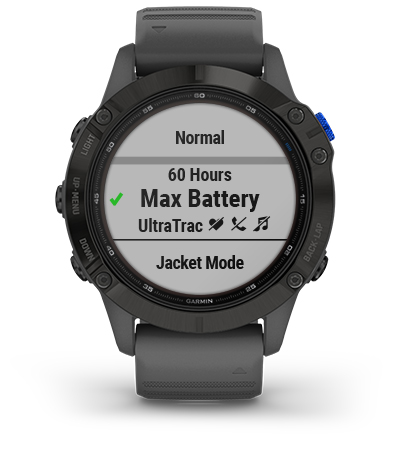 MORE POWER FOR YOUR TOURS
With this battery power you will go far. This is made possible, among other things, by the innovative Power Manager: With it you can keep an eye on the power consumption of individual sensors and functions and adjust them if necessary.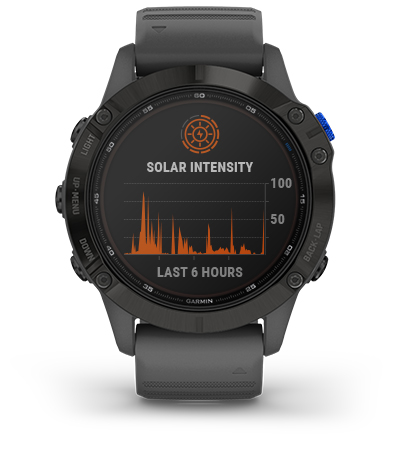 BATTERY WITH SOLAR CHARGE
The battery lasts up to 9 days indoors. If the smartwatch mode is activated and the device is charged by solar charging 3 , it even lasts up to 10.5 days. In GPS mode, you get a battery life of 25 hours in the building and a battery life of 28 hours with solar charging 4 .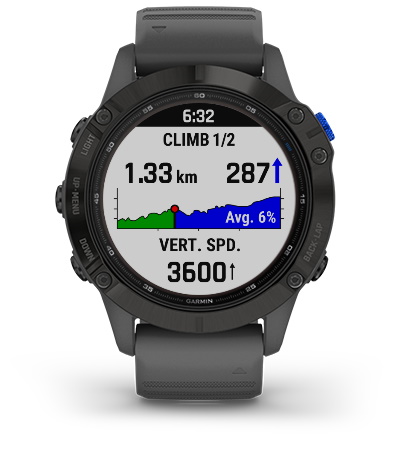 CLIMBPRO FUNCTION
With the ClimbPro function, the remaining ascent and incline are automatically displayed if you are following a route or route and are driving uphill. So you can see how much still lies ahead and you can better manage your strength for the rest of the tour.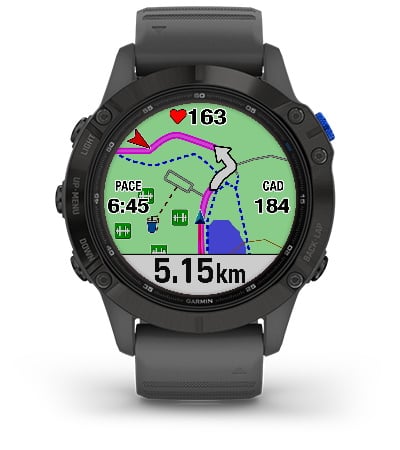 MULTI-SATELLITE SUPPORT
Use multiple global navigation satellite systems (GPS, GLONASS and Galileo) to get better position finding in more difficult environments than using GPS alone.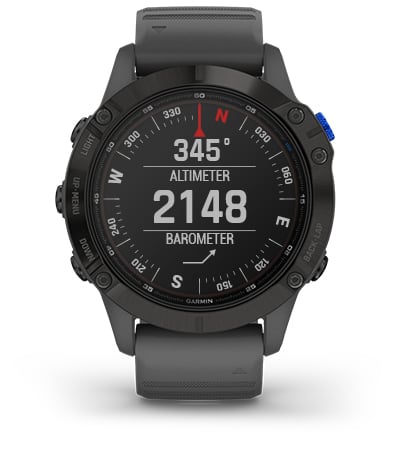 ABC SENSORS
Navigate the next trail with ABC sensors, including an altimeter for altitude data, a barometer to monitor the weather and an electronic 3-axis compass for perfect orientation.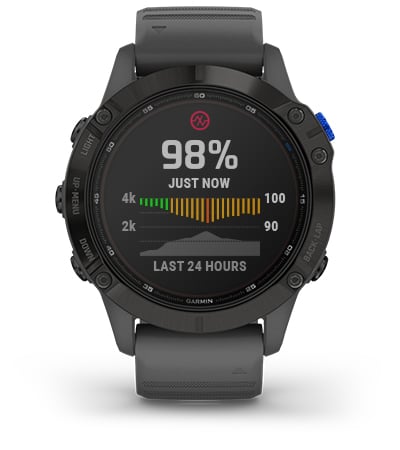 PULSE OX
Monitor your blood oxygen saturation with the Pulse Ox Sensor 2 and recognize how the oxygen saturation of your blood changes in altitude. Now you can see how well your body absorbs oxygen.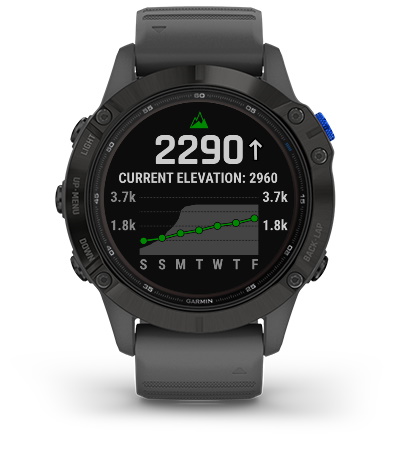 ACCLIMATIZATION
This widget shows the current altitude, the acclimatized altitude and the corresponding Pulse Ox data 2 , the heart rate 1 and the breathing rate so that you can see how your body adapts to the current altitude.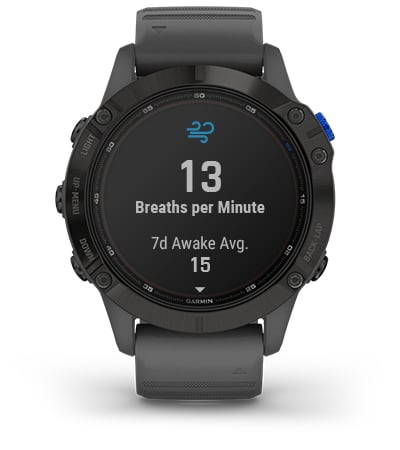 RESPIRATORY RATE
Shows you your breaths during the day, also during sleep and during breathing / yoga exercises.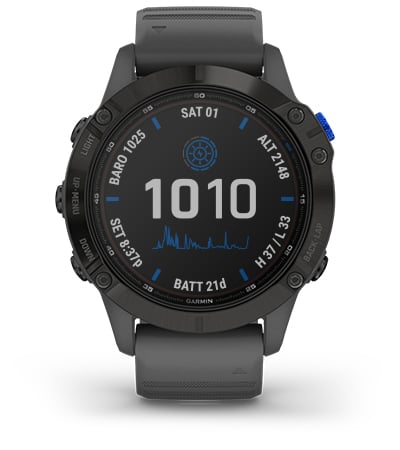 EXPEDITION MODE – ULTRA LONG BATTERY LIFE
Cover long distances before you need to recharge your watch. Expedition mode is an extremely low power GPS reference mode that lasts for weeks.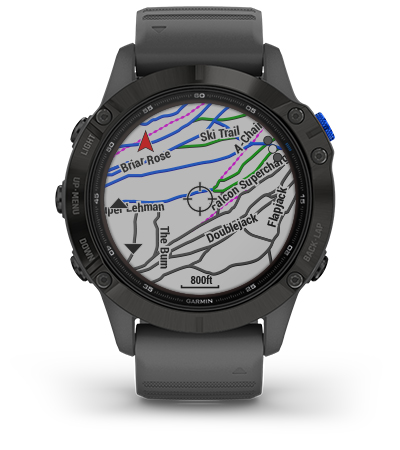 TOPOACTIVE EUROPE AND SKI CARDS
Navigate your adventures with the pre-installed TopoActive Europe map. View the names of ski slopes and the difficulty ratings for 2,000 ski resorts around the world .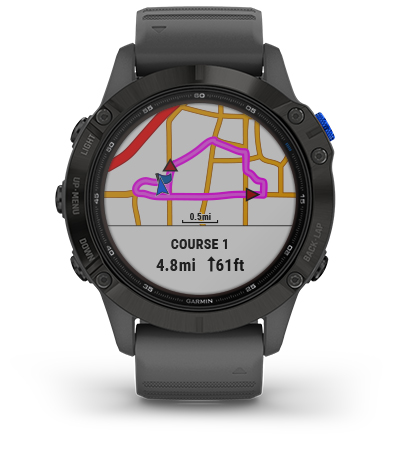 ROUND TRIP ROUTING
Enter a distance you want to cover and get several route suggestions back to the starting point. The Trendline ™ routing helps you to find the best way locally. Ideal in unfamiliar areas.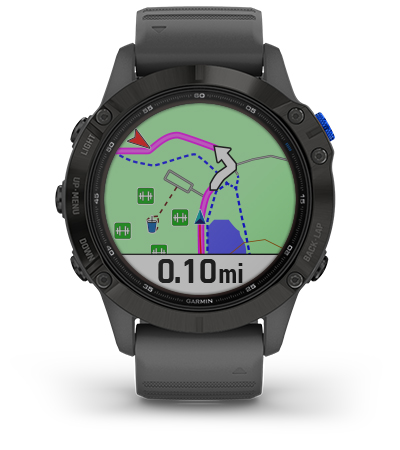 PERFECT NAVIGATION
Follow a route or route with the help of turn- by- turn instructions and you will know in advance when the next turn is coming.