PERFECT NAVIGATION FOR YOUR ADVENTURE
Whether hiking, mountaineering, geocaching, kayaking or mountain biking – this robust hand-held device with a 3-inch color display is your perfect companion everywhere.
PERFECT READABILITY: The handset's display is very easy to read even in direct sunlight.
SATELLITE SYSTEMS: Several global satellite systems ensure high-precision positioning.
ADDITIONAL MAPS: Get detailed maps without a subscription. The internal 16 GB memory offers sufficient space.
RECEIVE WEATHER INFORMATION: Thanks to precise weather data, you are always well prepared and will not be surprised by bad weather.
MORE ADVENTURE: The Garmin Explore ™ website and app open up a world of possibilities for you off-road.
LONG BATTERY LIFE: The battery lasts up to 16 hours in GPS mode and even up to 1 week in expedition mode.
WORLDWIDE SAFE ON THE ROAD.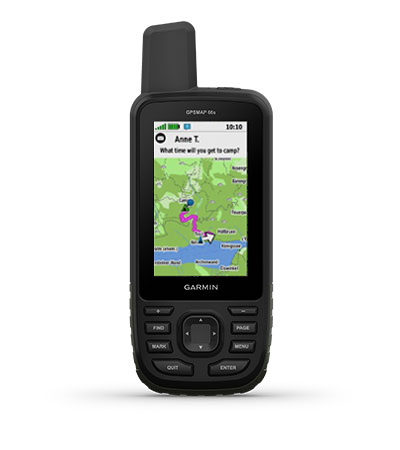 MULTIPLE SATELLITE SYSTEMS
Use multiple global navigation satellite systems (GPS and GLONASS and Galileo) to get better positioning in difficult environments than using GPS alone.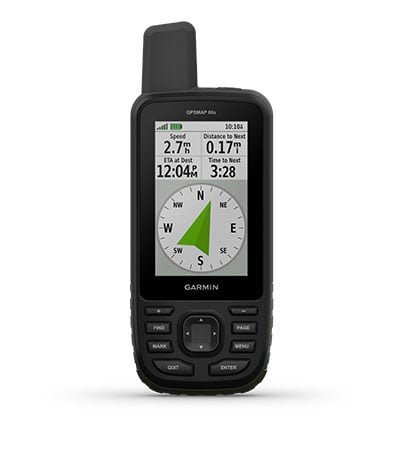 OPTIMAL ORIENTATION WITH ABC SENSORS
Navigate all trails with ABC sensors, including an altimeter for altitude data, a barometer to monitor the weather and a 3-axis electronic compass. So you always find your goal.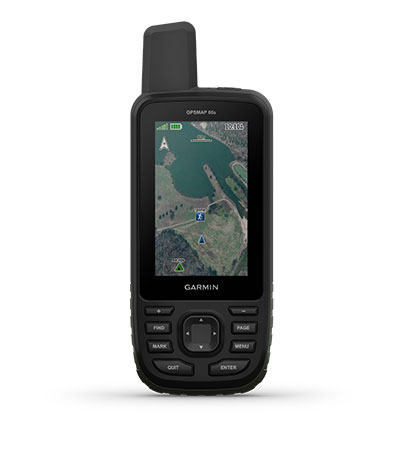 BIRDSEYE SATELLITE IMAGES
Download high-resolution, photo-realistic maps directly to the device without an annual subscription. Then discover trails, choose positions for high seats, search for parking spaces, create waypoints and much more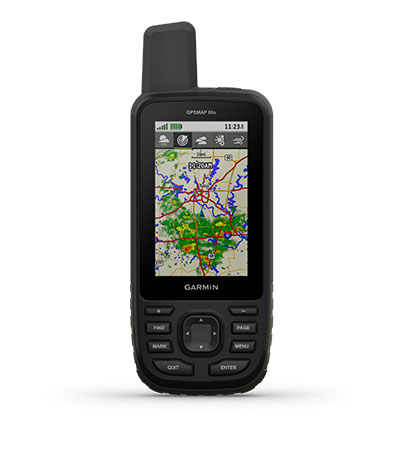 DO NOT BE SURPRISED BY THE WEATHER
Pair the device with a compatible smartphone and receive forecast information in real time as well as live weather radar data. So you are always well informed everywhere.
COMPACT AND EXTREMELY ROBUST
This handheld device is extremely robust, shockproof (MIL-STD-810F) and waterproof. Also compatible with night vision goggles. You are guaranteed to be well equipped for every adventure.
LED FLASHLIGHT FOR THE DARKNESS
The GPSMAP 66 series helps you keep your equipment to a minimum. One example of this is the integrated LED flashlight, which can also be used as an auxiliary signal.
GEOCACHING: FIND EVERY TREASURE
Thanks to Geocaching Live, you will automatically receive updates on descriptions, logs and tips. Each geocache found is uploaded to your profile at Geocaching.com via WLAN or the Garmin Connect ™ app .
MORE ADVENTURE: GARMIN EXPLORE APP
You can plan, view and synchronize waypoints, routes and tracks. Use the Garmin Explore app and website. Review completed activities along the way.
A BATTERY THAT LASTS FOR A LONG TIME
In GPS mode, the battery lasts up to 16 hours and even up to 1 week in expedition mode (with 2 AA batteries). So you can be out and about for a while without a power socket.