Control your boat directly from the smartwatch.
Thanks to the robust design, this co-captain is suitable for all conditions.
With the nautical charts, you always know your position, even in the most remote places.
Not only suitable for the water. The quatix® 6x Solar offers pre-installed apps for training, supports contactless payment and more.
The special thing about connectivity: Always stay in contact, no matter where you are.
Start your trip and leave the charging cable at home. With the help of solar charging, you get a battery life of up to 24 days in smartwatch mode.
Take control of the boat.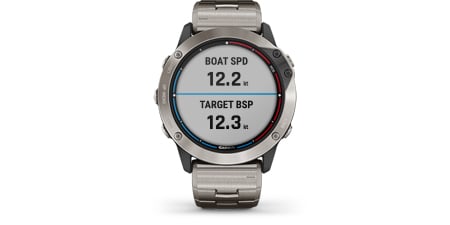 COMPREHENSIVE CONNECTIVITY
The quatix® 6x Solar can be connected to compatible Garmin chart plotters, the GNT ™ 10 transceiver and other products in order to transfer data to the watch.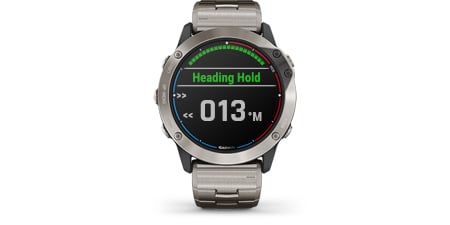 AUTOPILOT CONTROL
Take full control of the boat using the watch. You can use the Autopilot app to change your heading, turn on course control, and follow a GPS route.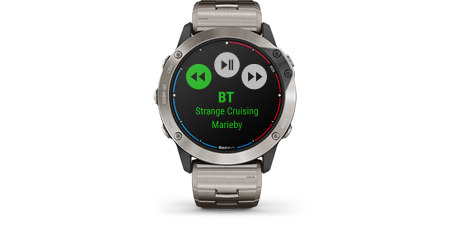 FUSION-LINK ™ AUDIO SYSTEM
With the integrated Fusion-Link ™ Lite app, you can operate your entertainment system on board via the quatix® 6x Solar.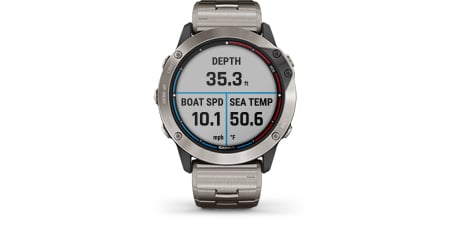 STREAMING DATA
Show data such as water depth, engine speed, wind, user-defined data and more directly on the smartwatch when the quatix® 6x Solar is connected to compatible devices on the boat.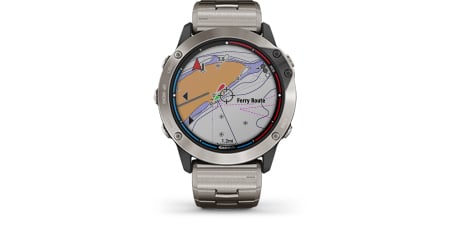 WAYPOINT MARKING
You do not need to return to the helm to mark the location of a fish catch. Just use your watch to set waypoints.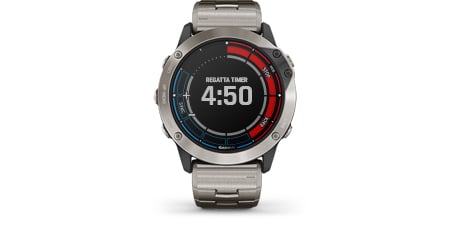 GARMIN SAILASSIST ™ FEATURES
When sailing, you should not only timed the start, but also have it visually in front of your eyes. Create a virtual start line to match the perfect start time. The turning assistant shows you whether the ship is falling or luffing up.
Adventure is waiting – on the water and on land.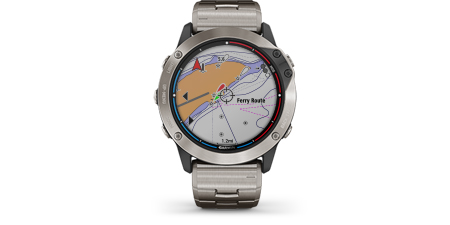 BLUECHART® G3 CARDS
The quatix® 6x Solar supports high-quality coastal maps with integrated Navionics® data.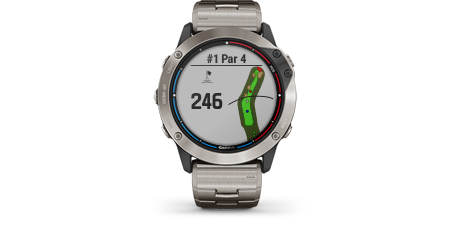 SPORTS APPS
The quatix® 6x Solar includes all activity profiles of the GPS multisport watch fēnix® 6 for recording sports activities on the water and on land, including golf, hiking, stand-up paddling, kayaking and more.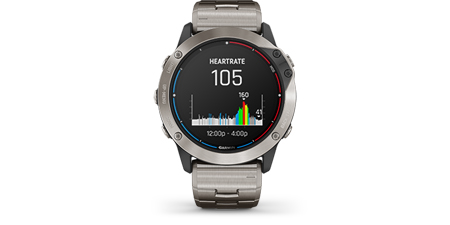 HEART RATE MEASUREMENT ON THE WRIST
The watch regularly measures your heart rate 1 so you can see how hard you are training during activities – even underwater. Additional data is available in our app for Apple® and Android ™ devices.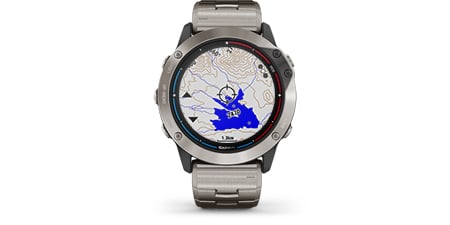 TOPO AND SKI CARDS
Navigate your adventures with topographic maps. View the names of ski slopes and the difficulty ratings for 2,000 ski resorts around the world.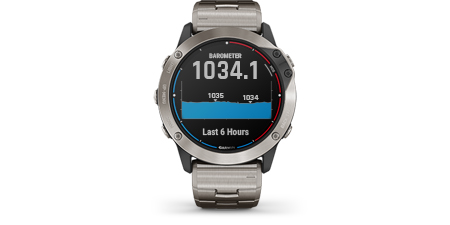 SATELLITE NAVIGATION
The watch is equipped with highly sensitive GPS navigation and tracking functions as well as an altimeter, barometer and compass.
Diverse online functions.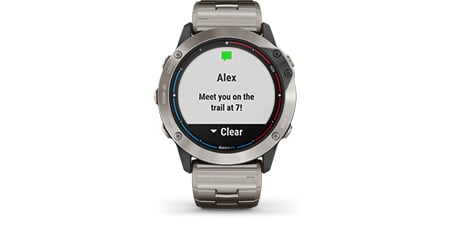 SMART NOTIFICATIONS
Receive emails, SMS messages and alarms directly on the watch when paired with a compatible Apple or Android smartphone .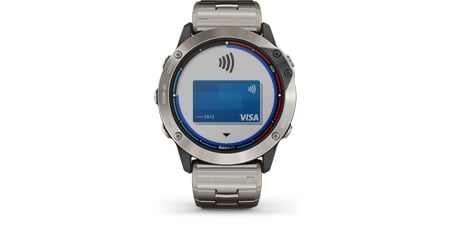 GARMIN PAY ™ PAYMENT SOLUTION
If you want to finish quickly at the checkout and on certain public transport services, use Garmin Pay for contactless payment 2 .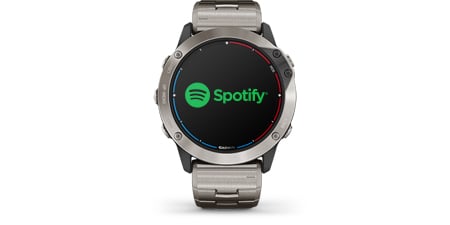 MUSIC
Sync playlists from your accounts for streaming music services, e.g. B. Deezer, Amazon Music and Spotify®, with your watch to listen to music without a phone. The quatix® 6x solar device has space for up to 2,000 songs.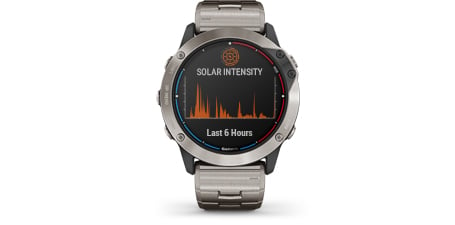 BATTERY WITH SOLAR CHARGE
Your battery life lasts up to 21 days in smartwatch mode – solar charge 3 extends your battery life by 3 more days.
QuickFit® accessory bracelets to change the look – without tools.
View statistics and track goals in the Garmin Connect ™ app.
Customize your Garmin device through the Connect IQ ™ store.