Classic design of an analog watch combined with smart functions.
Impressive style and an invisible display. Tap or swipe the screen to use the touchscreen.
Always up to date. Smartphone notifications 1 are sent directly to your watch.
There's much more to the beautiful exterior. Keep an eye on your health and fitness.
Ready for a workout? Use your smartphone's GPS 1 to record outdoor activities.
Battery life of up to 5 days. More time for your activities, less time at the socket.
TRADITIONAL WATCH DESIGN
The display is only shown when you need it. The clock hands move when you operate the touchscreen.
FASHION-FORWARD MATERIALS
The vívomove 3S is available in different colors. Thanks to the silicone strap and steel bezel, it's perfect for both work and the weekend. And it's compatible with industry standard
TRADITIONAL WATCH DESIGN
The display is only shown when you need it. The clock hands move when you operate the touchscreen.
Always up to date, even on the go.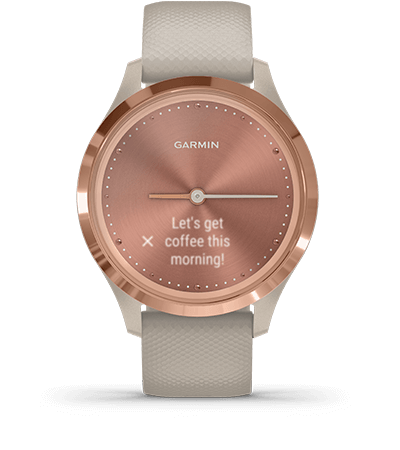 SMART NOTIFICATIONS
Receive emails, SMS messages and alarms directly on the watch when paired with a compatible smartphone.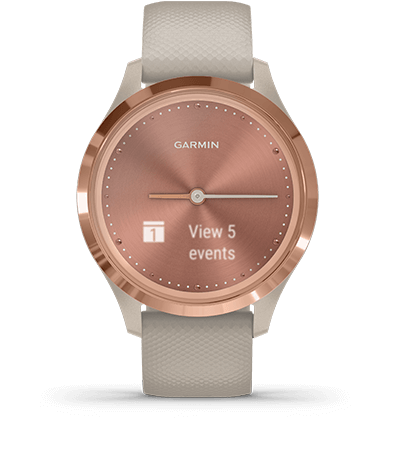 CALENDAR VIEW
You can easily see what is planned for the day on the special calendar page.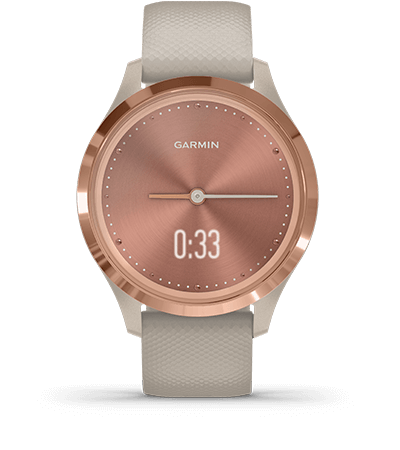 TIMER AND STOPWATCH
Access practical watch functions directly on the wearable.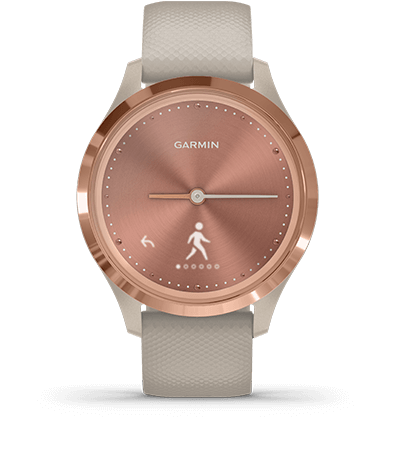 SYNCHRONIZATION WITH GARMIN CONNECT ™
View your health and fitness data in the easy-to-use Garmin Connect app . Members can network with other users, challenge or simply celebrate their successes.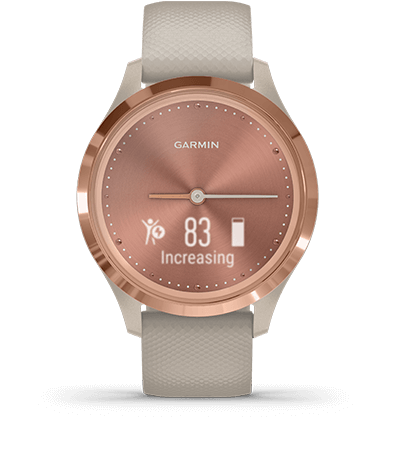 BODY BATTERY ™ ENERGY LEVEL
Body Battery ™ measures your body's energy reserves. The status of your energy level tells you when you are ready for your next workout.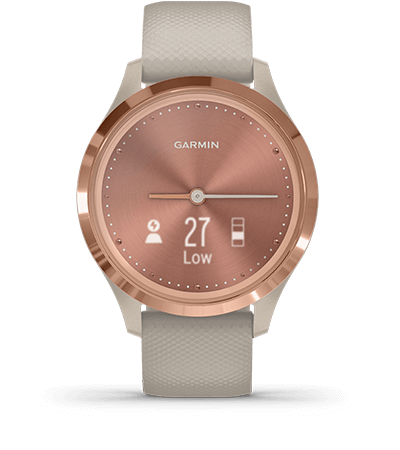 STRESS LEVEL TRACKING
Find out if you are having a quiet, balanced, or busy day. Let yourself be reminded of short breathing exercises to relax in between.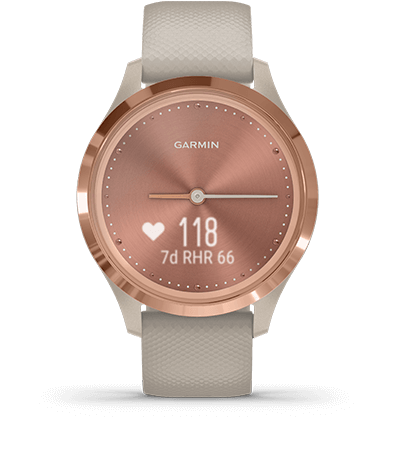 HEART RATE MEASUREMENT ON THE WRIST
The watch regularly measures heart rate 2 and issues an alarm if it is too high or too low during a resting phase. It also helps you gauge how hard you are training during activities.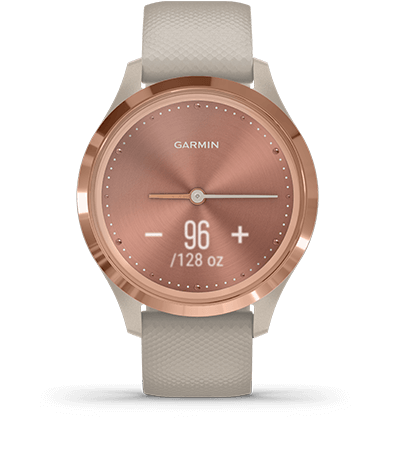 WATER CONSUMPTION TRACKER
Record how much fluids you drink each day. Just set yourself an automatic target for fluid intake. So you always drink enough.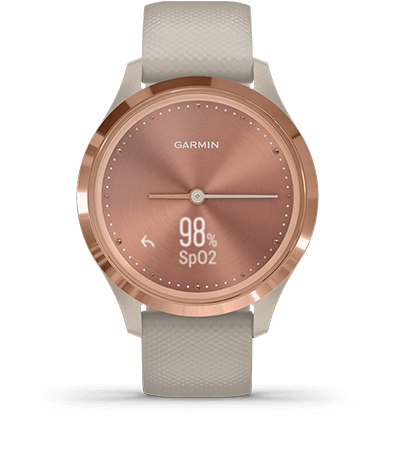 DETAILED SLEEP ANALYSIS
Get an idea of ​​the quality of your sleep in the different phases (light, deep, REM) and also receive blood oxygen saturation 3 and breathing data.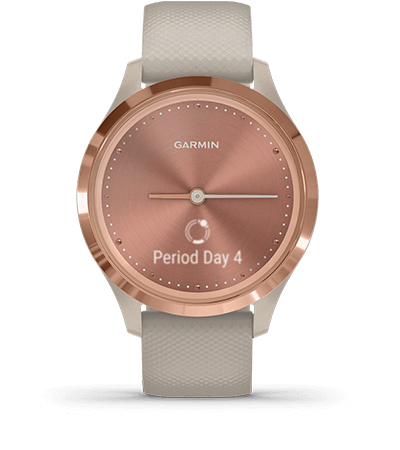 MENSTRUATION CYCLE TRACKER
In the Garmin Connect ™ app, you can save information about your cycle and physical and emotional symptoms. Also, find out about exercise and nutrition during each phase of your cycle. This way you will gain a better understanding of your body.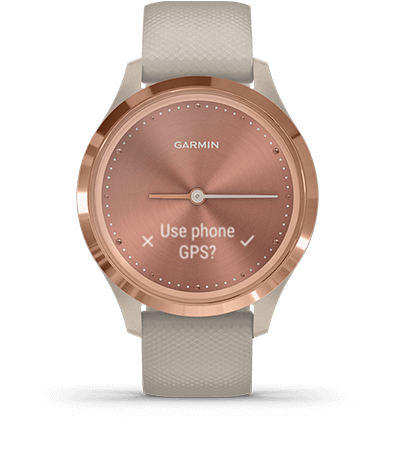 CONNECTED-GPS
Use the GPS of your compatible smartphone to get precise data about your activities like running or walking outdoors.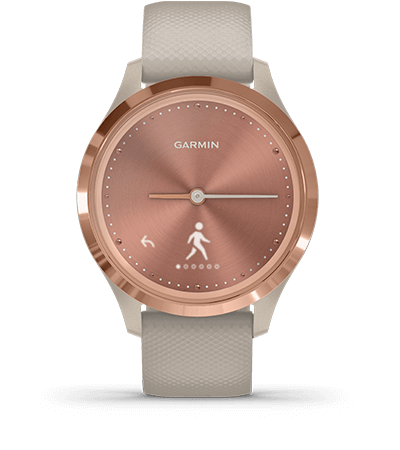 PRE-INSTALLED SPORTS APPS
Bring variety to your training with pre-installed sports apps for yoga, strength training, cardio training, swimming in swimming pools and much more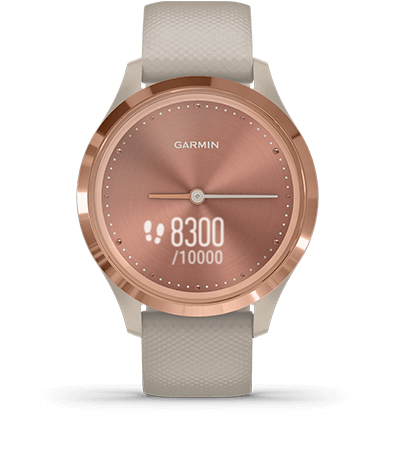 FITNESS TRACKING
The vívomove 3S stores the number of steps, the floors climbed, the intensity minutes and much more. Synchronize data with several Garmin watches. So you can always see how active you are.