Support for multiple dive modes – from technical diving to free diving.
Battery life of up to 25 hours in dive mode, up to 124 days in smartwatch mode with solar charging 2 and up to 39 hours in GPS mode with solar charging 3 .
GPS enabled to mark the immersion and ascent points.
Store up to 200 dives. Upload, share, and view dives 1 in the Garmin Dive™ app .
Track your performance and save your detailed stats on water.
Track activities with 30+ built-in sports apps and advanced training features.
BATTERY LIFE
With a battery life of up to 25 hours in dive mode, up to 124 days in smartwatch mode with solar charge 2 and up to 39 hours in GPS mode with solar charge 3 , you can stay in the water longer.
BUILT FROM THE HIGHEST QUALITY MATERIALS
With a high-contrast display and a purposeful design, this device aims to captivate you.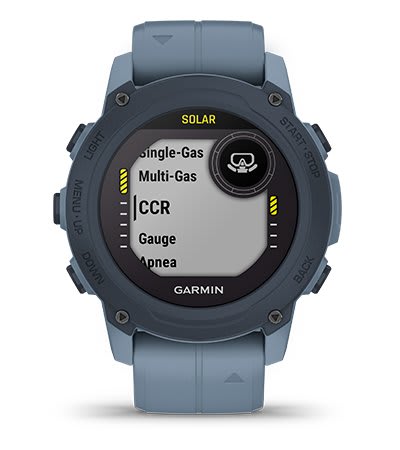 MULTIPLE DIVE MODES AVAILABLE
Multiple dive modes are available for single and multi-gas dives (including nitrox and trimix), gauge mode, freediving, freediving and CCR (closed circuit rebreather) diving.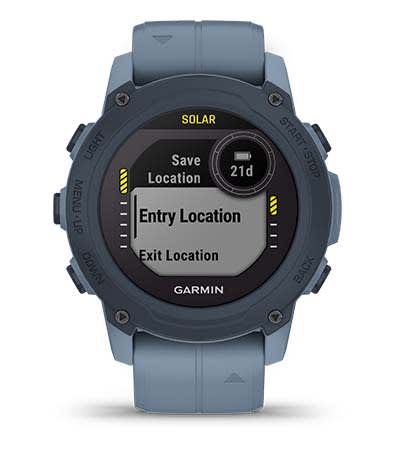 MULTI-SATELLITE RECEPTION ON THE SURFACE
Record the entry and exit points thanks to an expanded satellite connectivity 4 . The satellite networks GPS, GLONASS or Galileo are available for this.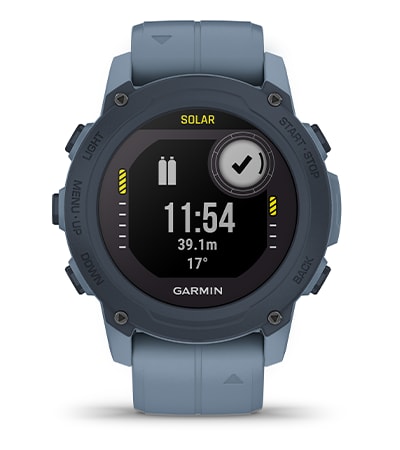 DIVING LOGBOOK
You can store and record data for up to 200 dives and share it with others through the Garmin Dive app. Review your dives and reminisce.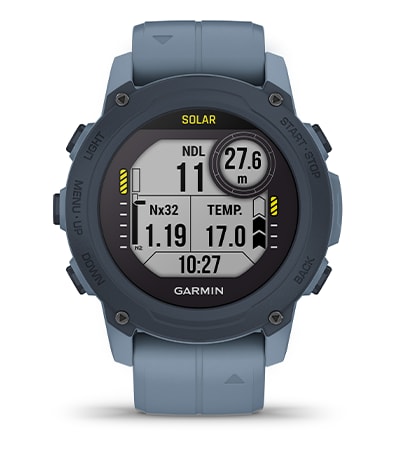 CUSTOMIZABLE DIVE MODES
Add additional pages for each dive mode with the fields you want. So you can customize your dive computer to suit your preferences.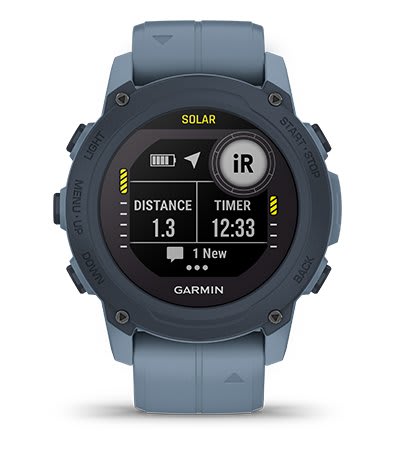 COMPATIBLE WITH INREACH®
Pair the device with inReach Satellite Communications Devices 4 and the inReach Underwater Case (each sold separately).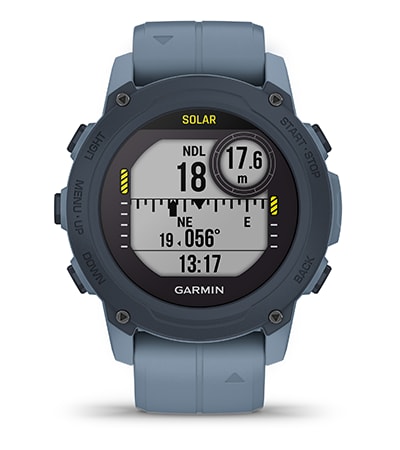 DIVING COMPASS
The integrated 3-axis compass helps you navigate underwater.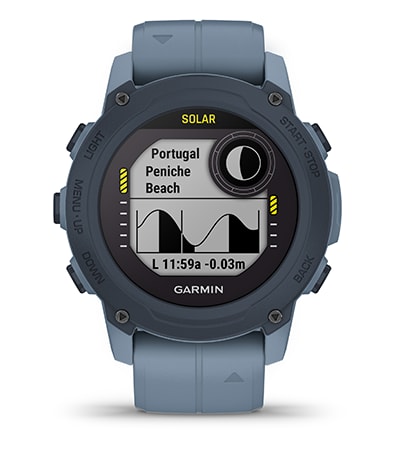 TIDE DATA
Stay informed about the conditions out at sea so you can catch the perfect wave. Simply pair the smartwatch with your compatible smartphone .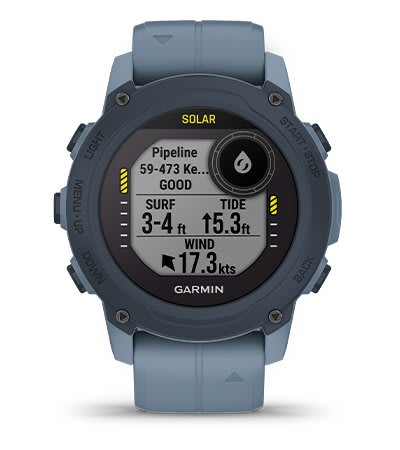 SURFLINE®
View conditions like tides, wave height, wind and surf ratings for the five closest surf spots when you pair your device with the Garmin Connect™ app on your compatible smartphone .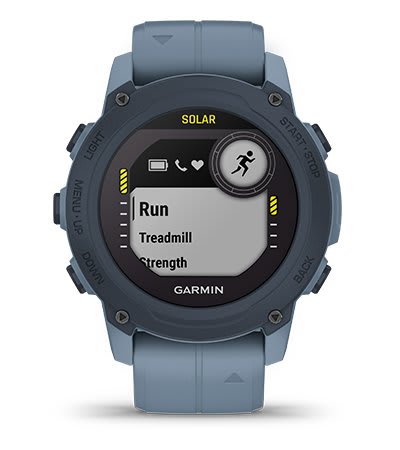 INTEGRATED SPORTS APPS
Use preloaded activity profiles for trail running, swimming, running, biking, hiking, rowing, skiing, golfing and more.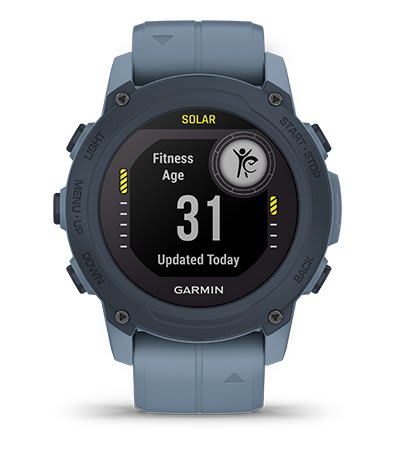 FITNESS AGE
This feature uses chronological age, your weekly vigorous-intensity activity, and resting heart rate to calculate whether your body is younger or older than you. You can also get tips for reducing your fitness age.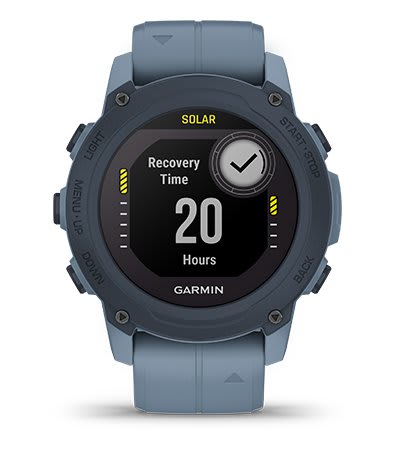 RECOVERY GUIDE
After each workout, the recovery time indicates when you're ready for your next hard workout. Training intensity and factors such as stress, daily activities and sleep are taken into account.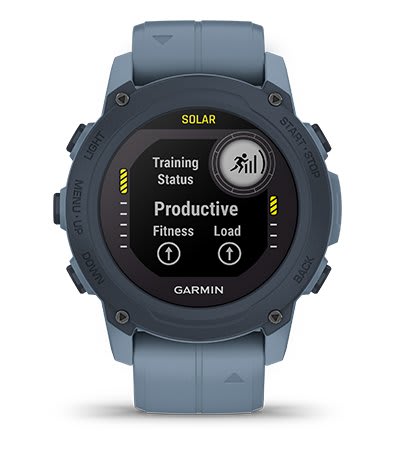 TRAINING CONDITION
This metric evaluates your recent training sessions and performance indicators and determines whether you are on target with your training, are at your peak, or are overloaded.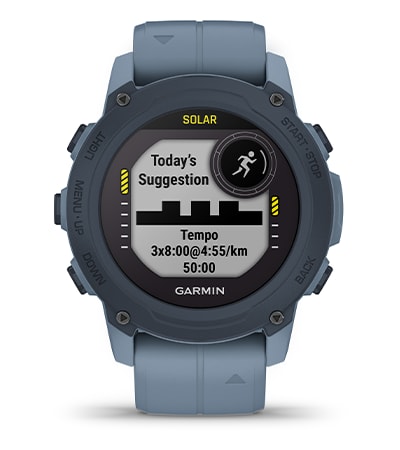 DAILY TRAINING SUGGESTIONS
Daily training suggestions for running provide training instructions that take both you and your fitness level into account. The suggestions are based on current data on training load and training status.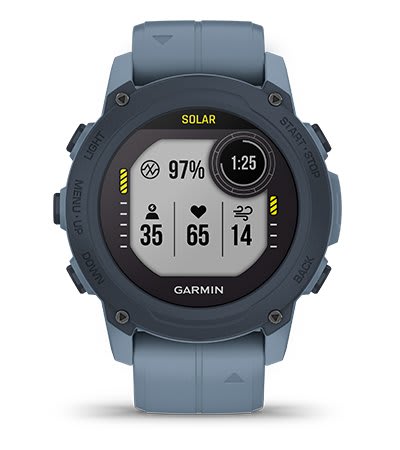 ALL DAY BREATHING RECORD
See how your breathing behaves during the day, while you sleep, and during breathing exercises.
FIT AND HEALTHY – AROUND THE CLOCK.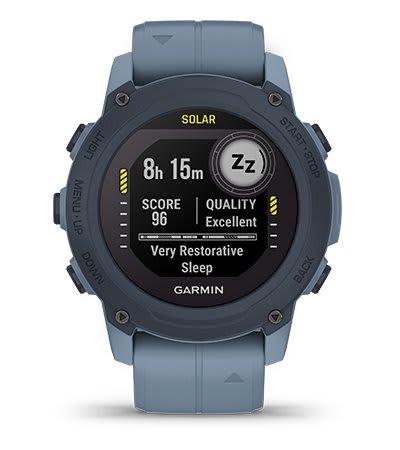 SLEEP ANALYSIS WITH SLEEP SCORE
Get complete information about your light, deep and REM sleep. Show everything in a special widget with sleep score and insights.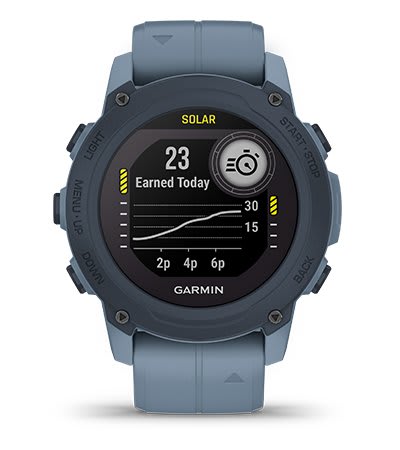 INTENSITY MINUTES
Record how many minutes you train at high intensity, when you get them and at what activity. Even show them as a data field for timed activities.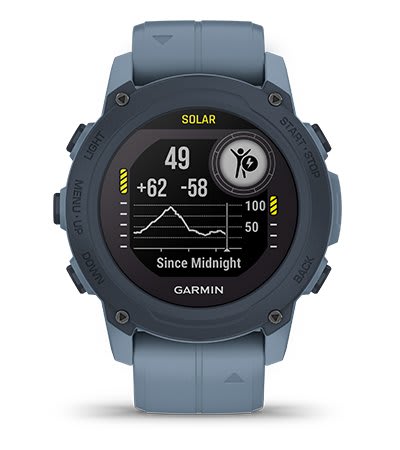 BODY BATTERY™ ENERGY LEVELS
Measure your body's energy reserves so you know when is the best time to be active or rest.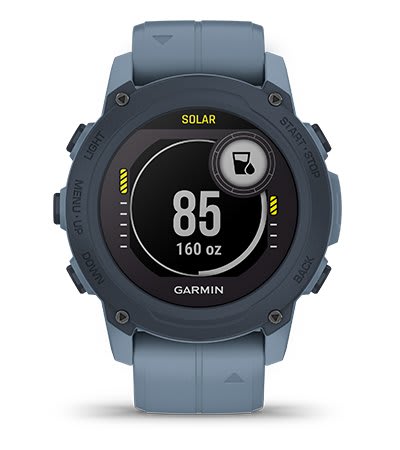 SEE IF YOU'RE DRINKING ENOUGH
Adequate fluid intake is important for your health. Track how much water you're drinking each day and see if you're drinking a similar amount from day to day.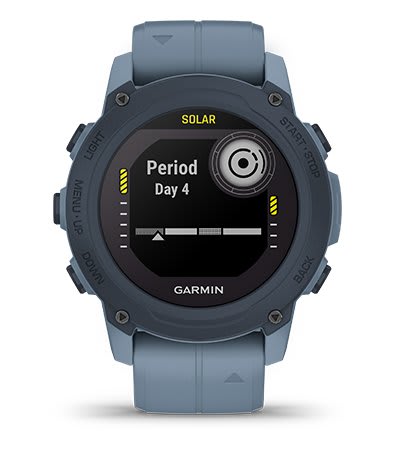 MENSTRUAL CYCLE TRACKER
Use the Garmin Connect ™ app to track your menstrual cycle or pregnancy . Save symptoms, get information about training and nutrition and much more. m.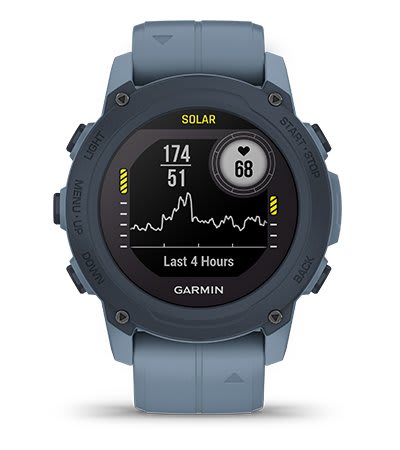 WRIST HEART RATE MEASUREMENT
Your smartwatch regularly measures the heart rate 5 and gives an alarm if it is too high or too low during a rest phase. It also helps you gauge how hard you're training during activities. Even underwater.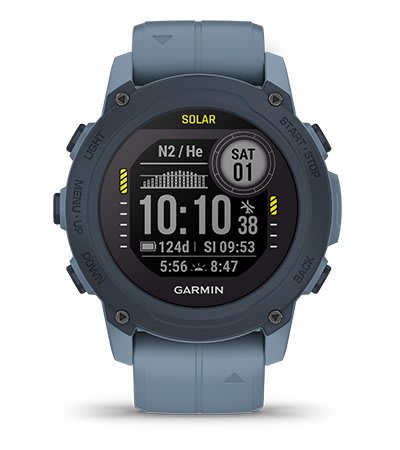 EXCELLENT QUALITY
The durable dive computer watch is equipped with sapphire glass, silicone straps and an easy-to-read monochrome display.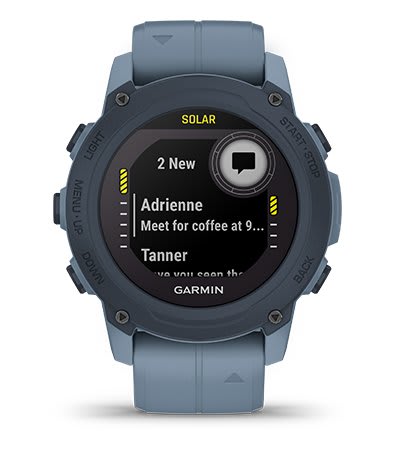 SMART NOTIFICATIONS
From now on you won't miss any messages from your friends, no matter whether you're doing sports or in your free time. Get notifications and alerts straight to your watch when paired with a compatible device.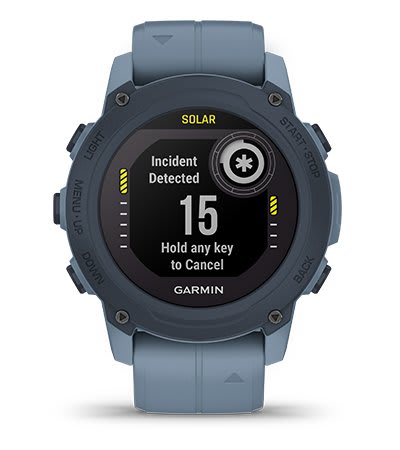 SECURITY AND TRACKING FEATURES
When the smartwatch and phone are paired, your live location can be sent to your contacts. This is done either manually or, for certain outdoor activities, automatically with the integrated accident detection 5 .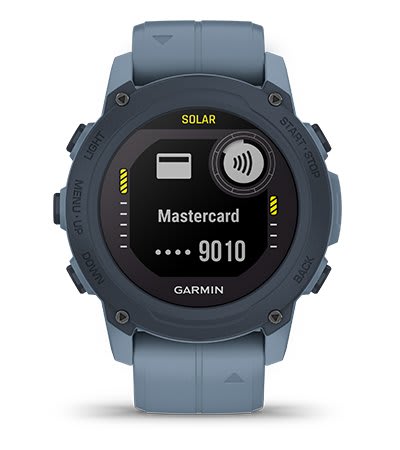 GARMIN PAY™ – PAY CONTACTLESS
If you want to be quick at the checkout, use contactless payment with Garmin Pay 8 via participating providers.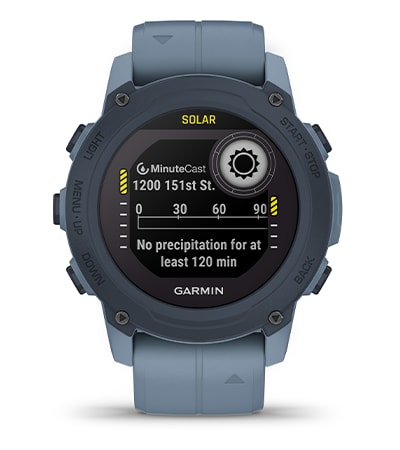 CONNECT IQ™ SHOP
Download custom display themes, add data fields, and get apps and widgets from the Connect IQ store.
QuickFit® accessory bands that match your style.
Customize your Garmin device through the Connect IQ™ store.
Save, track and share your dives on the Garmin Dive™ app.