Dive computer with sonar-based air integration for you and your diving buddies.
Various diving modes are available for your underwater adventures.
Record your performance and save your statistics about water.
This intelligent dive computer offers Garmin Pay ™ , music and notifications.
In the Garmin Dive ™ app, you can share your dives and relive them again.
With an outstanding battery life, nothing stands in the way of your adventures.
QUALITY MEETS DESIGN
The exclusive dive computer has a robust and high-quality design and is equipped with a 1.4-inch color display that is very easy to read even in direct sunlight.
HIGH QUALITY MATERIALS
Match the look to your lifestyle with an elegant titanium bezel. Also with scratch-resistant and domed sapphire crystal and inductive buttons fully integrated into the case.
UNFORGETTABLE DIVING EXPERIENCES.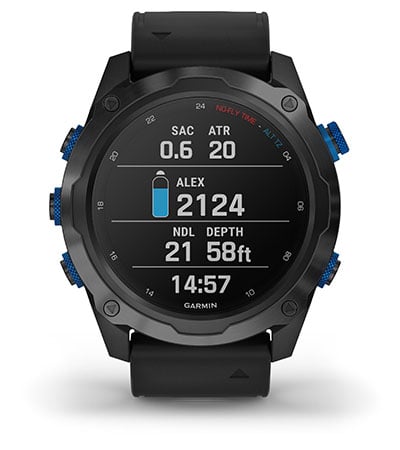 AIR INTEGRATION
Couple your dive computer with the Descent T1 transmitter and keep an eye on the tank pressure, air consumption and the remaining airtime of up to 5 tanks via the sonar-based SubWave ™ system 1 .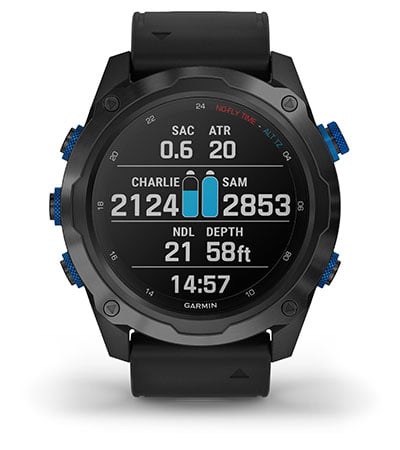 SONAR-BASED SUBWAVE SYSTEM
View data on remaining airtime, air consumption and tank pressure of up to 5 tanks within a maximum distance of 10 meters 1 .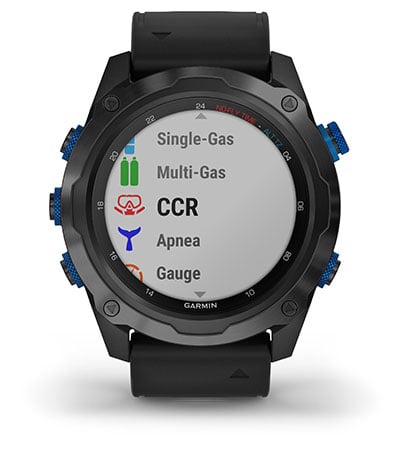 DIVE MODES
Multiple dive modes are available for single and multi-gas dives (including nitrox and trimix), gauge mode, apnea, apnea chasing and CCR (closed circuit rebreather) dives.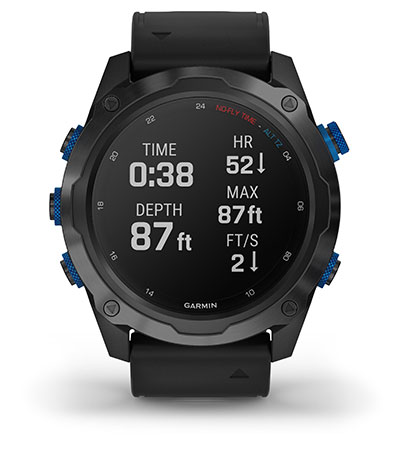 CUSTOMIZABLE DIVE MODES
For each dive mode, add additional pages with the fields you want.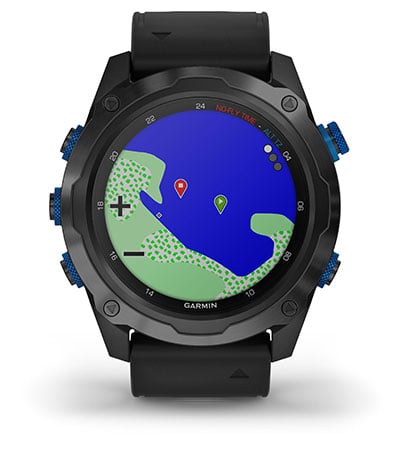 MULTI-SATELLITE NETWORK ON THE SURFACE
Record the points of immersion and emergence thanks to enhanced satellite connectivity 2 .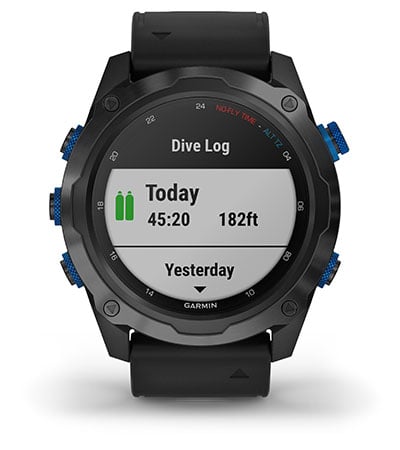 DIVING LOGBOOK
You can save and record data for up to 200 dives and share them through the Garmin Dive app . Take another look at your dives and reminisce.
RAISE YOURSELF TO A NEW LEVEL.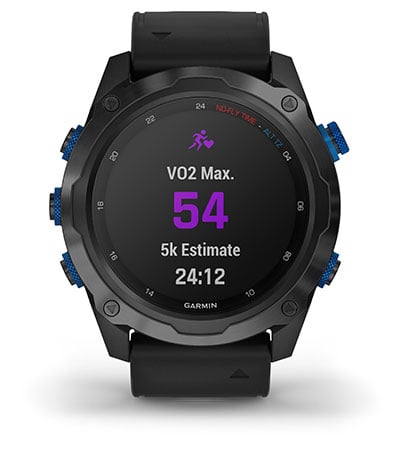 PERFORMANCE VALUES
View advanced training metrics that include running efficiency data, a heat and altitude adjusted VO2max, recovery advisor, and more 4 .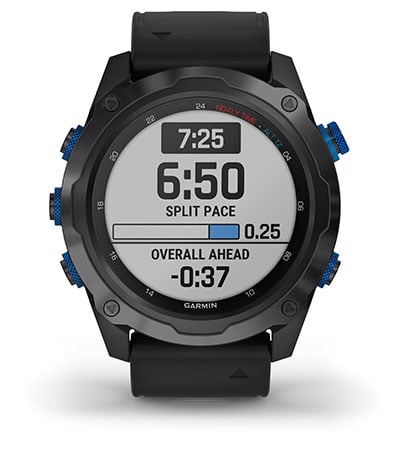 PACEPRO ™ TECHNOLOGY
A so far unique function provides information adapted to the incline so that you can maintain your pace when completing a route.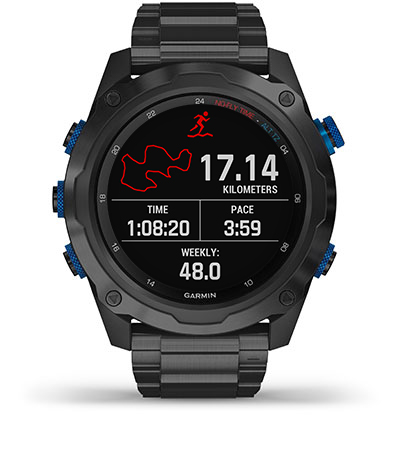 PRE-INSTALLED SPORTS APPS
Use pre-installed activity profiles for trail running, swimming, running, cycling, hiking, rowing, skiing, golfing and more.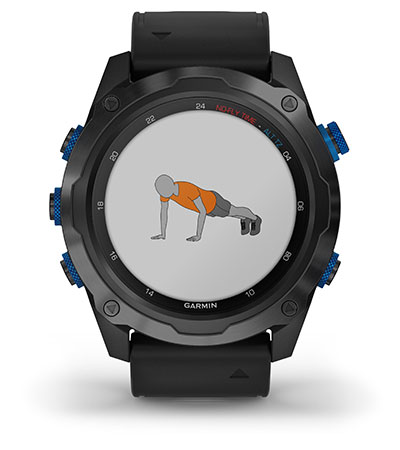 ANIMATED TRAININGS
This watch offers animated cardio, strength, yoga and pilates workouts with simple instructions that you can view on the watch's display. Choose one of the pre-installed animated workouts or download additional workouts from our Garmin Connect ™ online community.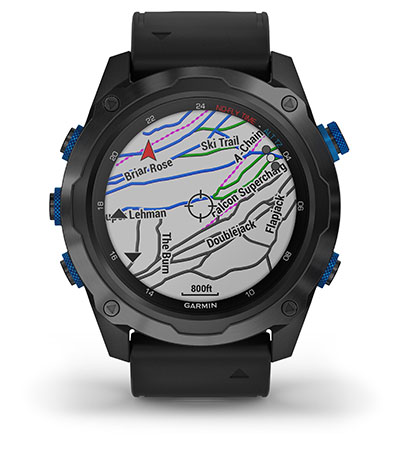 TOPOACTIVE EUROPE AND SKI CARDS
Use TopoActive Europe maps to navigate your adventures and to see the names of ski slopes and difficulty ratings for 2,000 ski resorts around the world.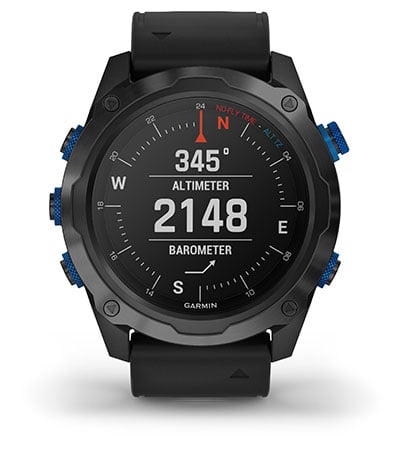 ABC SURFACE SENSORS
Navigate the next trail with ABC sensors, including an altimeter for altitude data, a barometer to monitor the weather and an electronic 3-axis compass for perfect orientation.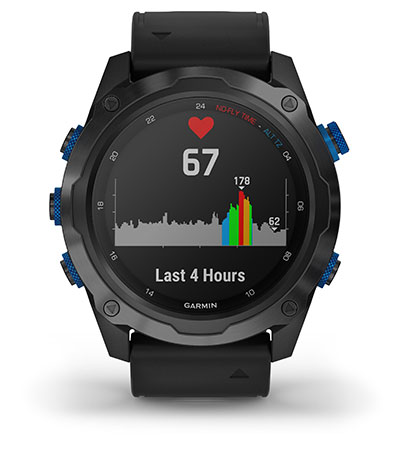 HEART RATE MEASUREMENT ON THE WRIST
The technology for optical heart rate measurement 5 determines the intensity of activities and heart rate variability and then calculates your stress level. This even works underwater – without a heart rate chest strap.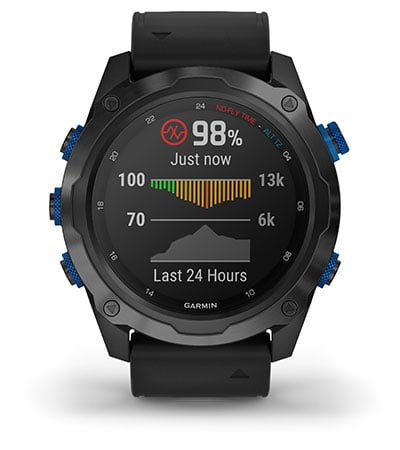 PULSE OXIMETER SENSOR
For altitude acclimatization, sleep monitoring or between apnea / apnea hunting activities on the surface, a pulse oximeter sensor 4 uses light to determine how well your body is absorbing oxygen.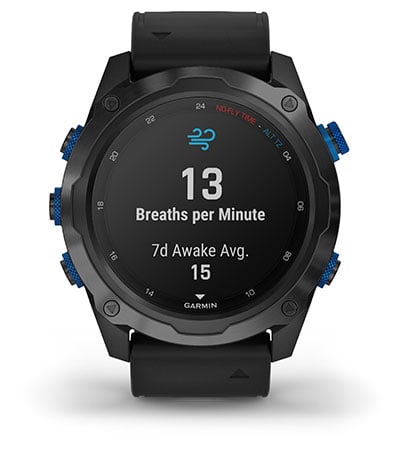 24/7 BREATHING RECORDING
Save what your breathing is like during the day, while sleeping, and during breathing exercises and activities like yoga.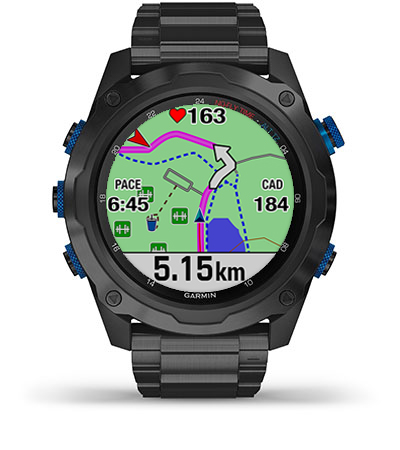 PERFECT NAVIGATION
Follow a route or course with turn- by- turn directions so you always know when the next turn is coming. So you arrive relaxed and safe anytime and anywhere.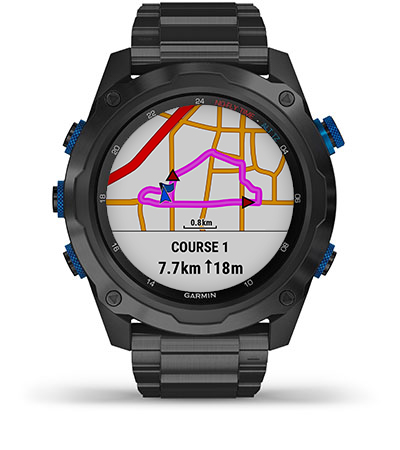 ROUND TRIP ROUTING
Enter a distance that you want to cover and receive several route suggestions that also lead you back to the starting point. The Trendline ™ routing by popularity helps you to find the best routes on site.
EVERY DIVE AN EXPERIENCE.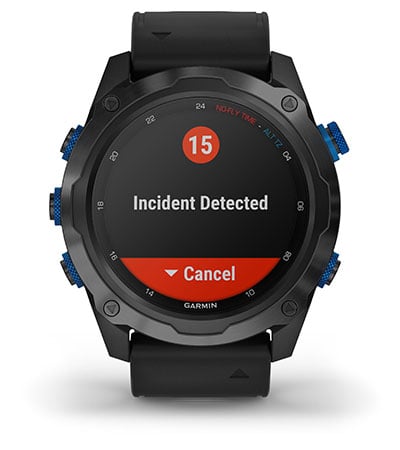 SAFETY AND TRACKING FUNCTIONS
If you do not feel safe or your watch has detected an accident, your position will be sent to the emergency services thanks to the emergency assistance and the accident notification 6 . The function is not available in dive mode.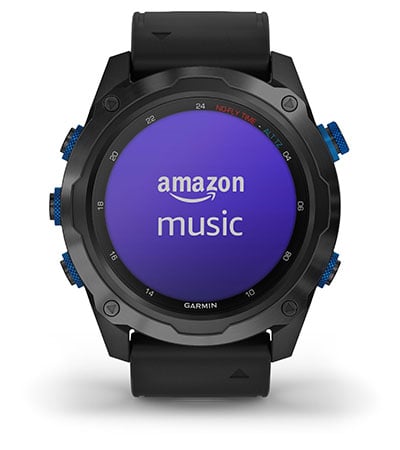 MUSIC APPS
Save up to 2,000 songs on the device or access streaming apps from compatible services 7 such as Spotify ® , Deezer and Amazon Music.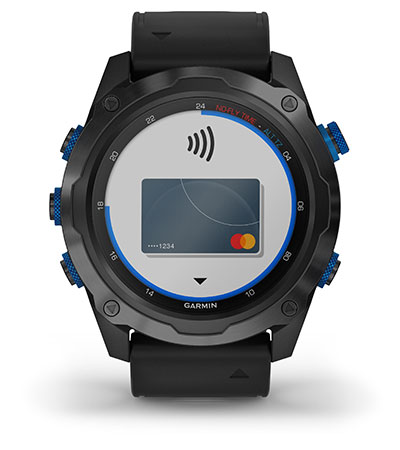 CONTACTLESS PAYMENT WITH GARMIN PAY ™
Pay in no time – without a wallet. If you want to finish the checkout quickly, pay contactless with Garmin Pay for contactless payment 8 . The function is available through participating providers.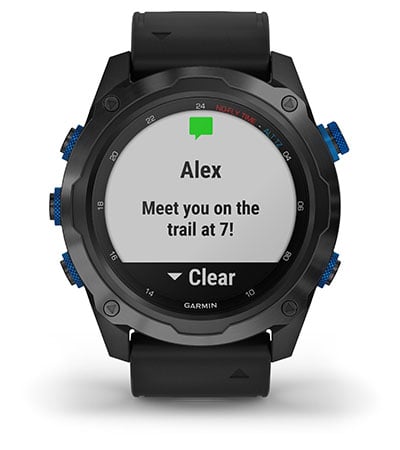 SMART NOTIFICATIONS
From now on you won't miss any messages from your friends, whether you're doing sports or in your free time. Receive emails, text messages and alarms right on the watch when paired with a compatible device .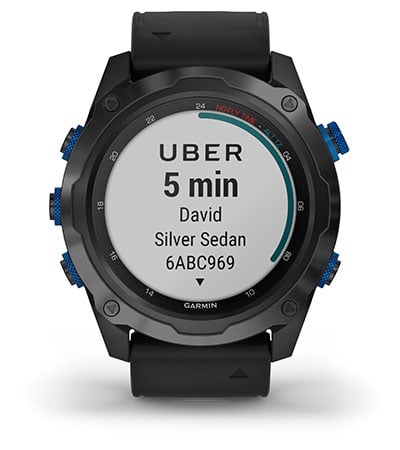 CONNECT IQ ™ SHOP
Your Smartwach. Your style. Make your smartwatch unique. Download display designs, add data fields, get apps and widgets from the Connect IQ shop .
NEW BRACELET. NEW STYLE.
CUSTOMIZE YOUR GARMIN DEVICE IN THE CONNECT ™ SHOP.
SAVE, TRACK AND SHARE YOUR DIVES IN THE GARMIN DIVE ™ APP.
1 Additional devices (sold separately) and device pairing required.
2 GPS tracking is not possible underwater.
3 Sold separately; Active satellite subscription required.
4 
This is not a medical device and is not intended for use in the diagnosis or monitoring of any disease; see 
Garmin.com/ataccuracy
 . Pulse oximetry data are not available in all countries.
7 A premium subscription from a third party music provider may be required.
SPOTIFY and the Spotify logo are among the registered trademarks of Spotify AB. Amazon Music and all associated logos are trademarks of Amazon.com, Inc. or its affiliates.