High-resolution 6-inch touch display.
With vehicle-specific route guidance 1 and route information, e.g. B. too steep inclines or declines.
Arrivals are smooth thanks to the aerial view of your destination with loading dock and truck entrance markings.
After setting up a vehicle profile, you will receive information and warnings about environmental zones on your route.
Available parking spaces from Truck Parking Europe are displayed along your route.
MASTER EVERY RIDE WITH CONFIDENCE.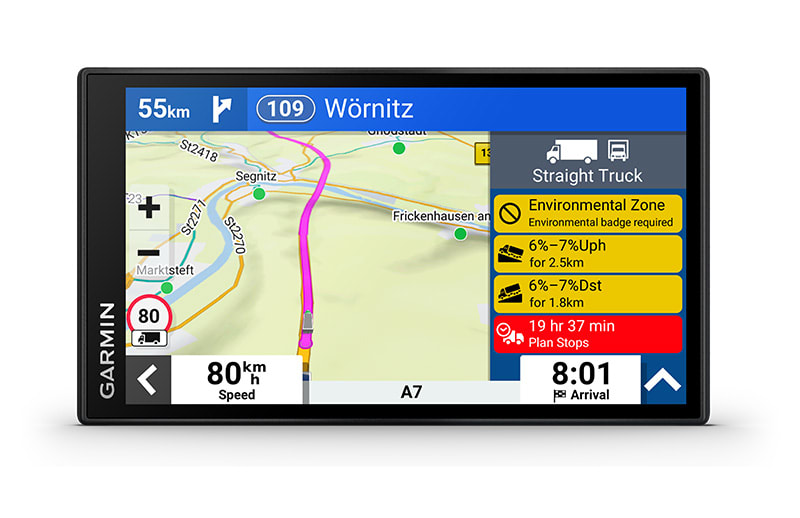 EASY TO READ DISPLAY
The bright 6-inch touchscreen delivers a clear, high-resolution image.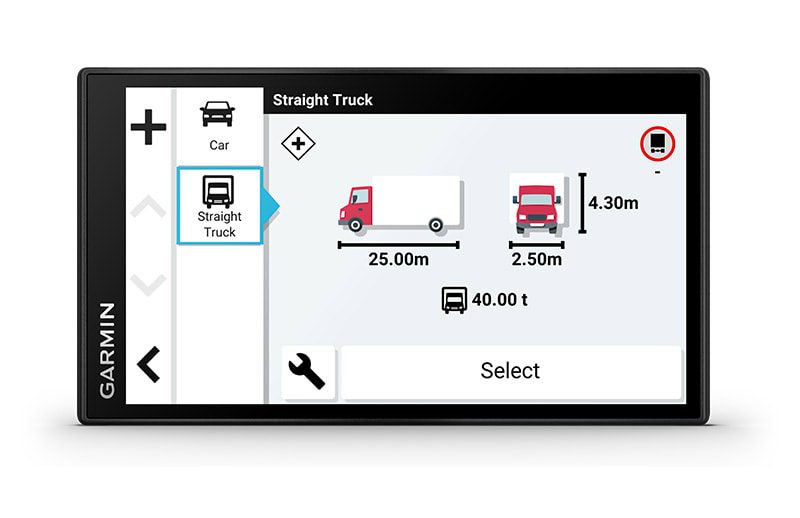 VEHICLE-SPECIFIC ROUTE GUIDANCE
Just enter the truck profile (it's customizable by height, weight, length, width and dangerous goods) and search for routes 1 that work best for your truck and its load.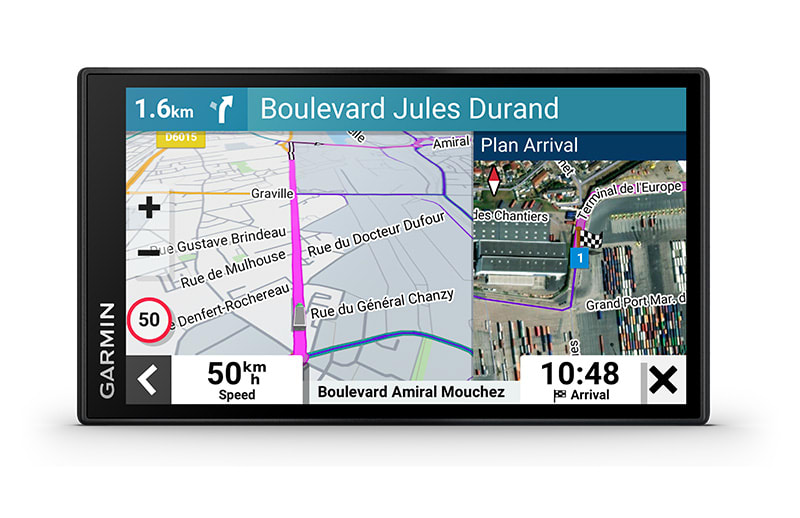 PROFESSIONAL ARRIVAL PLANNING
BirdsEye satellite imagery simplifies arrival planning with aerial views of loading docks, truck ramps and security gates.
CUSTOM ARRIVAL PLANNING
View your destination, then customize the route by adding and saving your own arrival points like preferred security gates, loading docks, and truck ramps.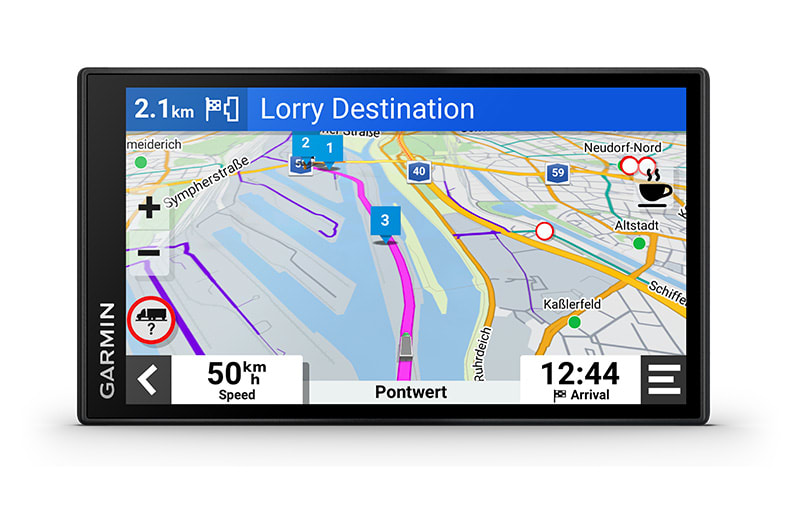 POPULAR TRUCK ROUTES
View routes popular with other long-distance drivers to get a better overview, even in unfamiliar areas.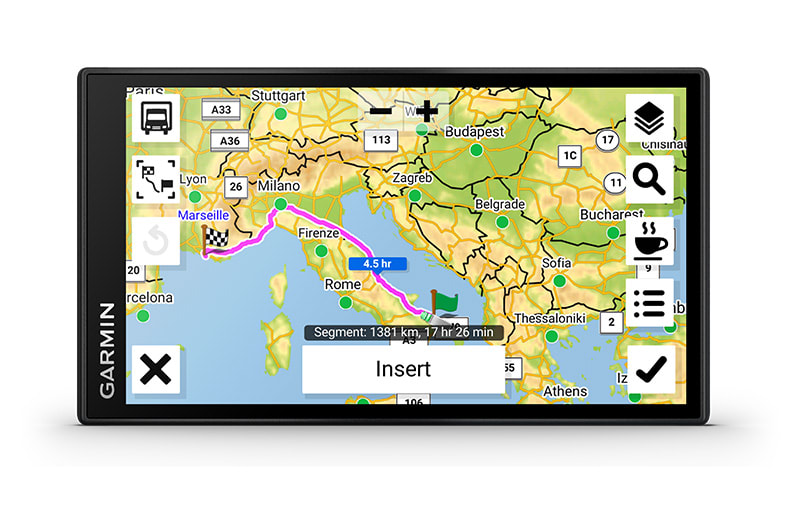 ROUTE OVERVIEW
Easily view your complete route and set the best stops for fuel, breaks and overnight stays.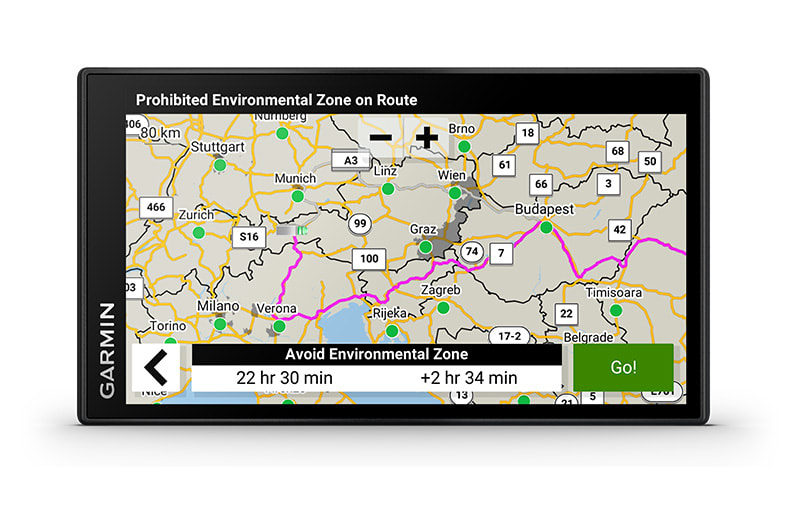 ROUTE GUIDANCE WITH ENVIRONMENTAL ZONES
Receive information and warnings about environmental zones on the route.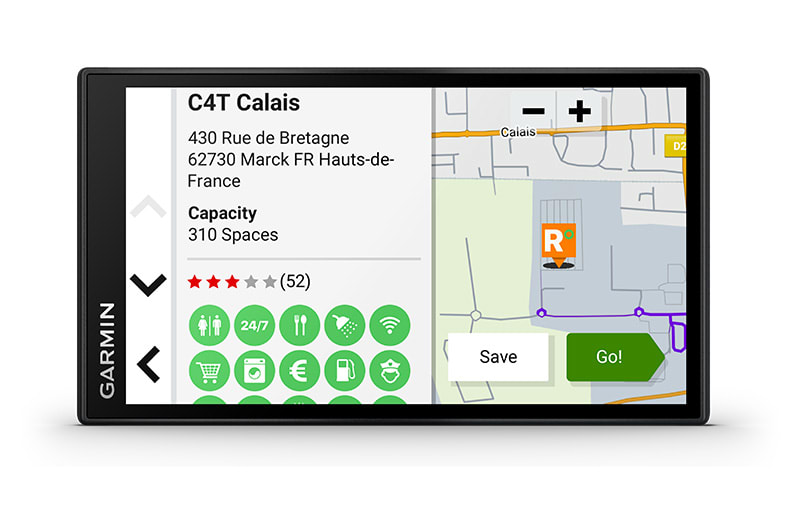 SUITABLE PARKING FOR TRUCKS
You can use Truck Parking Europe data to find truck parking spots along the route. Filter the data by preferred facilities, e.g. B. WLAN, showers, security level and much more. m. Connect to the Garmin dēzl ™ app and view parking availability so you don't end up at a crowded POI.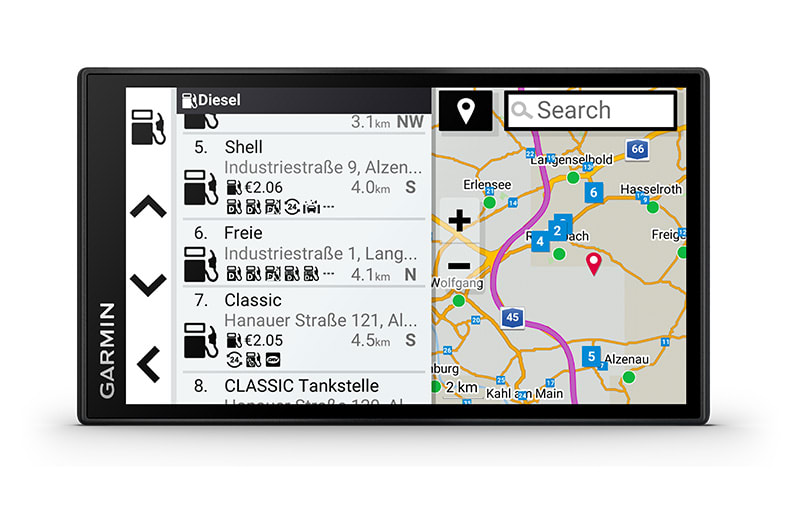 THE RIGHT TRUCK STOP
Find favorite truck stops with Truck & Trailer Services' preloaded directory. You can filter the entries by provider or service.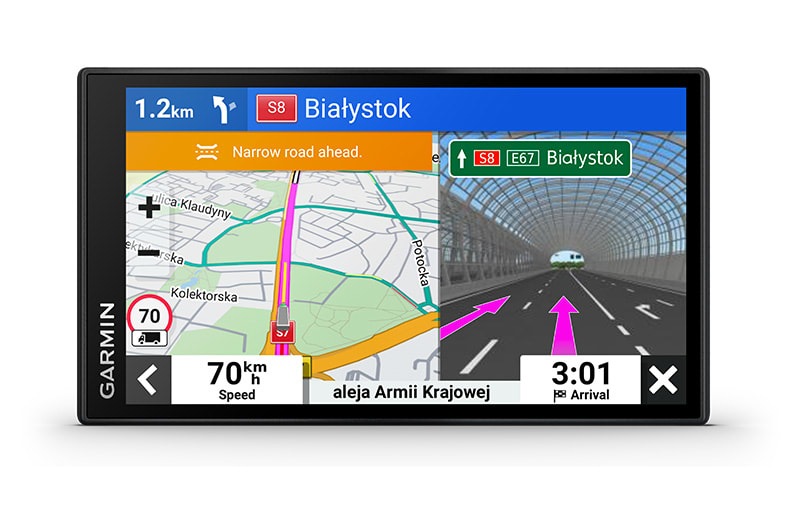 WARNINGS AND NOTICES
Receive alerts for sharp turns, speed changes, railroad crossings and more to increase driving safety and improve traffic awareness.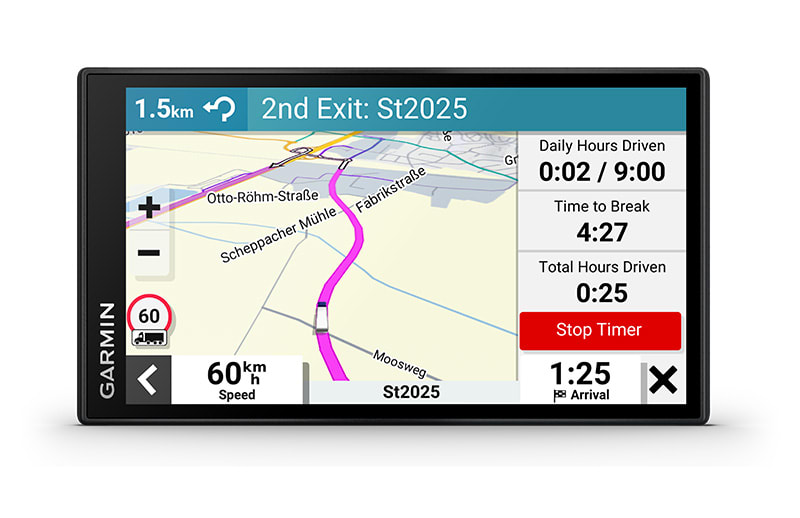 BREAK PLANNING MADE EASY
The drive timer shows the daily driving hours, total driving hours and the time until the break. Before the end of the driving time, a suggestion is made for the next suitable exit and POIs for the rest.
DISCOVER YOUR ULTIMATE ASSISTANT.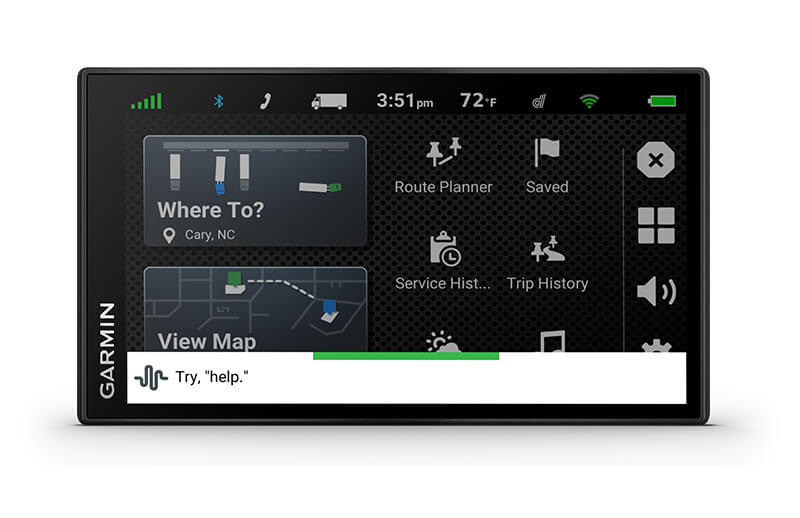 GARMIN VOICE ASSISTANCE
Need navigation instructions? Just say where to go. Garmin Voice Assistant responds to your voice commands so you can keep your hands on the wheel and your eyes on the road. (The voice assistant is available in English, German, Italian, Spanish, Danish, Swedish and Dutch.)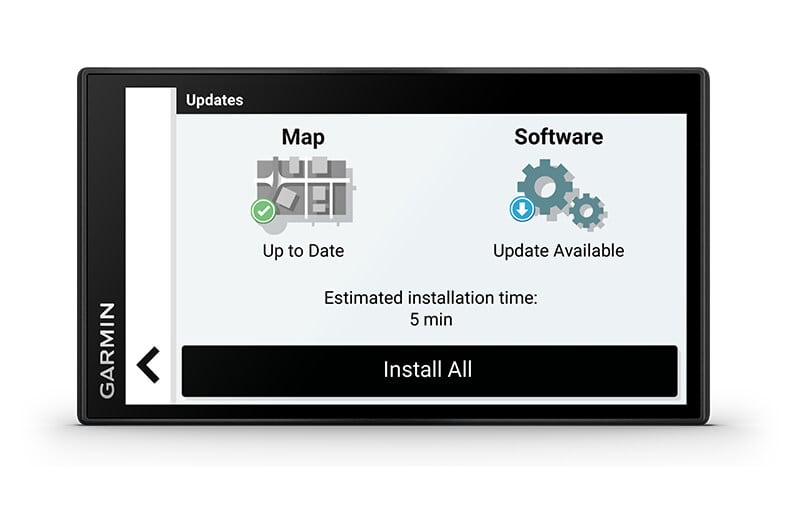 WIRELESS UPDATES
Built-in WiFi connectivity makes it easy to keep the maps and software up to date without the need for a computer. On-screen instructions will let you know when new updates are available.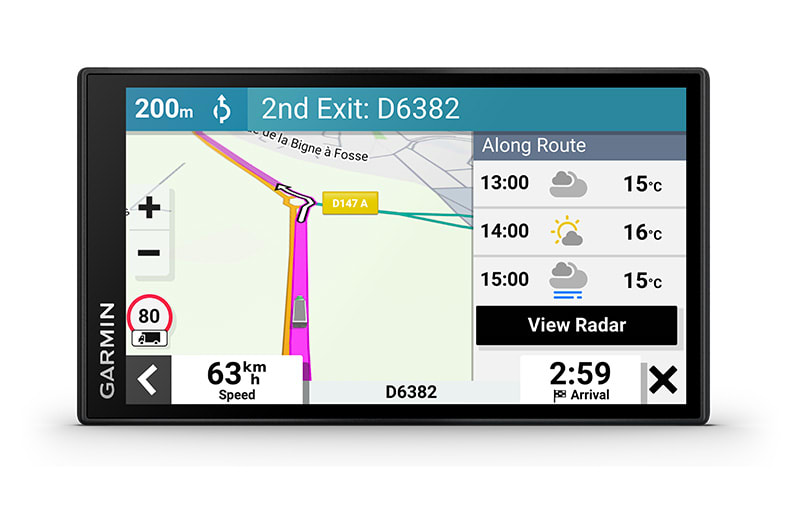 INFORMATION ABOUT TRAFFIC, WEATHER AND FUEL PRICES
Download the dēzl app and get live information on traffic, weather and fuel prices.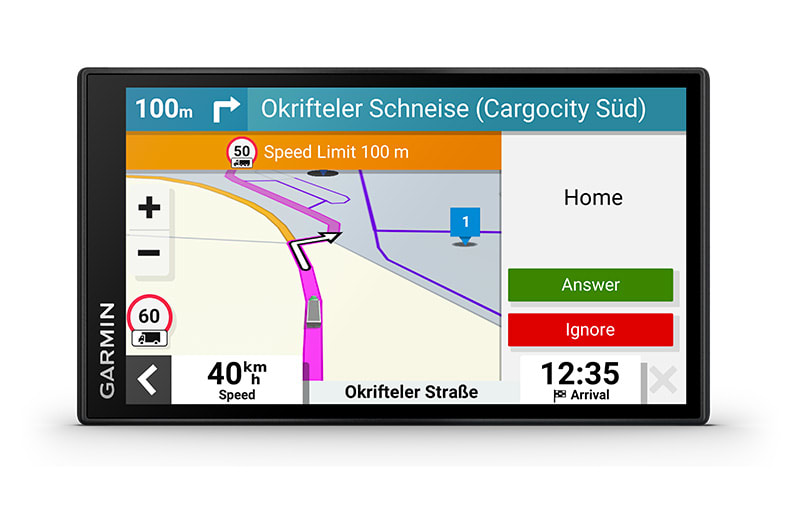 SMART HANDS-FREE FUNCTION
Built- in Bluetooth ® wireless technology lets you sync your compatible smartphone with the dezl sat nav to make calls without taking your hands off the wheel.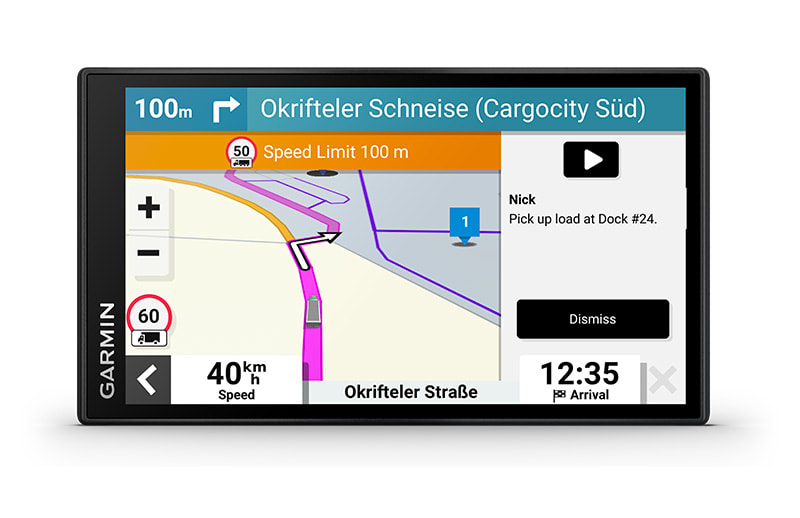 RECEIVE SMART NOTIFICATIONS
When paired with the dēzl app, you can see notifications on the navi display.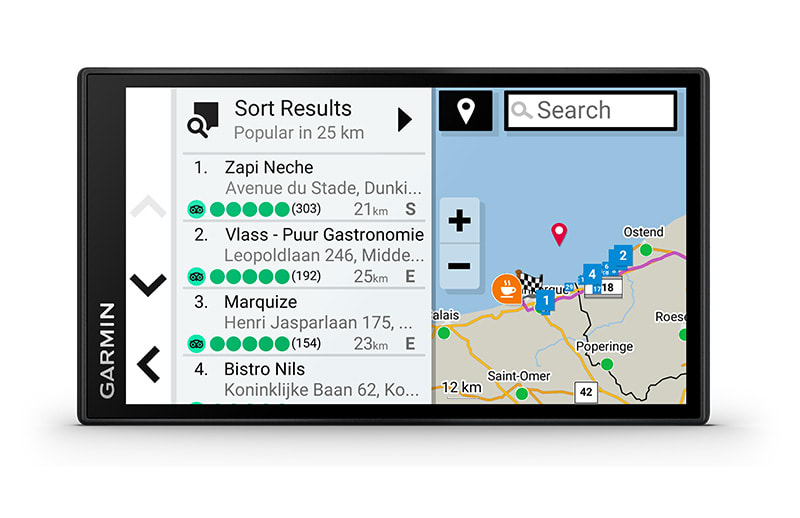 INFORMED ON THE GO
Check out Tripadvisor ® traveler reviews for hotels, restaurants and attractions along the route or near your destination. Foursquare ® recommendations make it easy to find new and popular POIs.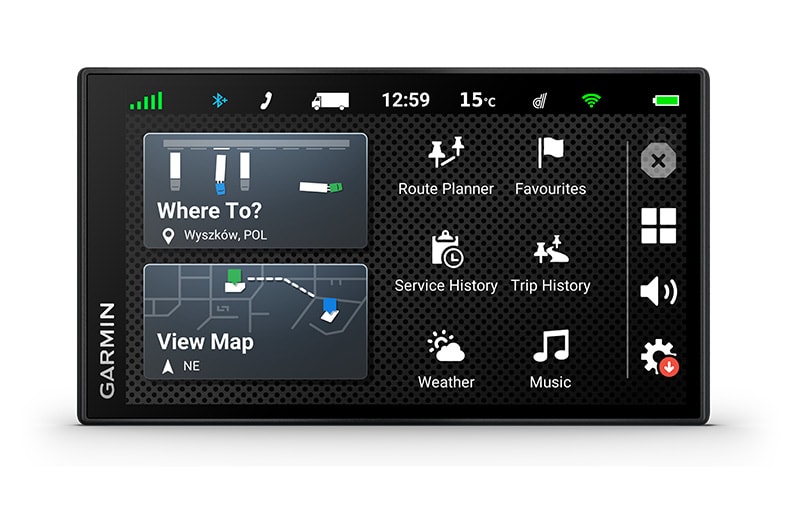 EUROPE MAP COVERAGE
Get started right away with map updates and detailed street maps for Europe and South Africa.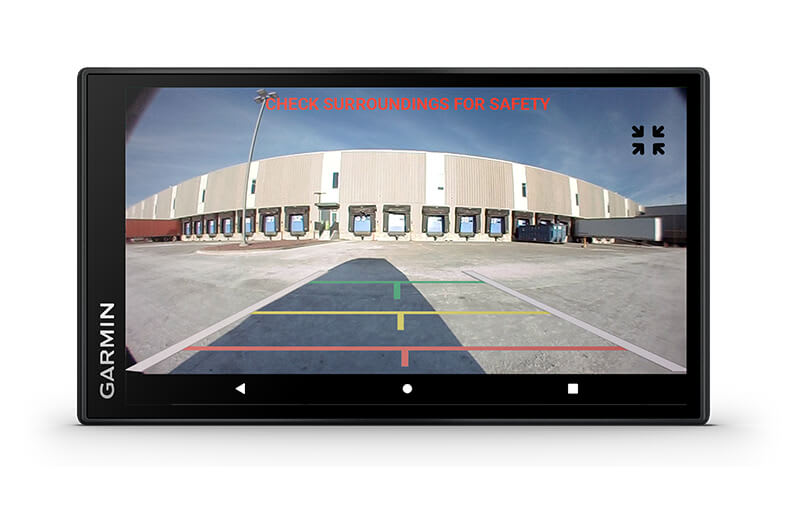 REAR VIEW CAMERA COMPATIBLE
See what's behind the truck with a BC™ 50 wireless backup camera (sold separately).
The healthy way to drive long distances with the Smartwatch Instinct ®  2 – dēzl™ Edition.
Easier on the road thanks to the dēzl truck app.
A Garmin Dash Cam™ as a reliable eyewitness.
Clear sound and noise cancellation: the dēzl™ headsets for long-distance drivers.
1 Not available in all areas. Entering the profile data of the truck does not guarantee that this profile data will be taken into account in all route suggestions. The instructions on road signs must be observed at all times. In addition, the respective road conditions and permissible speeds must be observed.
© HERE. All rights reserved. Satellite imagery with © 2022 Maxar Technologies (date of satellite imagery may vary). Wi-Fi and the Wi-Fi logo are registered trademarks of the Wi-Fi Alliance. The Bluetooth word mark and logos are owned by the Bluetooth SIG, Inc. and any use of it by Garmin is under license. © 2022 TripAdvisor LLC. All rights reserved. foursquare® and the foursquare® logos are registered trademarks of Foursquare Labs, Inc. All rights reserved.