The latest solar technology extends the battery life during your run.
Stay in top form with the optimized recovery time, trail run V02max and more.
The device is light but robust and therefore just right for unforgettable competition conditions.
Save energy, battery power, by managing sensor usage.
Find your way even in the most remote areas thanks to the precise GPS.
A battery life of up to 80 hours in GPS mode or up to 300 hours in maximum battery mode 1 is possible.
DESIGNED FOR COMPETITION
The Enduro is equipped with a constantly switched on, 1.4-inch display that is easy to read even in direct sunlight, even when you are in motion. In addition, the device offers our best training functions and an extremely efficient processor, so that you have to think about the competition and not about the battery life.
YOUR WATCH. YOUR STYLE
The durable, weather-resistant design with a stainless steel bezel or a bezel made of light, scratch-resistant titanium with DLC coating is designed for tough competition conditions. You also get a particularly light sports armband that is elastic, adjustable and robust.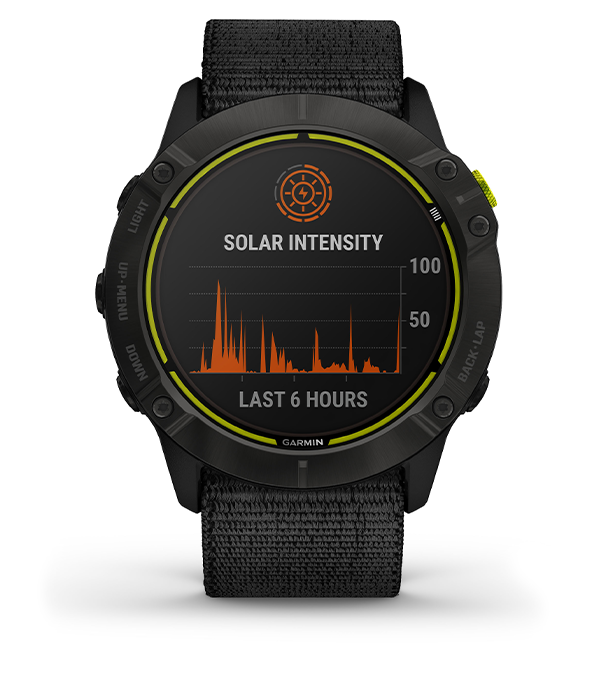 MORE POWER WITH SOLAR ENERGY
Get a battery life of up to 80 hours in GPS mode 1 , up to 300 hours in maximum battery mode 1 and up to 65 days in smartwatch mode with solar charge 2 .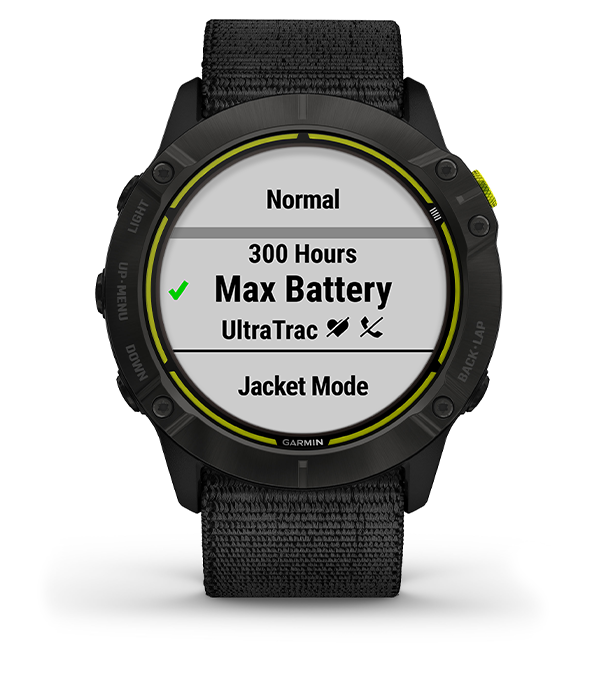 POWER MANAGER
See how various settings and sensors affect the watch's battery life. Then you can quickly make changes to make the battery last longer.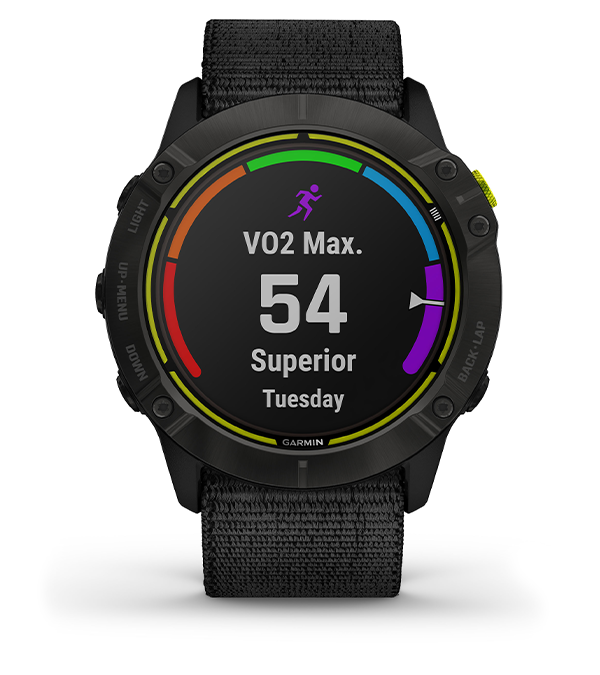 TRAIL RUN VO2MAX
Trailrun VO2max calculates the cardiovascular fitness level of trail runners, adjusting the results based on different terrain and terrain conditions that may affect running performance.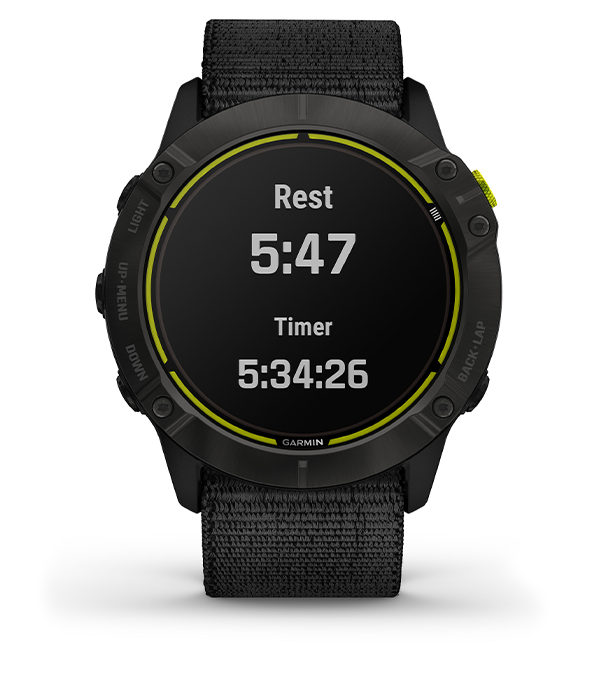 ULTRARUN APP
With the new Ultra Run activity, breaks at the refreshment stations can be recorded using the LAP button and later evaluated in the Garmin Connect app.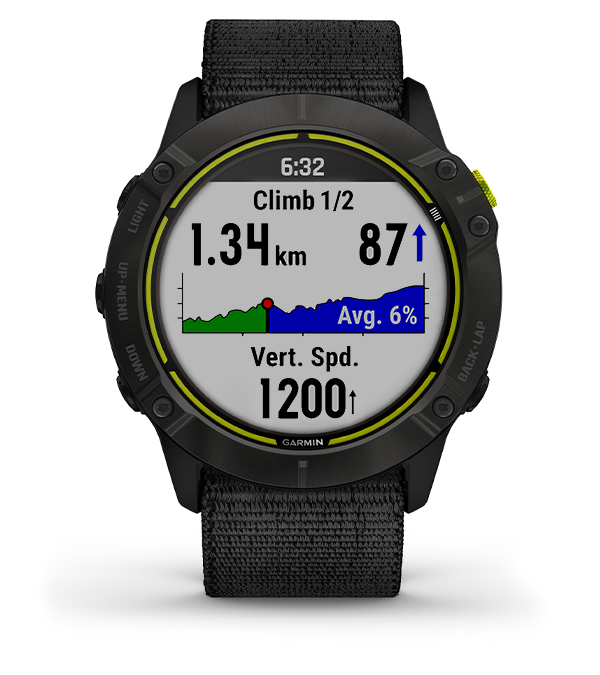 CLIMBPRO: CORRECTLY DEGREE INCREASES
This function provides detailed information on upcoming climbs including incline, distance and gain in altitude. When trail running, this information is also made available when downhill.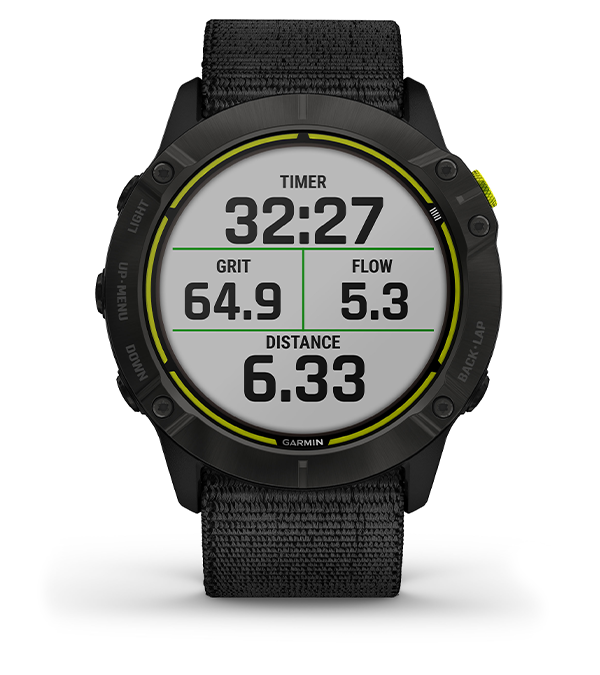 MTB DYNAMICS
Save the details of every tour with mountain bike readings and special data on grit and flow. This data is used to evaluate how difficult the trail is and how fluid the driving style is when going downhill so that you have values ​​that you can exceed next time.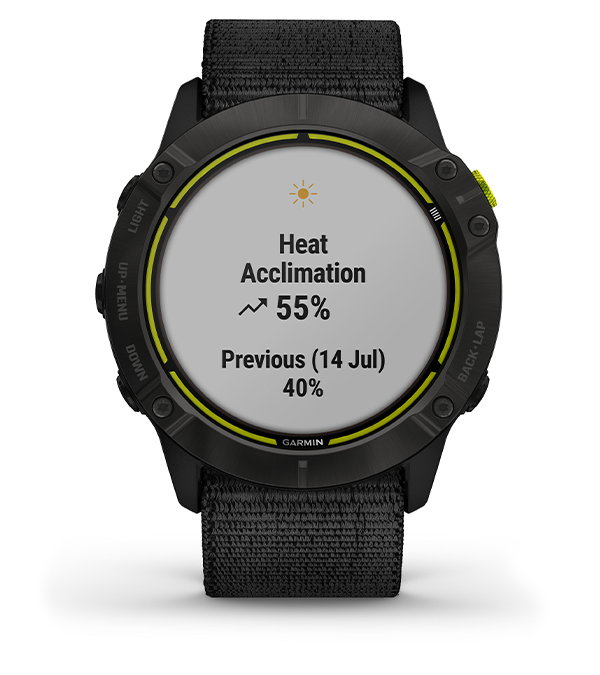 HEAT AND HEIGHT ADJUSTMENT
Prepare for any setting. Use heat and altitude acclimatization to find out how your body adapts to different conditions.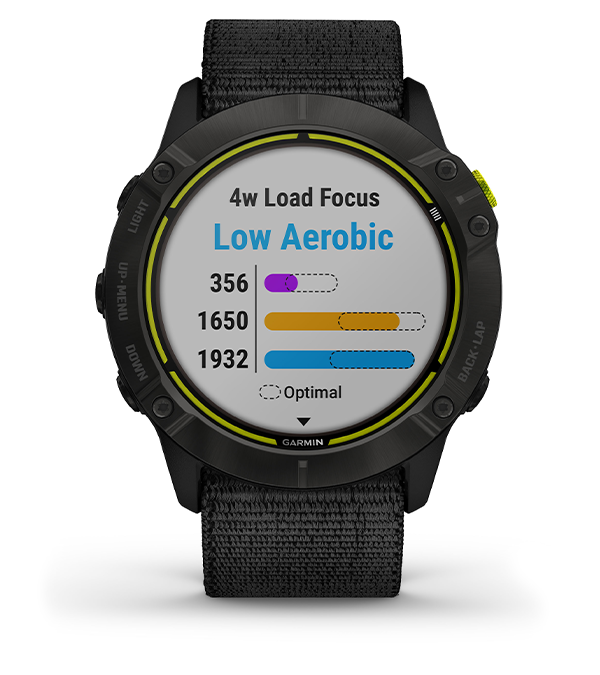 PHYSIOCHECK: ALL VALUES AT A GLANCE
View advanced training metrics that include running efficiency data, a heat and altitude adjusted VO2max, recovery advisor, and more 3 .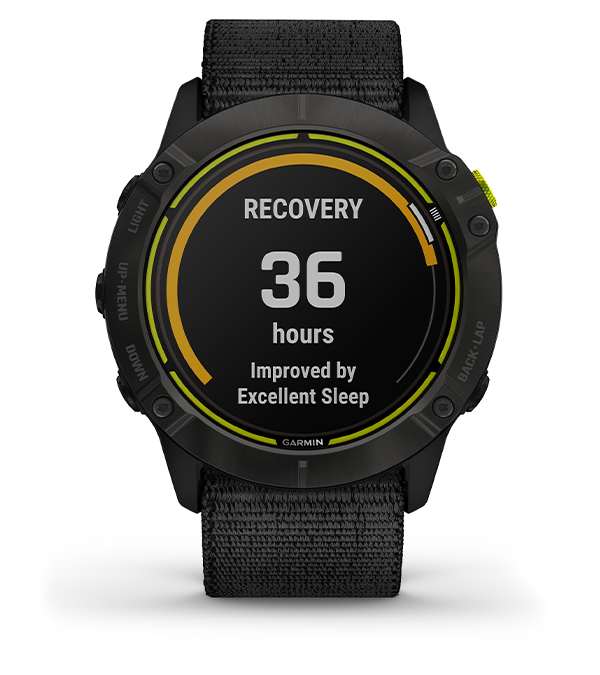 RELAXATION GUIDE
It is very important that your body has time to recover between workouts. After each workout, the integrated recovery advisor will tell you how long you should recover before another hard workout.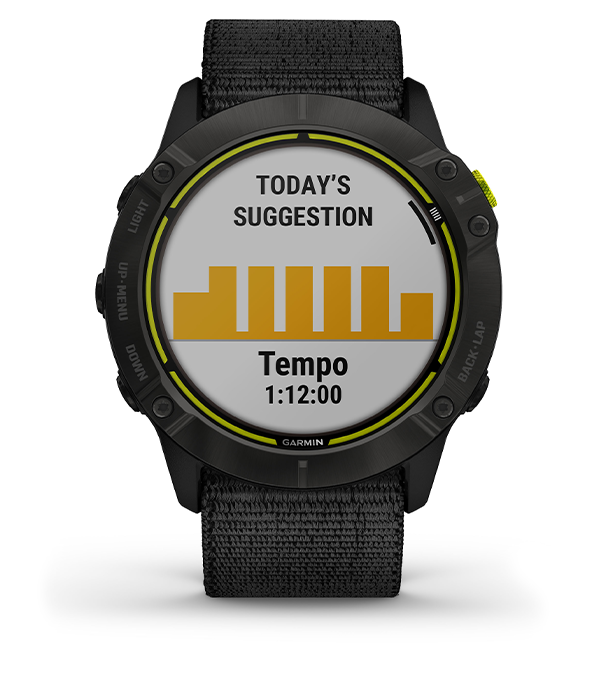 DAILY TRAINING SUGGESTIONS
Daily training suggestions for running and cycling provide training instructions that take you and your fitness level into consideration. The suggestions are based on current data on training load and training condition.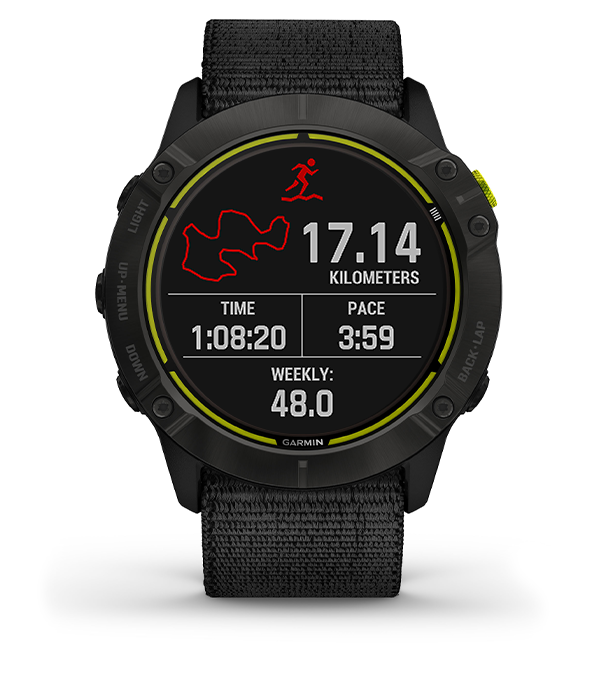 MULTI-SATELLITE SUPPORT
Use multiple global navigation satellite systems (GPS, GLONASS and Galileo) to get better positioning in difficult environments than using GPS alone.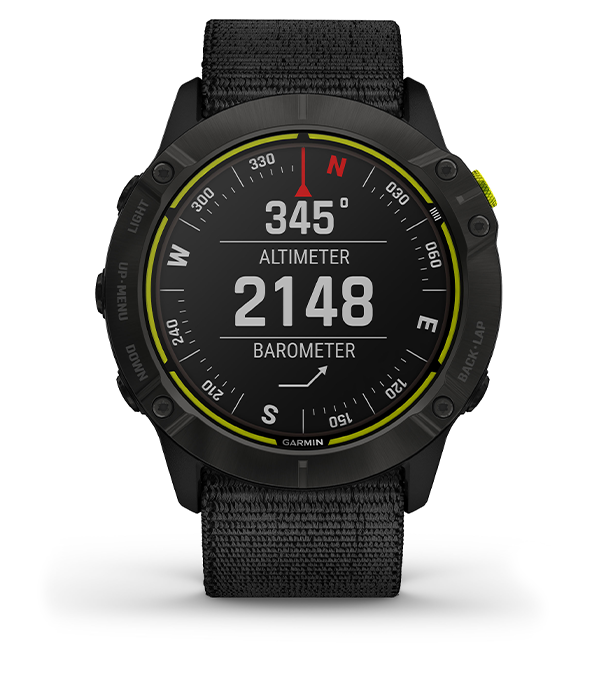 NAVIGATION SENSORS
Navigate the next trail with ABC sensors, including an altimeter for elevation data, a barometer to monitor the weather and a 3-axis electronic compass.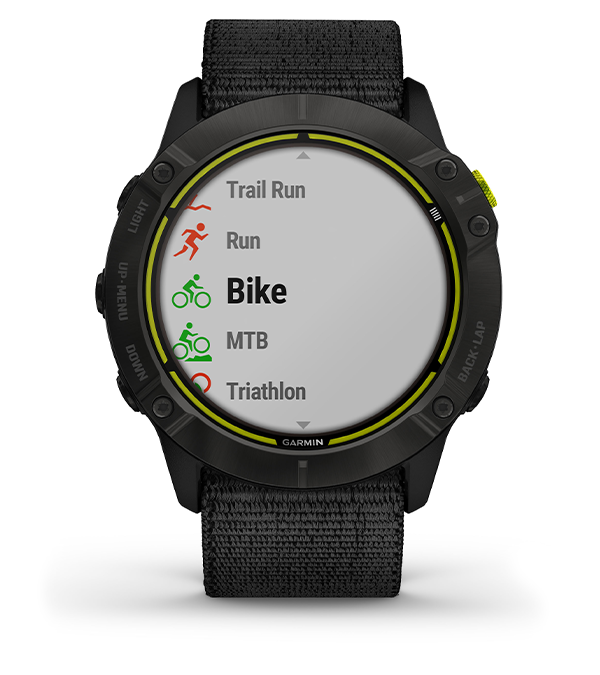 FOR PHYSICAL FITNESS
Use pre-installed activity profiles for trail running, swimming, running, cycling, hiking, rowing, skiing, golfing and more.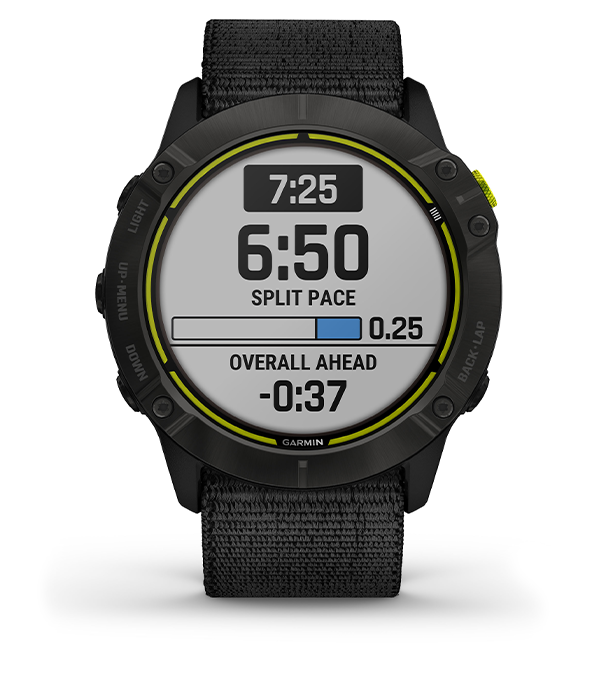 PACEPRO ™: KEEP THE RIGHT PACE
A so far unique PacePro function provides information adapted to the incline so that you can maintain your pace when completing a route.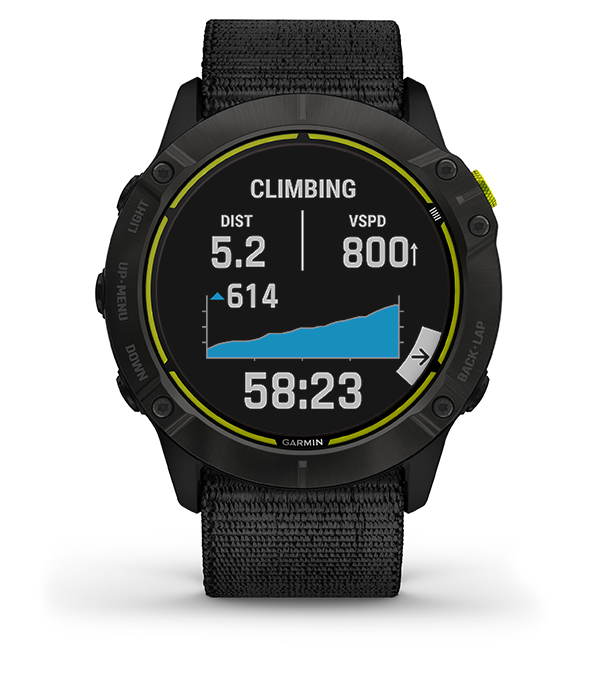 SKI TOURING APP
This profile was developed for ski tourers and records the ascent and descent information separately with detailed altitude information.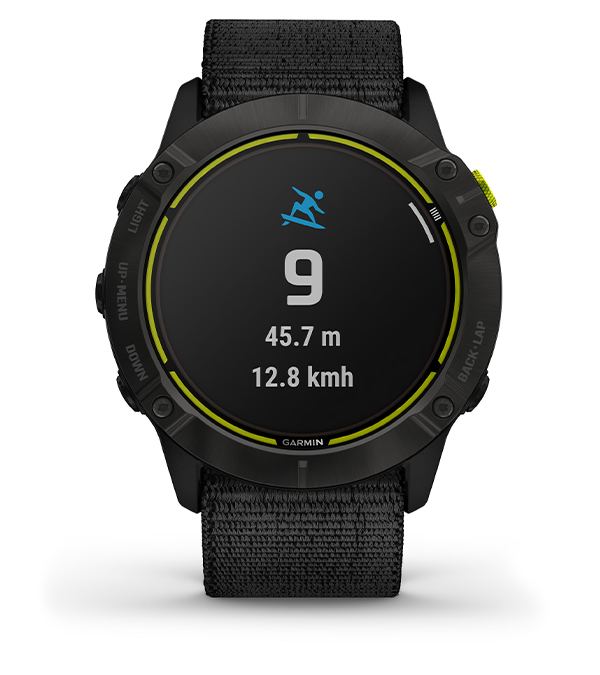 SURF FUNCTIONS
Surf riders, watch out! Pair the Enduro with the Surfline Sessions ™ app on your compatible smartphone to create a video of every wave you ride in front of a Surigible® camera. Watch the videos later to gauge your performance.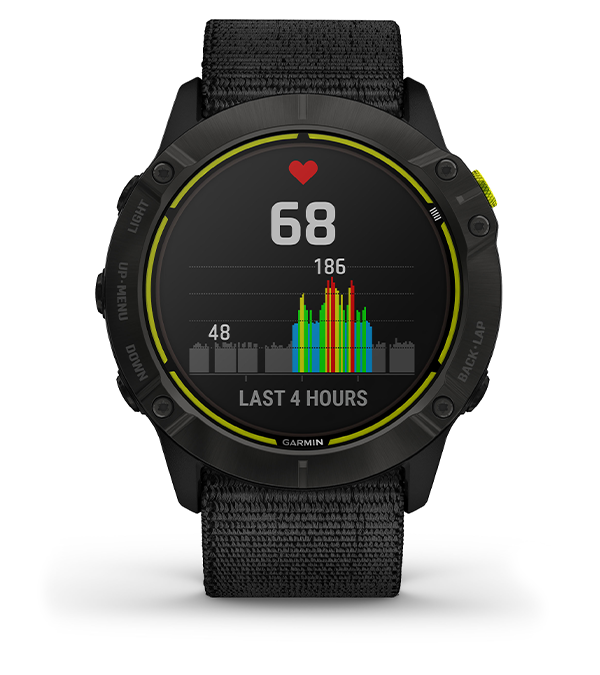 HEART RATE MEASUREMENT ON THE WRIST
The optimized technology for heart rate measurement 3 determines the intensity of your fitness activities as well as your heart rate variability and then calculates your stress level. This even works underwater – without a heart rate chest strap.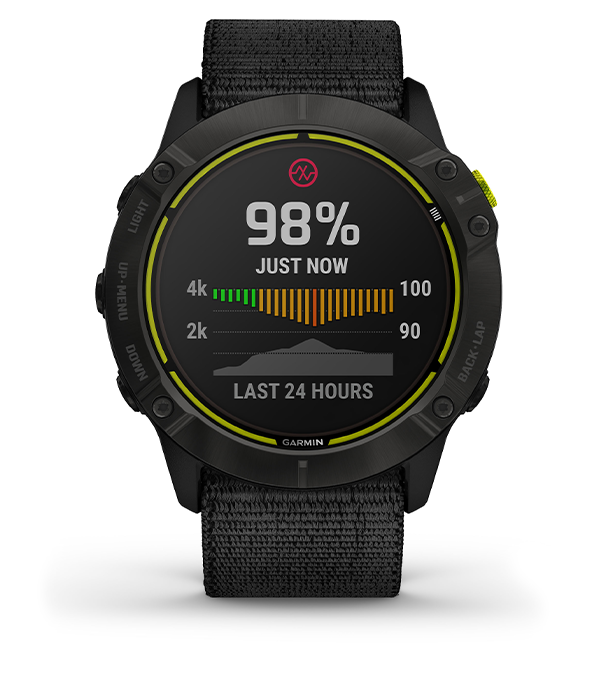 PULSE OX SENSOR
Monitor your blood oxygen saturation with the Pulse Ox Sensor 4 and recognize how the oxygen saturation of your blood changes in height. Now you can see how well your body absorbs oxygen.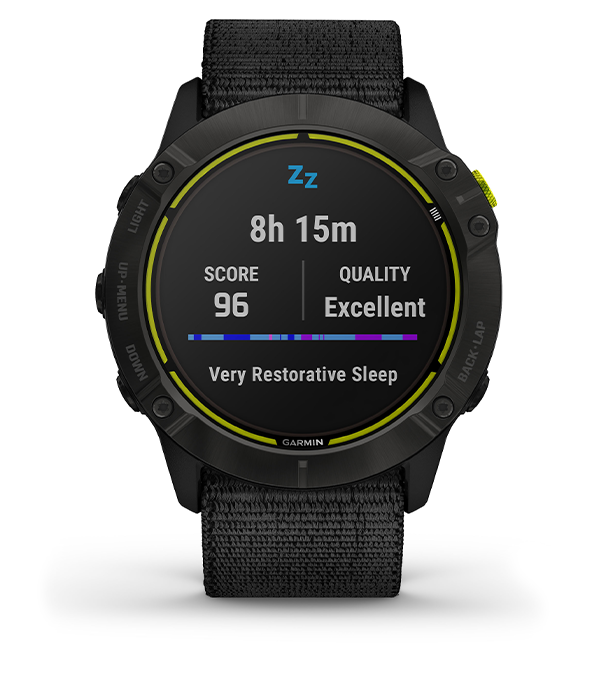 DETAILED
Get a complete picture of your sleep quality with information about your light, deep, and REM sleep, as well as pulse oximetry 4 and breathing data. Show all sleep data in a special widget that includes your sleep score and other insights.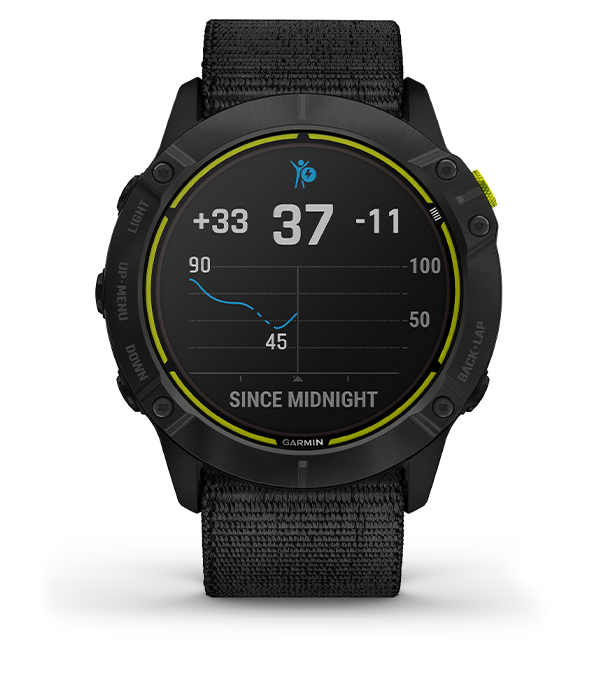 BODY BATTERY ™ ENERGY LEVEL
Your Garmin continuously measures your heart rate and uses the Body Battery to inform you when you are ready for your next workout. Oxygen saturation in the blood and the status of your energy level provide the necessary information.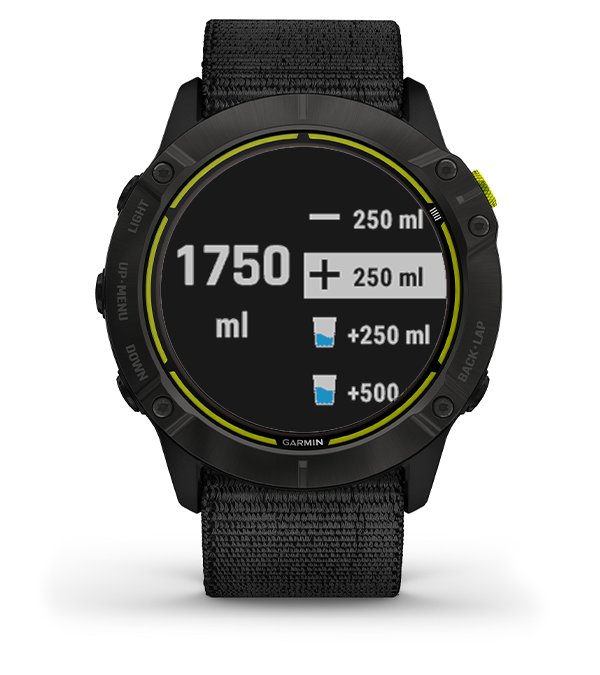 LOOK IF YOU ARE DRINKING ENOUGH
Adequate fluid intake is important for your health. Track how much water you drink each day and see if you drink a similar amount every day.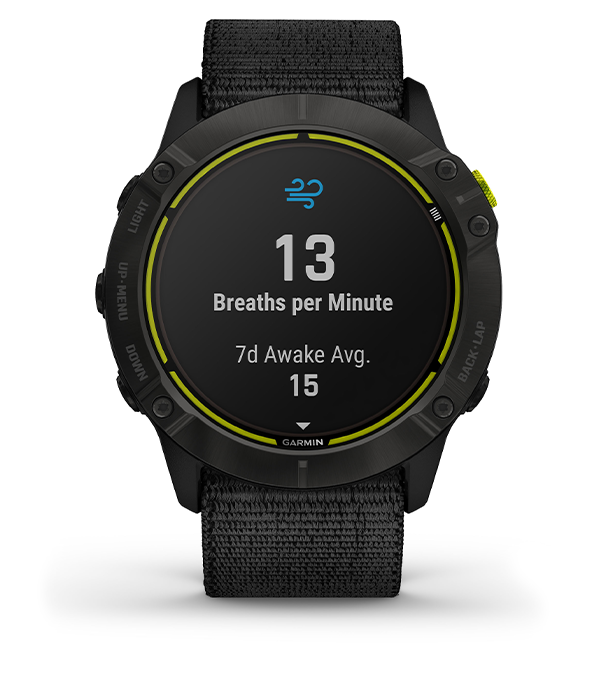 DISPLAY YOUR BREATHING RATE
This function shows you your breaths during the day, but also during sleep and during various yoga exercises.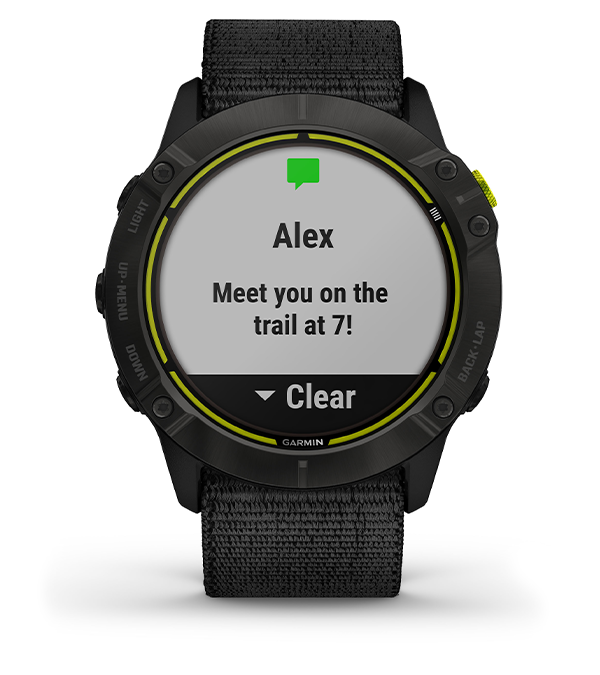 MESSAGES FROM SMARTPHONE
Don't miss anything that is important to you: Receive your notifications about calls, appointments and much more when paired with a compatible device.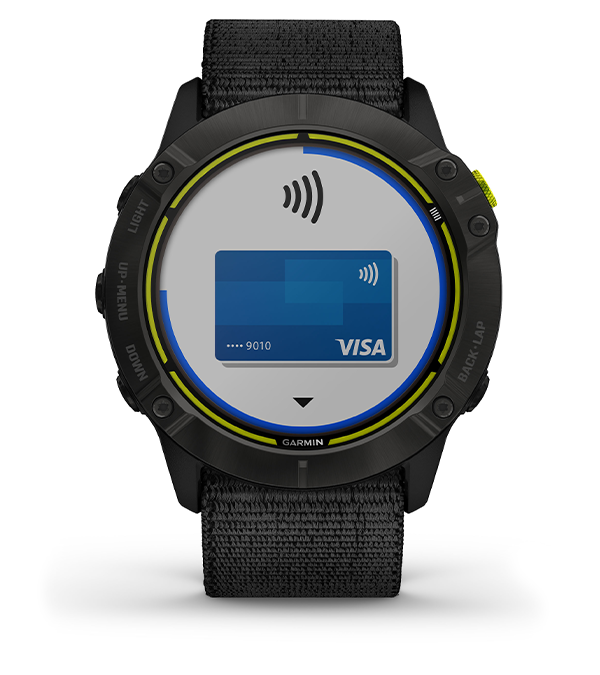 GARMIN PAY ™
Pay in next to no time – without a wallet. If you want to finish the checkout quickly, pay contactless with Garmin Pay 5 through participating providers.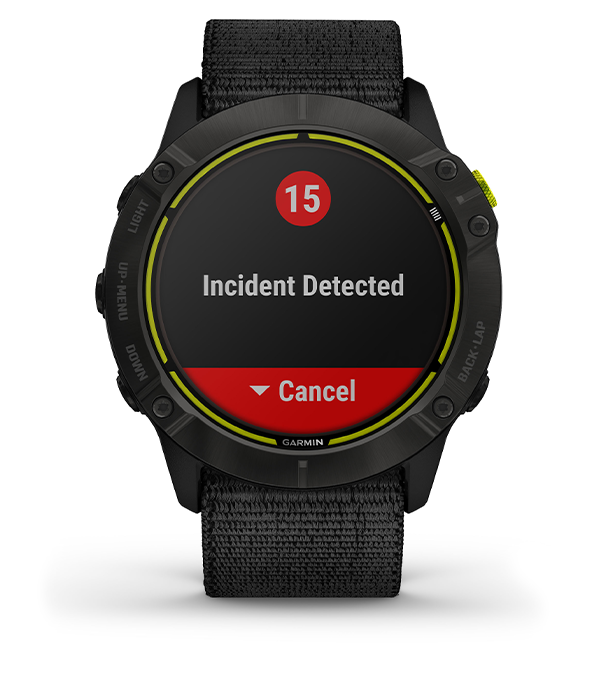 SECURITY AND TRACKING FUNCTIONS
If you do not feel safe or your watch has detected an accident, your position will be sent to emergency contacts thanks to the emergency help and accident notification 6 .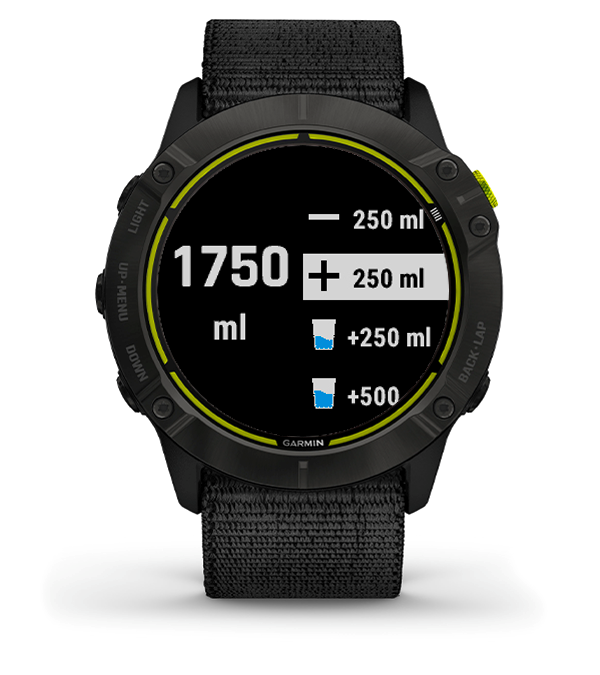 CONNECT IQ ™ SHOP
Your Smartwach. Your style. Make your smartwatch unique. Download display designs, add data fields, get apps and widgets from Connect IQ-Shop 7 .
QUICKFIT® ACCESSORY STRAPS FOR A NEW LOOK – WITHOUT TOOLS.
The Garmin Connect ™ app. Clear, individual, motivating.
Customize your smartwatch in the Garmin Connect IQ ™ shop.
1 It is assumed that it is used continuously at 50,000 lux over the entire period.
2 It is assumed to be used for 3 hours per day at 50,000 lux.
4 
This is not a medical device and is not intended for use in the diagnosis or monitoring of any disease; see 
Garmin.com/ataccuracy
 . Pulse oximetry data are not available in all countries.