Record your run and, thanks to integrated satellite systems, follow how far, how fast and where you have run.
Heart rate measurement on the wrist 1 and many other functions help you to keep an eye on your health and fitness.
Thanks to individual training recommendations, you leave nothing to chance in your daily training.
High-end running functions help you reach your full potential. But without the high price.
Keep moving. Thanks to a large selection of pre-installed sports apps, you can do more than just record running workouts.
Thanks to a battery life of up to 2 weeks, you can do more workouts before it's time to recharge.
FORM AND FUNCTIONALITY
This light and comfortable smartwatch is the perfect companion to bring your sport and everyday life into harmony.
SPORTS-FRIENDLY MATERIALS
Whether you are doing a 5 km run or working up a sweat during HIIT training – the sporty silicone wristband offers ultimate comfort.
WE HAVE EVERYTHING YOU NEED FOR RUNNING.
MORE WAYS TO FOLLOW HEALTH AND FITNESS.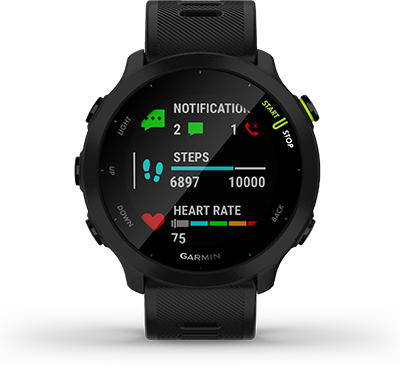 FITNESS TRACKING
When you're out and about, your Forerunner 55 remembers the number of steps, minutes of intensity, and more 1 .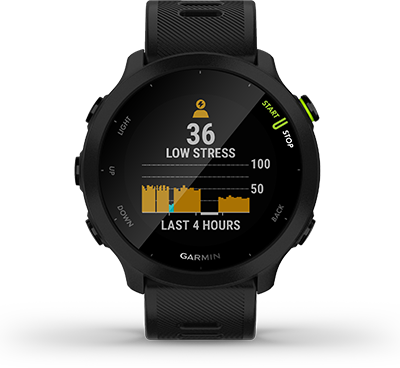 KEEP AN EYE ON THE STRESS
Find out if you are having a quiet, balanced, or busy day. Receive relaxation reminders to do a quick breathing exercise.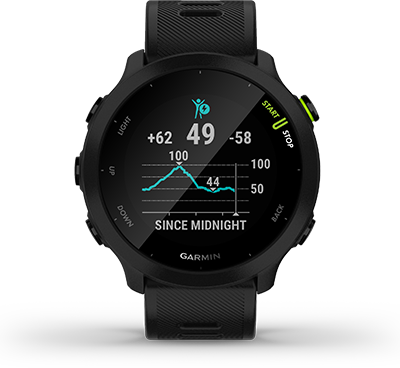 BODY BATTERY ™ ENERGY LEVEL
Measure your body's energy reserves so you know when the best times are to be active or to relax.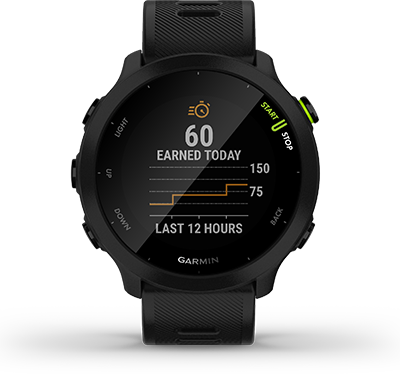 INTENSITY MINUTES
See what time of day you received intensity minutes from moderate and high intensity physical activity.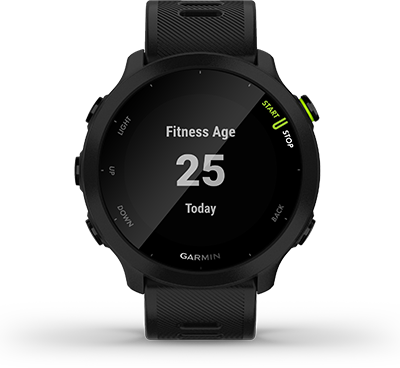 FITNESS AGE
This function uses the chronological age, the heart rate at rest and other factors to calculate whether your body is younger or older than you. After all, age is just a number.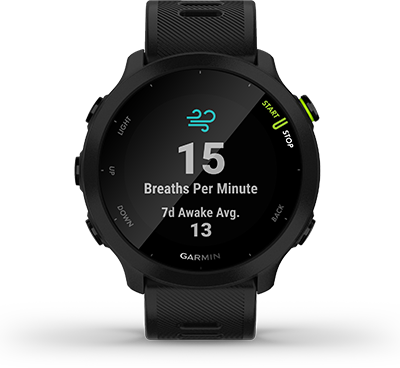 DISPLAY YOUR BREATHING RATE
See what your breathing is like during the day, while sleeping, and during breathing exercises.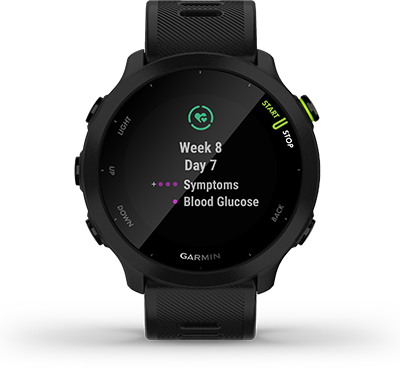 MENSTRUATION CYCLE TRACKER
Use the Garmin Connect 2 app to record your menstrual cycle or pregnancy . Save symptoms and get information about training, nutrition and much more. m.
INDIVIDUAL ADAPTATION AND ONLINE FUNCTIONS.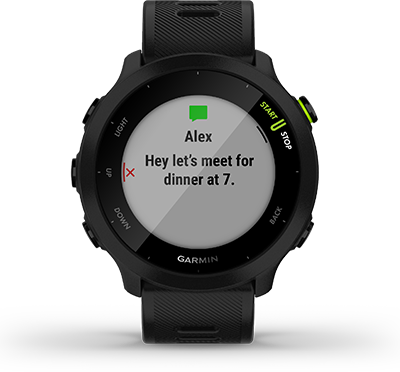 MESSAGES FROM SMARTPHONE
Receive emails, SMS messages and alarms directly on the smartwatch when it is paired with your compatible smartphone .
SECURITY AND TRACKING FUNCTIONS
If you do not feel safe or your watch has detected an accident, a message with your position will be sent to emergency contacts thanks to the emergency assistance and the accident notification 3 .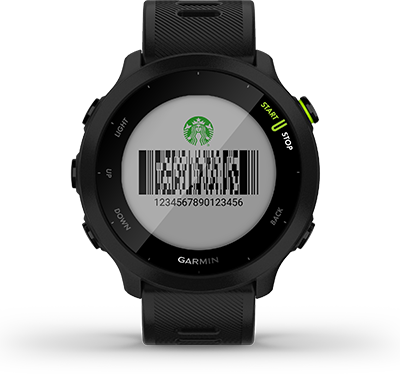 CONNECT IQ ™ SHOP
Download custom display designs, add data fields and get apps from Connect IQ Shop 2 .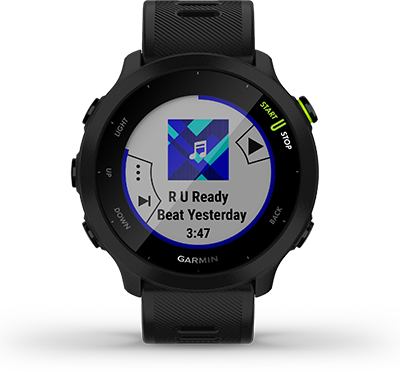 MUSIC FUNCTIONS
Easily operate the music played on the phone so you can easily skip tracks.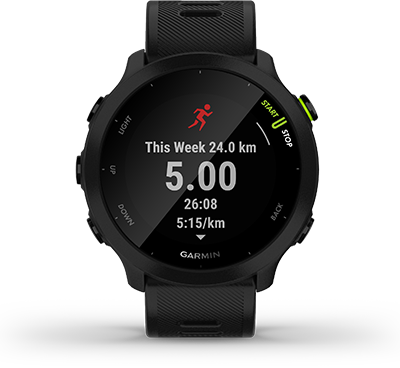 SYNCHRONIZATION WITH GARMIN CONNECT
Upload your activity to the Garmin Connect app to interact with a busy online community. Members can connect with others, compete against each other, and even share achievements through social media.
DISCOVER ALL TRAINING VALUES.
If you enjoy exercising, be sure to follow @GarminFitness on Instagram®.
Customize your Garmin smartwatch through the Connect IQ shop.
2 App required on compatible smartphone.