A fashionable patterned display design or a smart touchscreen. Both in one watch.
A small, stylish smartwatch for recording important health and fitness data.
Text messages, calls, and calendar reminders 2 showing up on a watch this good looking? Yes exactly.
Features for women: menstrual cycle and pregnancy tracker. Also with step counter, sleep analysis, Body Battery 3 and much more
With apps for yoga, walking, cardio, breathing exercises and more, you stay active and pay attention to your well-being.
The battery of your fashion accessories can last up to 5 days in smartwatch mode.
SMALL, FASHIONABLE AND SMART
This fashionable smartwatch is the smallest of its kind from Garmin. It offers a particularly small watch case of 34 mm and a fashionable, patterned display design. Just tap the wearable or raise your arm to bring up the bright touchscreen.
CLASSIC OR SPORTY STYLE
Decide on the classic or the sporty design. Then you have different colors as well as a metal bracelet and interchangeable bracelets available, including made of leather and silicone so that you can find the perfect match for your look.
MANY FUNCTIONS. SLIM DESIGN.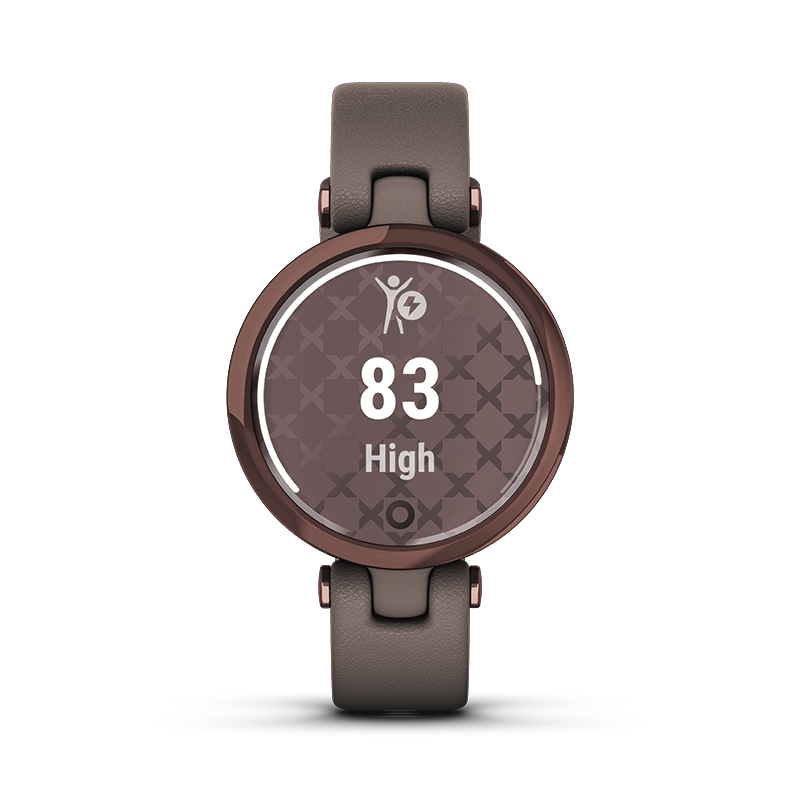 BODY BATTERY ™ ENERGY LEVEL
Measure your body's energy reserves so you know when the best times are to be active or to relax.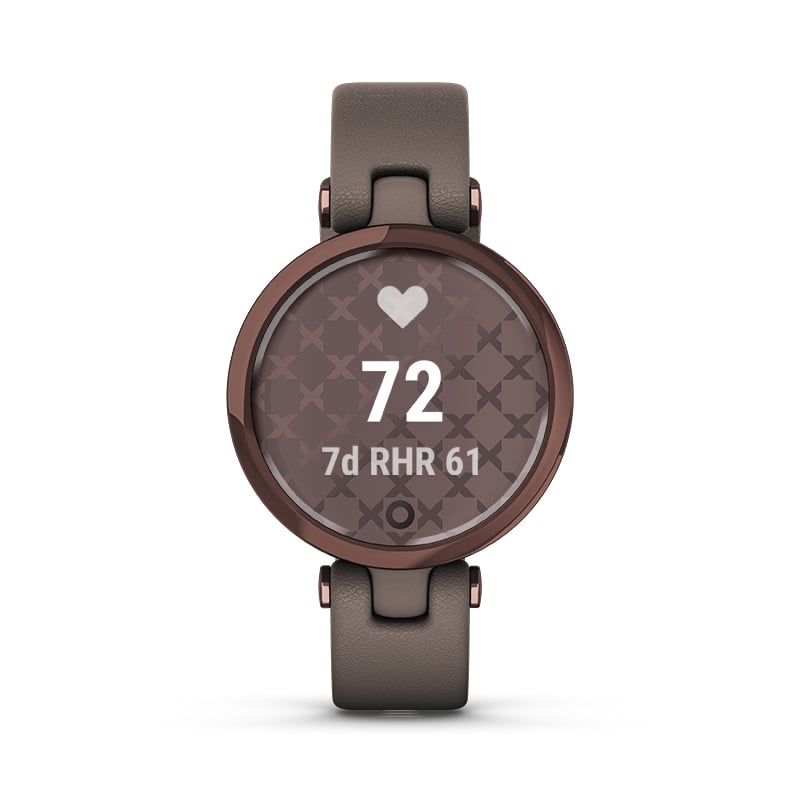 HEART RATE MEASUREMENT ON THE WRIST
The watch continuously determines your heart rate 3 . Alarms inform you of high or low heart rates.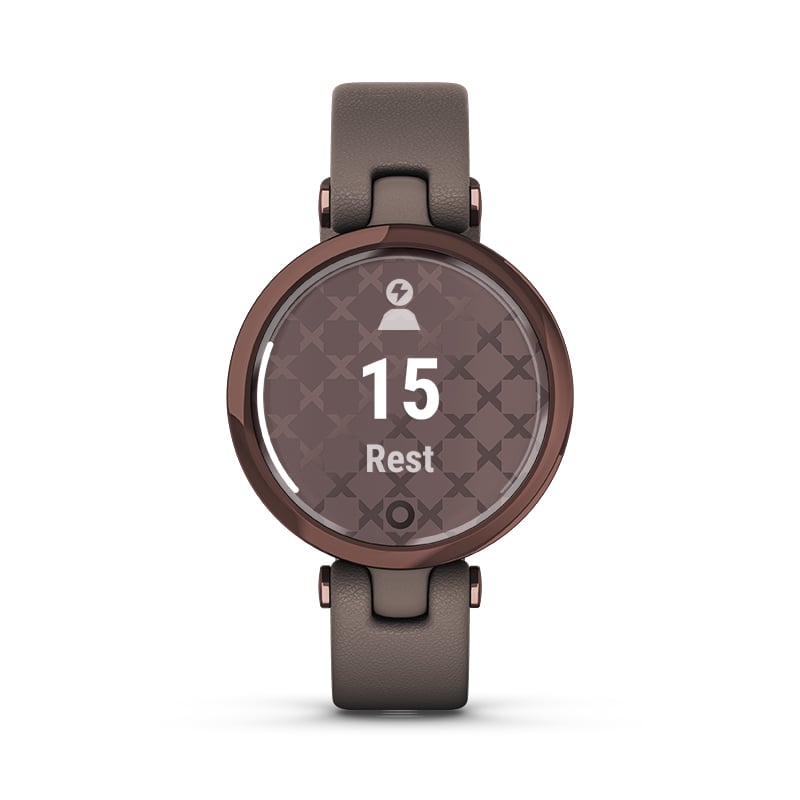 KEEP AN EYE ON THE STRESS
Find out if you are having a quiet, balanced, or busy day. Let yourself be reminded of short breathing exercises to relax in between.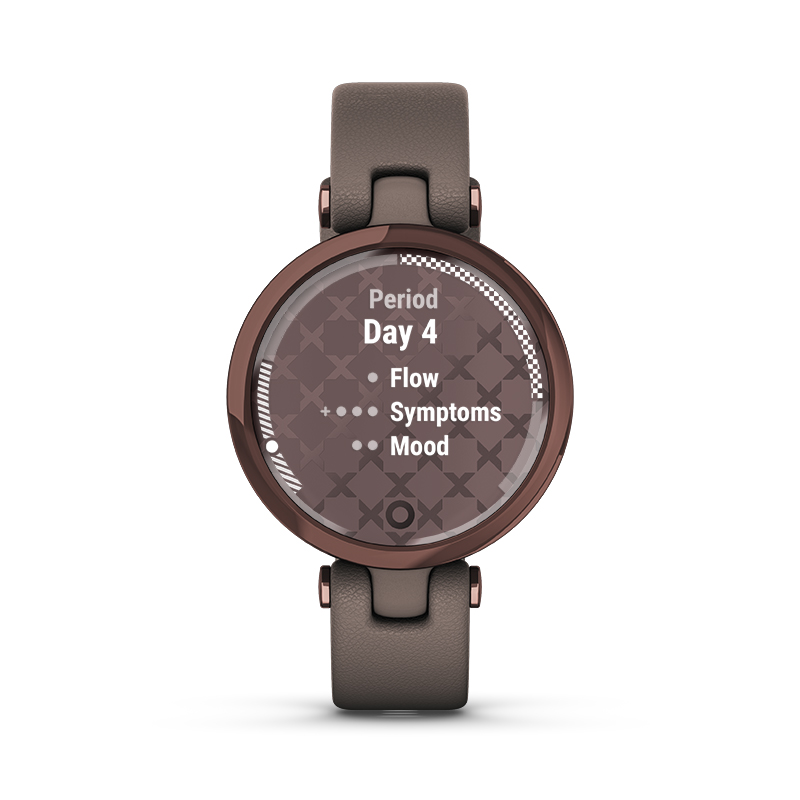 MENSTRUATION CYCLE TRACKER
Use the Garmin Connect ™ app to record your menstrual cycle or pregnancy . Save symptoms, get valuable information and tips on training, nutrition and much more. You can also conveniently view details directly on the watch.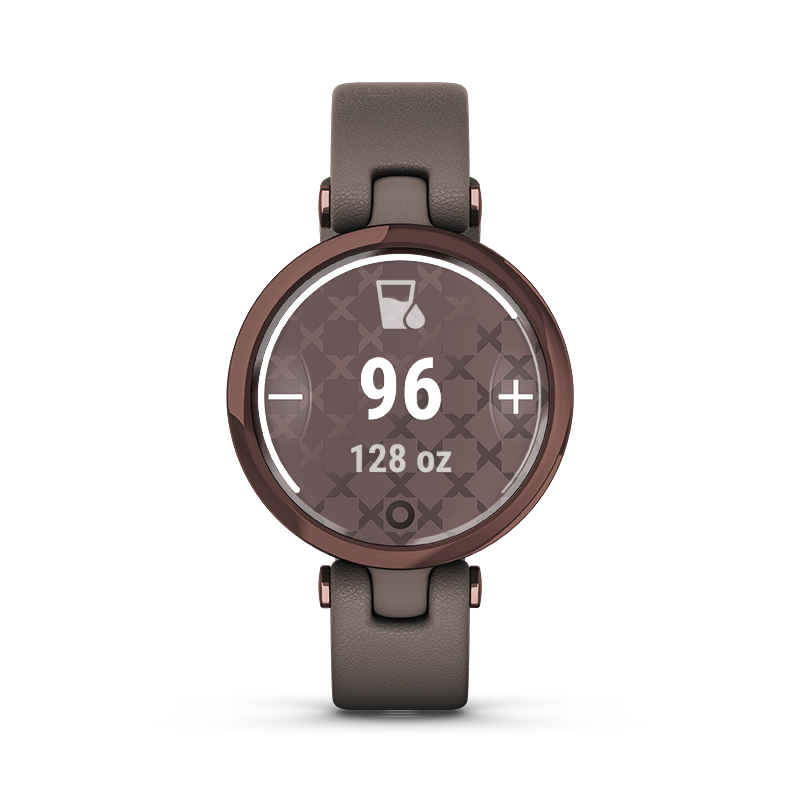 LOOK IF YOU ARE DRINKING ENOUGH
Save your daily fluid intake directly on the watch. Set up drinking reminders in the Garmin Connect app, set goals and view your history.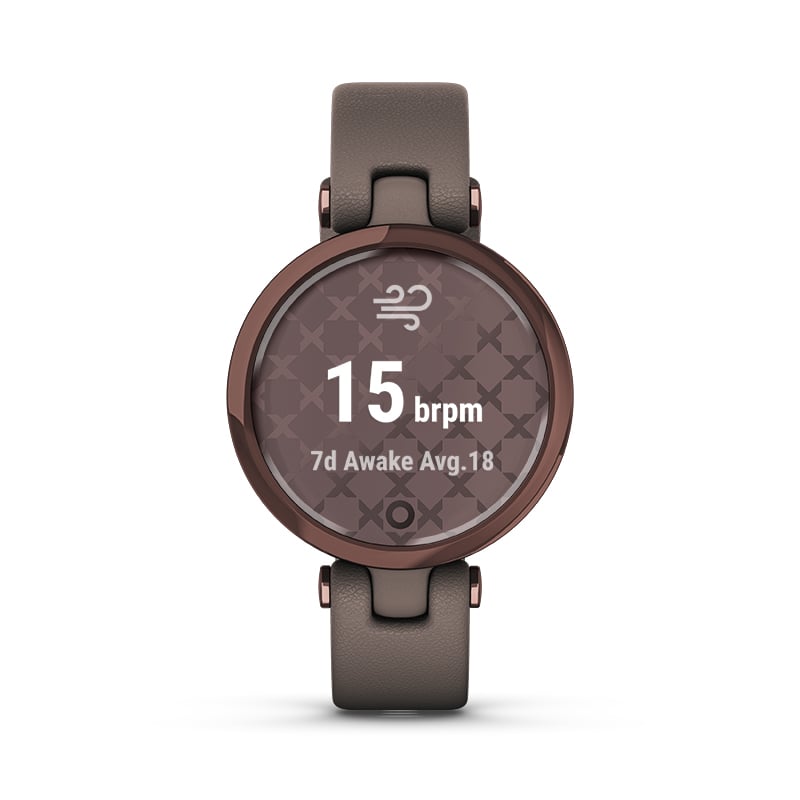 DISPLAY YOUR BREATHING RATE
This function shows you your breaths during the day, but also during sleep and during various yoga exercises.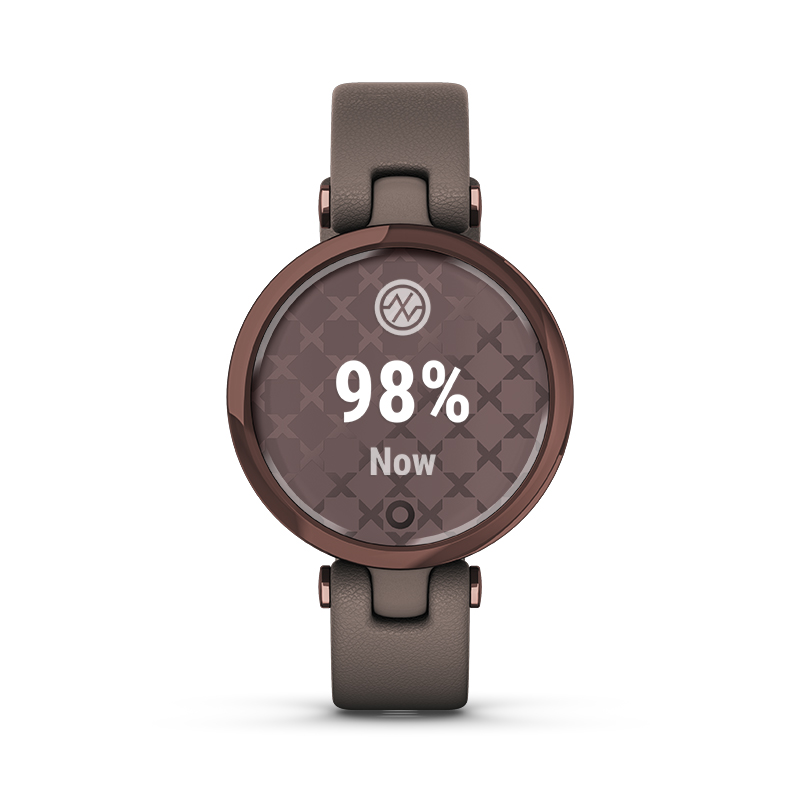 PULSE OX SENSOR
The integrated Pulse Ox sensor 4 measures your oxygen saturation in the blood. This is how you can see how well your body can absorb oxygen.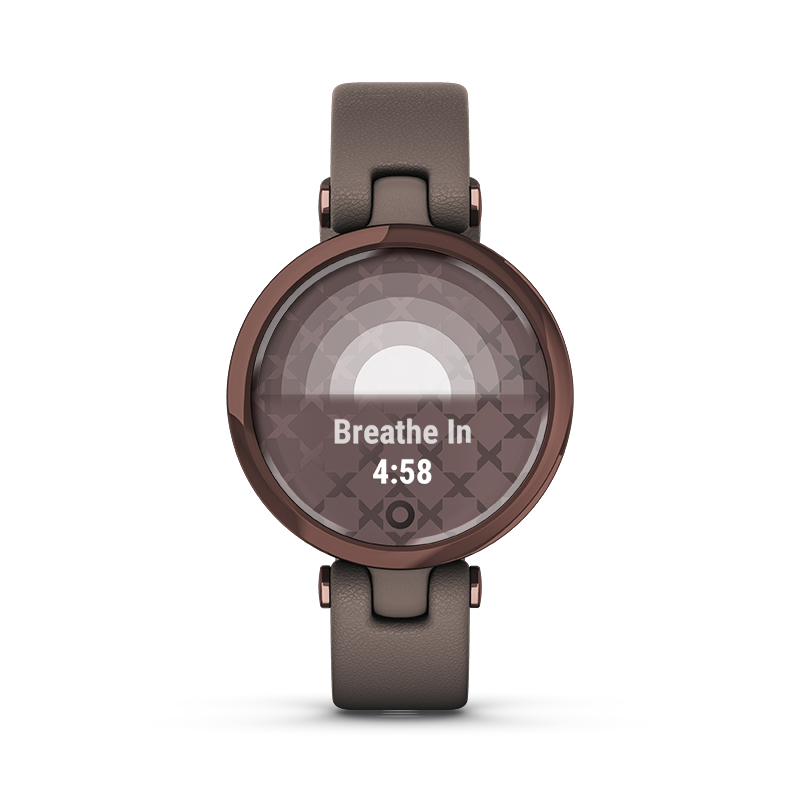 BREATHE CONSCIOUSLY
If you want to relax or improve your concentration, just start a breathing exercise. The watch stores information about stress and breathing. This will help you understand your breathing better.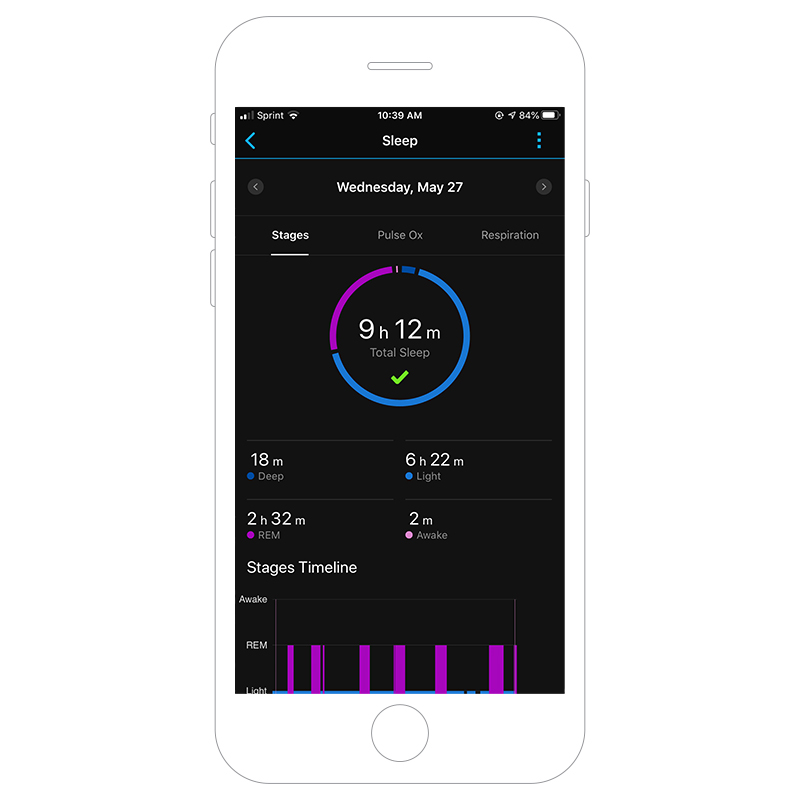 DETAILED SLEEP ANALYSIS
Get an idea of ​​the quality of your sleep 3 in the different phases (light, deep, REM) and also receive blood oxygen saturation and breathing data.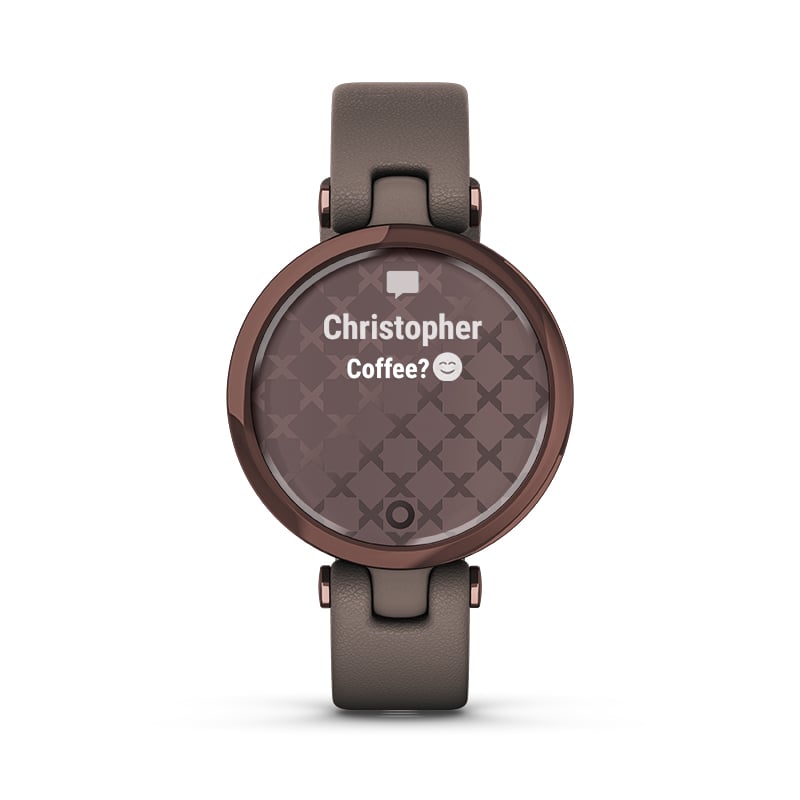 MESSAGES FROM SMARTPHONE
Receive emails, text messages and alarms right on the watch when you pair the device with a compatible smartphone . If you have an Android ™ phone, you can even reply to text messages.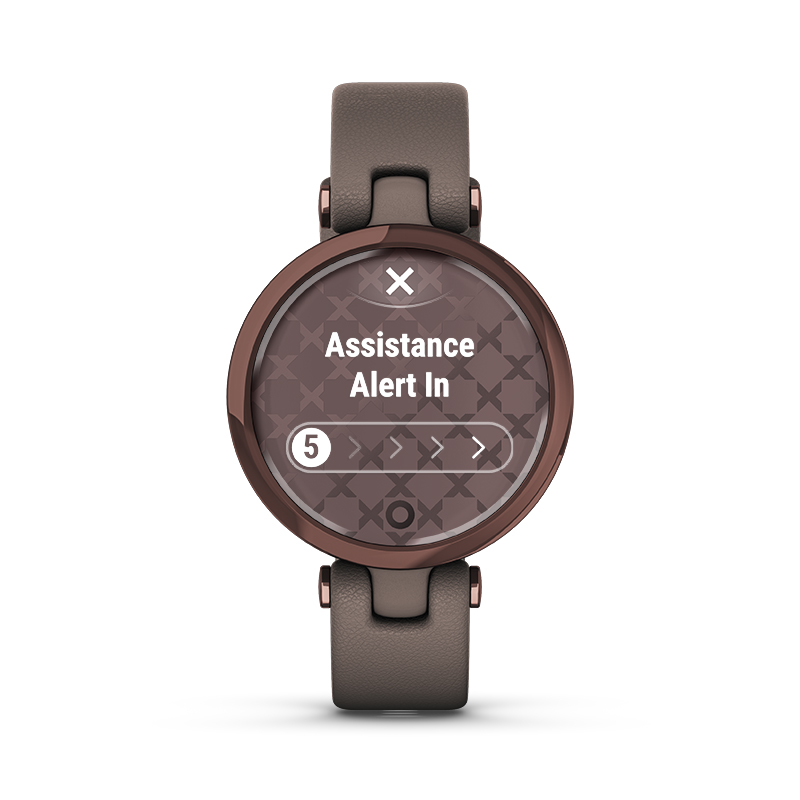 SECURITY AND TRACKING FUNCTIONS
When the watch and phone are paired, you can send an emergency message with your live location to selected contacts 5 .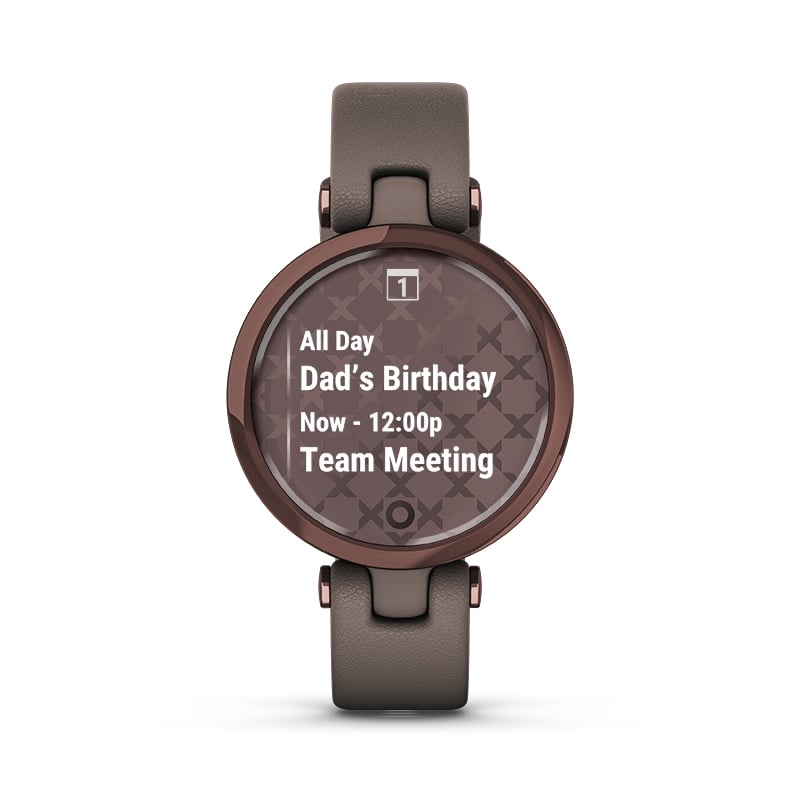 CALENDAR VIEW
When the device is paired with your compatible smartphone , you can easily see what is planned for the day.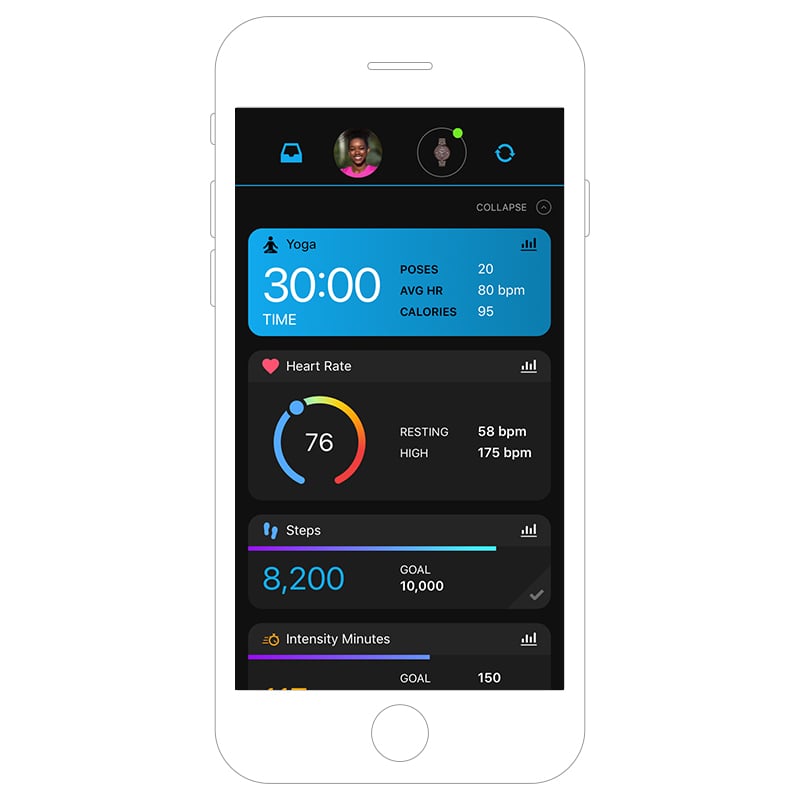 PERFECT ANALYSIS WITH GARMIN CONNECT
View your health and fitness data in one place. The Garmin Connect app is a popular online community. Members can connect, compete, and share data with others.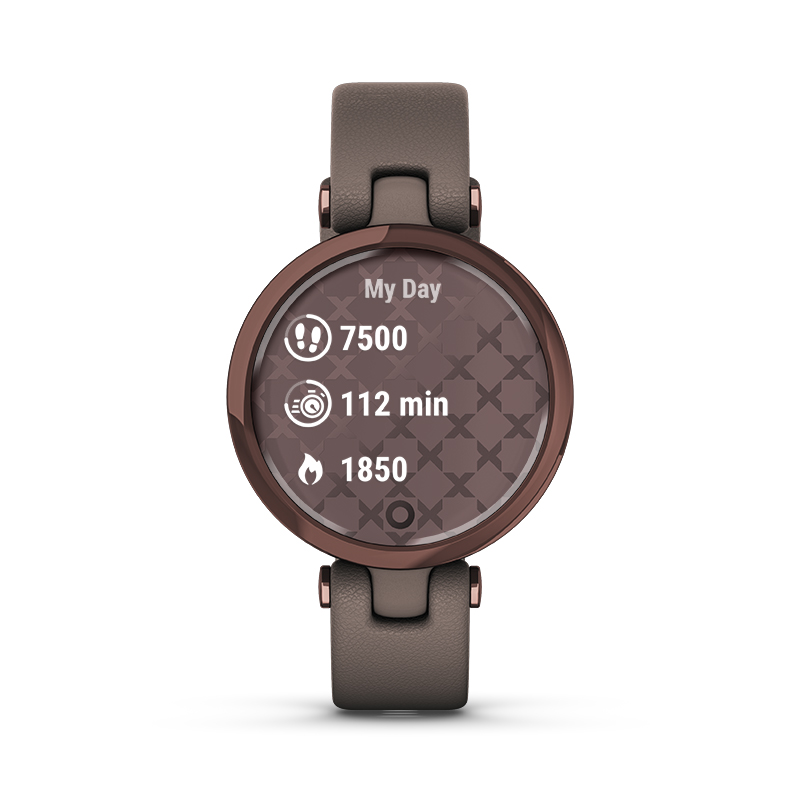 FITNESS TRACKING
When you're out and about, the Lily saves the number of steps, calorie consumption, intensity minutes and much more 3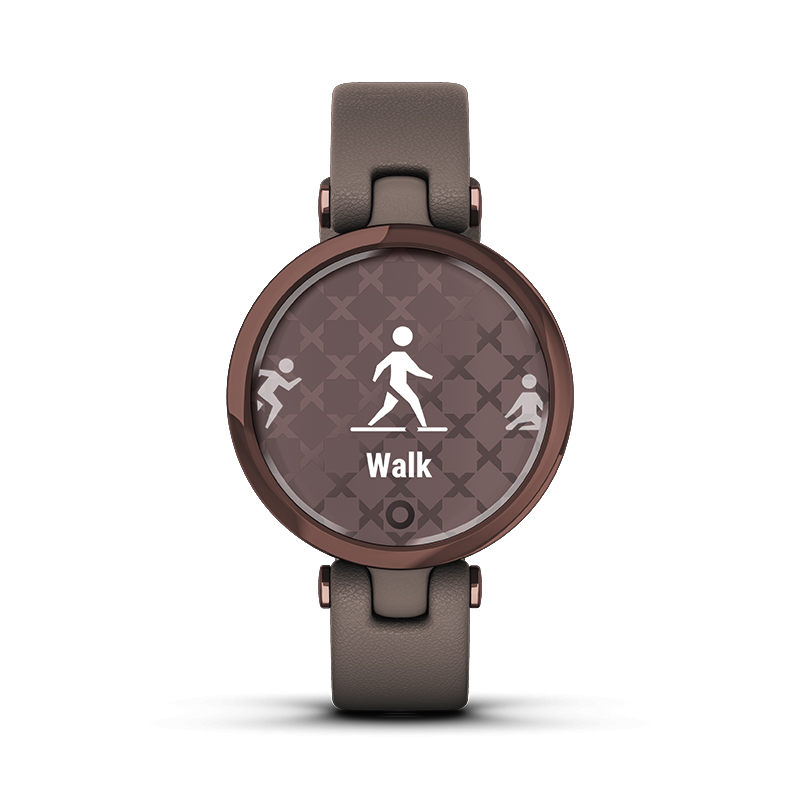 FOR PHYSICAL FITNESS
Bring variety to your training with apps for yoga, pilates, cardio, breathing exercises, strength training and more.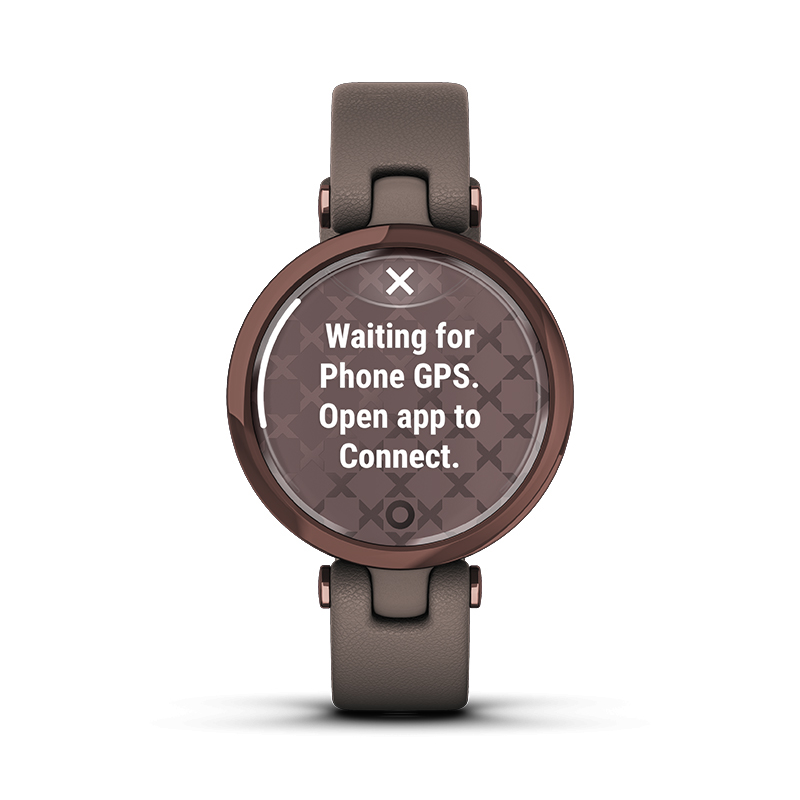 CONNECTED GPS
Use the GPS from your compatible smartphone to get GPS data such as distances and speeds while walking, running or cycling.
Your companion. Always and everywhere.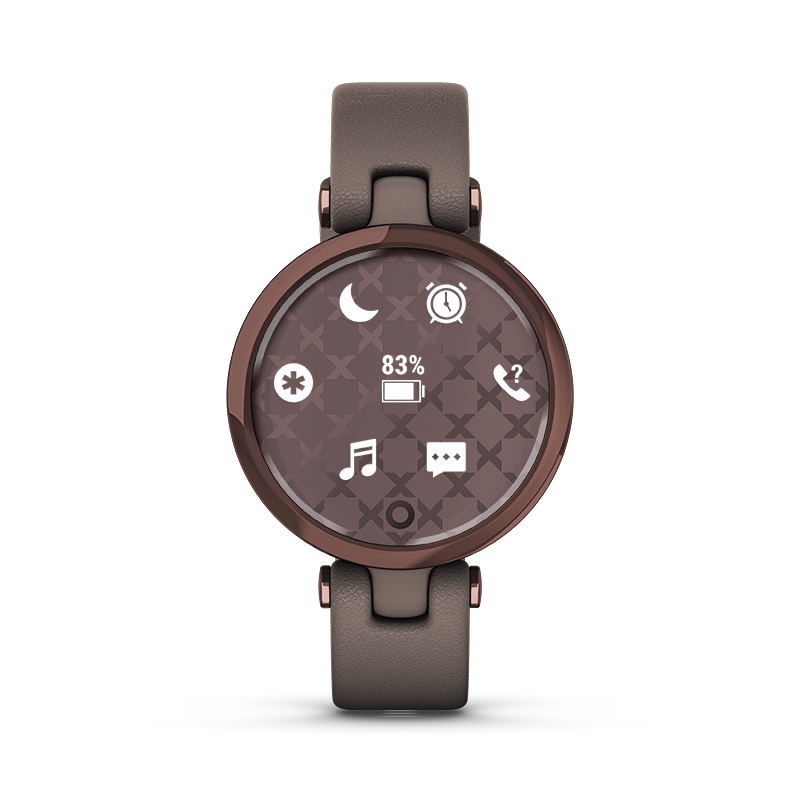 LONG BATTERY LIFE
Stay active longer. The battery has a runtime of up to 5 days in smartwatch mode.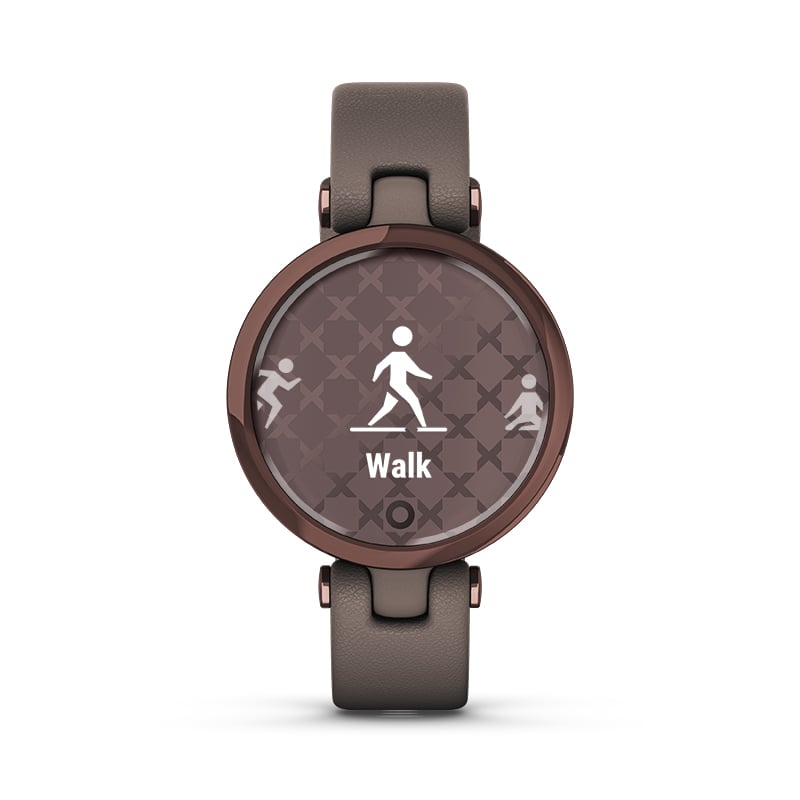 WATERTIGHTNESS
This watch is suitable for swimming, making it perfect for swimming, showering or a day at the spa.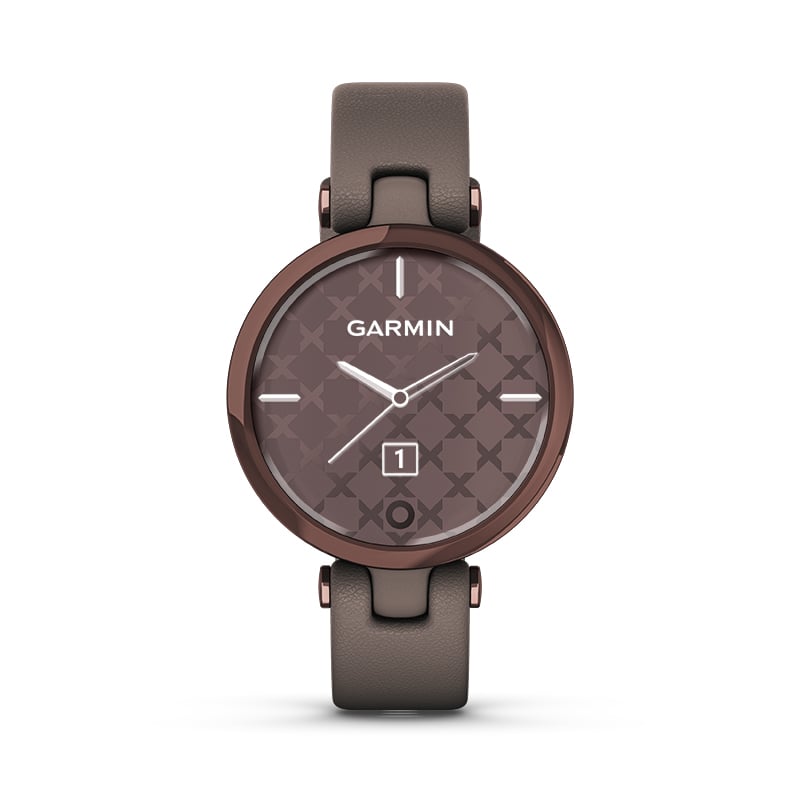 SMALL, LIGHT DESIGN
The light watch case of your discreet and fashionable companion measures only 34 mm.
The Garmin Connect ™ app. Clear, individual, motivating.
1 Requires basic settings to be made via Garmin Connect or Garmin Express ™
4 This is not a medical device and is not intended for use in the diagnosis or monitoring of any disease; see Garmin.com/ataccuracy. Pulse oximetry data are not available in all countries.
Android ™ is a trademark of Google LLC.