VIEW THE WORLD. STAY IN CONTACT. CAPTURE IMPRESSIONS.
The Montana 700i combines perfect outdoor navigation and added security in an outdoor navigation system. With global messaging and interactive SOS emergency calls via inReach satellite technology 1 . With integrated 8 MP camera.
Good news. Type messages on a full QWERTY keyboard.
Send and receive messages worldwide thanks to inReach and make emergency calls around the clock.
GPS and camera, a great team. Pictures of your tours are geotagged, so you can see the positions on the map.
Routable TopoActive Europe maps. Now you can discover everything in the field and on the road.
Can take anything. Robust according to US military standard MIL-STD 810, including shock resistance, heat and water resistance.
The lithium-ion battery lasts a long time with a runtime of more than 18 hours in GPS mode.
STAY CONNECTED WORLDWIDE.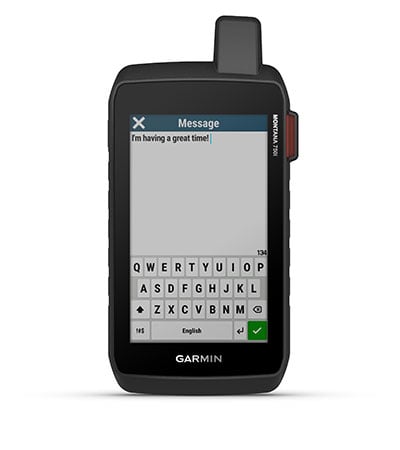 TWO WAY MESSAGE
Exchange SMS messages with friends and family around the world, publish posts on social media or communicate with other inReach devices using the inReach device. (Active satellite subscription required).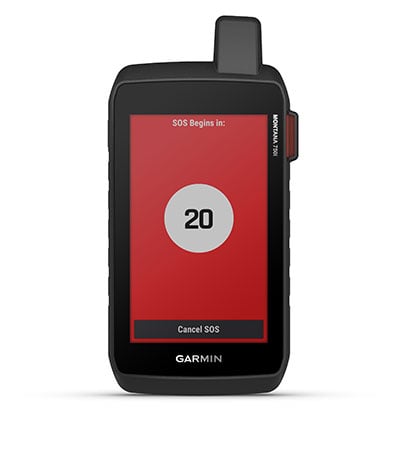 INTERACTIVE SOS
In an emergency, trigger an interactive SOS emergency call to GEOS, a professional, 24/7 global surveillance and rescue center (active satellite subscription required).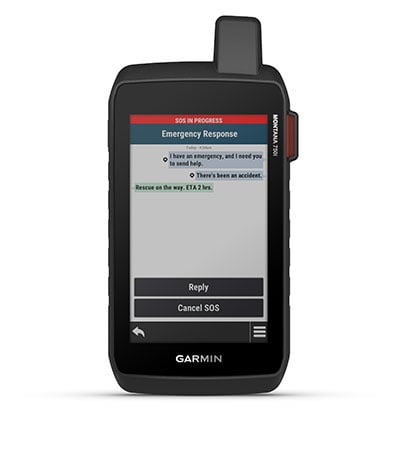 WORLDWIDE ACCESSIBILITY
Instead of relying on cellular coverage, your messages, SOS calls, and locations are broadcast over the Iridium ® satellite network with 100% global coverage (active satellite subscription required).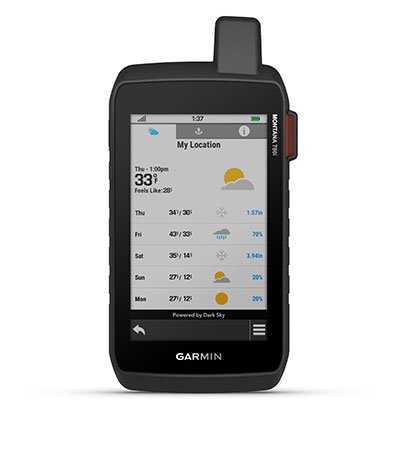 INREACH WEATHER INFORMATION
The available inReach weather service delivers detailed updates directly to the Montana handheld device or to paired devices so that you know how the weather is going.
BUILT FOR ALL ADVENTURES.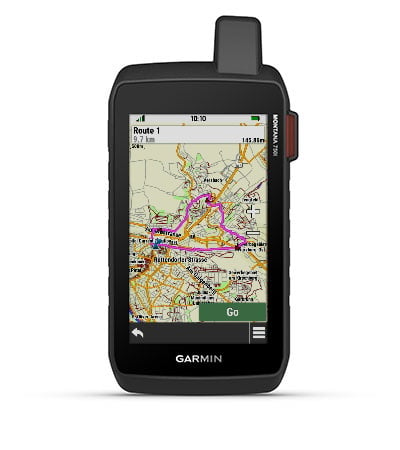 ROBUST BY MILITARY STANDARD
This sturdy, water-resistant handheld device has been tested to US military standards. It offers a 5-inch touchscreen that can also be operated with gloves and is 50% larger than on previous Montana models.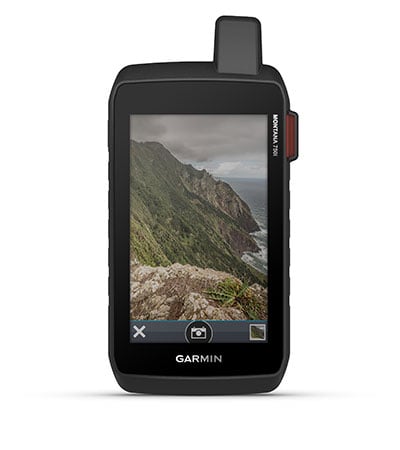 INTEGRATED CAMERA
Capture pictures of your adventures with the Montana's 8 MP digital camera. Photos are geotagged with coordinates so that you can visit your favorite places again later.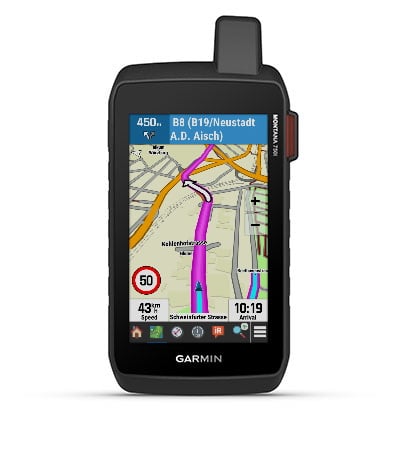 CITY NAVIGATOR MAPS
Switch seamlessly between off-road and on-road navigation thanks to preinstalled City Navigator road maps that support you on your journey with easy-to-follow turn-by-turn directions.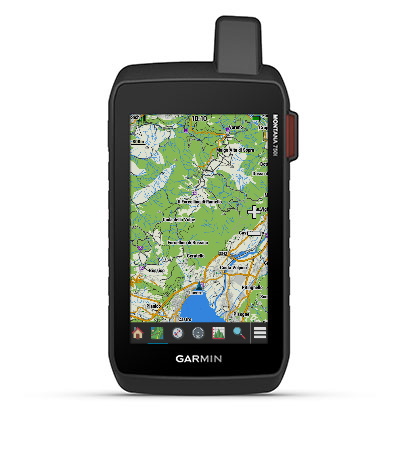 TOPOACTIVE EUROPE MAPS
Use the pre-installed TopoActive Europe maps to navigate your adventures. View elevation data, coastlines, rivers, clues and much more.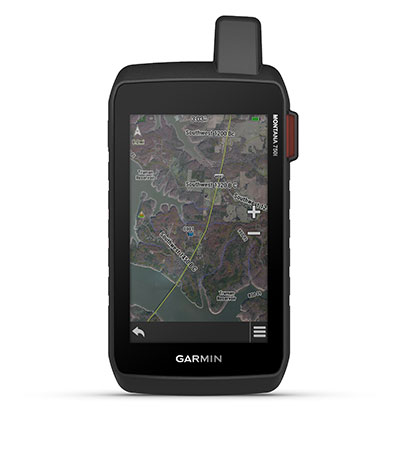 DETAILED SATELLITE IMAGES
Use BirdsEye satellite imagery downloadable directly to the device (no annual subscription required) to view photorealistic views and create waypoints based on clues.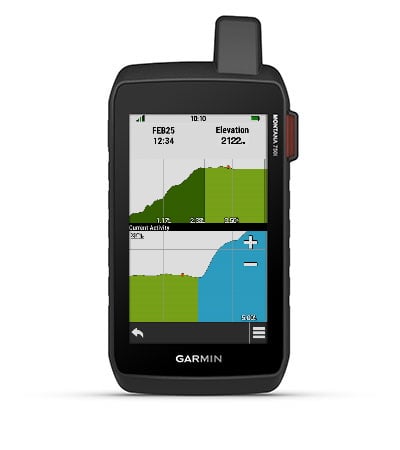 ABC SENSORS
Navigate the next trail with ABC sensors, including an altimeter for elevation data, a barometer to monitor the weather and a 3-axis electronic compass.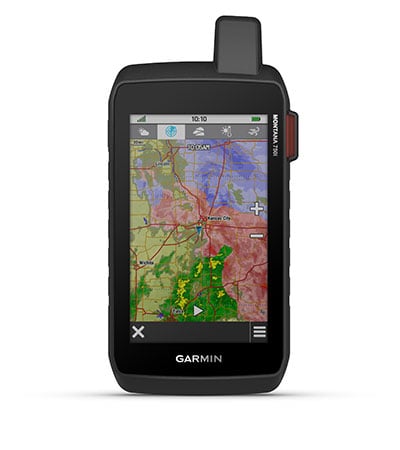 ACTIVE WEATHER DATA
Access current active weather forecasts via cellular 2 . So you won't be surprised by bad weather. Use the Garmin Connect ™ app for this.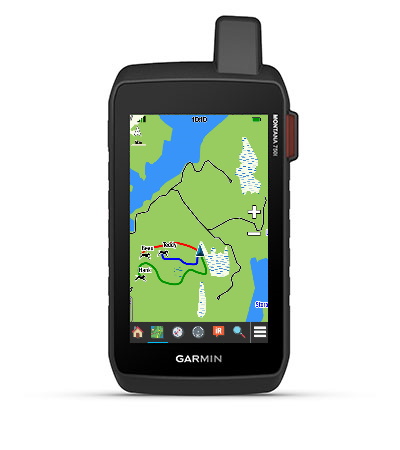 PERFECT DOG LOCATION
For hunters and trainers, this Montana is synchronized with compatible handheld devices of the Astro ® or Alpha ® series (available separately) so that sports dogs can be located in the field.
START WHERE OTHERS TURN BACK.
MULTIPLE SATELLITE SYSTEMS
Thanks to its access to GPS and GALILEO satellite networks, the Montana ®  750i device provides better location in difficult environments than when using GPS alone.
SHARE YOUR POSITION
Track your position and share it with your family or with others on the go. You can view your progress through your web-based MapShare ™ tour page or send a location query to your device for your GPS location and more. (Montana 700i and 750i only; satellite subscription required).
SAVES BATTERY: EXPEDITION MODE
Cover long distances off-road. Use Expedition Mode, an extremely low-power GPS reference mode, to use the Montana for a week or more before it needs to be recharged.
EXTENDED BATTERY LIFE
An internal lithium-ion battery pack offers a runtime of more than 18 hours in GPS mode.
BRACKET FOR BOATS, MOTORCYCLES UVM
A variety of mounts compatible with the Montana handheld device (sold separately) allow you to use the navigation device with ATVs, boats, cars, motorcycles, RVs, or other vehicles.