Let the sun charge the watch so that the smartwatch lasts as long as you do.
The battery life should not set you any limits. Get up to 37 days of battery life in smartwatch mode 1 .
Rugged with a quality design that meets military standards (MIL-STD-810).
Thanks to the integrated LED flashlight, you can stay active even in the dark.
Stay undetected with special features like night vision compatibility.
Worldwide navigation with multi-satellite reception and outdoor sensors.
BATTERY WITH SOLAR CHARGING
The battery lasts up to 37 days in smartwatch mode with solar charging activated 1 and up to 122 hours in GPS mode with solar charging activated 5 .
ROBUST TO US MILITARY STANDARDS
The robust but high-quality design of the device, which has been tested according to US military standards (MIL-STD-810), includes a 1.4″ display.
TOUCH SCREEN AND BUTTONS
Traditional button operation that works in any environment is complemented by an effective new touchscreen. This allows you to quickly select options and call up functions.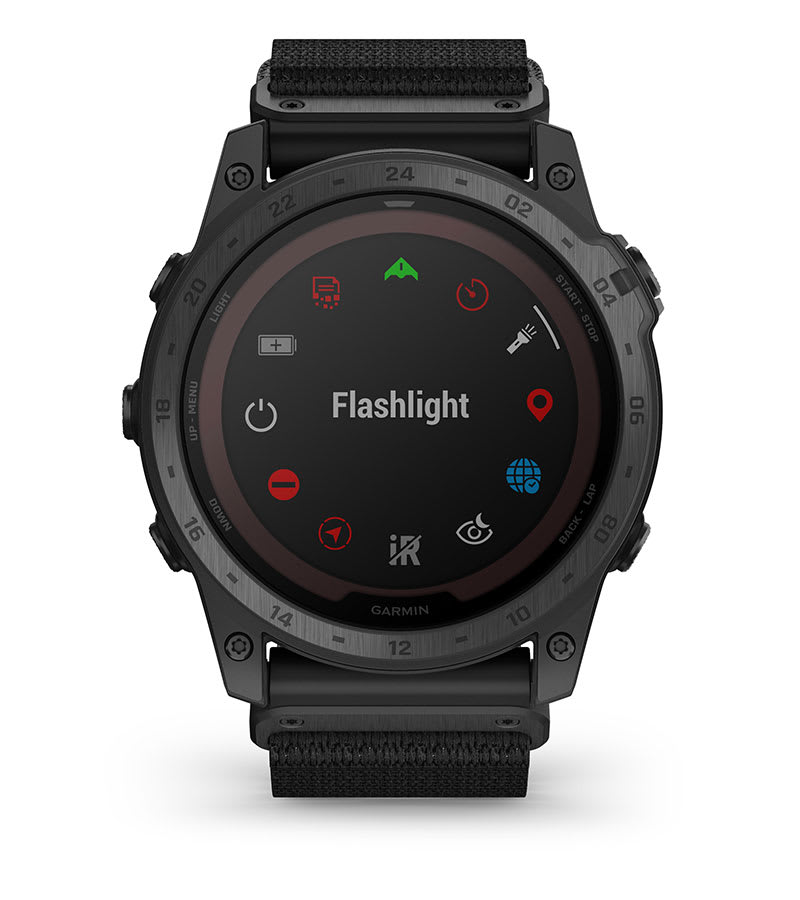 INTEGRATED FLASHLIGHT WITH GREEN OR WHITE LIGHT
To help you find your way in low light, an easily accessible, integrated multi-LED flashlight delivers a bright, steady beam of light in either green or white.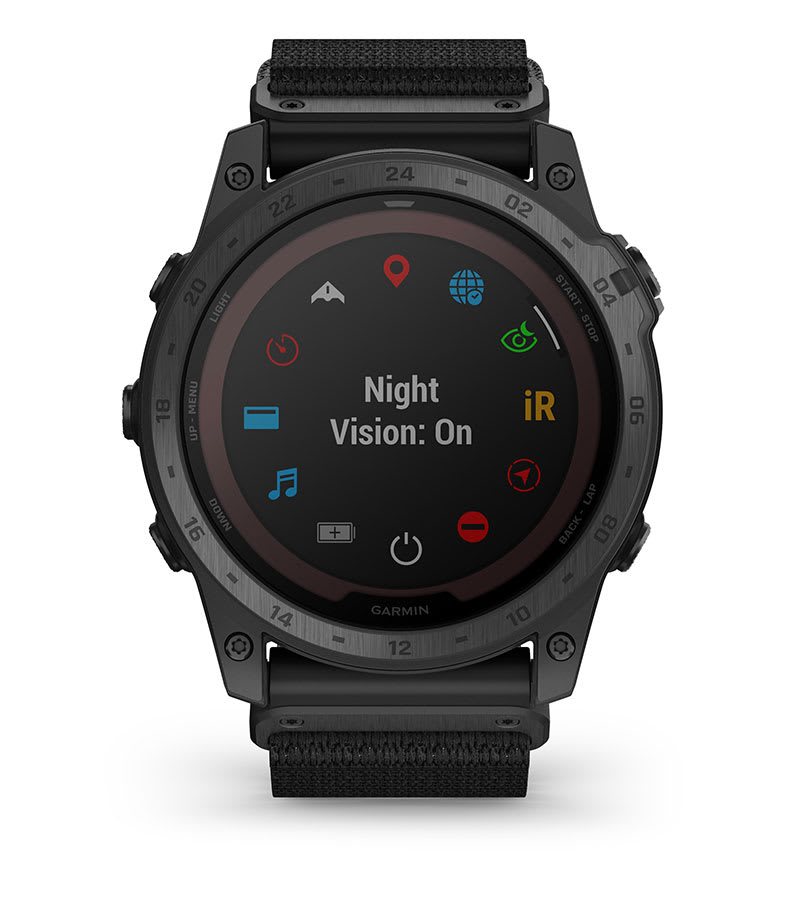 KEEP A VIEW EVEN AT NIGHT
Easily switch between day and night view. Night view mode is also readable with night vision goggles. So you remain undetected at night.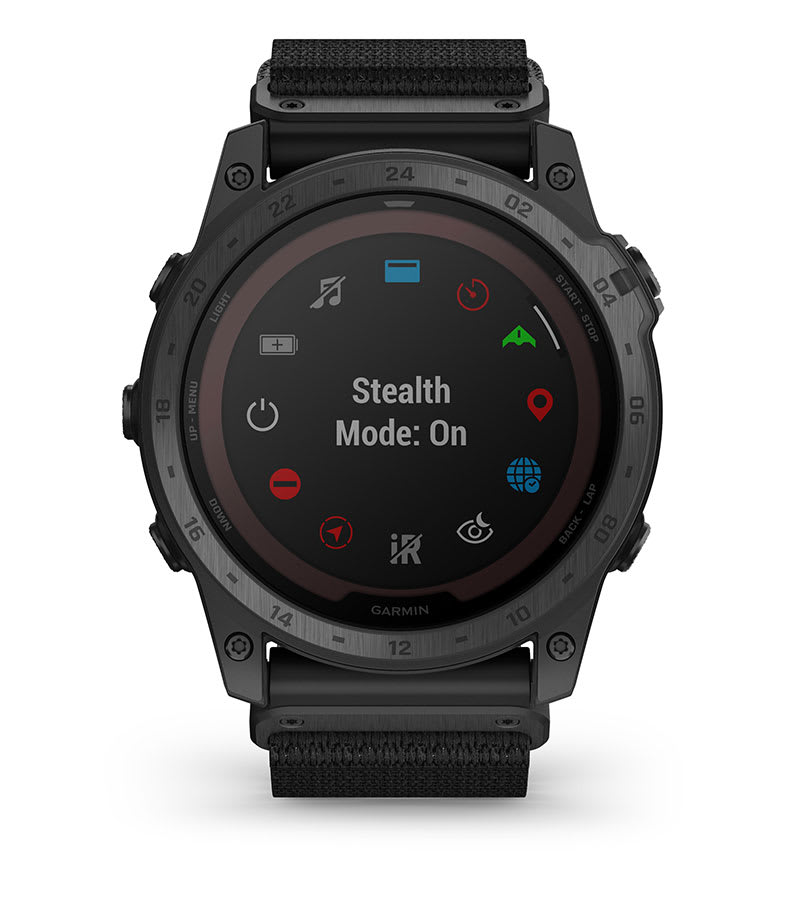 STEALTH MODE
Activate stealth mode to stop saving and sharing your GPS position. Wireless connectivity and communication will also be disabled.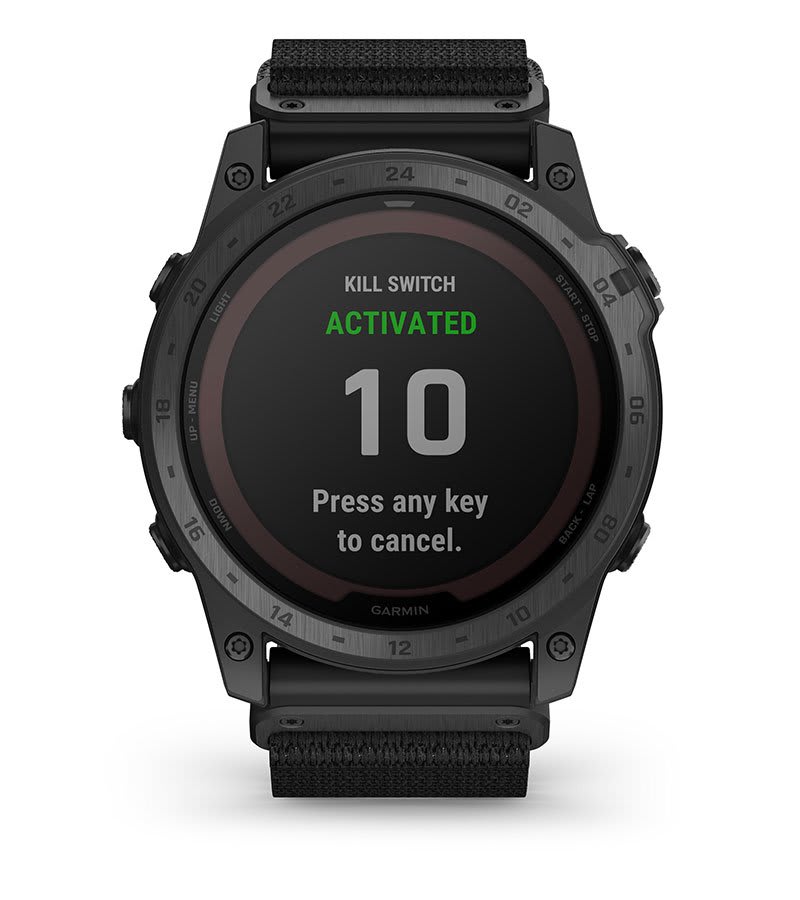 KILL SWITCH
If your security is compromised, you can use the Kill Switch feature to erase all user memory with the push of a button.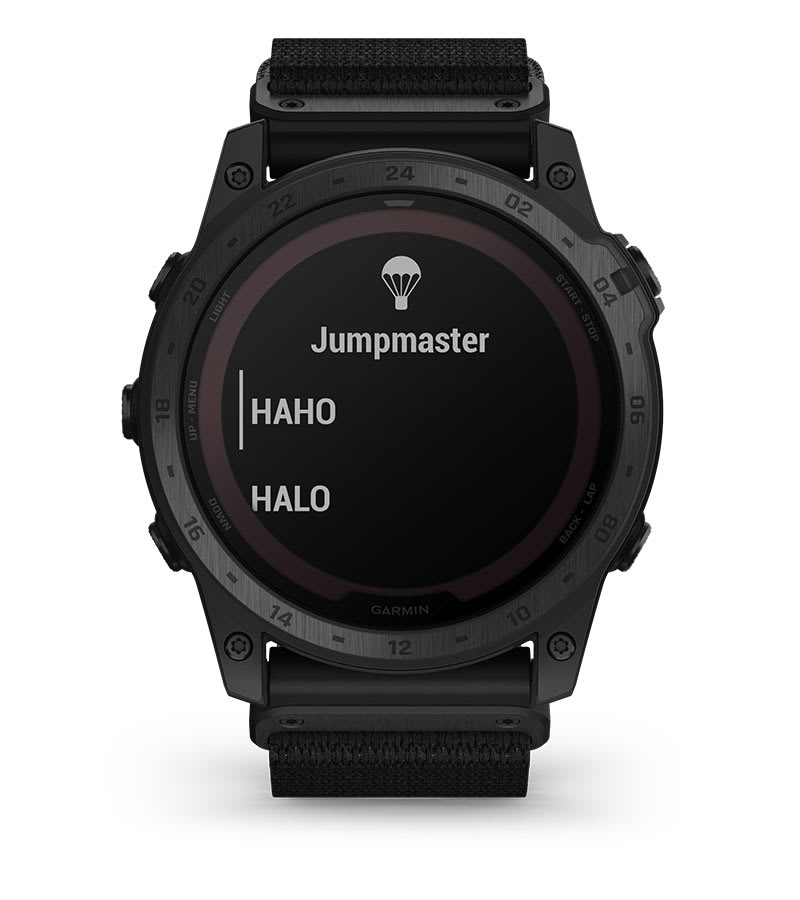 JUMPMASTER MODE
This function is used for HARP (High Altitude Release Points) calculation according to military guidelines and helps you to navigate to your destination after the parachute is deployed.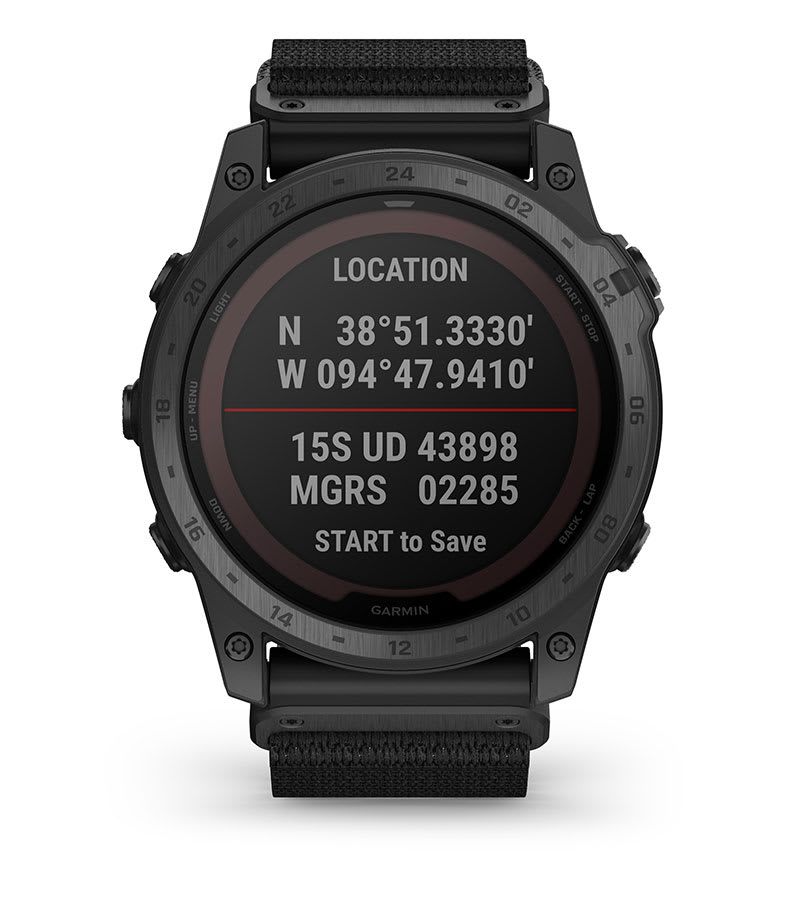 DUAL POSITION FORMAT
Easily sync your location with others. You can see both the UTM (Universal Transverse Mercator) and MGRS (Military Grid Reference System) systems at a glance.
DETERMINE NEW COORDINATES
With the waypoint projection you can determine new coordinates based on your current position and specify a distance and use them for further navigation.
HUNTING ACTIVITY
Record the hunt and mark hunt-specific waypoints right on the watch.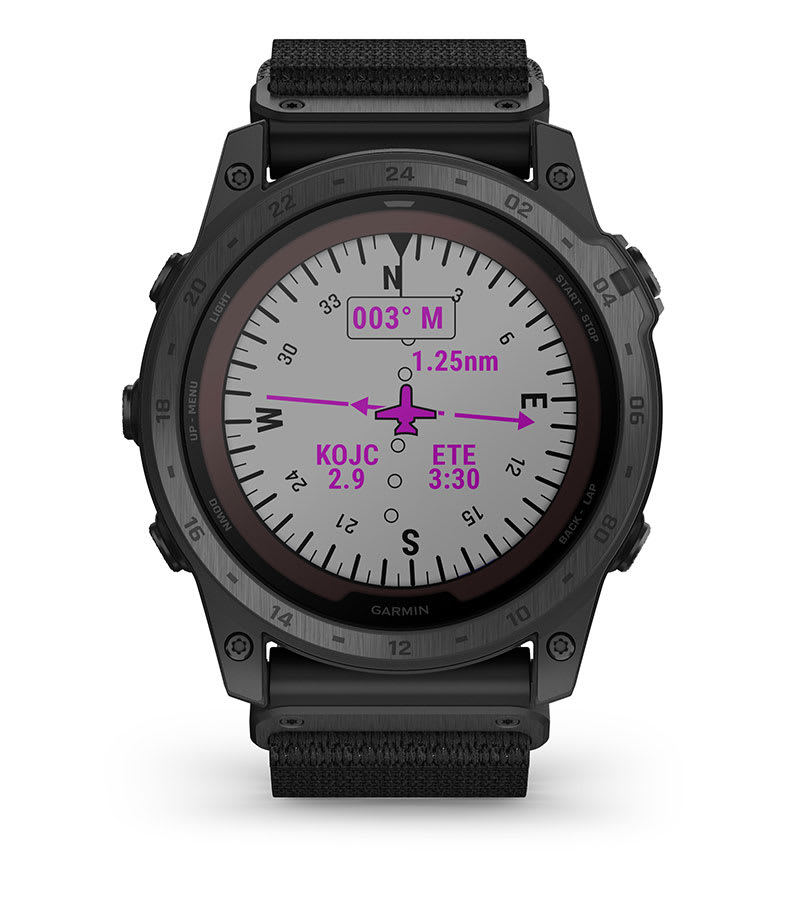 DESTINATION NAVIGATION
Navigate directly to a position or waypoint from the worldwide aviation database. Alternatively, select the nearby airports feature to activate a route to a nearby airport.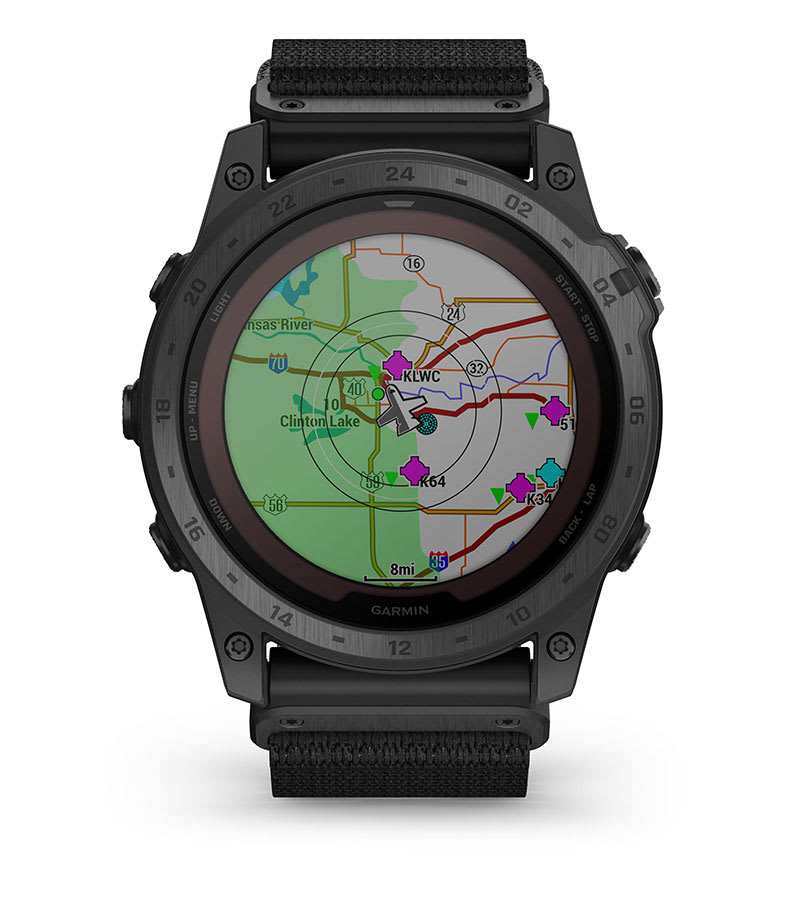 WEATHER INFORMATION
Access in-flight weather data including NEXRAD radar, METARs and TAFs to see wind, visibility, barometric pressure and more 2 .
Now train even smarter and harder.
MULTIBAND GNSS SUPPORT
Use multiple global navigation satellite systems (GPS, GLONASS, Galileo). Access multiple frequencies broadcast by navigation satellites to increase positional accuracy in areas where GNSS signals are backscattered, weak, or commonly unavailable.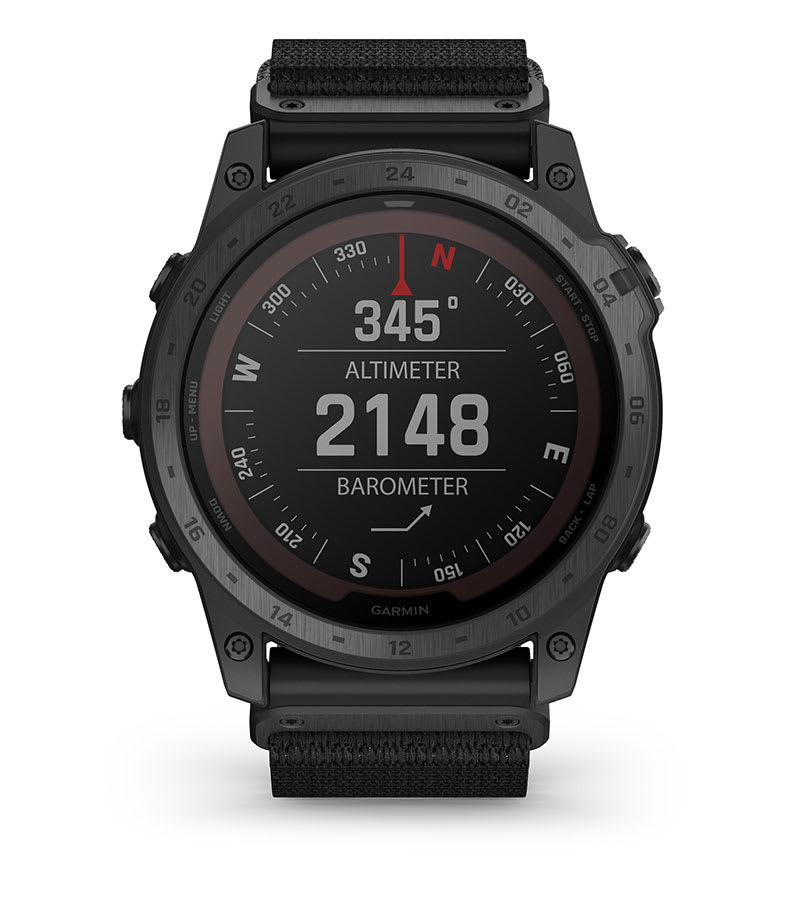 ABC SENSORS
Navigate the next trail with ABC sensors, including an altimeter for elevation data, a barometer to monitor the weather, and a 3-axis electronic compass.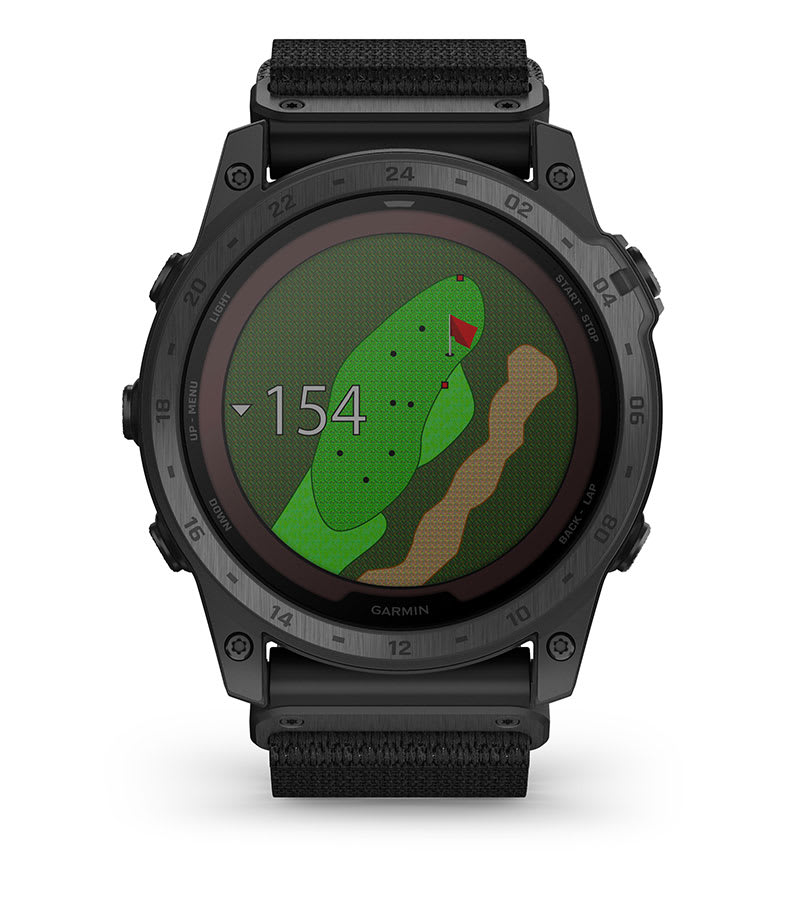 GOLF COURSE MAPS
View full color CourseView maps for more than 42,000 golf courses worldwide. Also use button targeting and PlaysLike distance feature.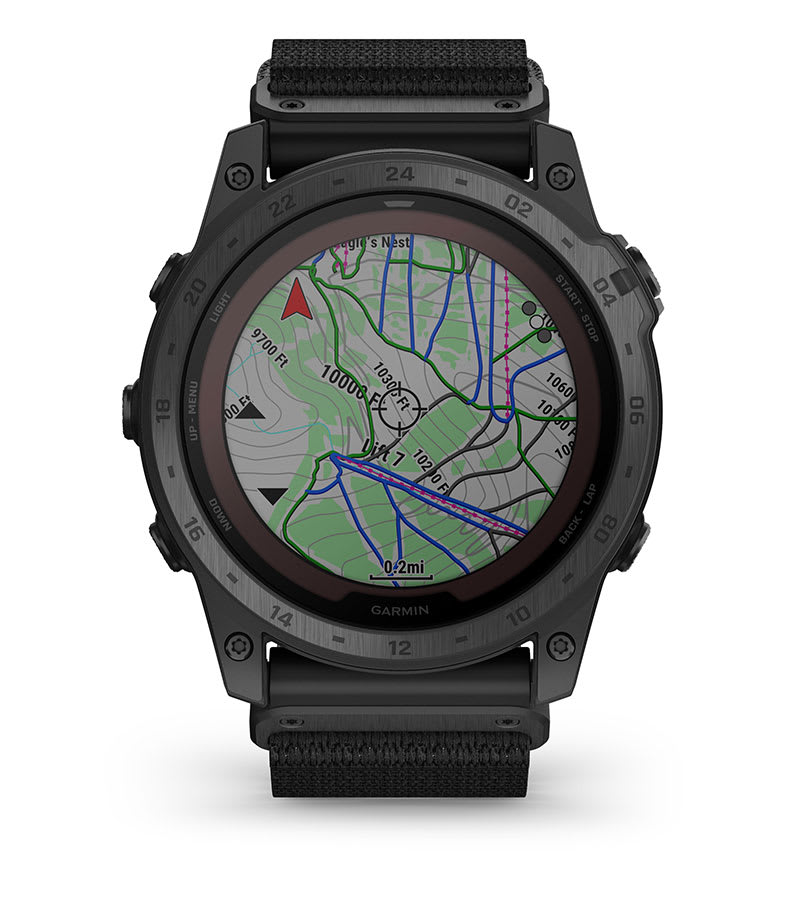 SKIVIEW™ MAPS
Hit the slopes with preloaded SkiView maps and view ski slope names and difficulty ratings for more than 2,000 ski resorts worldwide .
MULTIPLE CONTINENT TOPO MAPS
tactix® 7 – Pro Edition comes preloaded with TopoActive maps from your region and offers free access to download additional maps from around the world to help you stay on track as you explore. Built-in WiFi connectivity lets you easily load and update maps and software without a computer.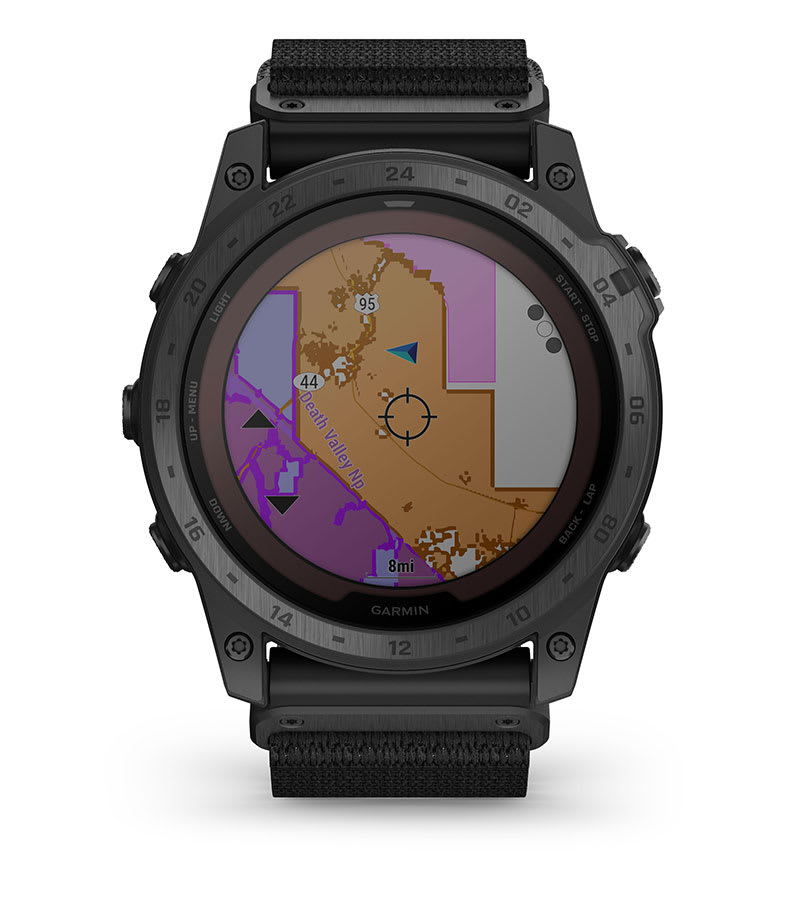 INDICATION OF COUNTRY BORDERS
Optionally display country borders on topographic maps. So you know exactly which country you are in.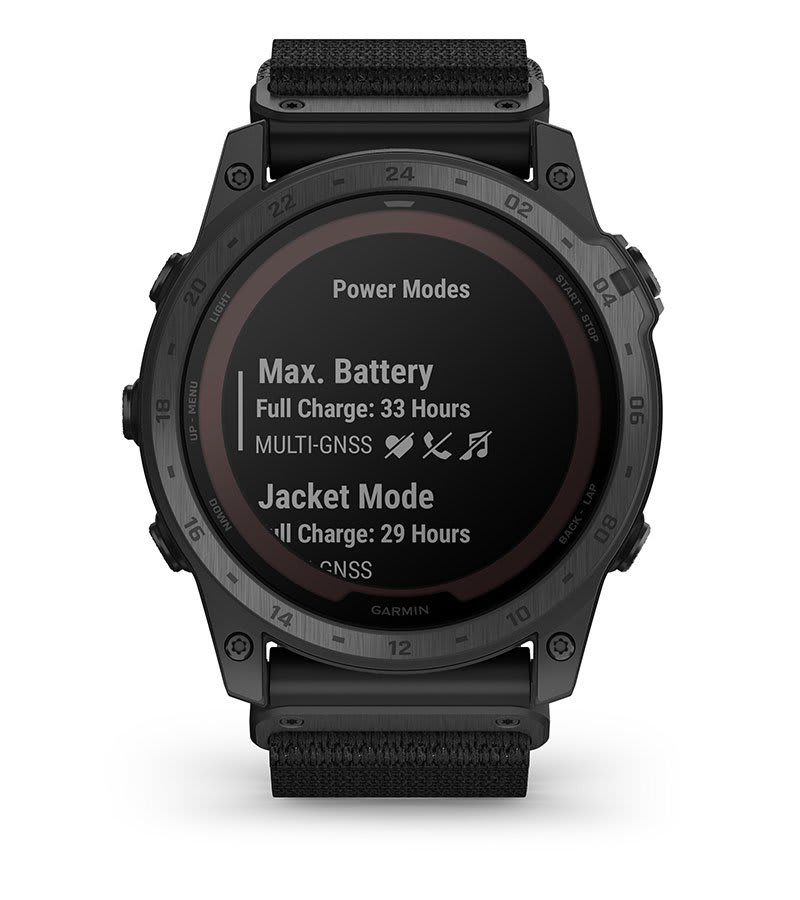 POWER MANAGER
See how different settings and sensors affect smartwatch battery life. Then you can quickly make changes to help the battery last longer.
GET TO KNOW YOUR BODY BETTER.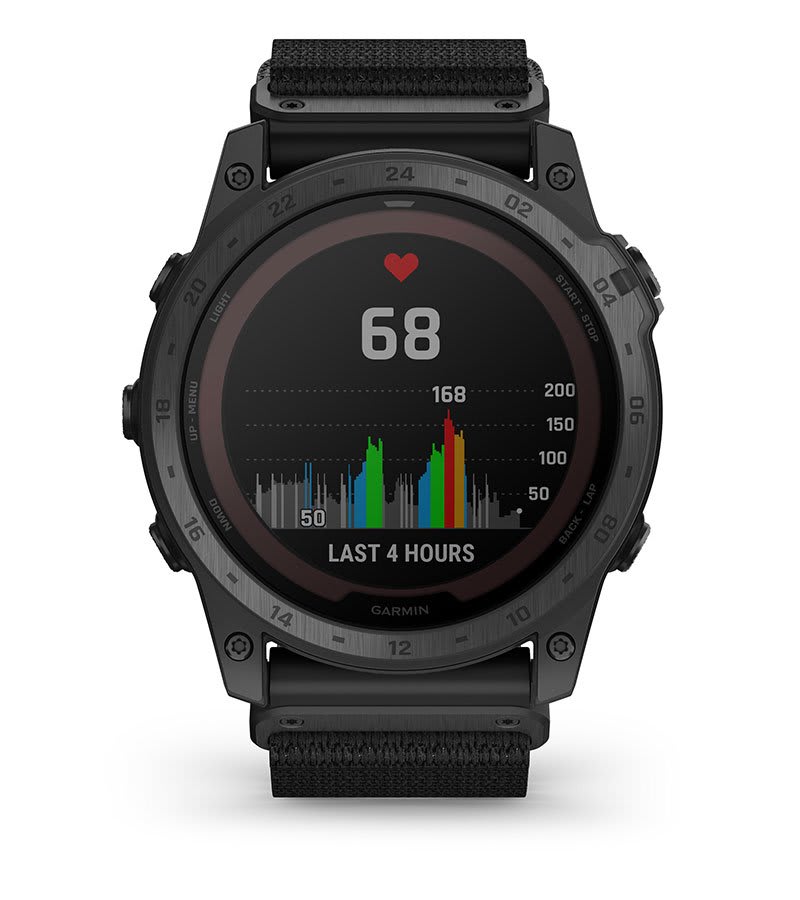 WRIST HEART RATE MEASUREMENT
The optimized heart rate measurement technology determines the intensity of your fitness activities as well as your heart rate variability and then calculates your stress level. This even works underwater – without a heart rate chest strap.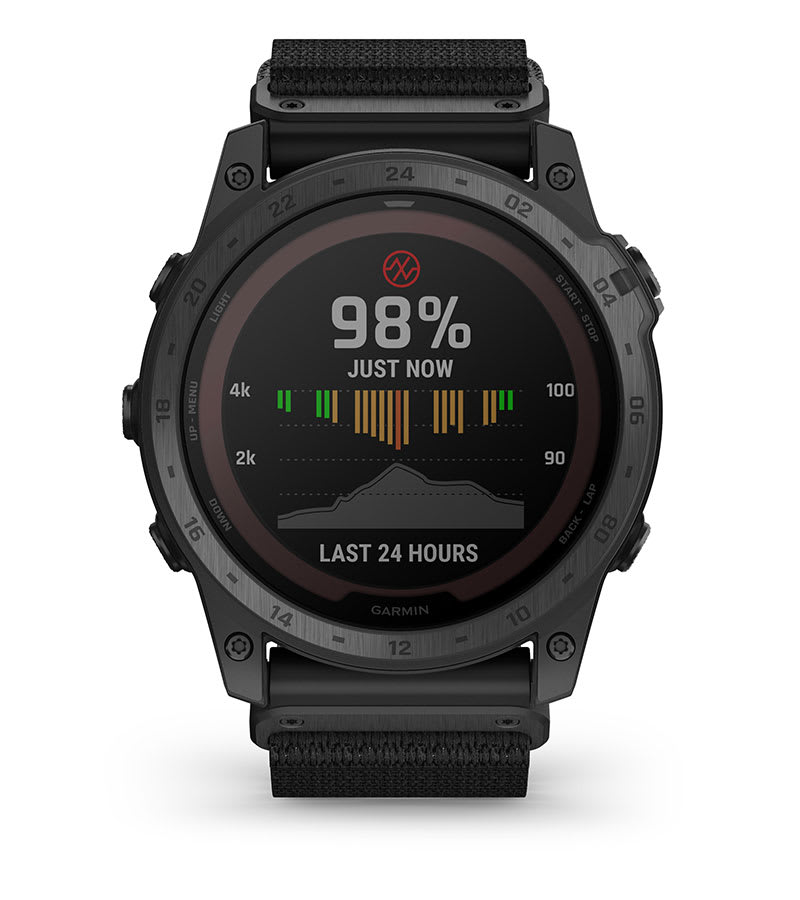 PULSE OX SENSOR
Monitor your blood oxygen saturation with the Pulse Ox Sensor 6 and see how your blood oxygen saturation changes with altitude. Now you can see how well your body absorbs oxygen.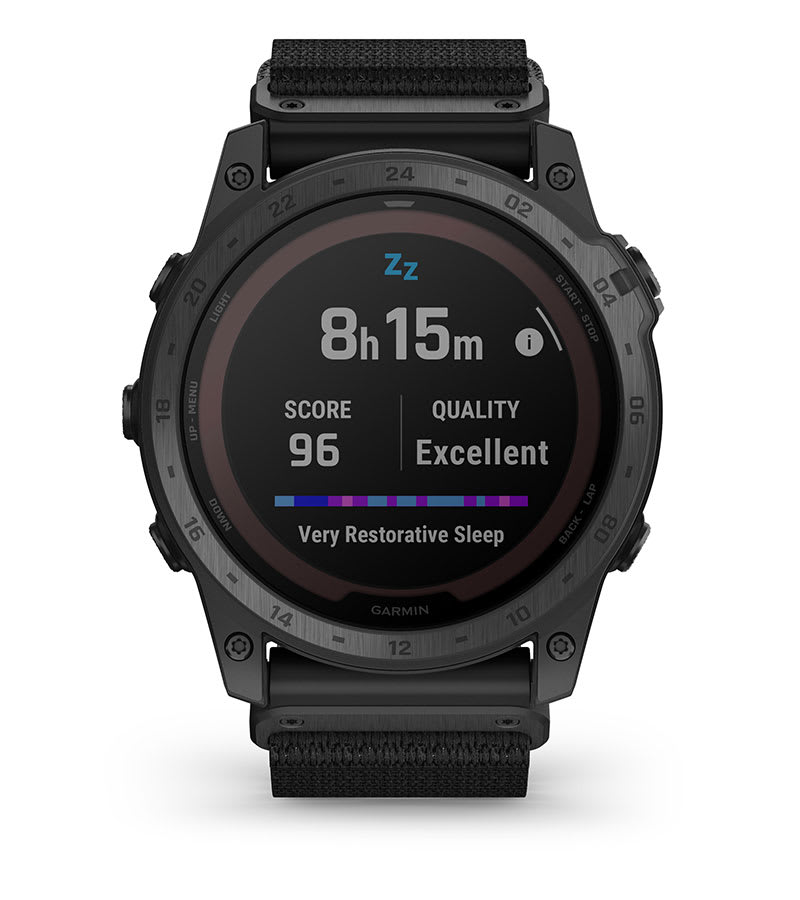 SLEEP ANALYSIS WITH SLEEP SCORE
Get complete information about your light and deep sleep and REM phases. Show all data in a special widget with sleep score and insights.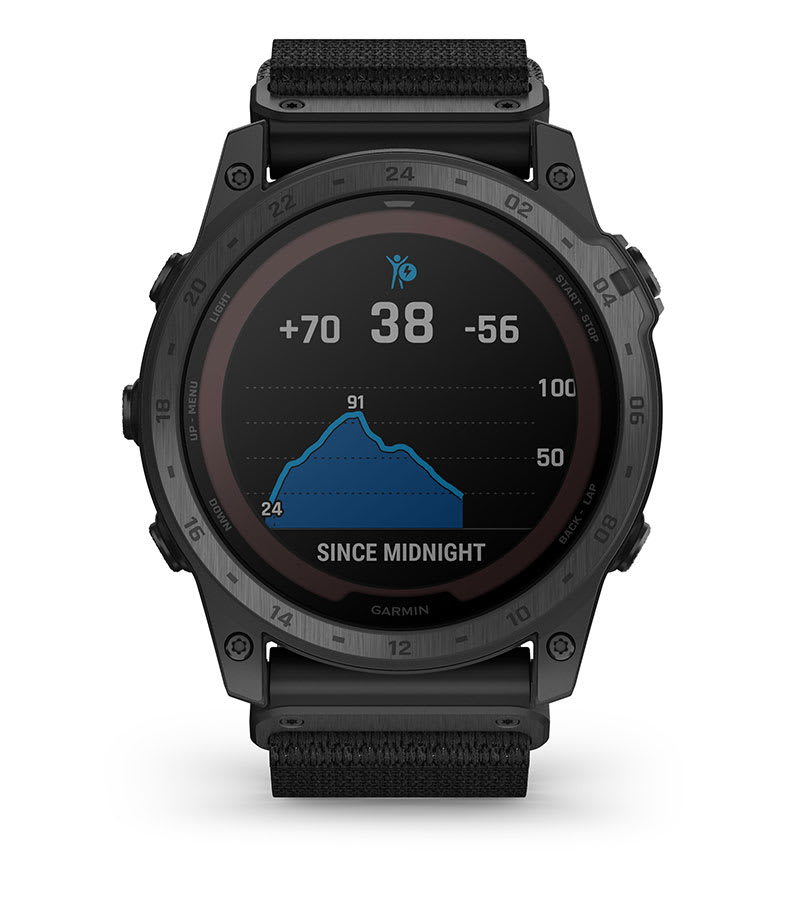 BODY BATTERY™ ENERGY LEVELS
Your Garmin continuously measures your heart rate and uses Body Battery to let you know when you're ready for your next workout. Oxygen saturation in the blood and the status of your energy level provide the necessary information.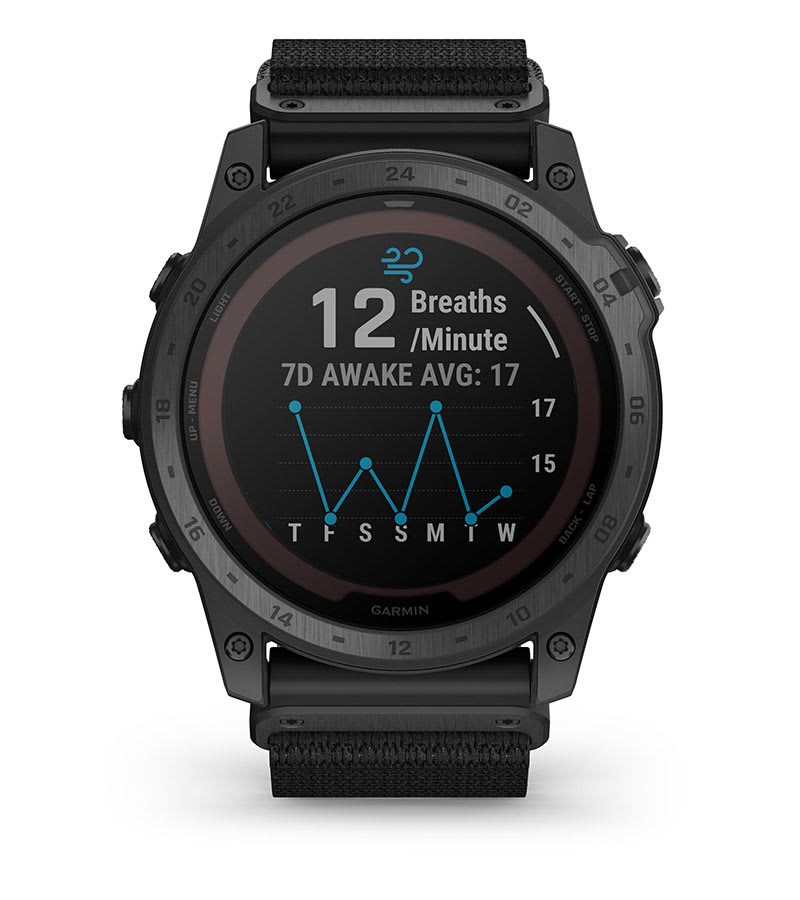 DISPLAY YOUR RESPIRATORY RATE
This function shows you your breaths over the course of the day, but also while you are sleeping and during various yoga exercises.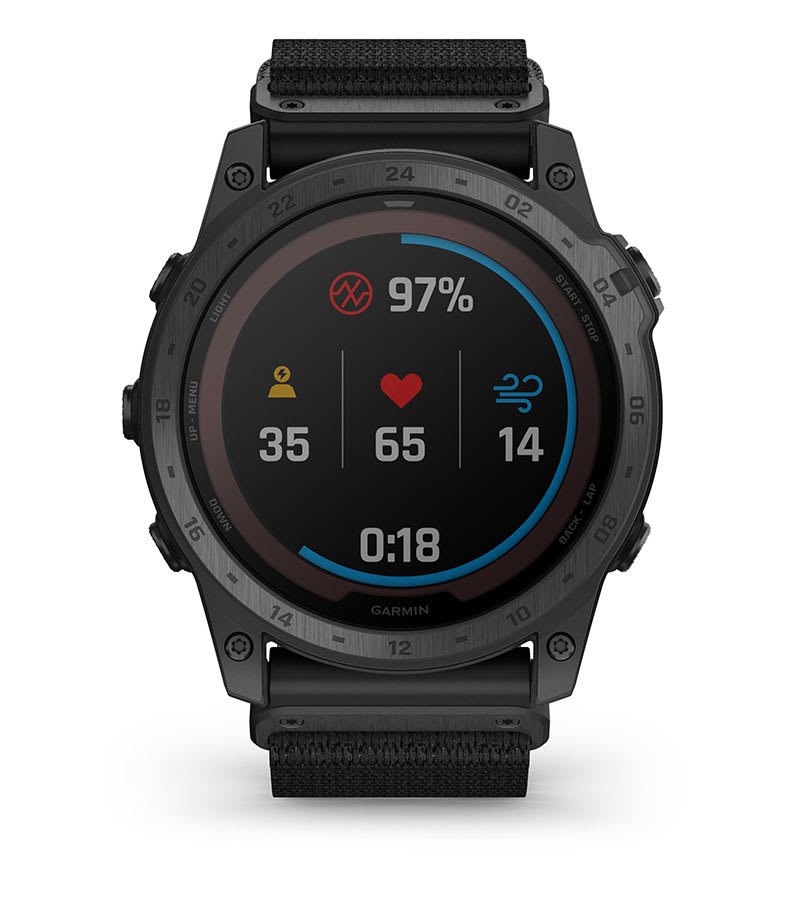 HEALTH SNAPSHOT™ FEATURE
Complete a 2-minute session to record key stats including heart rate 3 , heart rate variability, pulse oximeter data 6 , respiration and stress. Then use the Garmin Connect™ app on your compatible smartphone to generate a report of these stats to share with others.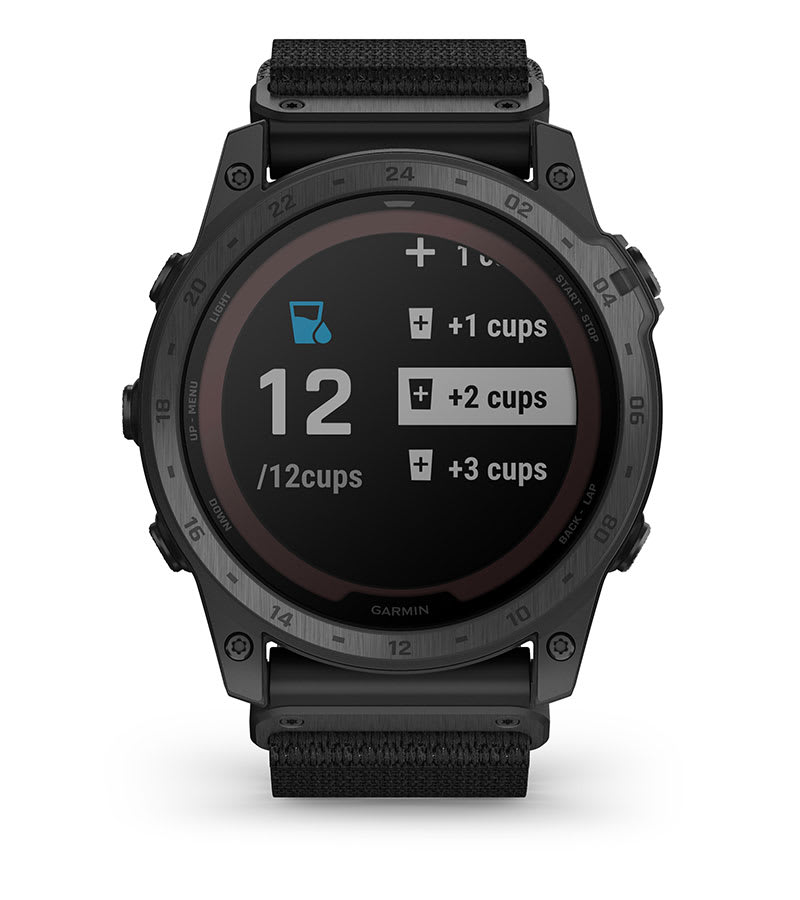 SEE IF YOU'RE DRINKING ENOUGH
Adequate fluid intake is important for your health. Track how much water you're drinking each day and see if you're drinking a similar amount from day to day.
SMART FUNCTIONS FOR YOUR EVERYDAY LIFE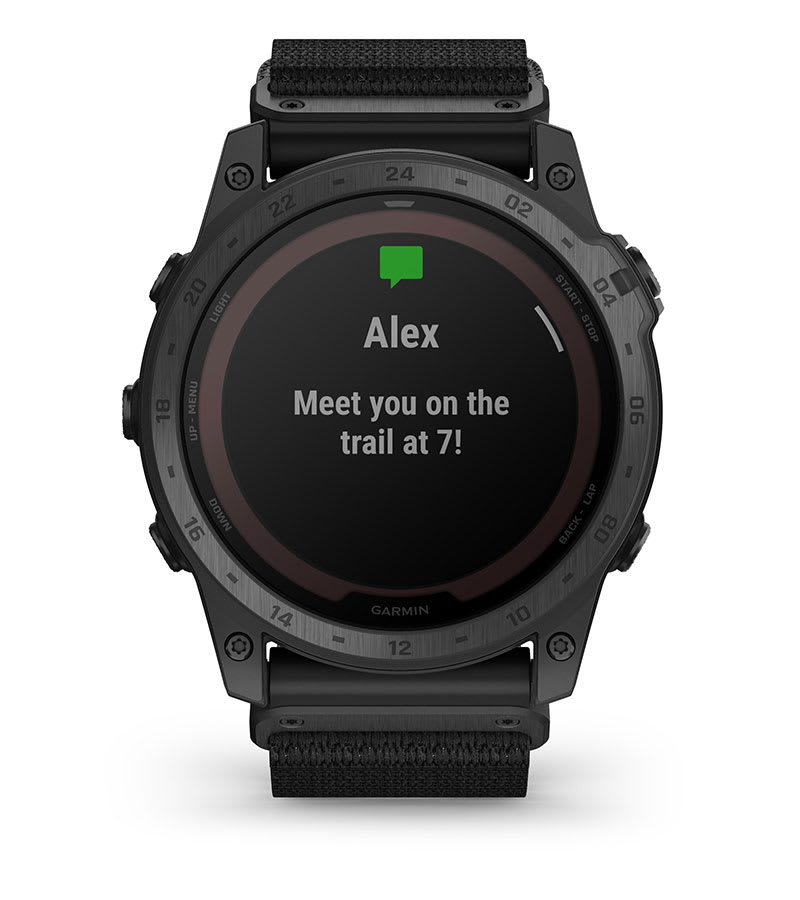 SMART NOTIFICATIONS
Don't miss anything that's important to you: Receive your notifications for calls, appointments and much more when paired with a compatible device.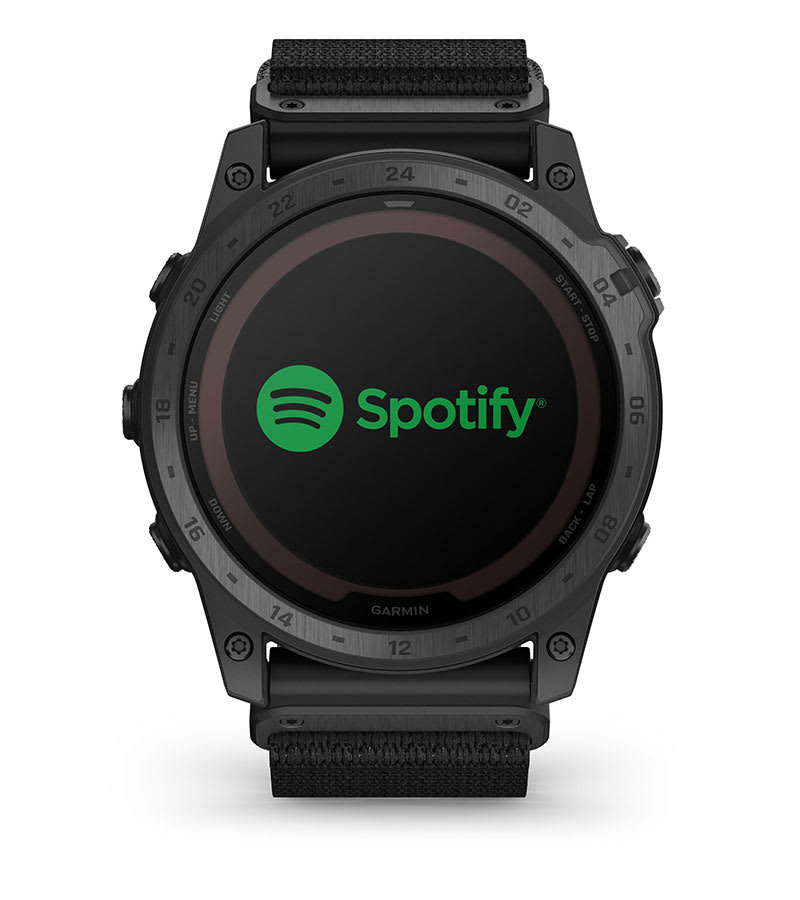 ENJOY YOUR FAVORITE SONGS
Store up to 2,000 songs on the device or access streaming apps from compatible services including Spotify, Deezer and Amazon Music. Then listen to music through Bluetooth® headphones.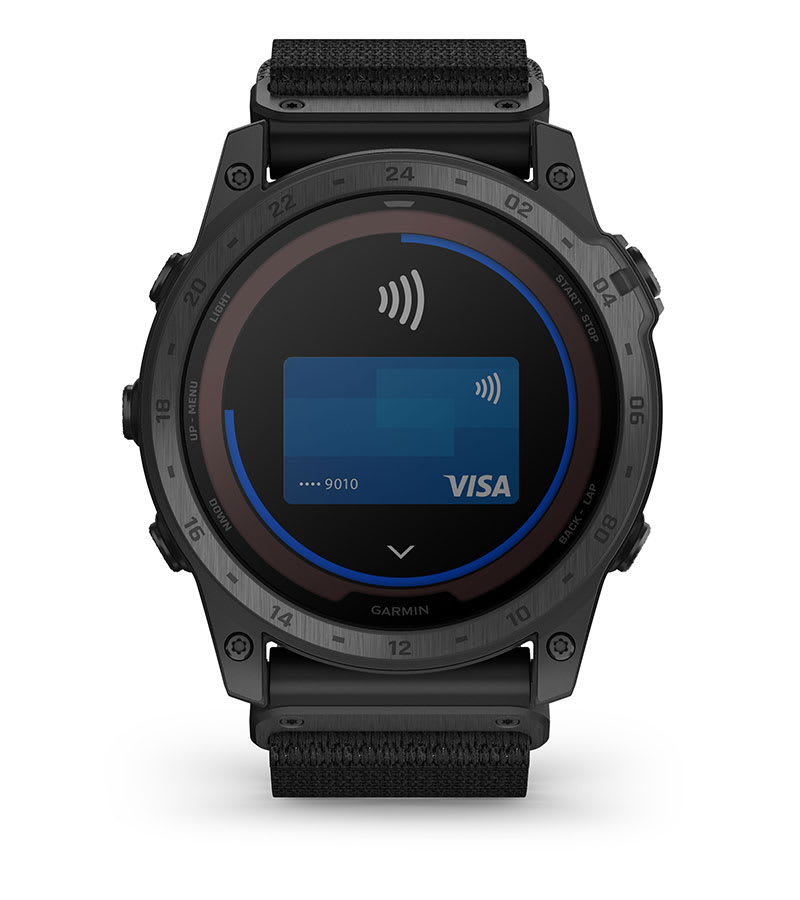 GARMIN PAY™ – PAY CONTACTLESS
Pay in no time – without a wallet. Don't lose any time and pay easily contactless with Garmin Pay at all participating providers.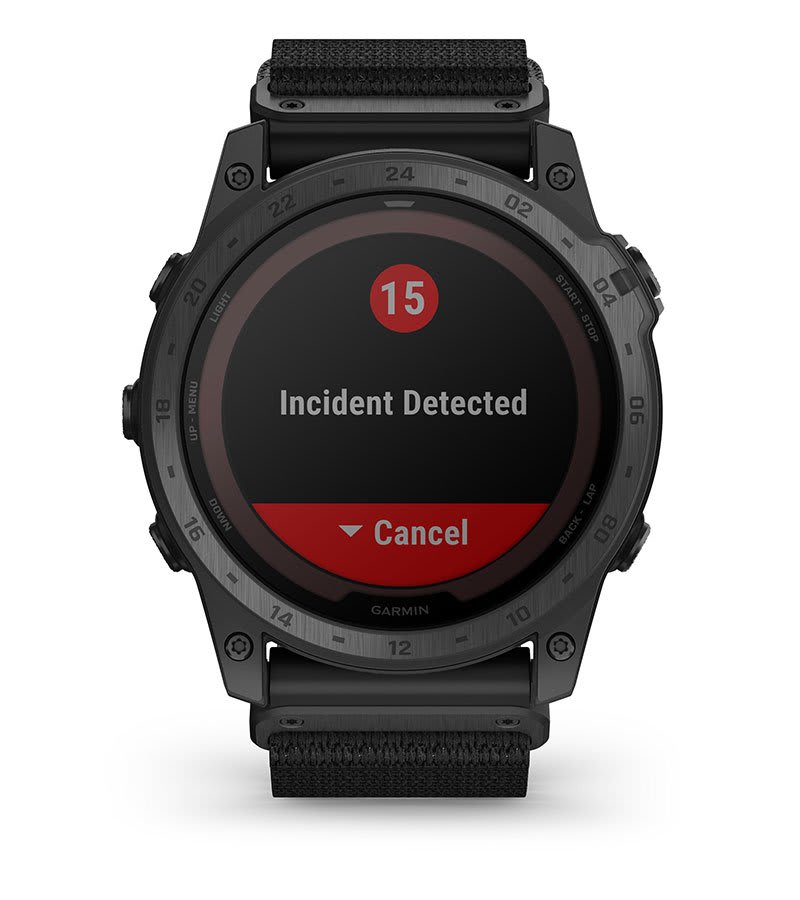 SECURITY AND TRACKING FEATURES
When the smartwatch and phone are paired, your live location can be sent to your contacts. This is done either manually or, for certain outdoor activities, automatically with the integrated accident notification 7 .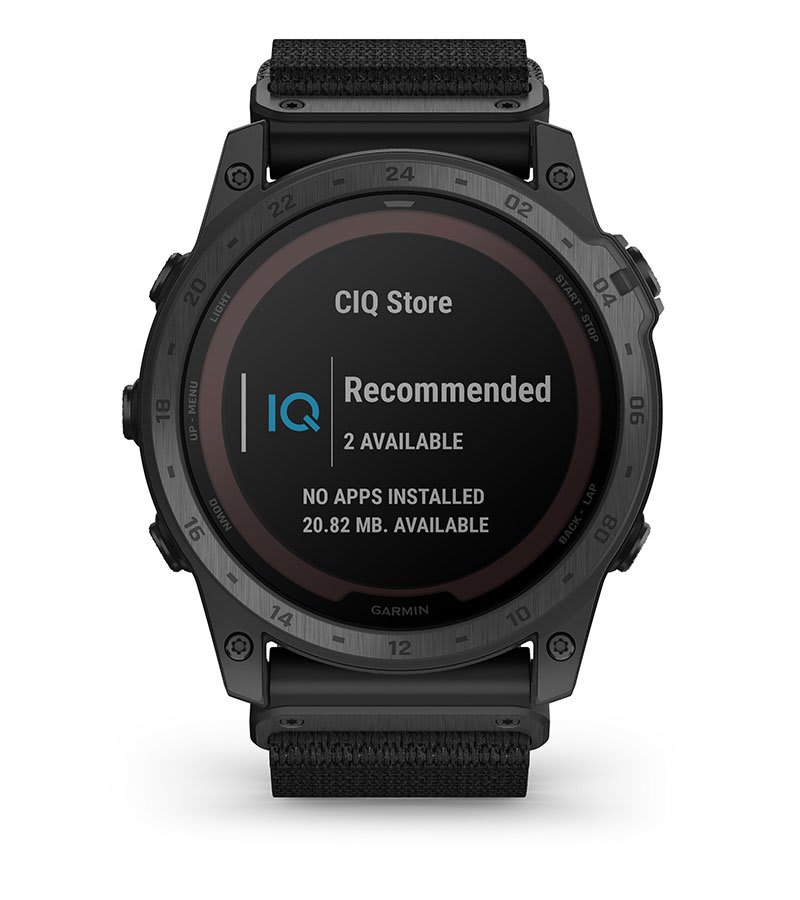 CONNECT IQ STORE
Download custom display themes, add data fields, and get apps and widgets from the Connect IQ store on your compatible smartphone.
Quickfit® accessory bands for a new look – without tools.
CUSTOMIZE YOUR GARMIN DEVICE VIA THE CONNECT IQ STORE.
The Garmin Connect™ app. Clear, individual, motivating.
1 Assumes all-day wear with 3 hours outdoors at 50,000 lux.
4 When paired with Garmin Connect™ smart device app and Surfline smart device app.
5 Assumes continuous use at 50,000 lux throughout the period.
6 
This is not a medical device and is not intended to diagnose or monitor any medical condition; see 
Garmin.com/ataccuracy
 . Pulse oximetry data is not available in all countries.
Wi-Fi is a registered trademark of the Wi-Fi Alliance. SPOTIFY and the Spotify logo are among the registered trademarks of Spotify AB. Amazon Music and all associated logos are trademarks of Amazon.com, Inc. or its affiliates. The Bluetooth word mark and logos are registered trademarks owned by Bluetooth SIG, Inc. and any use of such marks by Garmin is under license.