The classic analogue watch with the functions of a modern smartwatch.
The touchscreen becomes visible by tapping or swiping across the display. Not everyone has an invisible display.
Thanks to Smart Notifications, you have all notifications 1 from your smartphone directly on the watch.
Learn more about your body. Record steps 2 , sleep, stress and energy reserves.
Make wellness a priority with apps for yoga, walking, cardio, mindful breathing and more.
Get a battery life of up to 5 days. That's something to be proud of.
TRADITIONAL WATCH DESIGN
The display is only shown when you need it. When operating the touchscreen, the clock hands move.
AN ELEGANT LOOK ON THE WRIST
The vívomove Sport is available in different colors with metallic color accents. It is lightweight and has a comfortable silicone strap. This makes it perfect for both work and the weekend. Also use industry standard 20mm quick release straps with the device .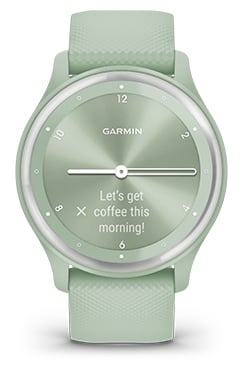 MESSAGES FROM SMARTPHONE
From now on you won't miss anything anymore. Receive emails, messages and alarms directly on your watch when paired with a compatible smartphone. If you have an Android™ phone, you can even reply to messages.
SECURITY AND TRACKING FEATURES
When the watch and phone are paired, a message can be sent to your contacts with your current location. This is done either manually or, for certain outdoor activities, automatically with the integrated accident notification 3 .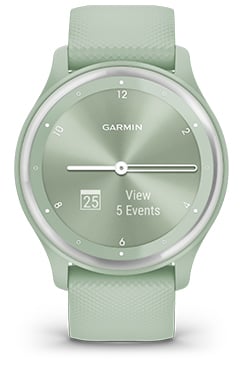 CALENDAR VIEW
You can easily see what's planned for the day on the dedicated calendar page. So you always have your diary conveniently with you on your wrist.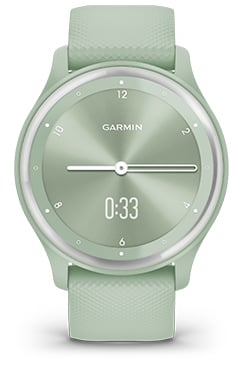 TIMER AND STOPWATCH
Access handy watch features right on the wearable.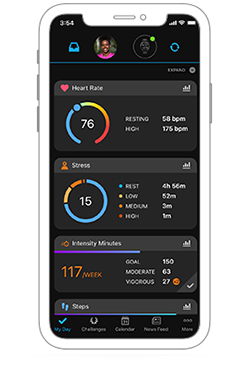 SYNC WITH THE GARMIN CONNECT™ APP
View your health and fitness data in one place. The Garmin Connect app is a popular online community. Members can connect, compete, and share data with others.
EVERYTHING FOR YOUR HEALTH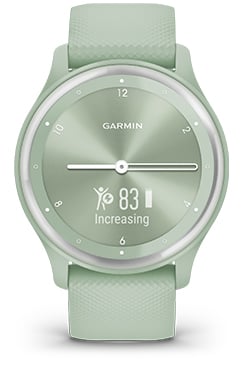 BODY BATTERY™ ENERGY LEVELS
Measure your body's energy reserves so you know when is the best time to be active or rest.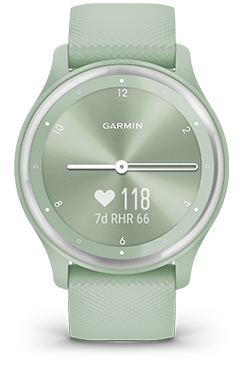 WRIST HEART RATE MEASUREMENT
Your smartwatch regularly measures the heart rate 2 and gives an alarm if it is too high or too low during a rest phase. It also helps you gauge how hard you're training during activities. Even underwater.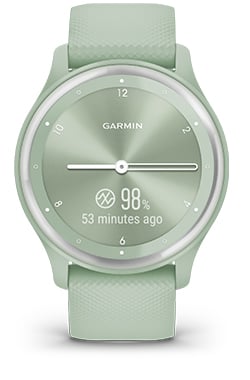 PULSE OX SENSOR
Use the pulse oximeter sensor 4 to measure blood oxygen saturation during the day or while you sleep. This allows you to see how well your body is absorbing oxygen.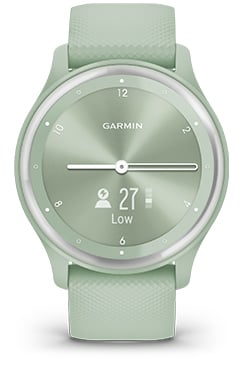 KEEP AN EYE ON THE STRESS
Find out if you're having a calm, balanced, or busy day. Let yourself be reminded of short breathing exercises to relax in between when the smartwatch recognizes that you are feeling stressed.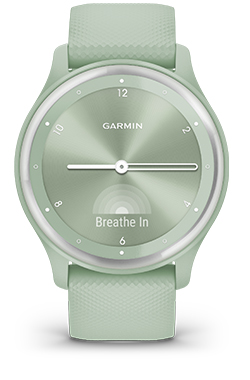 CONSCIOUSLY BREATH
If you want to relax or improve your concentration, just start a breathing exercise. The smartwatch stores information about stress and breathing. This will help you understand your breathing better.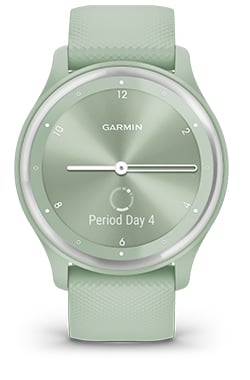 MENSTRUAL CYCLE TRACKER
Use the Garmin Connect app to track your menstrual cycle or pregnancy . Save symptoms, get information about training and nutrition and much more. m. You can even view and record details on the wearable.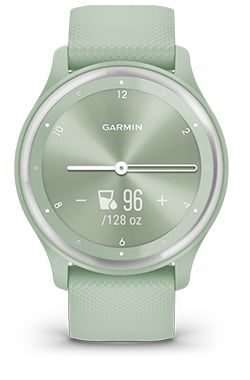 SEE IF YOU'RE DRINKING ENOUGH
Record how much fluid you drink each day. Set an automatic hydration goal that adjusts based on sweat loss during activity. So you always drink enough.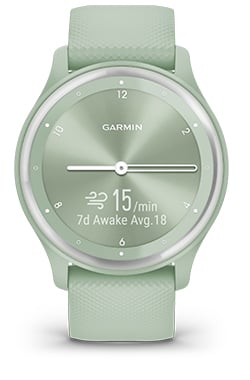 DISPLAY YOUR RESPIRATORY RATE
This function shows you your breaths over the course of the day, but also while you are sleeping and during various yoga exercises.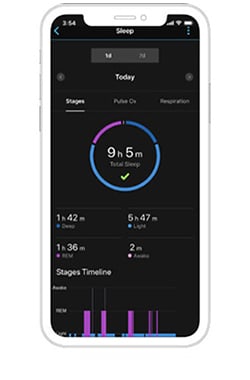 DETAILED SLEEP ANALYSIS
Get an idea of ​​the quality of your sleep in the different phases (light, deep, REM) and also get blood oxygen saturation 4 and respiration data.
ACTIVE THROUGHOUT THE DAY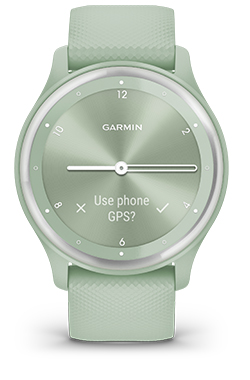 CONNECTED GPS
Connect to your compatible smartphone 's GPS to accurately track your position on walks, tours and outdoor jogs.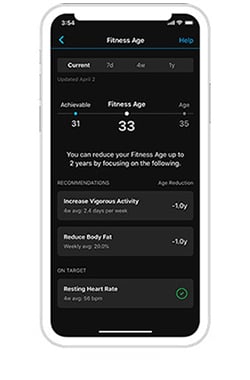 FITNESS AGE
This feature uses your chronological age, your weekly vigorous-intensity activity, your resting heart rate and your BMI or body fat percentage 5 to calculate whether your body is younger or older than you. You can also get tips about your fitness age to lower.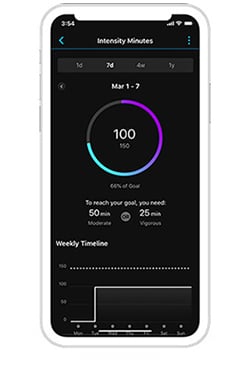 INTENSITY MINUTES
Our Intensity Minutes feature has been updated so you can better see what time of day and activity you got them.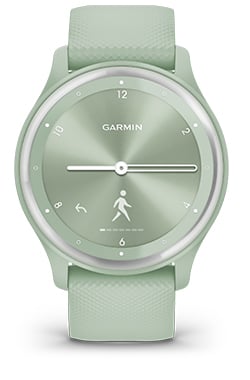 PRE-INSTALLED SPORTS APPS
Bring variety to your training with pre-installed sports apps for yoga, strength training, cardio training, swimming in the pool and much more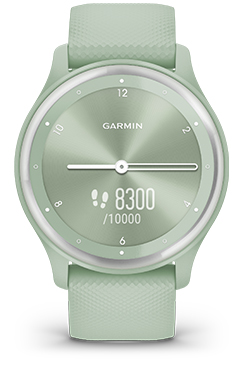 FITNESS TRACKING
When you're on the go, vívomove Sport tracks steps, calories, intensity minutes and more. Even sync your data with multiple Garmin smartwatches.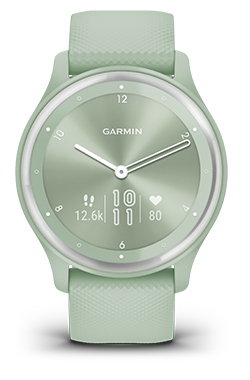 BATTERY LIFE
Stay active longer. The battery lasts up to 5 days in smartwatch mode and 1 additional day when used as an analog watch. After a 15 minute charge, the battery will last up to 1 additional day in smartwatch mode. After a 15 minute charge, the battery will last up to 1 additional day in smartwatch mode.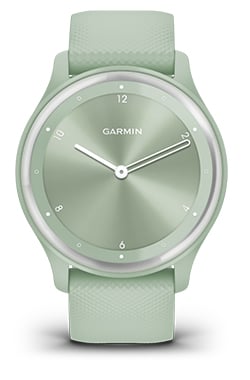 WATERPROOFNESS
This watch is water resistant to 5 ATM, making it perfect for swimming, showering or a day at the spa.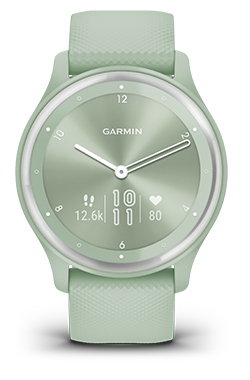 SMALL, LIGHTWEIGHT DESIGN
Thanks to the lightweight watch case measuring just 40mm, you only notice the watch because it looks so good.
#BeatYesterday helps you get a little better every day. You can get the inspiration you need on our Instagram channel.
Create a very personal vívomove® with different straps and cases.
4 
This is not a medical device and is not intended to diagnose or monitor any medical condition; see Garmin.com/ataccuracy. Pulse oximetry data is not available in all countries.
Android™ is a trademark of Google LLC.