Get powerful features in a sleek, stylish AMOLED smartwatch with pre-flight, in-flight, and post-flight activity tools.
Get the airport weather to be informed before the flight 1 .
Use Destination Navigation to navigate to nearby airports and view information about runways 1 .
Record pulse oximeter readings on flights at higher altitudes 2 .
Automatically record flights and wirelessly sync with your flyGarmin.com® account 1 .
Use smartwatch features on the go, including notifications 1 , music storage and Garmin Pay ™.
The battery of this AMOLED smartwatch lasts up to 5 days.
DEVELOPED FOR FLYING IN STYLE
No matter what you have planned, the beautiful AMOLED display brings the watch to life – even in a bright cockpit. The display design is made for pilots and an expression of your passion for flying. In the mode with the display switched on, you can always see your flight information.
COMPLETELY SUITABLE FOR EVERYDAY USE
With robust Corning® Gorilla® Glass 3, a steel bezel, a high-quality, black leather strap and an additional silicone strap, this smartwatch keeps pace with you – whether during training, in the office or on the next flight.
A special flight system. Directly on the wearable.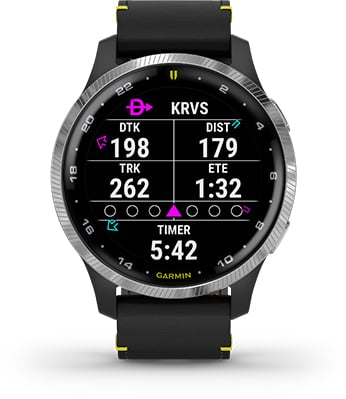 DESTINATION NAVIGATION
Navigate directly to a position or a waypoint from the global aviation database. Alternatively, select the Nearby Airports feature to activate a route to a nearby airport.
PULSE OX
Pulse oximeter data tells you how well your body's oxygen levels are adapting to the thinner air at higher altitudes 2 .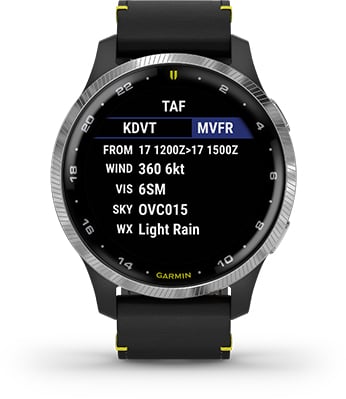 WEATHER INFORMATION
Access to aviation weather data, including METARs and TAFs, to see wind, visibility, air pressure and more 1 .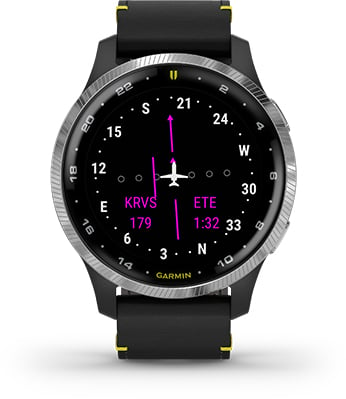 HSI TRACK INDICATOR
Follow the instrument-like HSI course line indicator to your destination so that you can easily see whether you are deviating to the left or right of the desired course.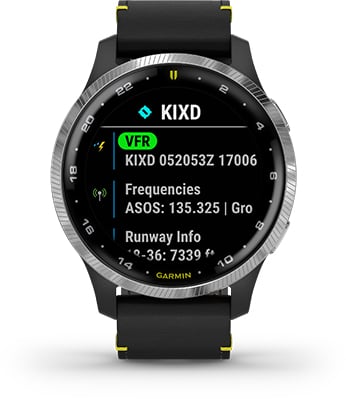 AIRPORT INFORMATION
View information about runway orientation (including wind component 1 ), longitude, and airport frequencies as you approach your destination. 1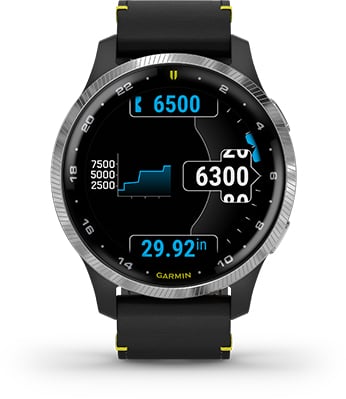 BAROMETRIC ALTIMETER
You can see when you have reached the desired altitude or receive a vibrating alert when you reach an altitude that may require additional oxygen.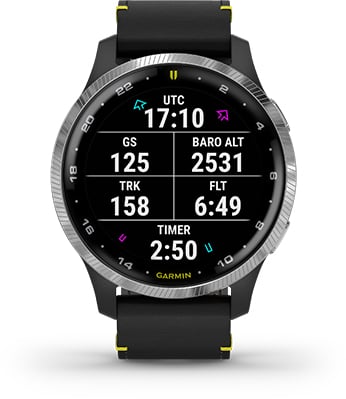 FLIGHT LOG RECORDING
Automatically start recording your flight when you start and then automatically transfer information about the date, duration, total flight time and route to your flyGarmin.com account 1 .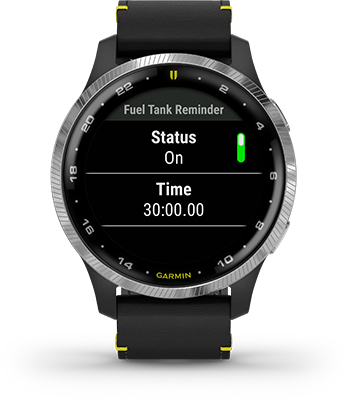 ALARMS AND TIMERS
Manually set up vibrating alerts to be reminded when to change the fuel tank or perform other time-sensitive tasks.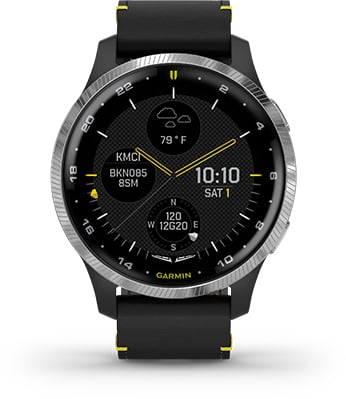 UTC AND TIME ZONES
A UTC pointer on the display design and the ability to display multiple time zones ensure that you are on time even when traveling.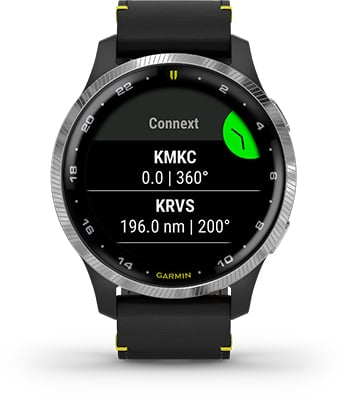 GARMIN PILOT ™ CONNECTIVITY
Transfer the flight plan from the Garmin Pilot app 3 to the D2 Air and view the list of waypoints in the route.
Keep up with your active life.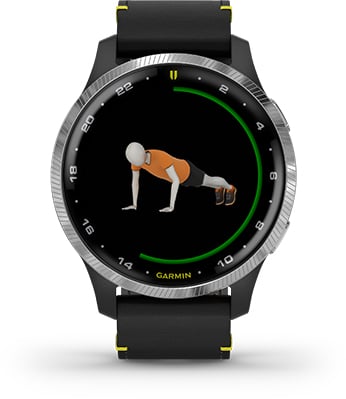 ANIMATED TRAININGS ON THE DISPLAY
Over 40 training plans are available to you with different levels of difficulty. Animated exercises for strength training, cardio, yoga and Pilates are shown on your display. Garmin Connect ™ app 3 .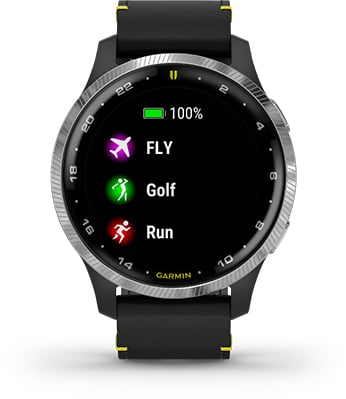 INTEGRATED SPORTS APPS
More than 20 pre-installed GPS and indoor sports apps, including for walking, running, cycling, swimming in a pool and golf, enable you to record your various activities.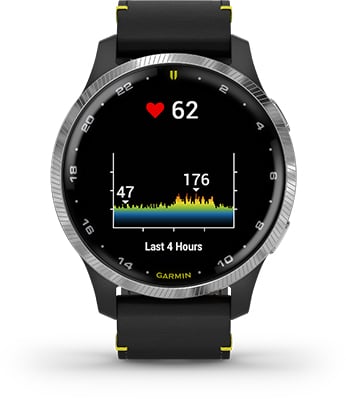 YOUR HEART RATE AT A GLANCE
The watch regularly measures your heart rate 4 so you can see how hard you are training during activities – even underwater. Additional data is available in our app for Apple ® and Android ™ devices.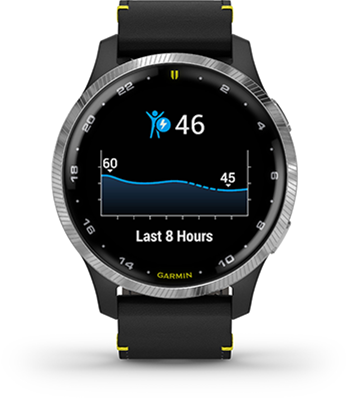 BODY BATTERY ™ ENERGY LEVEL
Measure your body's energy reserves so you know when the best times are to be active or to relax.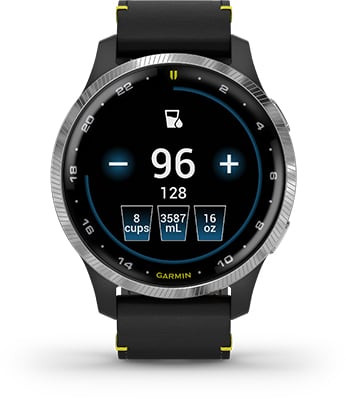 LOOK IF YOU ARE DRINKING ENOUGH
Adequate fluid intake is important for your health. Record how much water you drink each day and see if you drink a similar amount every day.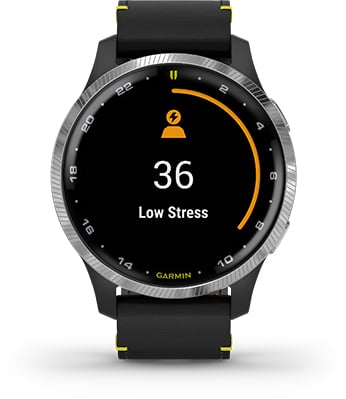 STRESS LEVEL TRACKING
Find out if you are having a quiet, balanced, or busy day. Let yourself be reminded of short breathing exercises to relax in between.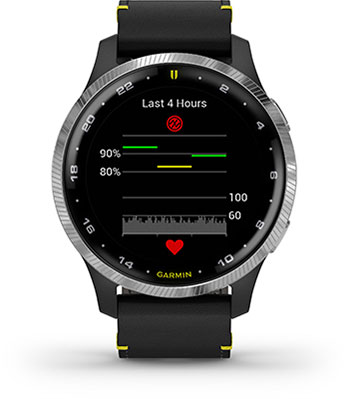 DETAILED SLEEP ANALYSIS
Get an idea of ​​the quality of your sleep in the different phases 4 (light, deep, REM) and also receive blood oxygen saturation 2 and respiratory data.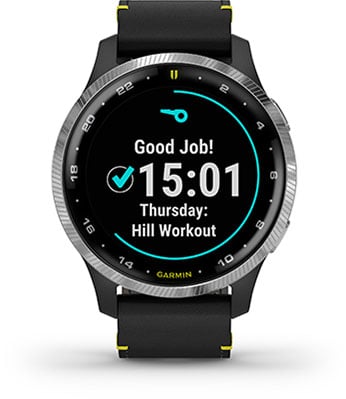 GARMIN COACH – YOUR TREADMILL
Use your personal trainer for free. Garmin Coach helps you achieve your running goal. Take on the challenge of a 5 or 10 km run or train for a half marathon.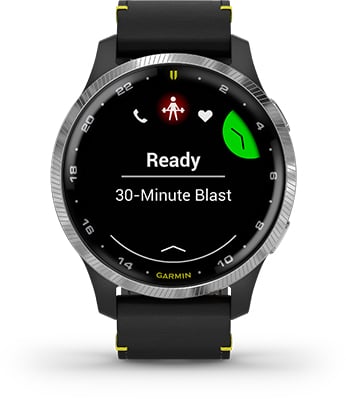 CUSTOM TRAININGS
Create your own workouts in Garmin Connect and download them to the watch when it is paired with the computer or compatible smartphone that has the Garmin Connect app installed.
Use online functions to get through the day faster.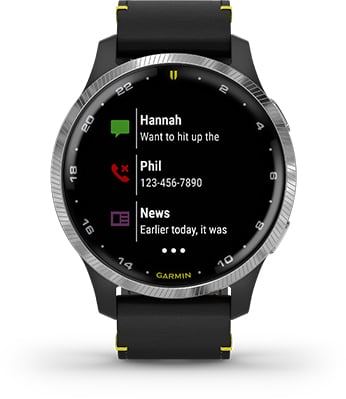 SMART NOTIFICATIONS
Stay up to date. Easily receive notifications of incoming calls, messages or notifications from apps on your compatible smartphone. If you have an Android ™ phone, you can even reply to text messages.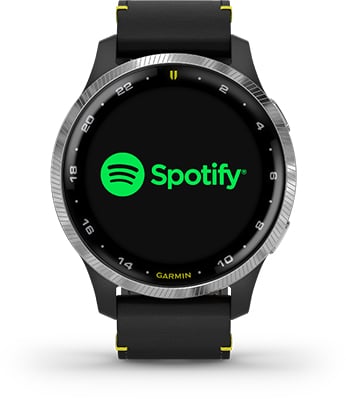 MUSIC
Download songs and playlists from your Spotify ® , Deezer, or Amazon Music account (subscription may be required). Use wireless headphones (sold separately) to listen to music without a phone.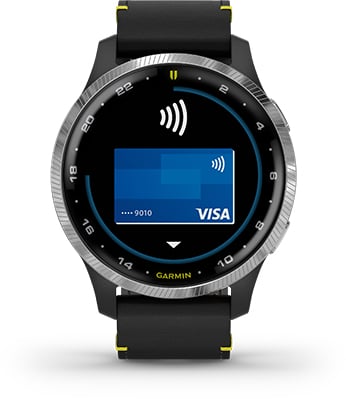 GARMIN PAY ™
Your watch – a smart companion: Pay for your purchases contactless with Garmin Pay 1 through participating providers.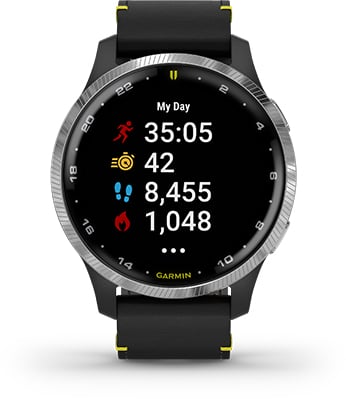 LONG BATTERY LIFE
Stay active longer. The battery has a runtime of up to 5 days in smartwatch mode and up to 10 hours in GPS + SPO2 mode.
NEW BRACELET – NEW LOOK.
The Garmin Connect ™ app. Clear, individual, motivating.
Customize your smartwatch in the Garmin Connect IQ ™ shop.
2 This is not a medical device and is not intended for use in the diagnosis or monitoring of any disease; see Garmin.com/ataccuracy. Pulse oximetry data are not available in all countries.
SPOTIFY and the Spotify logo are among the registered trademarks of Spotify AB. Amazon Music and all associated logos are trademarks of Amazon.com, Inc. or its affiliates.
Apple® is a trademark of Apple Inc., registered in the US and other countries. Android ™ is a trademark of Google LLC.