Various dive modes are available for your underwater adventures.
With an outstanding battery life, nothing stands in the way of your adventures.
Track your performance and save your detailed stats on water.
Even more pre-installed sports apps, e.g. for golfing and skiing. Get started right away.
This smart dive computer features Garmin Pay™, music and notifications.
View dives in the Garmin Dive™ app.
UNFORGETTABLE DIVING EXPERIENCES.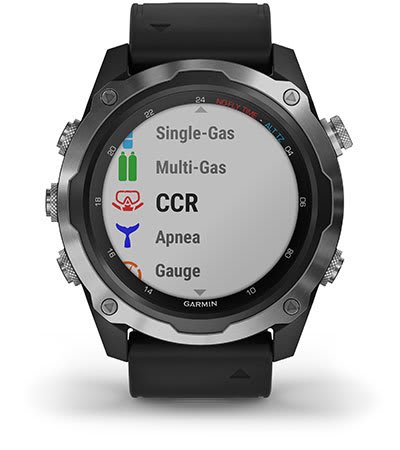 MULTIPLE DIVE MODES AVAILABLE
Multiple dive modes are available for single and multi-gas dives (including nitrox and trimix), gauge mode, freediving, freediving and CCR (closed circuit rebreather) diving.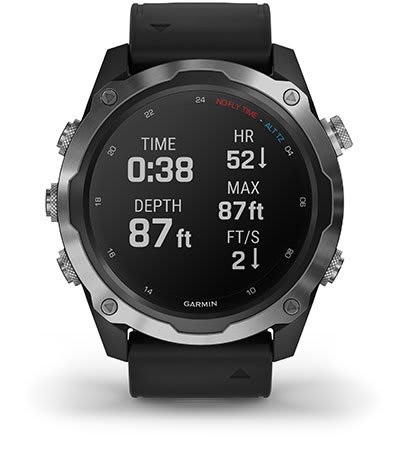 CUSTOMIZABLE DIVE MODES
Add additional pages for each dive mode with the fields you want. So you can customize your dive computer to suit your preferences.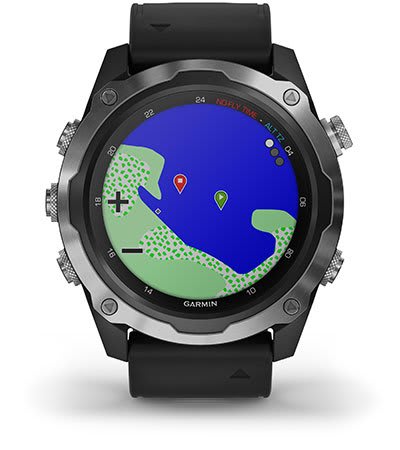 MULTI-SATELLITE RECEPTION ON THE SURFACE
Record your entry and exit points to 1 thanks to expanded satellite connectivity.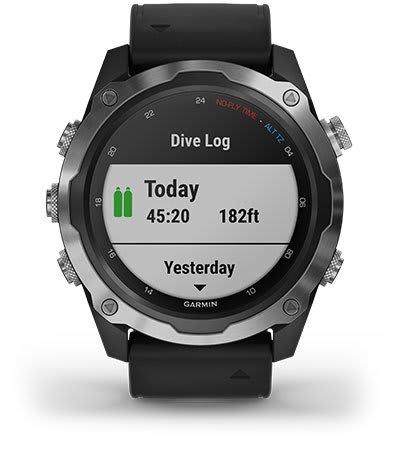 DIVING LOGBOOK
You can store and record data for up to 200 dives and share it with others through the Garmin Dive app. Review your dives and reminisce.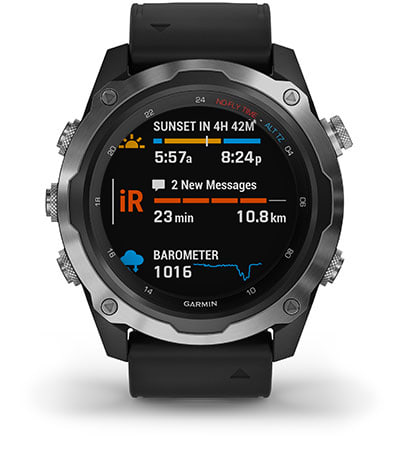 INREACH® COMPATIBILITY
Connect the device to the easy -to- read inReach sonars satellite communication devices and the inReach underwater housing. So you can communicate worldwide even without cell phone reception.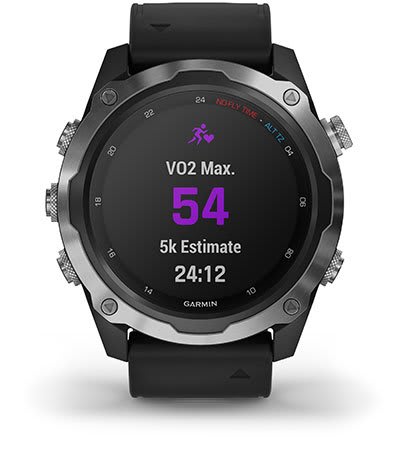 PHYSIOLOGICAL MEASUREMENTS
View advanced training metrics that include running dynamics data, heat and altitude adjusted VO2max, recovery advisor and more 2 .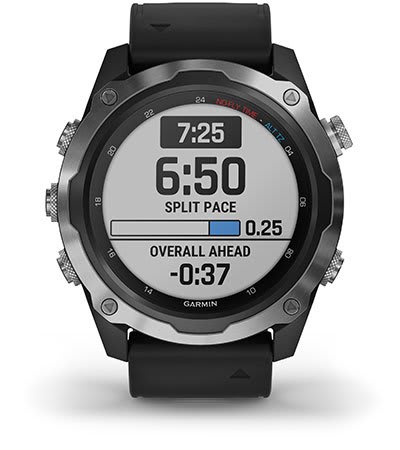 PACEPRO™: KEEP THE RIGHT PACE
A previously unique function provides a dynamic pace setting, taking into account the route profile and your specification of whether you want to approach the climbs moderately or ambitiously. So you know exactly whether you are too fast or too slow in the current section of the route.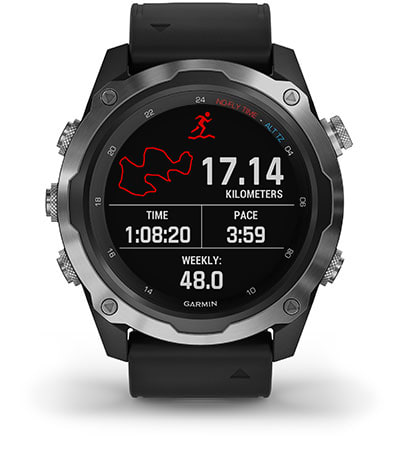 PRE-INSTALLED SPORTS APPS
Use preloaded activity profiles for trail running, track training, swimming, running, biking, hiking, rowing, skiing, golfing, surfing, indoor climbing and more.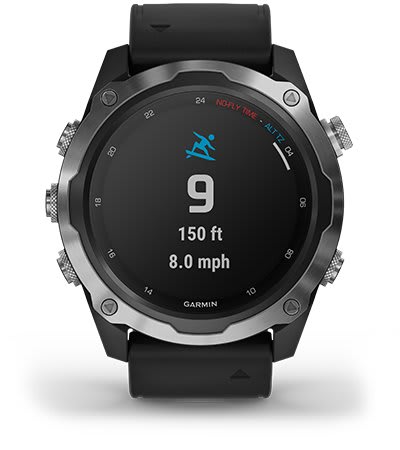 SURF FEATURES
Wave riders watch out! The Descent MK2 is compatible with Surfline Sessions™ . It creates a video of every wave you ride in front of a surfline camera. Watch these videos later and find out how you surfed.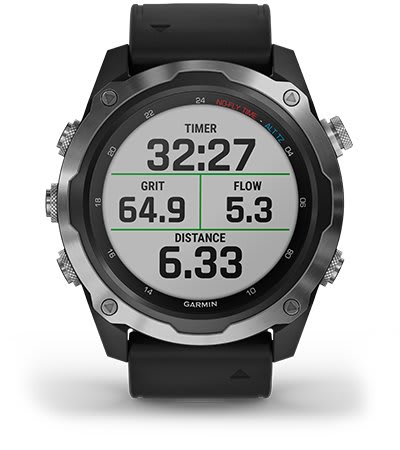 MTB DYNAMICS
Store the details of each ride with mountain bike metrics, plus specific Grit™ and Flow™ data. This data is used to evaluate how difficult the trail is and how fluid your riding style is when going downhill, so you have values ​​that you can beat next time.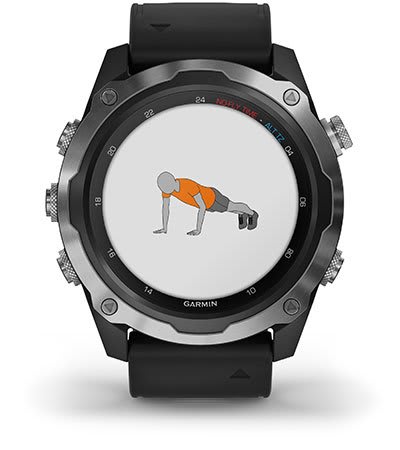 ANIMATED TRAININGS
This watch offers animated cardio, strength, yoga and pilates workouts with simple instructions that you can view on the watch display. Choose one of the preloaded animated workouts or download more workouts from our Garmin Connect™ online community.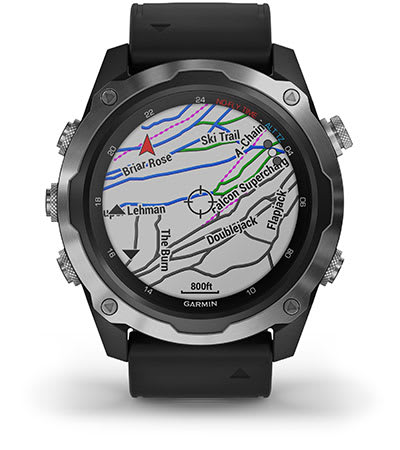 TOPOACTIVE EUROPE AND SKI MAPS
Use the preloaded TopoActive Europe map to navigate your adventures and view ski slope names and difficulty ratings for 2,000 ski resorts worldwide.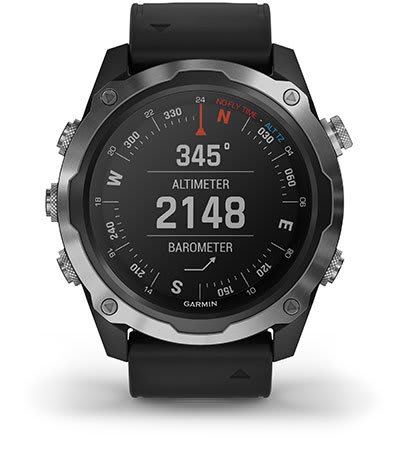 ABC SURFACE SENSORS
Navigate the next trail with ABC sensors, including an altimeter for elevation data, a barometer to monitor the weather, and a 3-axis electronic compass for perfect orientation.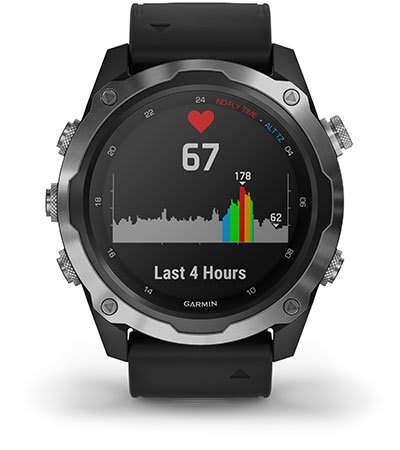 WRIST HEART RATE MEASUREMENT
Optical heart rate technology 2 measures activity intensity and heart rate variability , then calculates your stress level. This even works underwater – without a heart rate chest strap.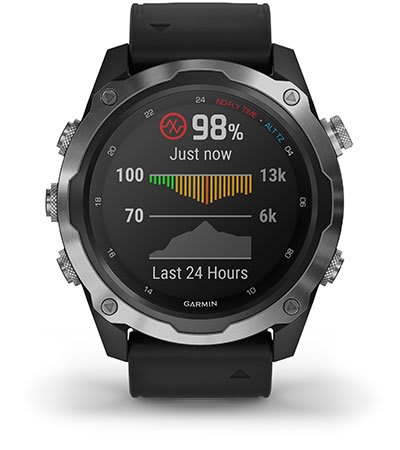 PULSE OX SENSOR
Monitor your blood oxygen saturation with the Pulse Ox Sensor 3 and see how your blood oxygen saturation changes with altitude. Now you can see how well your body absorbs oxygen.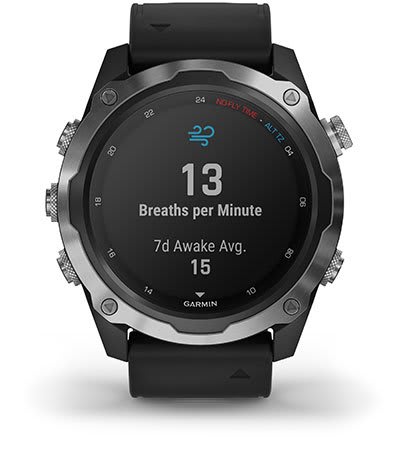 24/7 BREATHING RECORDING
Save how your breathing is during the day, while you sleep, and during breathing exercises and activities like yoga.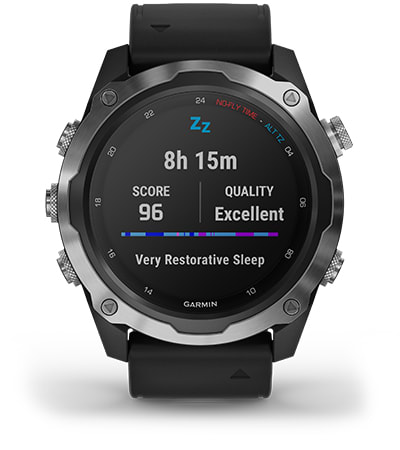 DETAILED SLEEP ANALYSIS
Get complete information about your light, deep and REM sleep as well as pulse oximetry and respiration data. View all data in a dedicated widget that includes your sleep score and other insights.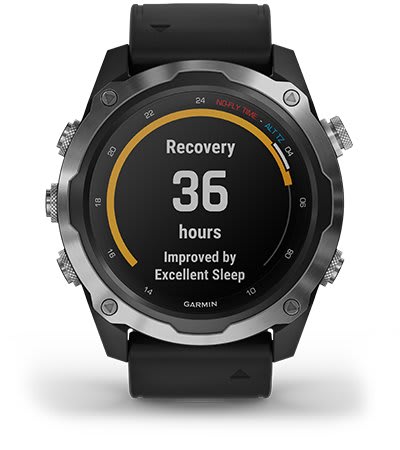 RECOVERY GUIDE
After each workout, the recovery time indicates when you're ready for your next hard workout. Training intensity and factors such as stress, daily activities and sleep are taken into account.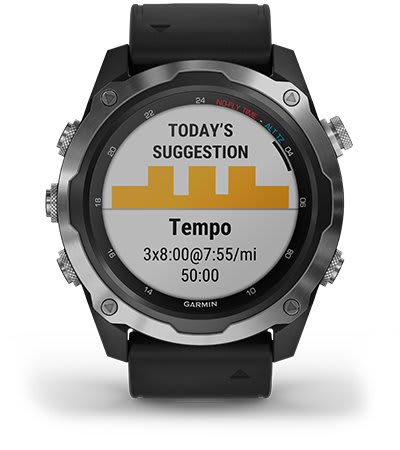 DAILY TRAINING SUGGESTIONS
Daily workout suggestions for running and cycling provide training instructions that take both you and your fitness level into account. The suggestions are based on current data on training load and training status.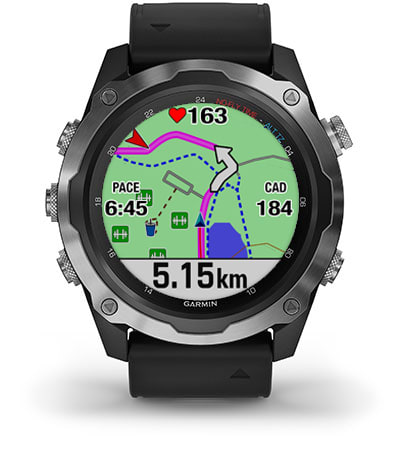 NAVIGATION WITH TURN-IN DIRECTIONS
Follow a route or track with turn-by – turn directions and know in advance when the next turn will come.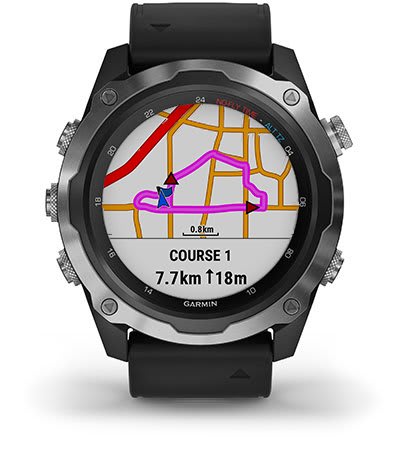 FIND NEW CIRCUITS
Enter a distance you want to cover and you'll get several route suggestions that will also lead you back to the starting point. Trendline™ Popularity Routing helps you find the best local trails.
EVERY DIVE AN EXPERIENCE.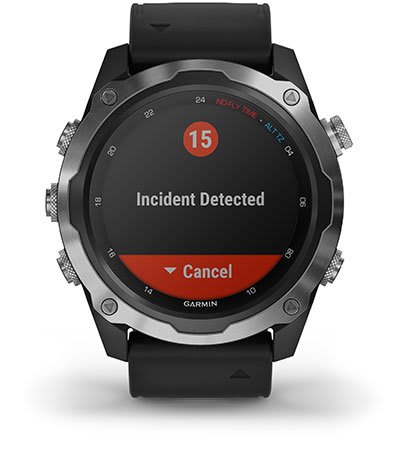 SECURITY AND TRACKING FEATURES
If you don't feel safe or your watch has detected an accident, your position will be sent to emergency services thanks to emergency assistance and accident notification 4 . The function is not available in dive mode.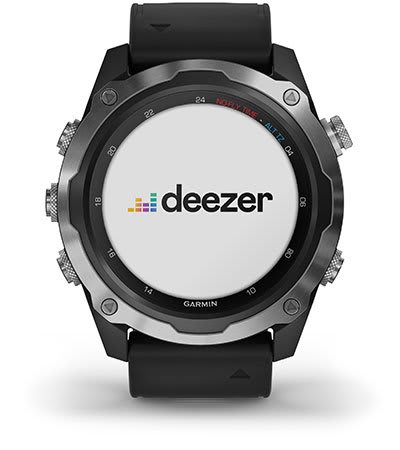 MUSIC
Store up to 2,000 songs on the device or use streaming music apps from compatible services 5 including Spotify®, Deezer and Amazon Music .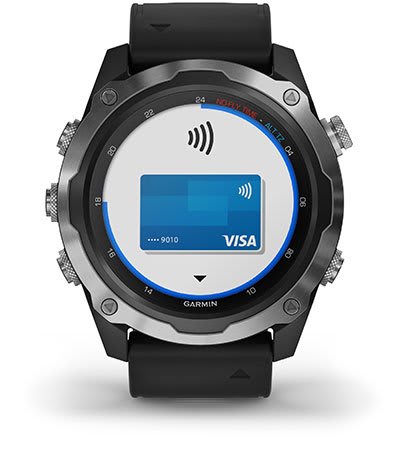 GARMIN PAY™
If you want to be quick at the checkout, pay contactless with Garmin Pay 6 via participating providers.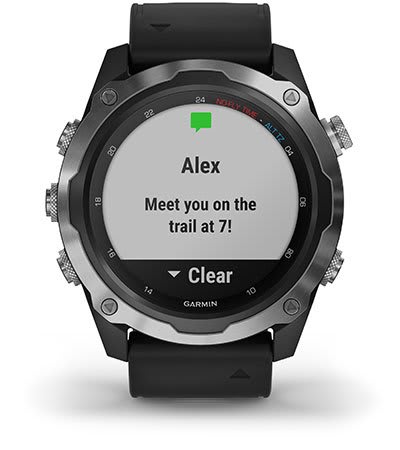 MESSAGES FROM SMARTPHONE
From now on you won't miss any messages from your friends, no matter whether you're doing sports or in your free time. Receive emails, SMS messages and alarms directly on the watch when paired with a compatible device.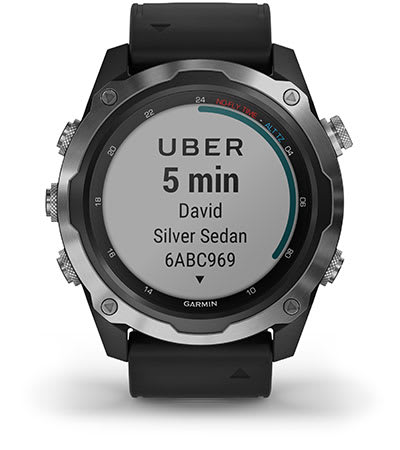 CONNECT IQ™ SHOP
Your smart watch. your style. Make your smartwatch unique. Download display designs, add data fields, get apps and widgets from the Connect IQ shop .
QUICKFIT® ACCESSORY BANDS FOR A NEW LOOK WITHOUT TOOLS.
Customize your Garmin device using the Connect IQ™ Store.
SAVE, TRACK AND SHARE YOUR DIVES ON THE GARMIN DIVE™ APP.