Keep it clear and easy with a crisp, high-resolution 10″ display in landscape or portrait view.
Get the best route for your truck with custom truck routing1 and road warnings, such as steep grades ahead.
Execute a smooth arrival with aerial views of loading docks and truck entrances.
See it all. The split-screen view shows your route overview and upcoming weather alongside the active map.
Get guidance and warnings about environmental zones on your route.
Time for a break? Truck Parking Europe data displays along your route.
Feel confident in every turn.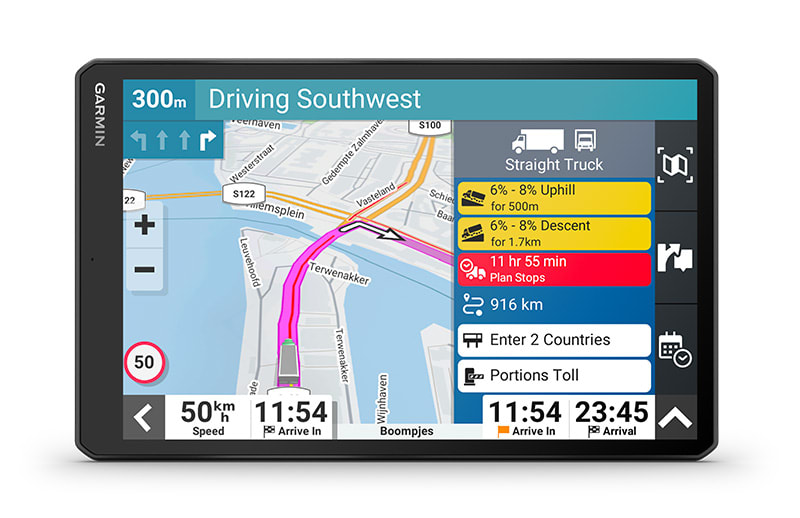 EASY-TO-READ DISPLAY
An extra-large 10″ touchscreen display provides a crisp high-resolution image. Select landscape or portrait view to suit your in-cab setup.
CUSTOM TRUCK ROUTING
Just enter your truck profile (customisable by height, weight, length, width and hazardous materials) to find truck-preferred routes1 best suited for your truck and load.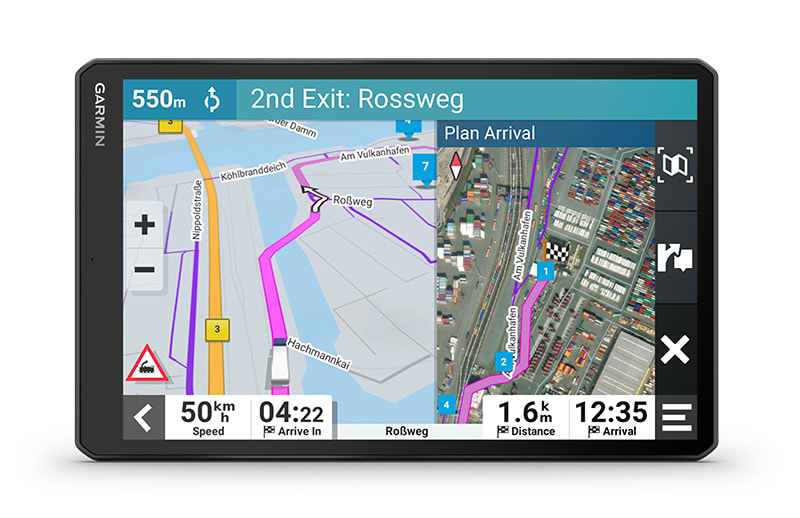 EXPERT ARRIVAL PLANNING
BirdsEye Satellite Imagery makes arrival planning run smoothly with aerial views of loading docks, truck entrances and security gates.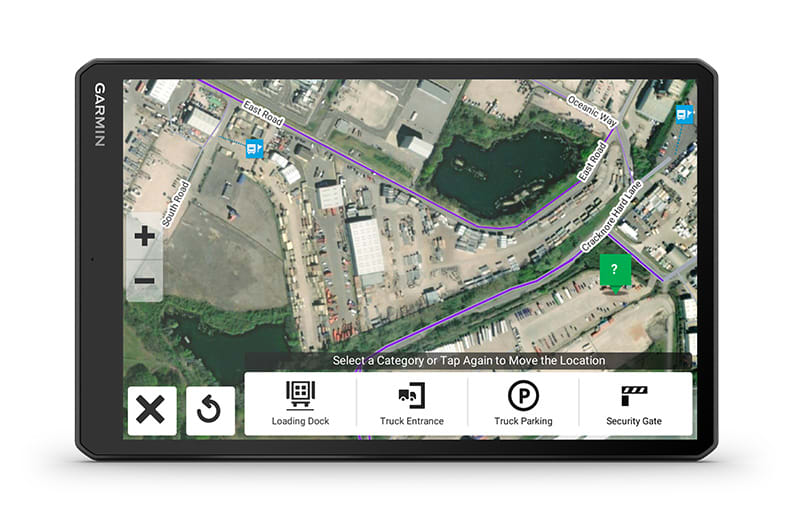 CUSTOMISE YOUR ARRIVAL
View your destination, then add and save custom arrival points such as preferred security gates, loading docks and truck parking entrances.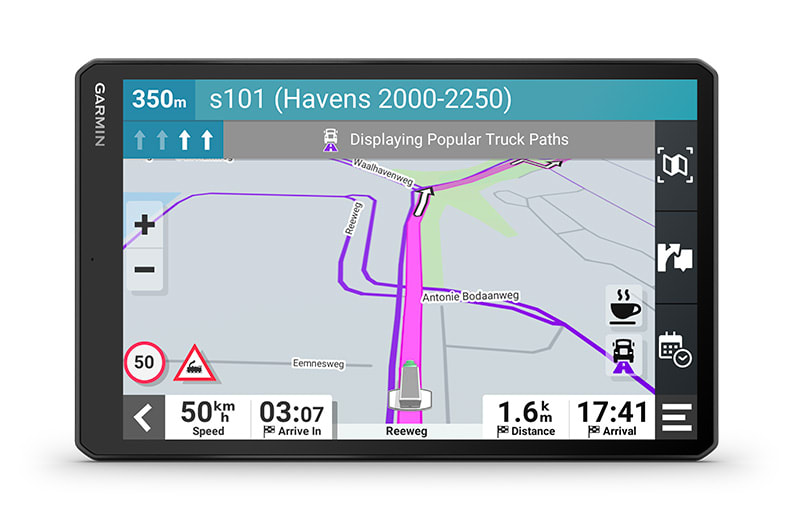 INFORMED ROUTING
See popular routes used by other truckers for better situational awareness — even in unfamiliar territory.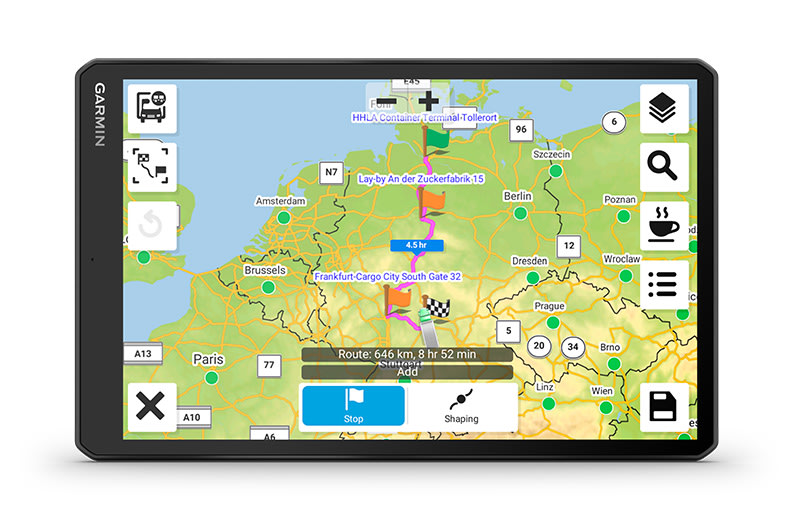 ROUTE OVERVIEW
Easily view your complete route, and determine the best places for fuel stops, comfort breaks and overnight stays. Also get a preview of incoming weather conditions without leaving your active map screen.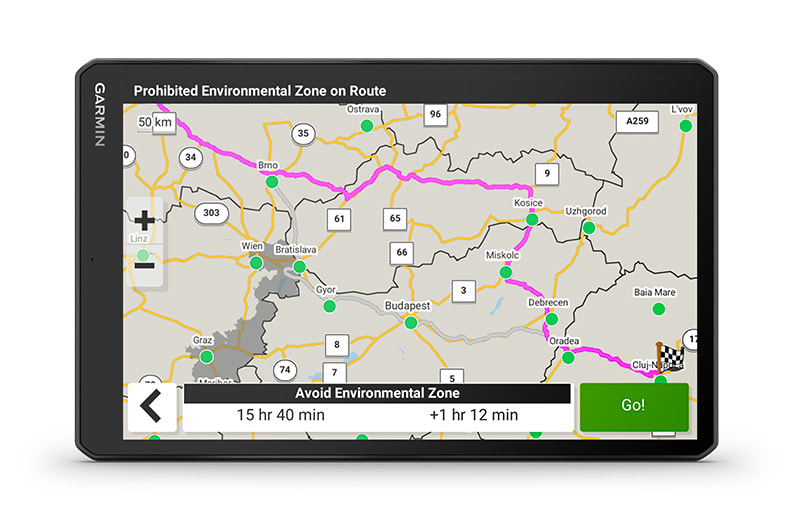 ENVIRONMENTAL ZONE ROUTING
Get guidance and warnings about Environmental Zones on your route.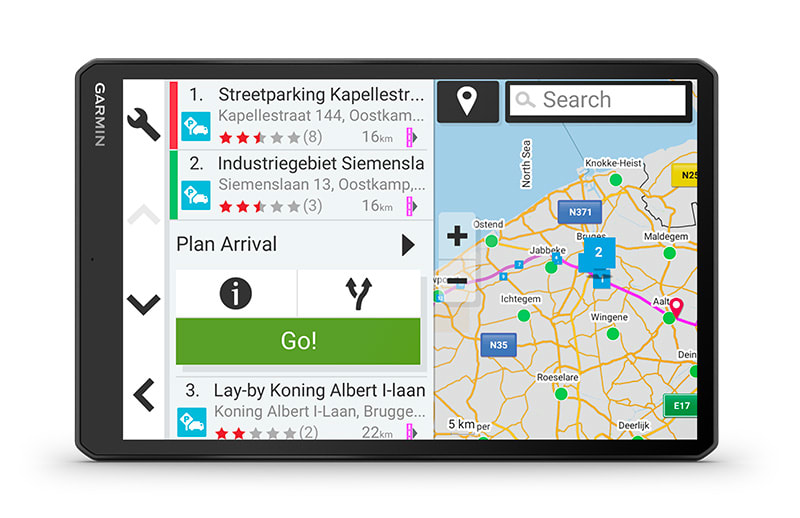 TRUCK-FRIENDLY PARKING
Need to park your truck? Truck Parking Europe data helps you locate truck parking along your route. Filter by preferred amenities such as Wi-Fi®, showers, security level and much more. And while connected with the Garmin dēzl™ mobile app, check on parking availability to reduce the risk of driving to a crowded place.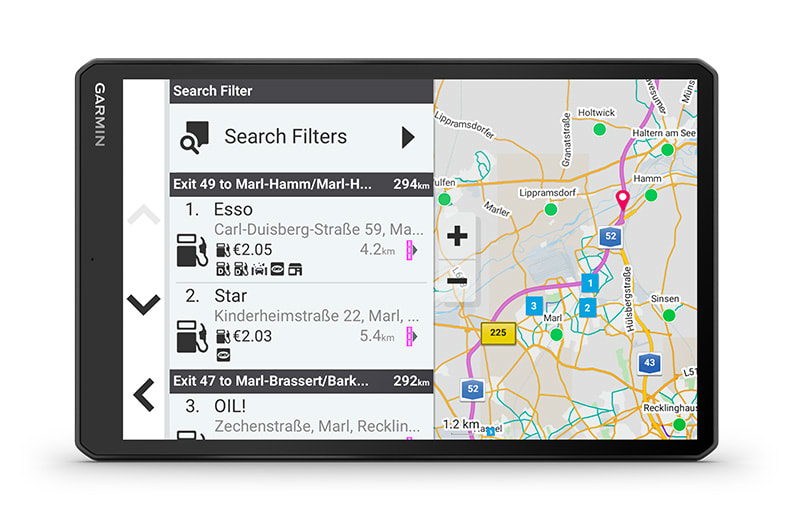 PICK THE RIGHT STOP
Locate preferred truck stops with the preloaded directory of Truck & Trailer Services. It lets you filter listings by brand or amenity.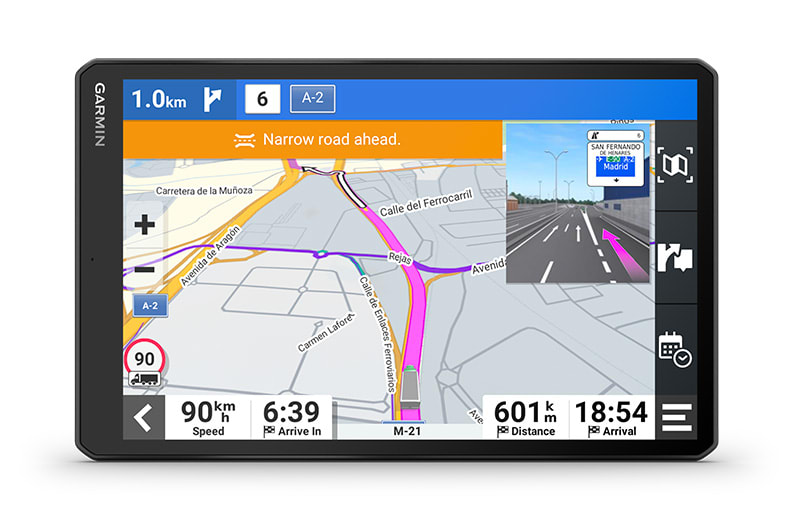 DRIVER ALERTS
To encourage safer driving and increase situational awareness, driver alerts warn you of upcoming sharp curves, speed changes, railway crossings and more.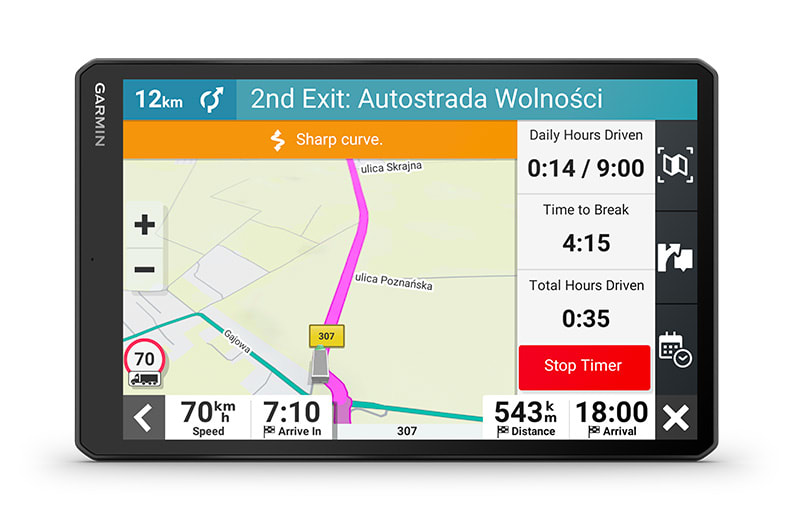 EASY BREAK PLANNING
Receive timely notifications that help make the most of each stop.
Discover your ultimate assistant.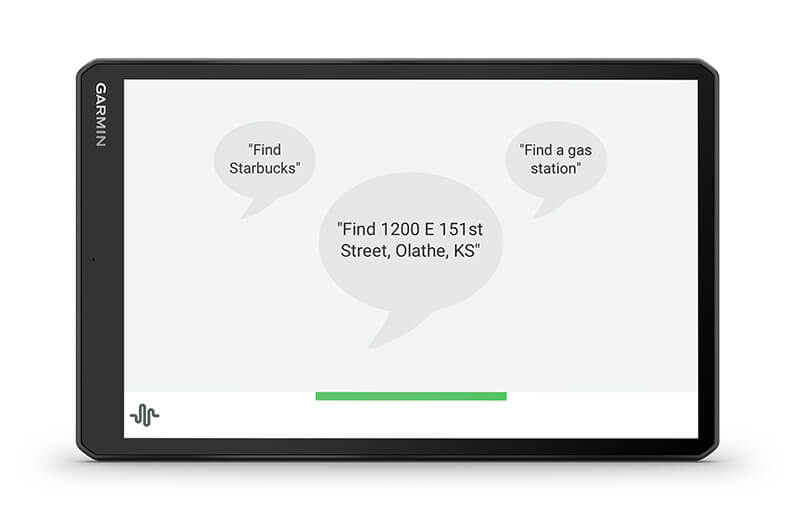 GARMIN VOICE ASSIST
Need directions? Just say the word. Garmin voice assist responds to your spoken request, so your hands can stay on the wheel, and your eyes can stay focused on the road. (Voice Assist is available in English, German, Italian, Spanish, Danish, Swedish, Dutch).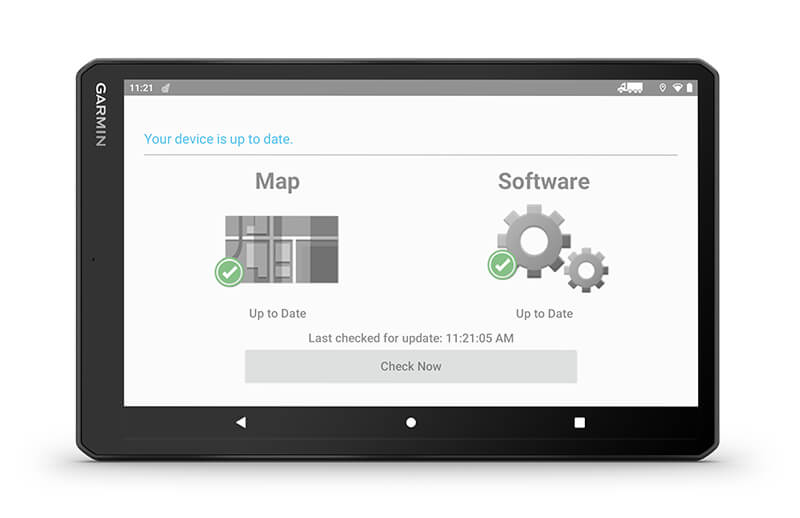 WIRELESS UPDATES
Built-in Wi-Fi® connectivity makes it easy to keep your maps and software up to date without using a computer. On-screen cues show when new updates are available.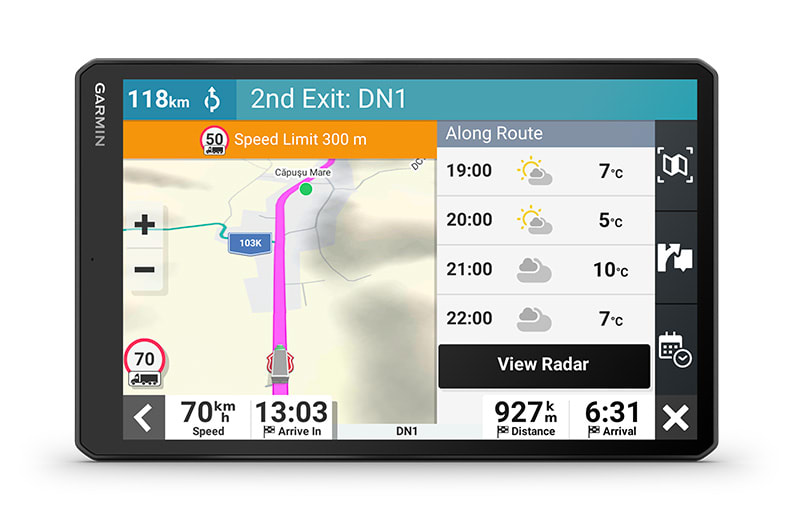 TRAFFIC, WEATHER AND FUEL PRICES
Download the dēzl app to access live traffic, weather and real-time fuel prices. Plus, access photoLive traffic cameras where available.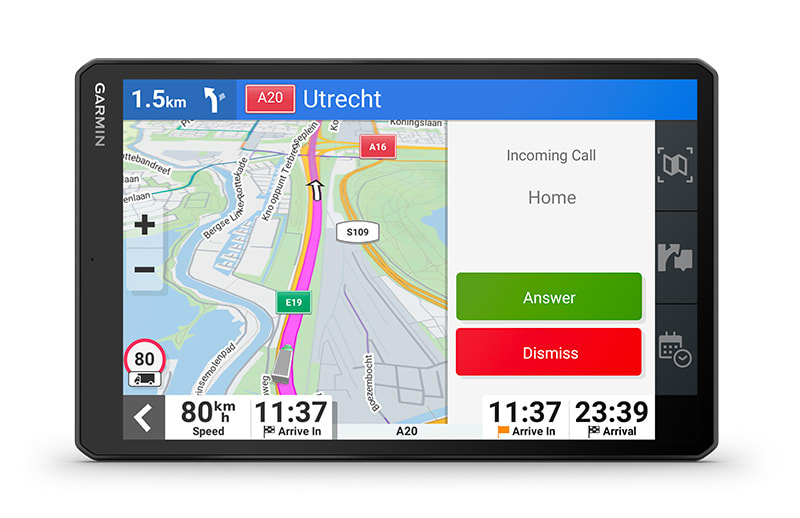 HANDS-FREE CALLING
Built-in Bluetooth® wireless technology lets you sync your compatible smartphone with your dēzl sat nav to make calls without taking your hands off the wheel.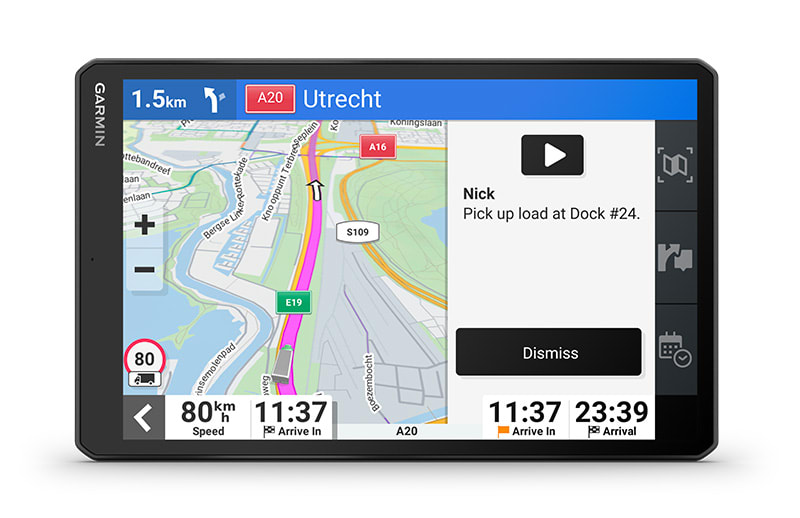 SMART NOTIFICATIONS
When paired with the dēzl app, you'll be able to see text messages and other notifications displayed on the screen.
Know exactly where you're going.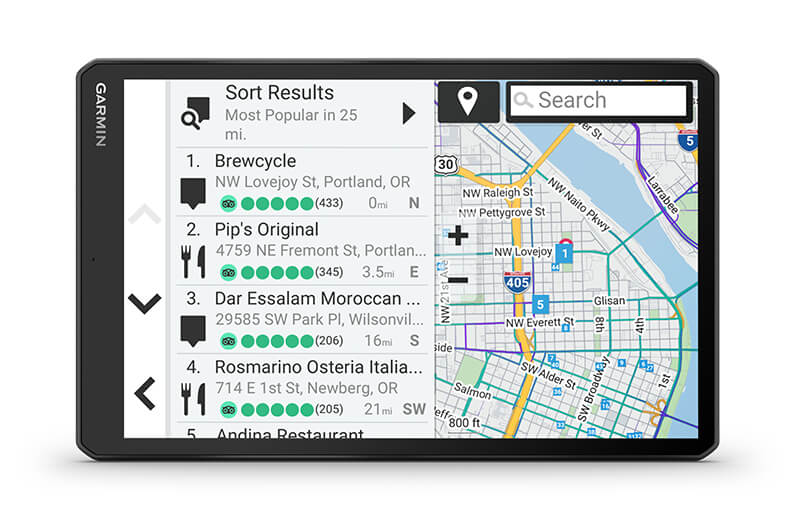 TRAVEL INFORMED
View Tripadvisor® traveller ratings for hotels, restaurants and attractions along your route or near your destination. Preloaded Foursquare® content makes it easy to find millions of new and popular places.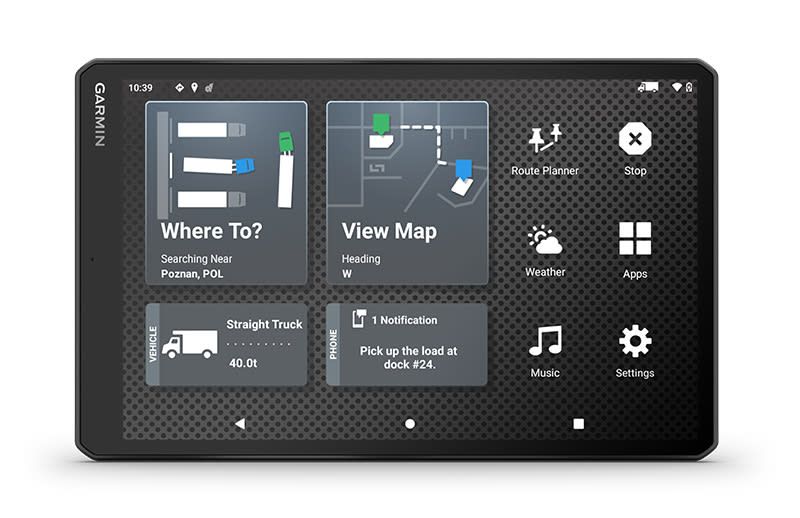 MAP COVERAGE
Drive confidently with map updates and detailed street maps of Europe.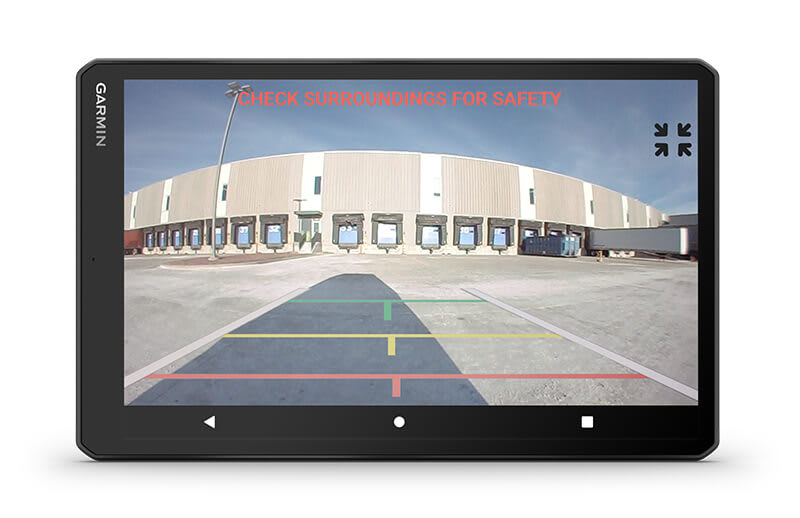 ADD A BACKUP CAMERA
See what's behind your truck with BC™ 50 wireless backup camera (sold separately) or a compatible third-party backup camera2.
Truck healthy with Instinct® 2 – dēzl™ Edition smartwatch.
Simplify your drive using the dēzl trucking app.
Get a Garmin Dash Cam™ to record the eyewitness proof.
Experience noise-cancelling clarity with dēzl™ trucking headsets.
1 Not available in all areas. Entering your truck's profile characteristics does not guarantee your truck's characteristics will be accounted for in all route suggestions. Always defer to all posted road signs and road conditions.
2 Requires powered mount with video-in port; sold separately.
The CES Innovation Awards are based upon descriptive materials submitted to the judges. CTA did not verify the accuracy of any submission or of any claims made and did not test the item to which the award was given.
© HERE. All rights reserved. Satellite imagery ©2022 Maxar Technologies (date of satellite imagery may vary). Wi-Fi and the Wi-Fi logo are registered trademarks of the Wi-Fi Alliance. The Bluetooth word mark and logos are owned by the Bluetooth SIG, Inc. and any use of such marks by Garmin is under license. ©2022 TripAdvisor LLC. All rights reserved. foursquare® and the foursquare® logos are registered trademarks of Foursquare Labs, Inc. All rights reserved.