Create custom audio profiles for optimal sound quality in every single area on your boat.
Thanks to a higher data transfer rate, audio streaming via WLAN technology ensures high-quality audio output 1 .
Seamless, high-quality audio streaming from your music app via the AirPlay ®  2 software feature 1 .
Enjoy free choice of audio sources with Fusion PartyBus ™ network technology 1 .
Multi-Zone ™ technology for controlling up to three dedicated audio zones.
Operate your entertainment system via compatible multifunction displays, smart devices or your Garmin smartwatch.
DEVELOPED ACCORDING TO TRUE MARINE ™ STANDARDS
The Apollo WB670 radio builds on the True Marine design philosophy of Fusion ® and has been tested for a high level of protection from salt, fog, temperature, vibration and UV rays.
COMPACT DESIGN
The Apollo WB670 optimizes the space at the helm and can be hidden in the cockpit or mounted in different places, for example in storage cabinets, in helm consoles or in other hidden compartments.
Great sound in any environment.
DIGITAL SIGNAL PROCESSING (DSP) FROM FUSION
Fusion-DSP delivers a technically superior listening experience in a simple way. The audio signal transmitted to the Fusion system is optimized so that outstanding sound quality is guaranteed at all volume levels and in all listening environments.
USER FRIENDLY DSP PROFILES
Easily set up the DSP profiles with just a few clicks on the compatible smartphone or tablet in the free Fusion-Link ™ app. Select the preconfigured DSP profiles and enjoy the best quality sound that is optimally adapted to your requirements and the environment.
Ethernet connection for the connection to the WLAN router.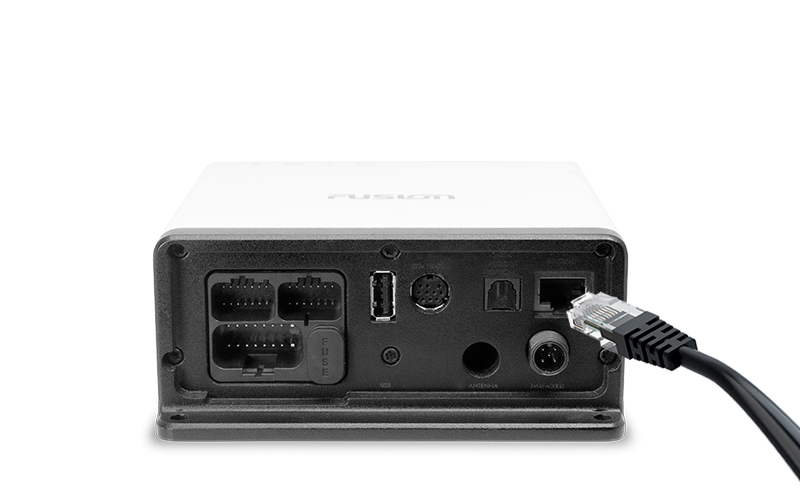 WLAN FUNCTIONS
Connect the Apollo WB670 via Ethernet to a WiFi network router, a Garmin MFD network or a network of the Apollo series radio and use WiFi audio streaming and OTA software updates 1 .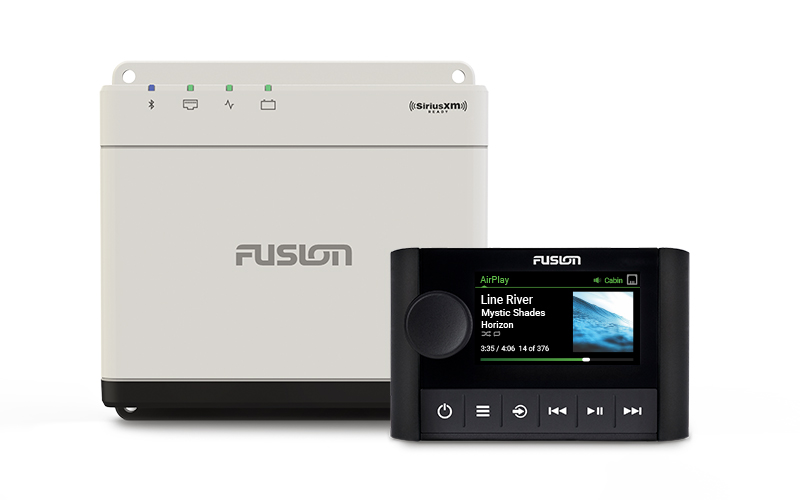 AUDIOSTREAMING VIA WLAN
Enjoy the clear sound and premium quality of streaming audio on one of the world's first marine radios using WiFi technology, including the convenience of AirPlay 2 from Apple ® and Universal Plug and Play (UPnP) 1 .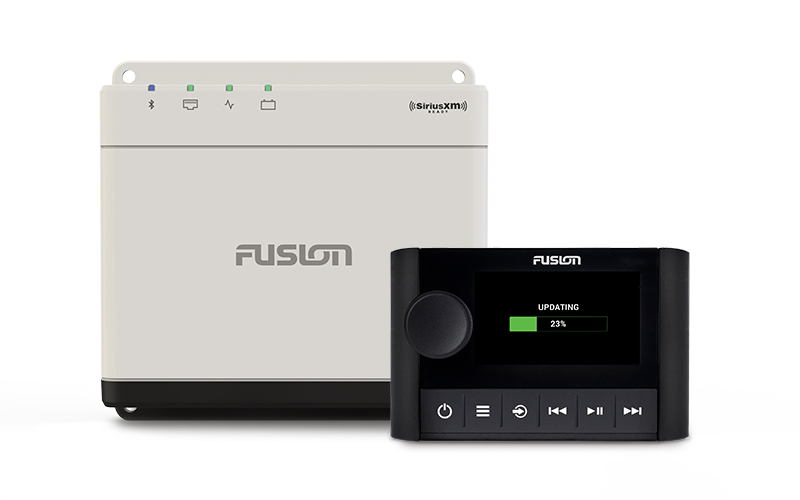 SOFTWARE UPDATES WITH THE SMARTPHONE APP
Updates are now available through the free Fusion-Link app on your compatible smartphone or tablet. It is easy and intuitive to update the Apollo series 1 .
Free music selection, anytime and on the entire boat.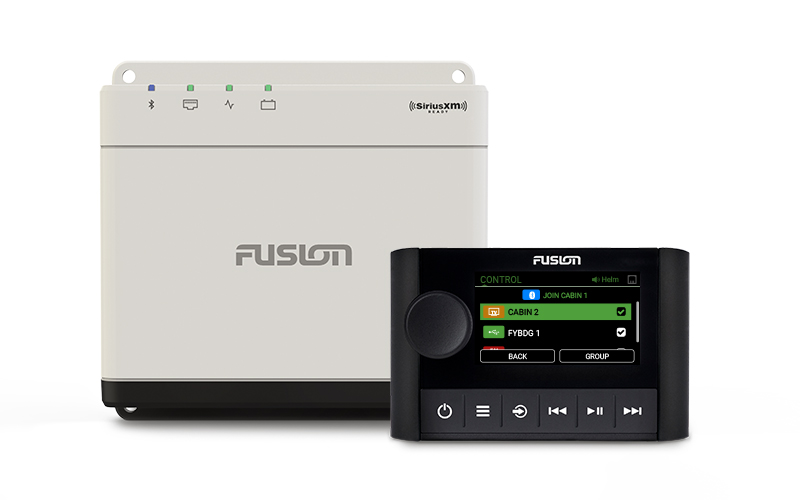 GROUPING OF RADIOS
Grouping allows you to link several Apollo series radios that are connected to the same network. So you can play the same audio source synchronized across all entertainment systems.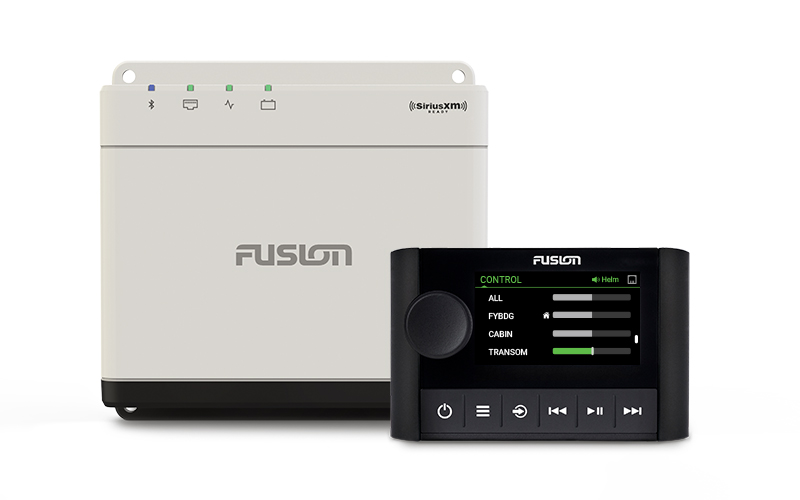 VOLUME CONTROL
Scroll through your zones available on board and control the volume of the zones independently of each other. Alternatively, you can adjust the overall volume for a radio group at the same time.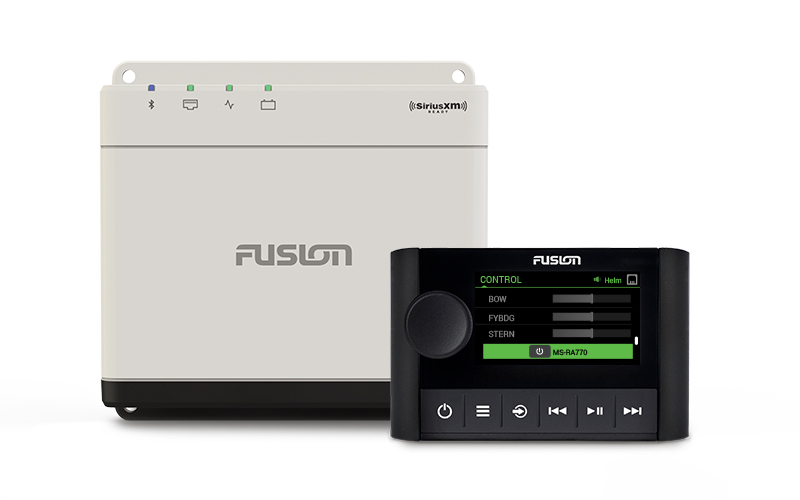 POWER OPTIONS
With the power option, you can switch any Apollo stereo system in the Fusion PartyBus network on or off remotely from another Apollo series stereo system.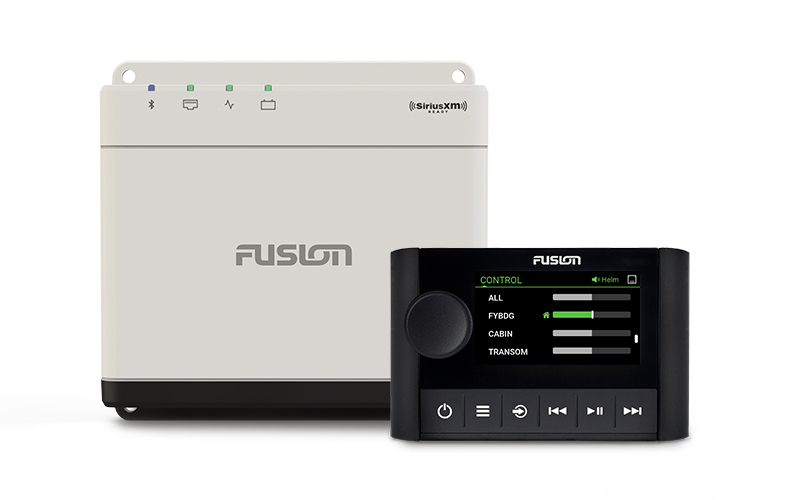 HOMEZONE
The home zone is the spatial zone on board the boat in which the radio is installed. After you have adjusted the sound in another zone, the radio returns to operating the home zone after a short time.
Enjoy more audio source options than ever before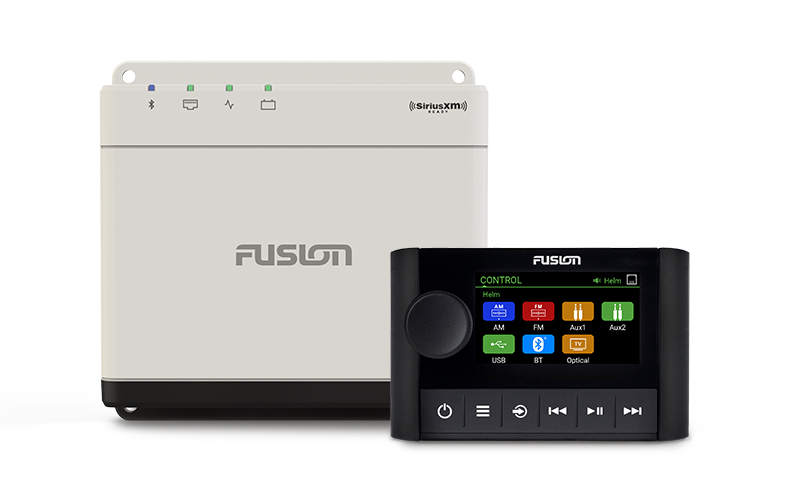 THE FREEDOM TO LISTEN TO WHAT YOU WANT
Use the many resources available, including AirPlay 2 function 1 , Bluetooth ® technology, UPnP 1 , optical audio output, extended SiriusXM ® functions, DAB + radio, AM / FM radio, AUX and USB connections.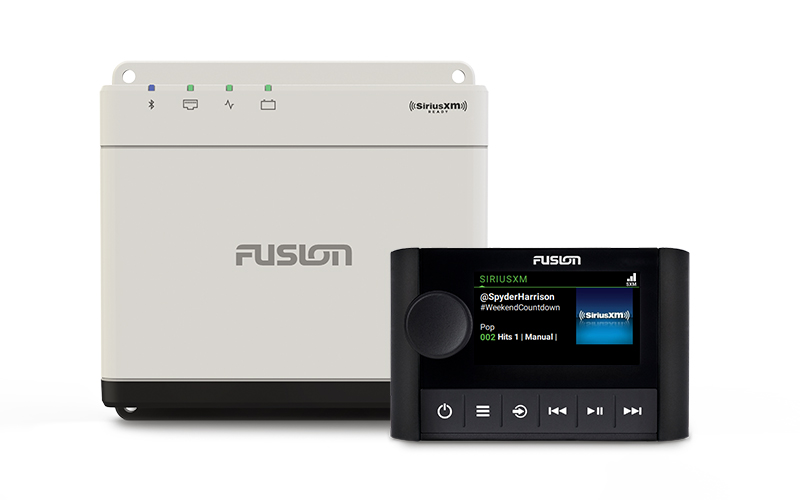 EXTENDED SIRIUS XM FUNCTIONS AVAILABLE
In addition to the new album covers shown on the display, a selection of advanced features is now available on Sirius XM
Enjoy seamless and easy operation of the Apollo WB670.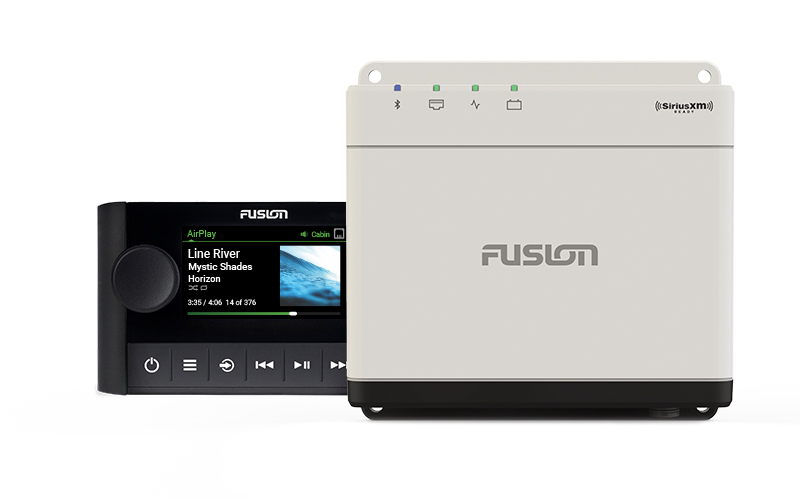 COMPLETE OPERATION VIA THE APOLLO ERX400 REMOTE CONTROL
Operate the Apollo WB670 radio using an Apollo ERX400 remote control connected via Ethernet. Then enjoy the full Apollo user experience, including the PartyBus ™ network functions.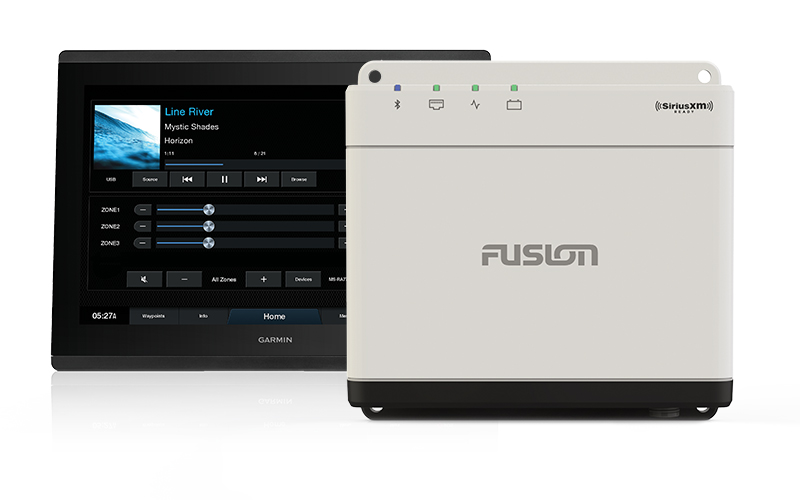 OPERATION VIA A COMPATIBLE MULTIFUNCTIONAL DISPLAY
Are you looking for a more optimized system? Connect the Apollo WB670 via Ethernet or a NMEA 2000 ® network to a compatible multifunction display and do without an additional remote control 1 .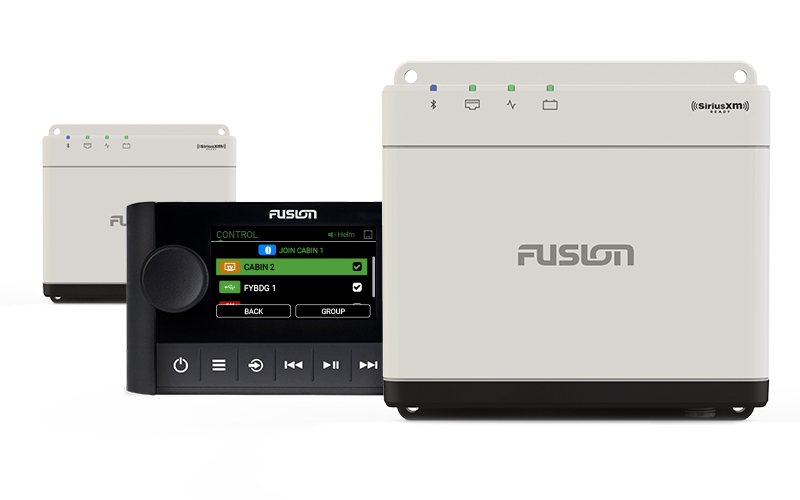 OPERATING A LARGER NUMBER OF AUDIO ZONES
Operate up to six independent audio zones by connecting two Apollo WB670 radios via Ethernet to a router or Ethernet switch. Then you can operate both Apollo WB670 radios with a single Apollo ERX400 wired remote control.
Easily operate entertainment functions via the free Fusion-Link ™ app.
Control your radio directly via a multifunction display, thanks to Fusion-Link technology via NMEA or Ethernet.
Control your radio directly from a compatible Garmin smartwatch, thanks to the Fusion-Link Lite app.
1 
Available when connected to a WiFi network router, Garmin multifunction display, or Apollo series radio network that is enabled with WiFi technology.
AirPlay and Apple are trademarks of Apple Inc. and are registered in the US and other countries. Wi-Fi® is a registered trademark of the Wi-Fi Alliance. The Bluetooth word mark and logos are registered trademarks owned by Bluetooth SIG, Inc. and any use of such marks by Garmin is under license. Sirius, XM and all related marks and logos are trademarks of Sirius XM Radio Inc.