READY TO CARRY OUT THE MISSION
Ruggedly designed to meet military standards, this premium GPS smartwatch offers specialised tactical features as well as mapping, music, advanced training features and more.
A premium design built to military standards (MIL-STD-810).
Tactical-specific features such as night vision compatibility and more for field ops.
Navigate your world with multi-GNSS support and outdoor sensors.
Measure running and cycling performance in ways you didn't know were possible.
Smart features, such as payment, music and notifications when you pair to your smartphone.
Don't be limited by battery life. Get up to 21 days in smartwatch mode.
QUALITY BY DESIGN
Tested to U.S. military standards (MIL-STD-810), the rugged yet sophisticated design features a large 1.4 inch display that's 36% larger than previous tactix models.
PREMIUM MATERIALS
This smartwatch features a look to fit your lifestyle with a scratch-resistant domed sapphire lens, black DLC-coated steel bezel and black PVD-coated steel rear cover.
Prepared to carry out your next mission.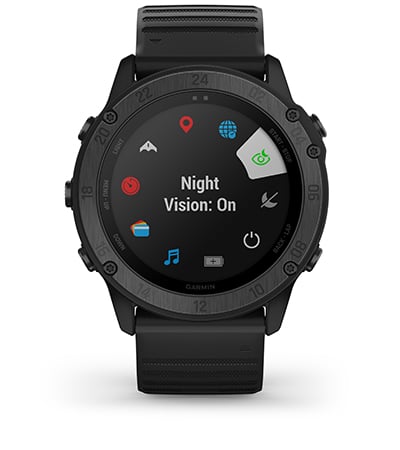 NIGHT VISION CAPABILITY
Easily switch between daytime view and nighttime view with a screen that can be read by night vision goggles.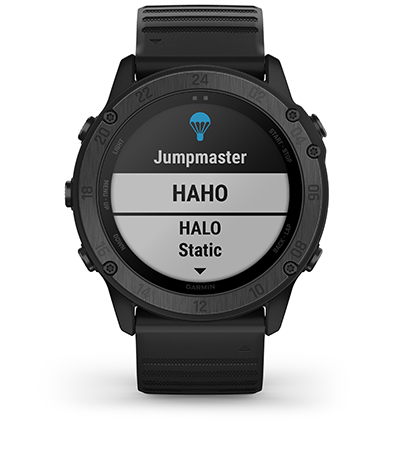 JUMPMASTER MODE
This feature works to calculate high-altitude release points according to military guidelines and helps to navigate you to your objective once you've jumped.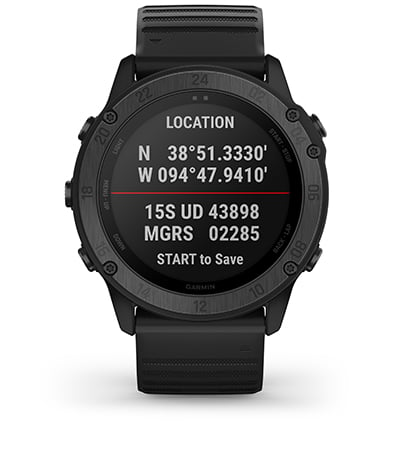 DUAL-POSITION FORMAT
Easily sync your location with others by seeing both the universal transverse mercator (UTM) and military grid reference system (MGRS) on the same screen.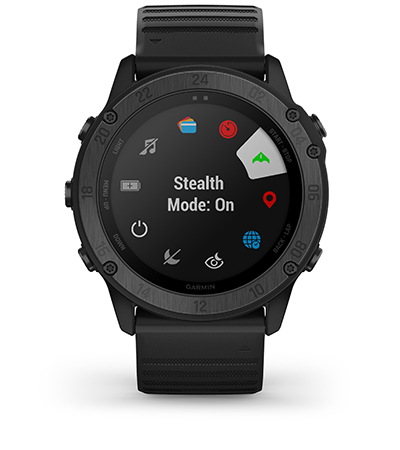 STEALTH MODE
Enable stealth mode to stop storing and sharing your GPS position and disable wireless connectivity and communication.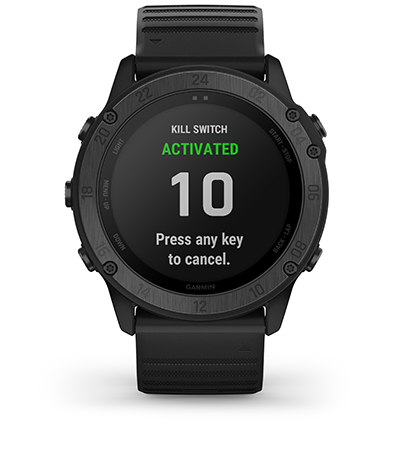 KILL SWITCH
If security becomes an issue, the kill switch wipes the device of all user memory.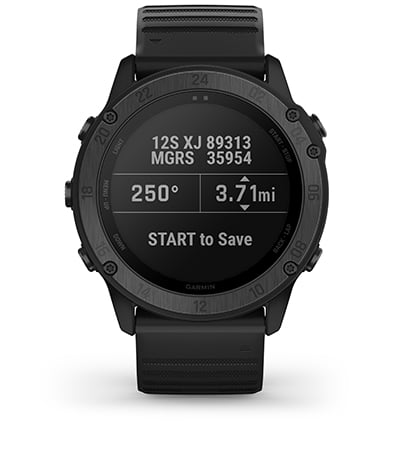 PROJECTED WAYPOINTS
Set and save remote geo positions to be used later for navigation.
Features for your next adventure.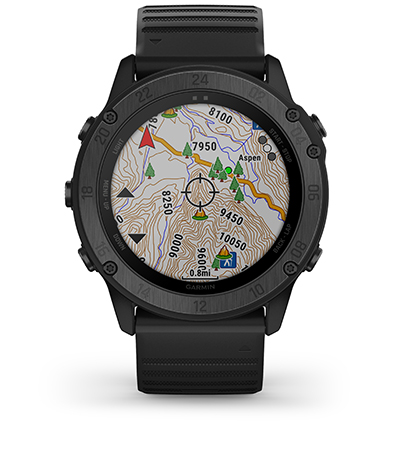 MULTI-GNSS
Access multiple global navigation satellite systems (GPS, GLONASS and Galileo) to track in more challenging environments than GPS alone.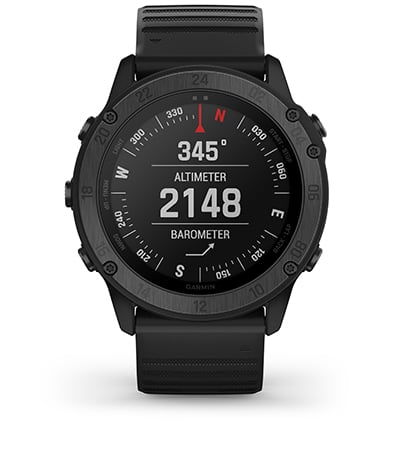 ABC SENSORS
Navigate your next trail with ABC sensors, including an altimeter for elevation data, barometer to monitor weather and 3-axis electronic compass.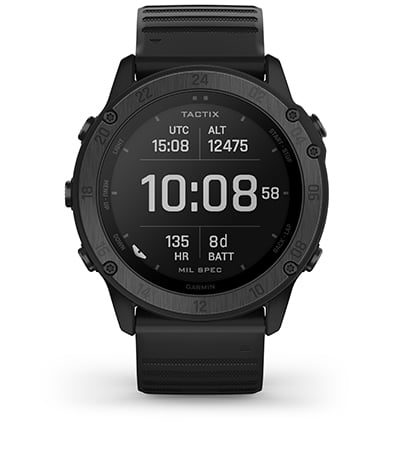 EXPEDITION MODE
Trek far and wide between recharges. Expedition mode, an ultralow-powered GPS reference, lasts for weeks.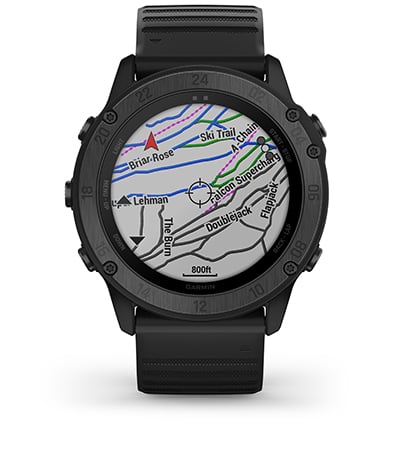 TOPO AND SKI MAPS
Use TopoEurope maps to navigate your adventures. View run names and difficulty ratings for 2,000 worldwide ski resorts.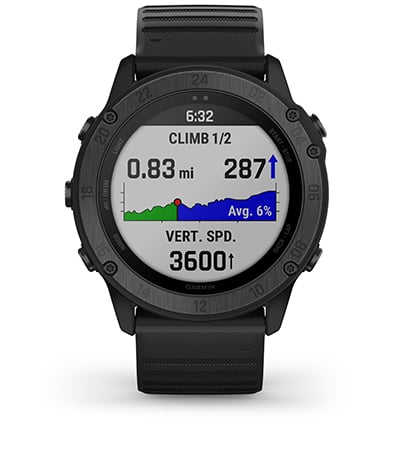 CLIMBPRO FEATURE
Use ClimbPro ascent planner on downloaded courses to see real-time information on your current and upcoming climbs, including gradient, distance and elevation gain.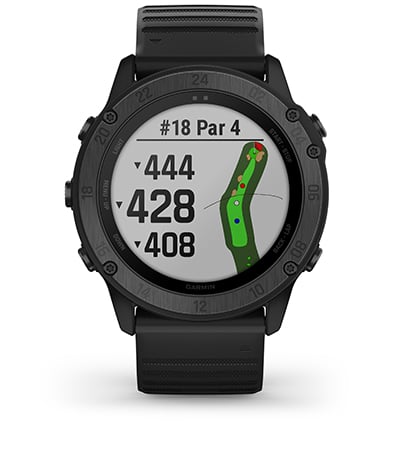 GOLF COURSES
Access full-colour CourseView maps for more than 41,000 golf courses around the world, and get button targeting and the PlaysLike Distance feature.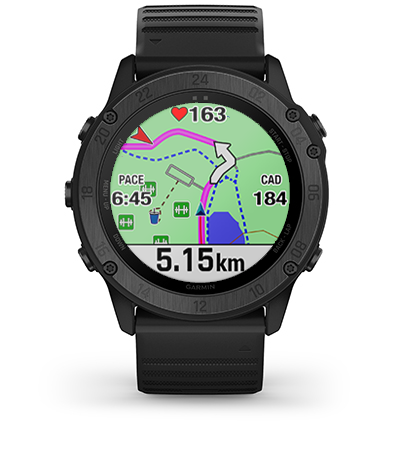 TURN-BY-TURN NAVIGATION
Follow a route or course with help from turn-by-turn directions, which let you know ahead of time when the next turn is coming.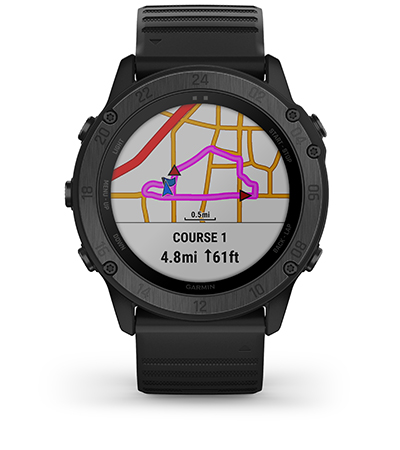 ROUND TRIP ROUTING
Enter a distance you want to travel, and get suggested routes that will bring you back to your starting point. Trendline™ popularity routing helps you find the best local paths.
Push performance to a whole new level.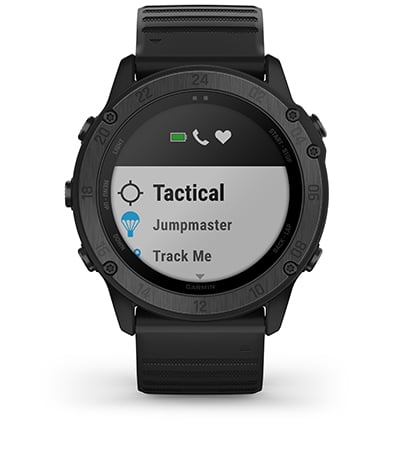 SPORTS APPS
Use preloaded activity profiles for trail running, swimming, running, biking, hiking, rowing, skiing, golfing and more.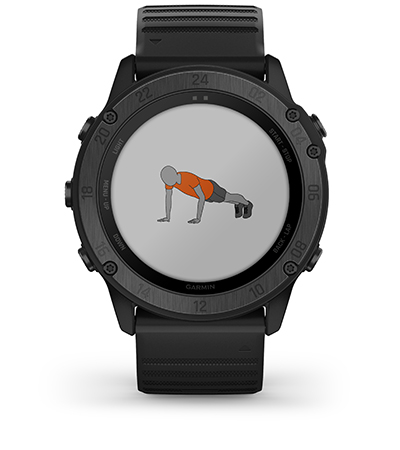 ANIMATED WORKOUTS
This watch features easy-to-follow, animated cardio, strength, yoga and Pilates workouts you can view on the watch screen.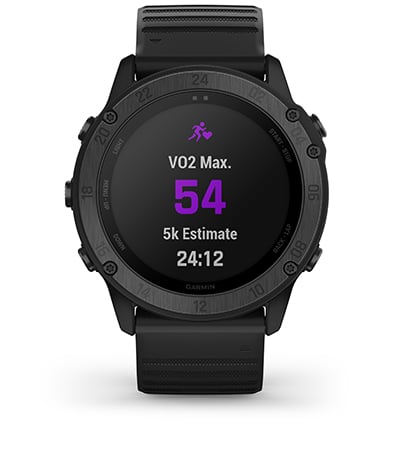 PERFORMANCE METRICS
View advanced training metrics that include running dynamics, heat- and altitude-adjusted VO2 max, recovery advisor and more1.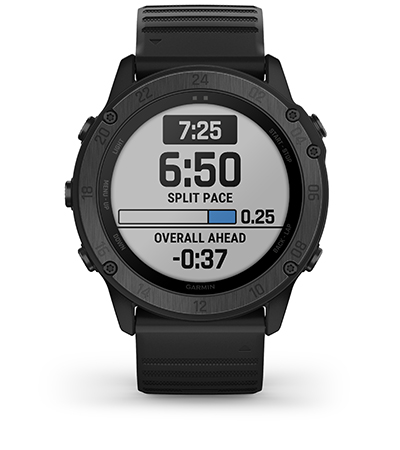 PACEPRO™ TECHNOLOGY
A first-of-its-kind PacePro feature helps keep you on pace with grade-adjusted guidance as you run a course.
WRIST-BASED HEART RATE
Enhanced optical heart rate1 technology gauges the intensity of your fitness activities as well as heart rate variability to calculate your stress level score. It also tracks underwater without a heart rate strap.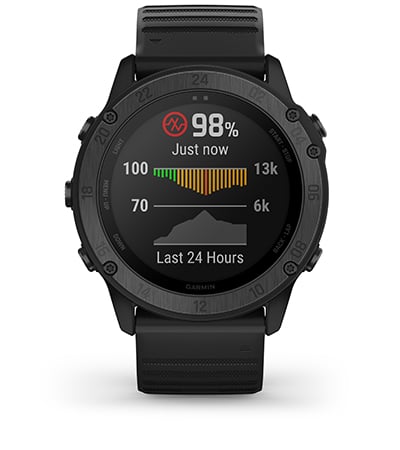 PULSE OX SENSOR
For altitude acclimation or sleep monitoring, a Pulse Ox2 sensor uses light beams at your wrist to gauge how well your body is absorbing oxygen.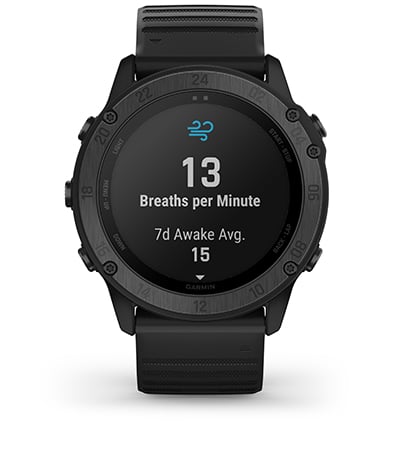 RESPIRATION TRACKING
See how you're breathing throughout the day, during sleep and during breathwork and yoga activities.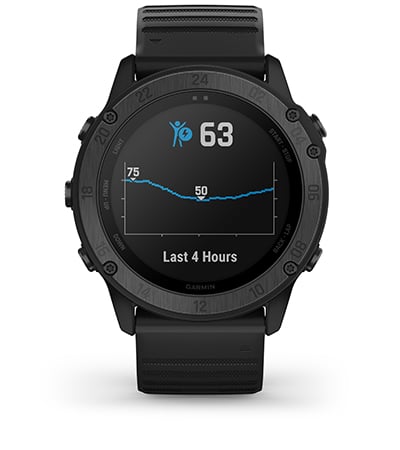 BODY BATTERY™ ENERGY MONITOR
Optimise your body's energy reserves, using heart rate variability, stress, sleep and other data to gauge when you're ready to be active or when you may need to rest.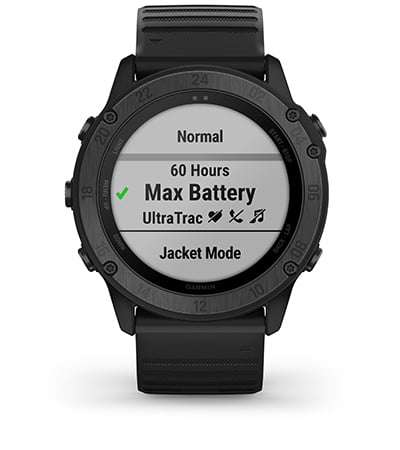 POWER MANAGER
View how various settings and sensors impact your watch's battery life, so you can make battery-extending changes on the fly.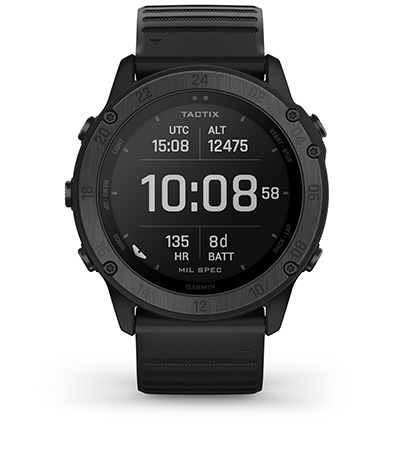 BATTERY
Internal, rechargeable lithium battery provides up to 21 days of battery life in smartwatch mode, 15 hours in GPS mode with music and up to 80 days in battery saver mode.
More features for your life beyond the field.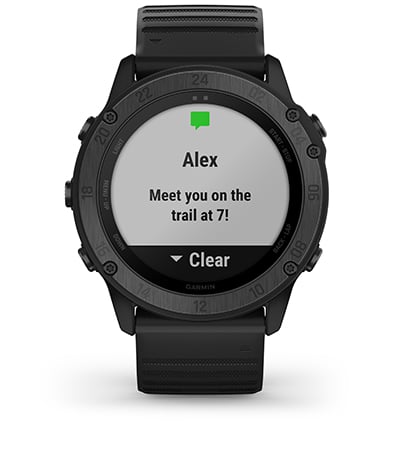 SMART NOTIFICATIONS
Receive emails, texts and alerts right on your watch when paired with a compatible device.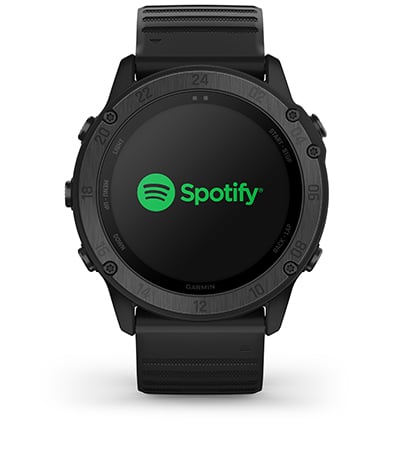 MUSIC APPS
Store up to 2,000 songs, or access streaming apps from your compatible services, including Spotify®, Deezer and Amazon Music, and listen through headphones with Bluetooth® technology.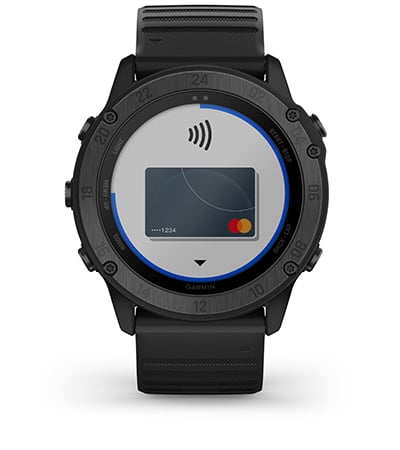 GARMIN PAY™ CONTACTLESS PAYMENTS
Breeze through checkout lines with Garmin Pay contactless payment solution through participating providers.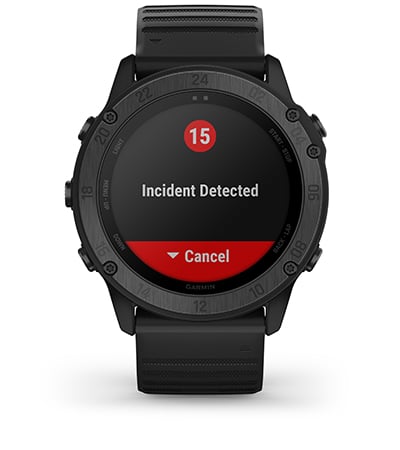 SAFETY AND TRACKING FEATURES
If you feel unsafe or if your watch senses that an incident occurred, assistance and incident detection features3 send your location to emergency contacts.