Најнапредна здравствена статистика и функции да го запознаеш твоето тело подобро.

Избери од над 25 инсталирани спортски апликации, имај активен животен стил.

Инспирирај се со анимираните вежби и тренинг планови.

Твојата омилена музика секаде со тебе, директно на часовникот, без телефон.

Паричник на Вашата рака. Плаќај лесно и доверливо со GarminPay 1 .

AMOLED display и батерија до 10 дена? Yes! Причина повеќе да го засакаш.
BRILLIANT DESIGN IN NUMEROUS COLORS
A brilliant AMOLED display brings this watch to life – perfectly readable even in bright sunlight. In the always-on mode, the display can always be seen.
MADE FOR AN ACTIVE LIFESTYLE
From the durable Corning ® Gorilla ® Glass 3 to the stylish stainless steel bezel and the comfortable silicone strap, this smartwatch is ready for anything.
FIT AND HEALTHY – AROUND THE CLOCK.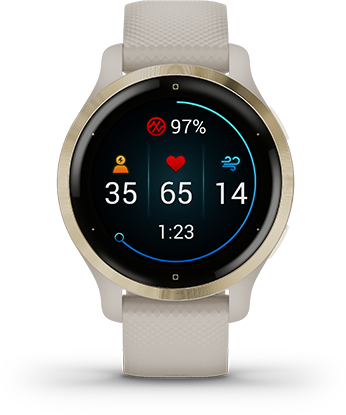 HEALTH SNAPSHOT ™ FUNCTION
Record your heart rate 2 , heart rate variability , pulse ox 3 , breathing rate and stress level in a 2-minute activity , and receive a report in Garmin Connect on your compatible smartphone .
BODY BATTERY ™ ENERGY LEVEL
Measure your body's energy reserves so you know when the best times are to be active or to relax.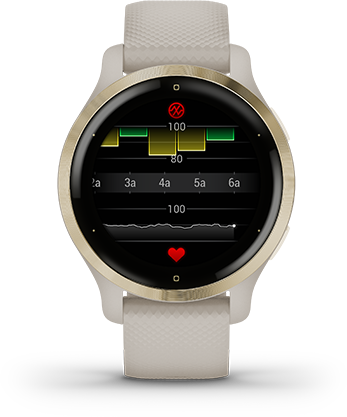 PULSE OX SENSOR
The integrated Pulse Ox sensor 3 measures your oxygen saturation in the blood. This is how you can see how well your body can absorb oxygen.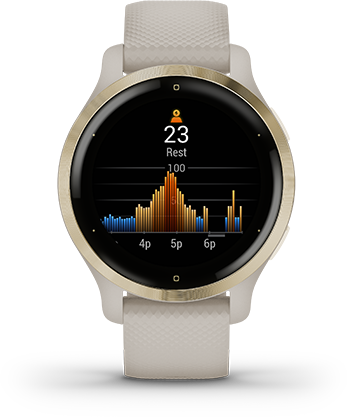 KEEP AN EYE ON THE STRESS
Find out if you are having a quiet, balanced, or busy day. Let yourself be reminded to take short breathing exercises to relax in between when the watch detects that you are feeling stressed.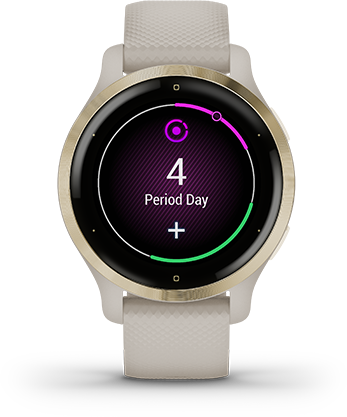 MENSTRUATION CYCLE TRACKER
Use the Garmin Connect app to record your menstrual cycle or pregnancy . Save symptoms, get information about training and nutrition and much more. m. The app for women's health tracking even allows you to view and record details directly on the wearable.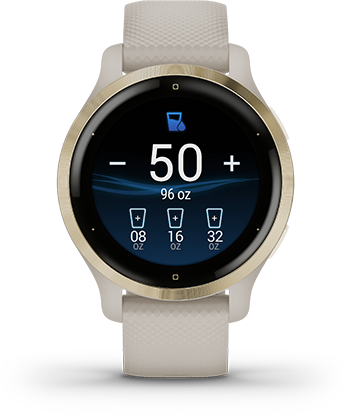 LOOK IF YOU ARE DRINKING ENOUGH
Record how much fluids you drink each day. Set an automatic fluid intake goal that adjusts based on how much sweat you lose during activity. So you always drink enough.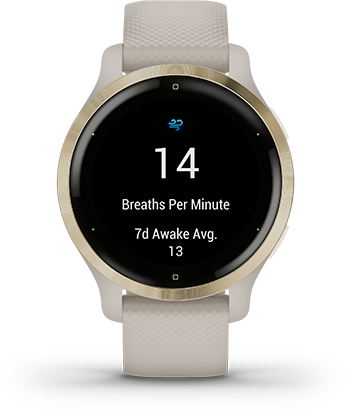 DISPLAY YOUR BREATHING RATE
This function shows you your breaths during the day, but also during sleep and during various yoga exercises.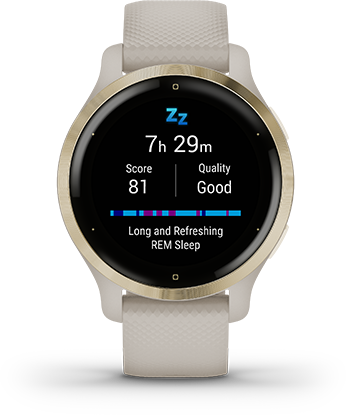 SLEEP ANALYSIS WITH SLEEP SCORE
Receive an assessment of your sleep quality and tips on what you can improve. Record your various sleep stages, heart rate, stress, blood oxygen saturation 3 and breathing rate over the course of the night.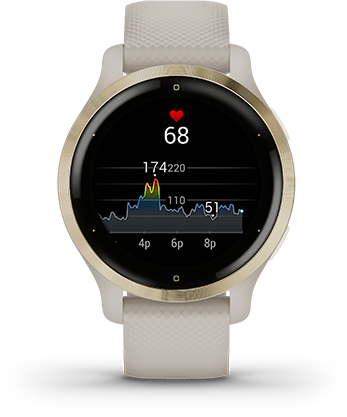 HEART RATE MEASUREMENT ON THE WRIST
Your watch regularly measures heart rate 2 and issues an alarm if it is too high or too low during a resting phase. It also helps you gauge how hard you are training during activities. Even underwater.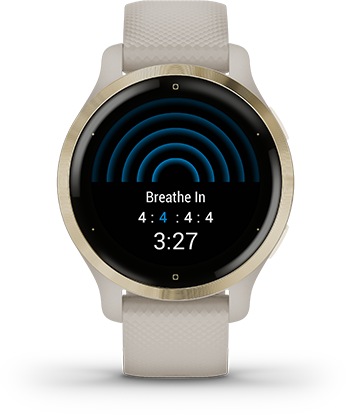 BREATHE CONSCIOUSLY
If you want to relax or improve your concentration, just start a breathing exercise. The watch stores information about stress and breathing. This will help you understand your breathing better.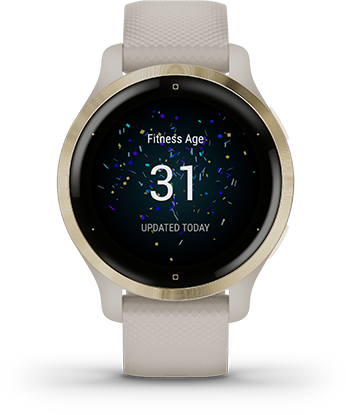 FITNESS AGE
This feature uses your chronological age, your weekly high-intensity activity, your resting heart rate and your BMI or body fat percentage 4 to calculate whether your body is younger or older than you. You can also get tips on how to reach your fitness age reduce.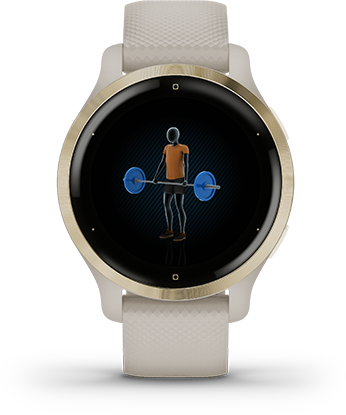 ANIMATED TRAININGS ON THE DISPLAY
Use pre-installed animated cardio, strength, yoga, Pilates and HIIT (high-intensity interval training) workouts with simple instructions. You can also download additional workouts from the Garmin Connect app.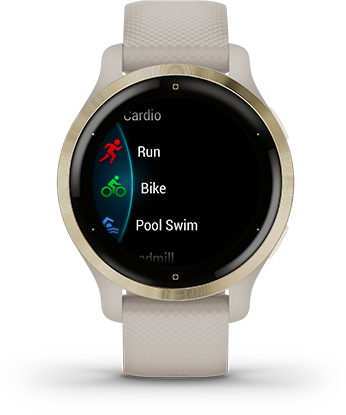 INTEGRATED SPORTS APPS
Choose from over 25 pre-installed GPS and indoor sports apps, such as walking, running, cycling, golf and swimming in a pool, to record your every activity.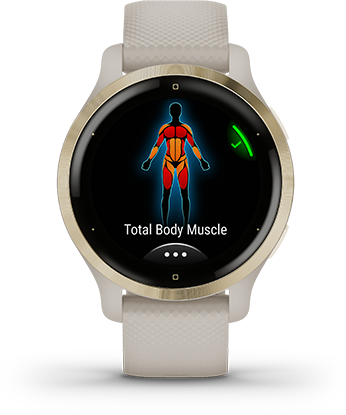 ADVANCED STRENGTH TRAINING
The extended activity profile now allows you to adjust workouts directly on your wrist and access personal records. You can even see graphs of the muscle groups you've trained.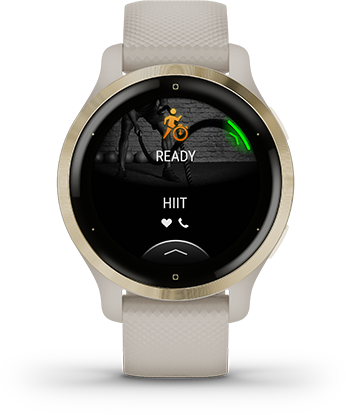 HIIT TRAININGS
This new activity profile offers different timers for recording HIIT workouts, including AMRAP, EMOM, Tabata and a custom timer. Set up the number of laps, exercise / recovery intervals, and more.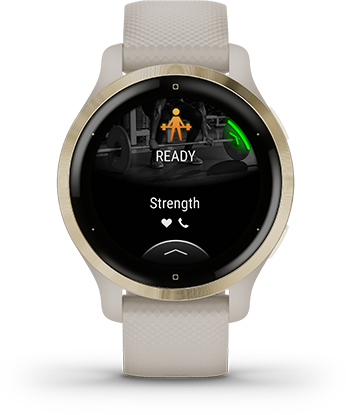 CREATE YOUR OWN TRAININGS
Put together your own workouts in Garmin Connect on your compatible smartphone. Choose from more than 1,400 exercises and download your personal workout directly to your watch.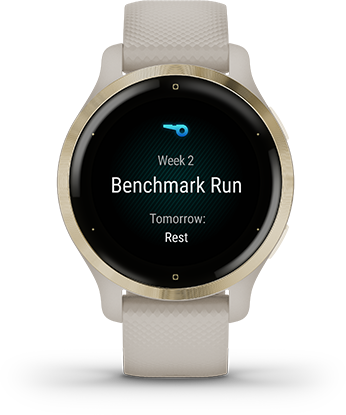 GARMIN COACH
Use your personal trainer for free. Garmin Coach helps you to achieve your personal running goal. Take on the challenge of a 5 or 10 km run or train for a half marathon.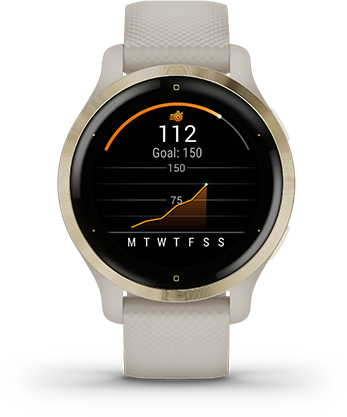 INTENSITY MINUTES
We have updated our intensity minutes feature. So that you can better see what time of day and what activity you received them. Even show them as a data field for activities with time information.
SMART FEATURES – MOBILE AND FLEXIBLE.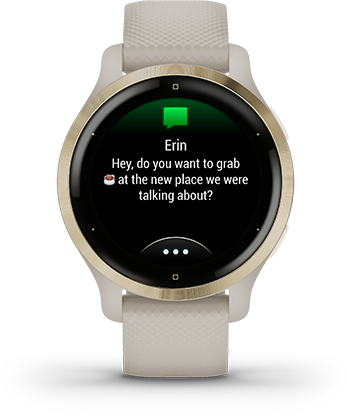 MESSAGES FROM SMARTPHONE
Don't miss anything that is important to you: Receive your notifications about calls, appointments and much more when connected to a compatible smartphone . You can even reply to text messages with an Android ™ phone.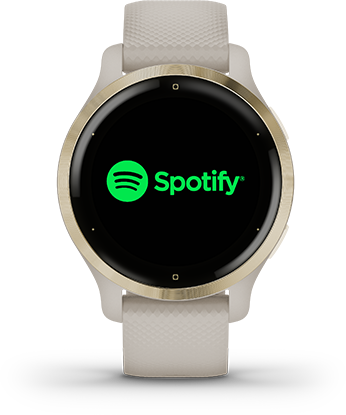 MUSIC ON THE WRIST
Download songs and playlists from your Spotify ® , Deezer, or Amazon Music account (subscription may be required). Use wireless headphones (sold separately) to listen to music without a phone.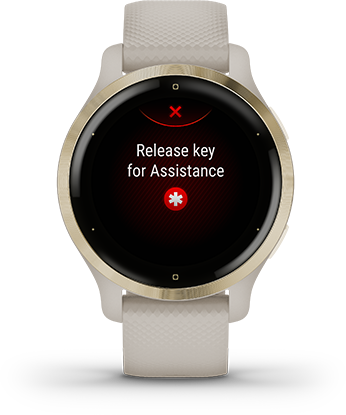 SECURITY AND TRACKING FUNCTIONS
When the watch and phone are paired, your current location can be sent to your contacts. This is done either manually or, for certain outdoor activities, automatically with the integrated accident notification 5 .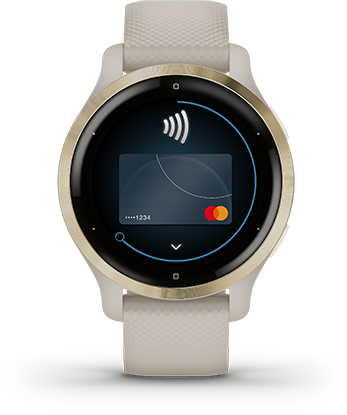 GARMIN PAY ™ – CONTACTLESS PAYMENT
Your watch – a smart companion: Pay for your purchases contactless with Garmin Pay 1 through participating providers.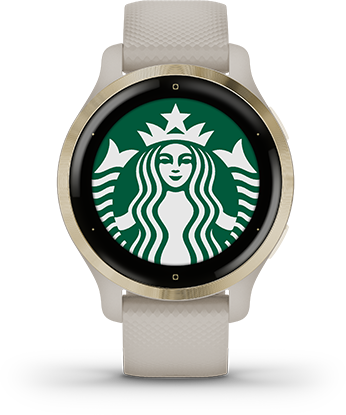 CONNECT IQ ™ SHOP
Download custom display designs, add data fields and get apps from the Connect IQ shop .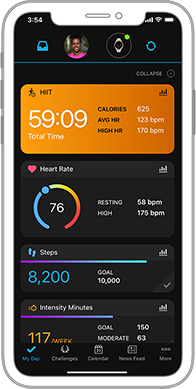 PERFECT ANALYSIS WITH GARMIN CONNECT
View your health and fitness data in one place. The Garmin Connect app is a popular online community. Members can connect, compete, and share data with others.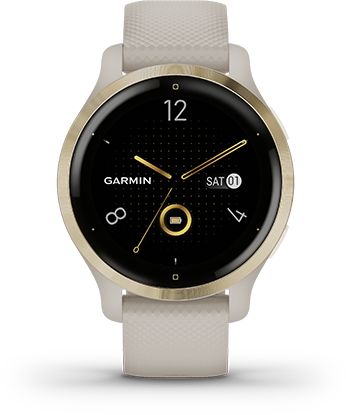 BATTERY LIFE & FAST CHARGE
Battery life of up to 10 days in smartwatch mode, up to 19 hours in GPS mode and up to 7 hours in GPS mode with music. After a charging time of 10 minutes, the battery lasts for up to 1 day in smartwatch mode or up to 1 hour in GPS mode with music.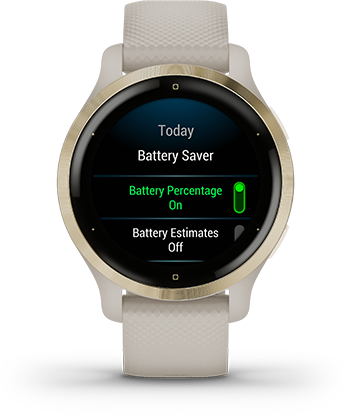 POWER SAVING MODE
Use the smartwatch even longer by adjusting settings that have the greatest impact on battery life.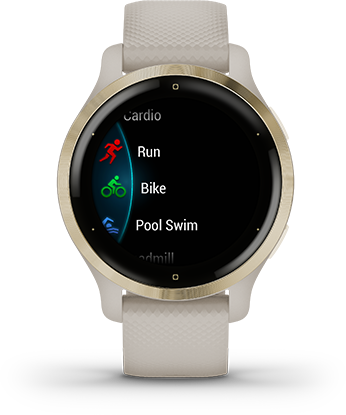 WATERTIGHTNESS
This watch is water-resistant to 5 ATM , making it perfect for swimming, showering or a day at the spa.
NEW BRACELET – NEW LOOK.
The Garmin Connect ™ app. Clear, individual, motivating.
Customize your smartwatch in the Garmin Connect IQ ™ shop.
3 
This is not a medical device and is not intended for use in the diagnosis or monitoring of any disease; see 
Garmin.com/ataccuracy
 . Pulse oximetry data are not available in all countries.
4 Index ™ or Index S2 smart scale (sold separately) required to use body fat percentage metric for fitness age feature
Android ™ is a trademark of Google LLC. SPOTIFY and the Spotify logo are among the registered trademarks of Spotify AB. Amazon Music and all associated logos are trademarks of Amazon.com, Inc. or its affiliates.